14 Hottest Game Of Thrones Actresses And How They Looked Before The Show. Interesting Facts Included!
Sophie Turner
Fact: She owns a dire wolf IRL. In an awesome example of life imitating art, Sophie's family adopted the dog who played Sansa's dire wolf on the show. If you recall, Sansa's wolf, Lady, was killed off early in Season 1 at the command of Cersei Lannister. With the dog (real name Zunni) out of work and in need of a new home, the Turner family swooped in.
Follow us: @UselessDaily on Twitter

2. Lena Headey
Fact: One of Headey's female fans once approached her and showed the actress her "300" inspired wedding album, in which the bride dressed up as Headey's character, Queen Gorgo, for her special day. She played Gerard Butler's wife in the movie.
3. Maisie Williams
Fact: Maisie Williams who just truned 20 in 2017 was nominated for a Young Artist Award for Best Performance in a TV Series – Supporting Young Actress and, in November 2013, won the BBC Radio 1 Teen Award for Best British Actor. To date, she has appeared in all six broadcast seasons.

4. Natalie Dormer
Fact : In 2013, Natalie Dormer played Irene Adler in the final three episodes of the first season of the CBS series Elementary; she reprised the role in the second season.

5. Gwendoline Christie
Fact: She's 6'3". You knew she was tall, but you probably didn't know she was that tall!
6. Nathalie Emmanuel
Fact: Because Game of Thrones is a huge production, too, Nathalie transitioned smoothly into Hollywood – taking roles in two recent blockbusters, Furious 7 and Maze Runner: The Scorch Trials.
7. Carice van Houten
Fact: Now, it may seem weird that the ever-so-serious Melisandre of Asshai would even be a fan of pop-rock (or music of any kind for that matter), but it's true – Carice is a singer for the genre, and a very good one at that.
Her songs are catchy and easy to listen to and the red-headed fox has released four tracks on the Black Book soundtrack, collaborated with Dutch superstar Michael Prins and even released an album in 2012 called See You On The Ice. (via: whatculture)
8. Hannah Murray
Fact: English actress known for her role as Gilly on the HBO television series Game of Thrones. She also played Cassie Ainsworth in the drama Skins, which ran from 2007 to 2008
9.  Dame Diana Rigg
Fact: Dame Enid Diana Elizabeth Rigg, is an English actress who became a Bond girl in On Her Majesty's Secret Service (1969), playing Tracy Bond, James Bond's only wife, opposite George Lazenby.
10. Rose Leslie
Fact: She's a skilled archer. Although Rose only picked up a bow and arrow to train for playing Ygritte, it turns out she's a natural when it comes to archery. The first time she ever tried hitting a target, she ended up splitting a previous arrow she'd shot right down the middle. Remind us not to get on her bad side . . .(via: popsugar)

11. Gemma Whelan
Fact: She is a professional dancer who majors in the tap and jazz dance styles. She is a member of the dance troupe The Beaux Belles, based in London.
12. Indira Varma
Fact: Indira Anne Varma is a British actress of Indian descent. Her film debut and the first major role was in Kama Sutra: A Tale of Love. She has gone on to appear in the television series The Canterbury Tales, Rome, Luther, Human Target, and of course, Game of Thrones
13. Michelle Fairley
Fact: GoT is not Michelle's first foray into fantasy. She portrayed Hermione Granger's mother in Harry Potter and the Deathly Hallows: Part One.
14. Emilia Clarke
Fact :It's true that most of us find Emilia immensely attractive, due to a mixture of her appearance, the character she portrays and well, yeah… those "scenes" where she bares it all. But she has also received high-profile recognition and acclaim for her looks. She was, for example, voted the number one most desirable woman in the world in 2014 by the readers of AskMen. Only a year later she went on to claim the prestigious title of Esquire's Sexiest Woman Alive in 2015. How's that for a ranking? (via: the richest)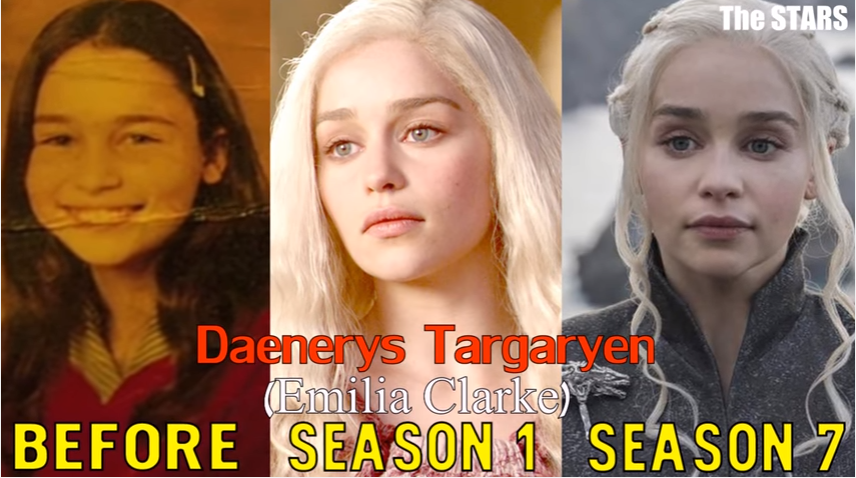 Who is your favorite GoT female character?
All Image Source: The Stars