33 Best Comedies on Netflix For A Weekend Full Of Laughs
So you're looking for something light to watch on Netflix, but you don't know what to watch. Netflix's massive library can be intimidating, especially when you're looking for a good comedy in a sea of poor comedies. But don't worry we've got you covered. We've produced a list of the best Netflix comedies currently available. From hilarious buddy comedies to large splashy commercial comedies to more esoteric indies, we've got it all, including a couple films that straddle the comedy-drama boundary. Take a look at our best Netflix comedy picks below to find your perfect match.
21 Jump Street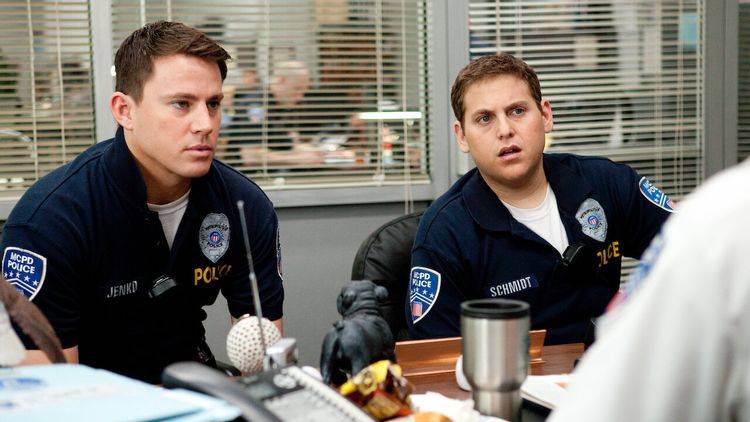 With their hit animated comedy about Legos, I'm not sure Phil Lord and Chris Miller ever achieved the same degree of "well, that shouldn't have worked but it did." (It's also currently on this list!) However, their first film, 21 Jump Street, an adaptation of the gritty late-80s police procedural starring Jonah Hill and Channing Tatum as buddy cops, came dangerously near. To be clear, this picture should not be as good or as entertaining as it is, but it is. Morton Schmidt and Greg Jenko are rookie police officers assigned to go undercover at a high school to find out who is distributing a new drug known as HFS. (The name is pronounced "Holy Fucking Shit.") Not having seen 21 Jump Street is a crime in most places [citation needed], as it is the best current take on the buddy-cop comedy.
A Futile and Stupid Gesture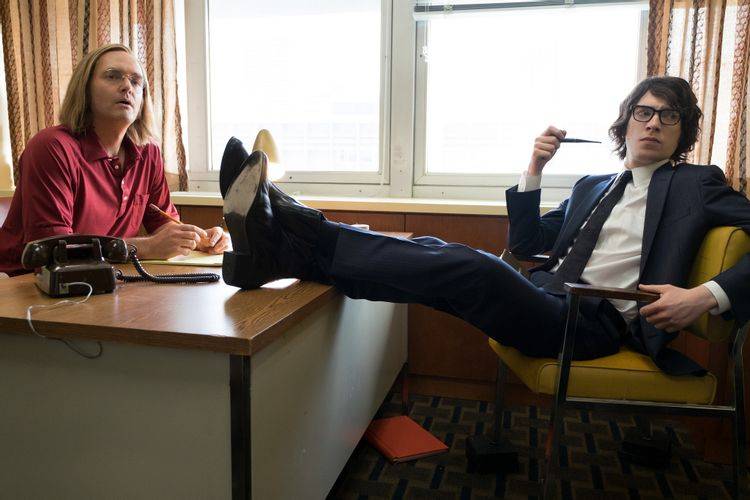 For comedy fans, A Futile and Stupid Gesture is a must-see. The Netflix original comedy follows co-founder Doug Kenney (Will Forte), a funny free spirit who went on to co-write Animal House and Caddyshack before sadly dying young. As the film traces National Lampoon's irreverent beginnings, Forte is the film's driving force, and the actor delivers a dynamic portrayal that is equal parts humorous and poignant. With appearances from Chevy Chase, Bill Murray, John Belushi, and Gilda Radner, Domhnall Gleeson's portrayal as Henry Beard, his more dry sidekick, nearly steals the show. Wet Hot American Summer and Role Models filmmaker David Wain films with a knowing eye, yet he takes Kenney's sorrow seriously.
Always Be My Maybe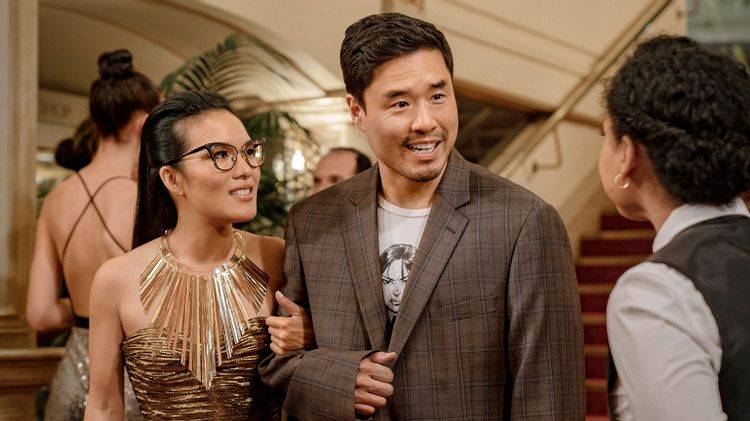 Set It Up, Netflix's 2018 romcom, revitalized the genre, and Always Be My Maybe, the streaming service's 2019 offering, is just as bright and wonderful. The film depicts a pair of childhood best friends who have grown apart and are reunited in adulthood, despite their lives taking very different paths. Randall Park and Ali Wong co-wrote and appear in the film. Park and Wong are dynamite together in some well-paced dramatic passages, and the picture takes its time to breathe. It's also not short on scene-stealers, with Michelle Buteau being hilarious and Keanu Reeves once again proving his genius knows no limitations.
American Ultra

If action humor is your thing, see American Ultra. Jesse Eisenberg and Kristen Stewart reprise their roles from Adventureland in this film, which was released in 2015. Eisenberg plays a drifting stoner who becomes a CIA target, which wakes something deep within him when he learns he's a sleeper agent with precision combat talents. The film is a combination of action and stoner humor as he and his girlfriend (Stewart) flee.
As Good As It Gets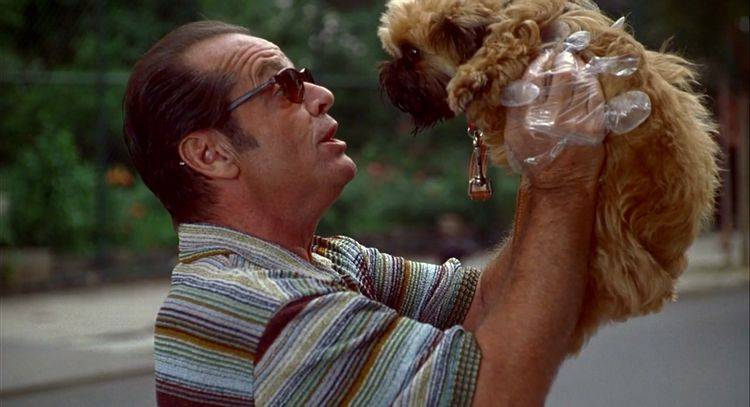 As Good As It Gets won both the Best Actor and Best Actress Academy Awards for Jack Nicholson and Helen Hunt, making it the most recent picture to win both top acting Oscars on the same night. After watching his neighbor's little puppy (Greg Kinnear) and starting a relationship with the only waitress (Hunt) at his favorite cafe, Nicholson plays a manic, filthy romance author who finally softens. As Good As It Gets is a must-see film from the 1990s. It's funny, it's moving, and if you're looking for a stone-cold must-see from the 1990s, you've come to the right place.
Bad Trip

Bad Trip is a childish comedy that will make you laugh out loud. Eric Andre and Lil Rel Howery play two pals who drive from Florida to New York to find Andre's dream girl. The movie is a mix of Jackass and a typical road trip comedy. Tiffany Haddish, who plays Howery's sister and is fresh off a prison release, is on their tail. Every scenario in the film, on the other hand, is staged as a farce, with naive people serving as the backdrop and supporting characters. It's both amusing and humiliating, but it also underlines how ridiculous some of the tropes in classic romcoms are, such as when Andre breaks out into song in the middle of a mall, surrounded by onlookers with "WTF?" expressions on their faces. Also, this is an incredibly R-rated film.
Chef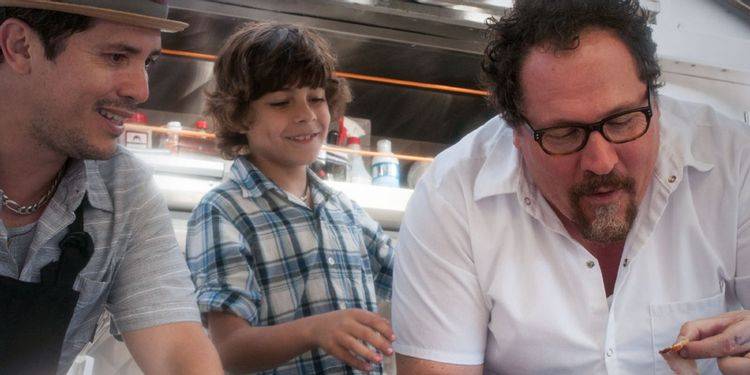 Chef is the ultimate comfort picture, a top-notch "watch it when you want to feel good" film. Jon Favreau returned to his independent origins by writing, directing, producing, and acting in this short film about a Los Angeles chef who quits his job and launches a food truck in Miami with his young child after working on mega-budget blockbusters like Iron Man and Cowboys vs. Aliens (Emjay Anthony). Chef is a lovely film, more of a warm embrace than a laugh-a-minute yuck fest, one that tugs at your heartstrings while also making you hungry.
Dolemite Is My Name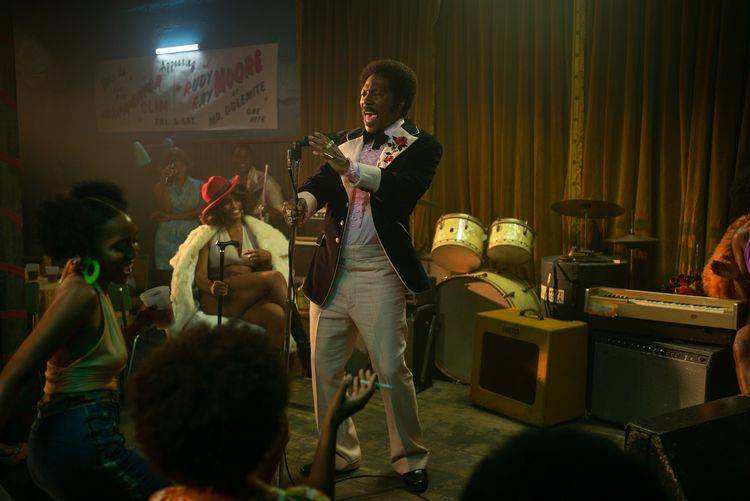 Dolemite Is My Name, a Netflix original comedy film, features Eddie Murphy in one of his best performances in years, as well as a brilliantly fun film about artistic freedom. The story is based on the true story of Rudy Ray Moore, a comedian who created, produced, and performed in a low-budget film to introduce his popular stand-up character "Dolemite" to the public. Similar to Bowfinger, this film is a funny behind-the-scenes story about one man's artistic passion becoming a reality despite all odds. In an outlandish role as the director of the Dolemite film, Wesley Snipes goes full Wong Fu. Wesley Snipes goes full To Wong Fu in an outrageous turn as the director of the Dolemite movie. Murphy is explosive, Da'Vine Joy Randolph gives a breakout performance, and Wesley Snipes goes full To Wong Fu in an outlandish turn as the director of the Dolemit This is a fantastic comedy that also happens to be really motivating.
Eight Legged Freaks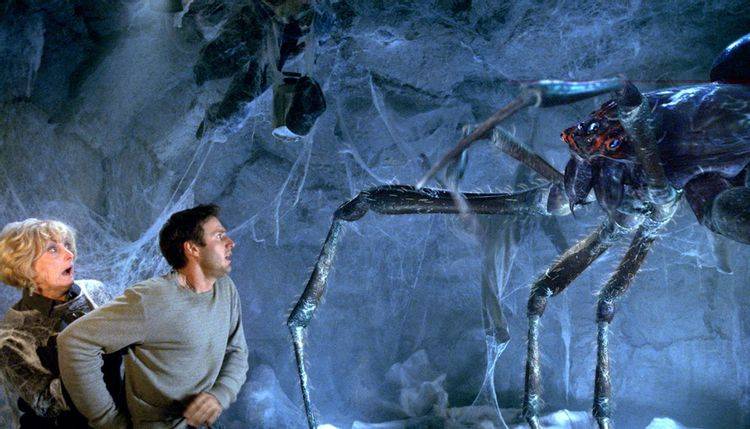 A modern-day B-movie creature feature starring David Arquette that pits him against a swarm of enormous killer spiders? What else could a human want? The people of the small mining town of Prosperity, Arizona, are forced to fight for their lives when a highway chemical leak supersizes a colony of arachnids. As the monsters descend on the remote community, a sheriff (Kari Wuhrer) and an engineer (Arquette) gather Prosperity's bravest to form a defense. Eight Legged Freaks, which also stars a pre-Avengers Scarlett Johansson, is an aggressively absurd film that demands to be watched in the most non-serious setting possible.
Eurovision Song Contest: The Story of Fire Saga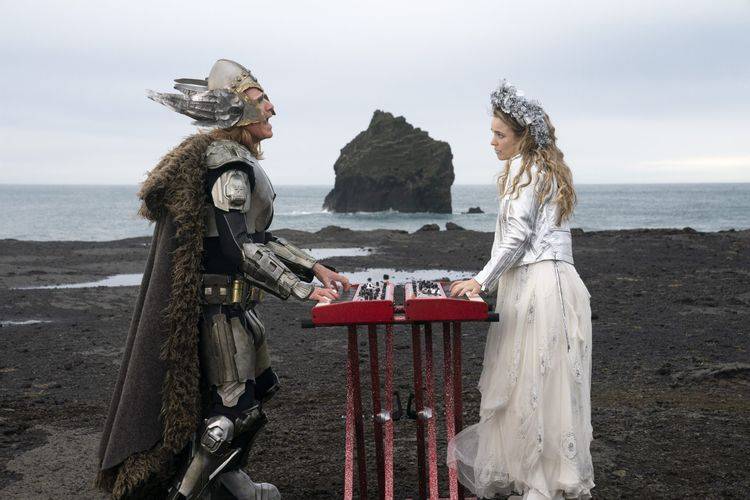 If you think Eurovision Song Contest: The Story of Fire Saga is just another "dumb Will Ferrell comedy," think again. This musical comedy is one of the year's most delightful surprises; it's unexpectedly charming and really emotional – don't be shocked if you cry by the end. The story follows two lifelong friends and artists from Iceland who are thrown into the Eurovision Song Contest, where their abilities and relationship are put to the test. Rachel McAdams steals the show here, proving once again that she is one of the top comedic talents working today. Will Ferrell is as entertaining as ever. And what about the music? They're fantastic.
Ferris Bueller's Day Off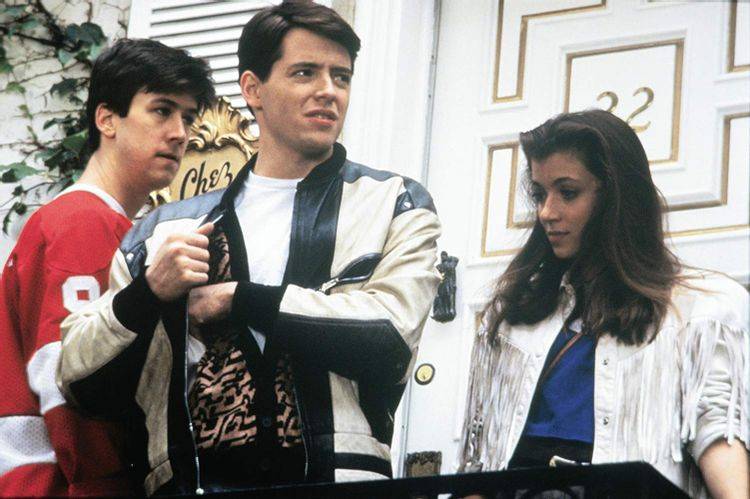 Ferris Bueller's Day Off is an all-time favorite and one of the best movies ever filmed. This comedy perfectly depicts the essence of high school life, and it's the perfect rainy day movie. The John Hughes film wonderfully conveys the "senioritis" feeling of skipping school and hanging out with your friends, giving the impression that the audience is accompanying Ferris on his adventures. Ferris Bueller's Day Off, like most of Hughes' films, has a sad undercurrent, but it's also a laugh riot that's endured the test of time.
Hail, Caesar!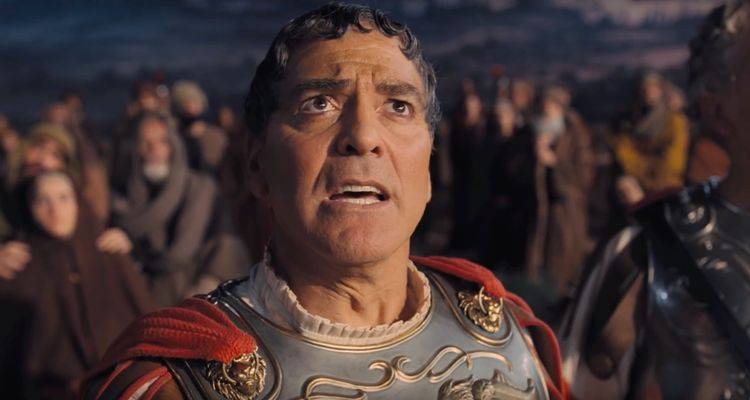 Despite getting great reviews, the Coen Brothers' 2016 comedy was a long time in the making and remains undervalued. Hail, Caesar! is set in 1951 and follows Eddie Mannix (Josh Brolin), a "fixer" for the Capital Pictures movie company who spends his days avoiding scandals, putting out fires, and tracking down a lost movie star. There's a lot of mayhem and hijinks, and George Clooney delivers one of his greatest comedy performances to date. Whatever your opinion of Solo: A Star Wars Story, it will serve as a reminder that Alden Ehrenreich is a capable actor.
Hunt for the Wilderpeople

Anyone searching for a whimsical comedy from Taika Waititi, the writer/director of Thor: Ragnarok, should see Hunt for the Wilderpeople. A grouchy Sam Neill is forced to pair up with a foul-mouthed boy when they are the subject of a manhunt across the New Zealand bush in this New Zealand adventure film produced in 2016. Although Hunt for the Wilderpeople is based on a novel, it has the tone and execution of a Roald Dahl book we've never heard of. Waititi's humorous anarchy is sprinkled in for good measure, making it entertaining, weird, and a little frightening. This film will surely lift your spirits.
I Care a Lot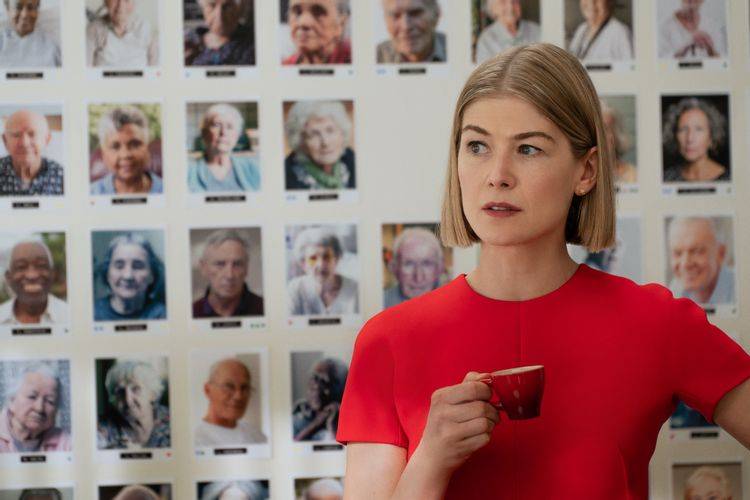 If you like your humor gloomy — and I mean completely black — you'll probably love I Care a Lot. In the Netflix original, Rosamund Pike portrays a cunning, unrepentant con artist who makes a fortune by getting guardianship of the elderly and using their money as her own piggy bank. She understands she's in over her head when her next target turns out to be the mother of a vicious criminal (Peter Dinklage). While this film could have gone wrong in a number of ways, writer/director J Blakeson nails it, and the satirical comedy's purpose is clear in the last minutes. Pike is outstanding in the major role, making a terrible character immensely compelling.
Lady Bird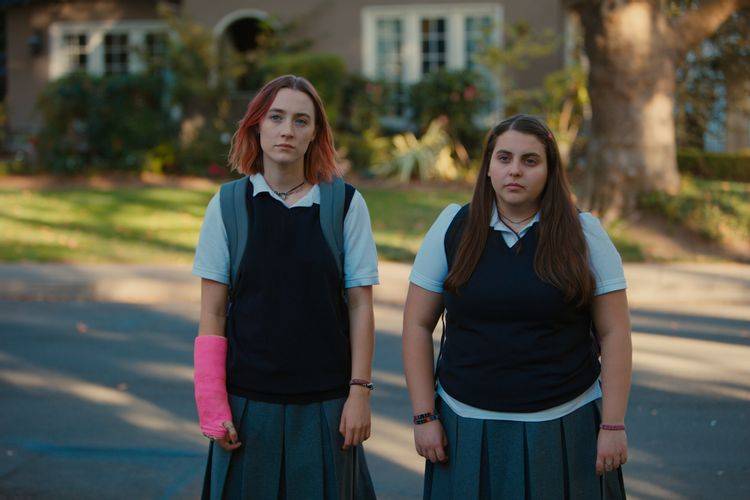 Greta Gerwig's directorial debut, Lady Bird, is both amusing and incredibly difficult to resist. Christine, a young girl who battles through her final year at a Catholic high school—struggles with males, friendships, money, and her parents—is portrayed by Saoirse Ronan in this heartbreaking coming-of-age story. At its core, this is a mother-daughter narrative, and while it can be pretty upsetting at times, it is also incredibly amusing. Ronan is wonderful in the Oscar-nominated lead role, Beanie Feldstein is hilarious as her best friend, Timothee Chalamet is perfect as the "pretentious cool dude," and Gerwig's screenplay and direction are excellent. This is one of the most enjoyable comedy in the last decade.
Last Action Hero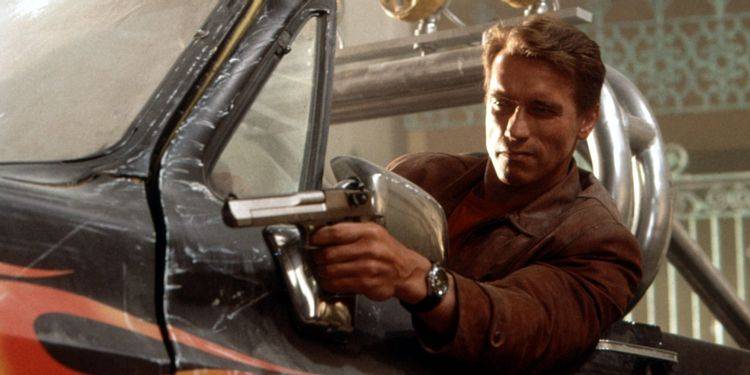 In a story that also serves as a rather magnificent Arnold Schwarzenegger action picture, is Arnold Schwarzenegger parodying the grandeur and pyrotechnics of an Arnold Schwarzenegger action film? Last Action Hero, John McTernan's satire and love letter to the 1990s' over-the-top shoot-em-ups, has far too much to enjoy. When a miraculous ticket takes young cinephile Danny Madigan (Austin O'Brien) to the silver screen, he teams up with Arnold Schwarzenegger, his favorite action hero, to stop the evil Benedict (Charles Dance) from infiltrating the real world. This is an elaborate, wild good time of a frolic that features everything from Robert Patrick as his T2 Terminator to Arnold Schwarzenegger as himself to Danny DeVito as the voice of Whiskers, a feline police officer who makes a brief appearance. Without a doubt.
Mystery Men

Mystery Men, directed by Kinka Usher and starring some of the greatest bit performers of all time, was released ten years before superhero movies fully took over Hollywood, and it was a…complete and total box office disaster. As with most works of astonishing skill, it took a while for Mystery Men to be recognized as a marvelously strange, very entertaining capes-and-costumes pre-2000s diamond. When madman Casanova Frankenstein (Geoffrey Rush) kidnaps Captain Amazing, the enraged Mr. Furious (Ben Stiller), the garden tool-wielding Shoveler (William H. Macy), and the utensil-throwing Blue Raja (Hank Azaria) are having trouble enrolling (Greg Kinnear). The Bowler (Janeane Garofalo), the Spleen (Paul Ruebens), and the Invisible Boy (Kel Mitchell) are among the Z-tier heroes tasked with saving not only Amazing, but the entire planet. The scenery gets eaten to bits throughout this wild carnival of a film, which, it should be noted, made classic use of Smashmouth's "All-Star" two years before Shrek.
Midnight Run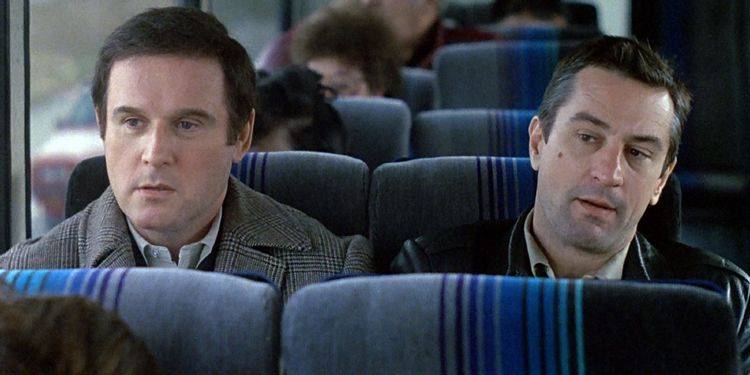 If you like buddy comedies but haven't seen Midnight Run yet, it should be your next priority. The story involves a bounty hunter (Robert De Niro) who is tasked with apprehending and transporting an accountant suspected of fraud (Charles Grodin). The two end themselves on an adventure-filled road trip, and De Niro and Grodin's chemistry is evident. This is without a doubt one of my favorite films of all time, and it might could be yours as well.
Mars Attacks!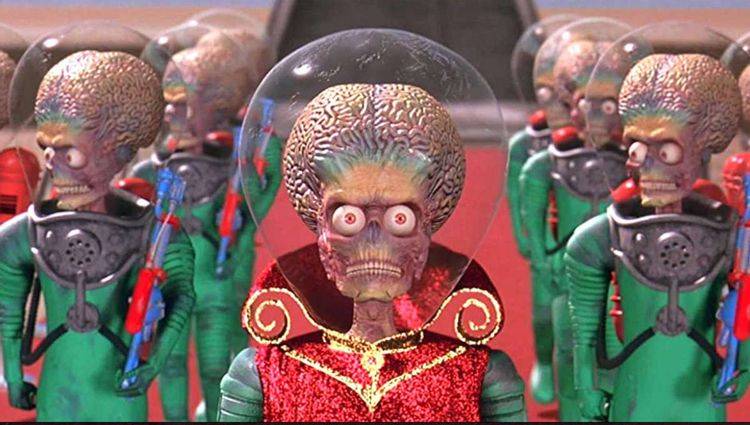 Mars Attacks! is one of Tim Burton's best films, and it's unlike anything else he's ever done. The 1996 film, based on the same-named comic book, follows a number of people as they deal with the aftermath of a Martian invasion. The whole video has a strange, sardonic tone to it, with Burton winking through the camera as he relishes kicking humanity's arse. It's strange, and Burton's Ed Wood spirit is blended in with his zany Beetlejuice antics. However, Mars Attacks! is first and foremost a hilarious film.
Murder Mystery

Although Adam Sandler's experience with Netflix original films has been mixed, there is one truly delightful gem on the list in the form of Murder Mystery. The Sandman reunites with Jennifer Aniston in this new film, following the popularity of Just Go With It (which was actually rather great!). The film follows married NYPD cop Nick (Sandler) and hairdresser Audrey (Audrey) as they become increasingly involved in a murder investigation onboard the millionaire's yacht. Murder Mystery, like most Netflix comedies, is best watched in the background with a bunch of boisterous companions, but the two leads' pure professional movie star power pushes it to the next level.
Monty Python and the Holy Grail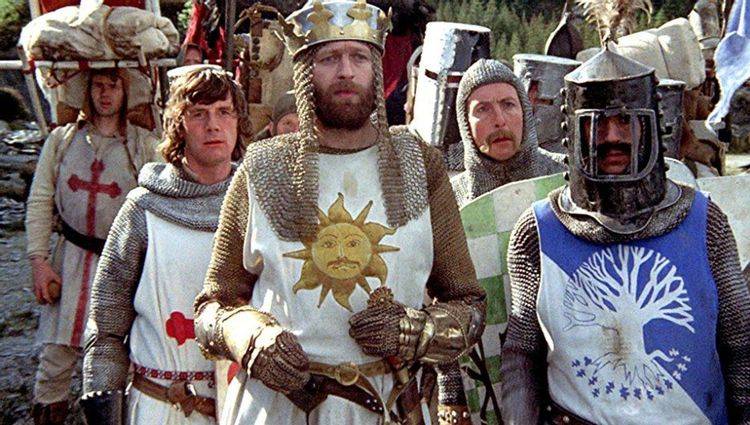 Monty Python and the Holy Grail is not just one of the best comedies of all time, but also one of the best films of all time, having been released in 1975. The narrative of King Arthur's pursuit for the Holy Grail is told in a deliciously hilarious fashion in Monty Python's Holy Grail, with some brilliantly inspired visuals and excellent production value tossed in for good measure. Monty Python released their second feature film, Holy Grail, after gaining renown for their TV show, but unlike their first film, And Now for Something Completely Different, Holy Grail is a single continuous tale rather than a collection of sketches. Despite the fact that people's attitudes toward humor and the comedy genre in general have changed over the last four decades, Holy Grail remains a landmark achievement and, above all, a fantastically enjoyable film.
Step Brothers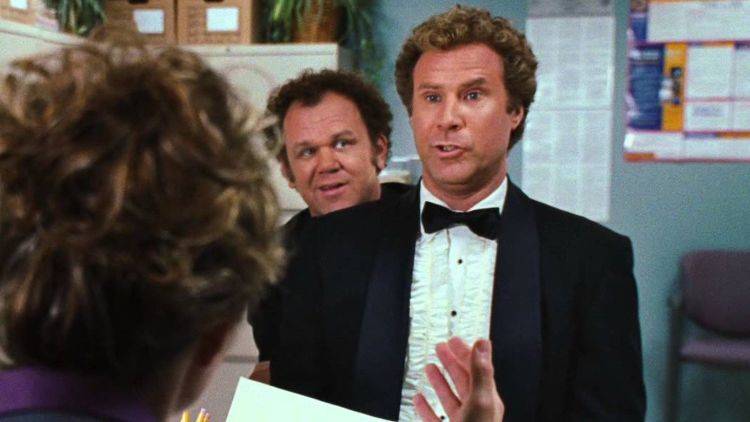 Even if you've never seen Step Brothers, chances are you'll know at least 65 percent of the dialogue. The Mt. Rushmore of Quotable Comedy includes this film. At any one time, a fifth of the world's population claims, "I used to use cannabis with John Hopkins." [needs a reference] Because there's a good reason for it. Will Ferrell's Brennan Huff and John C Reilly's Dale Doback are two grown men who become stepbrothers, terrifying foes, inseparable friends, and, eventually, a jaw-droppingly magnificent drum-and-opera-singing musical duo. It's also the peak of a number of well-known things, from the Man-Child subgenre to Will Ferrell's role as comedy's biggest star to Adam McKay's career as a strictly comedic filmmaker, and more. What's the point of trying to reproduce perfection?
Set It Up
Claire Scanlon's lovely Set It Up is a must-see if you're seeking for a charming romantic comedy but don't want to watch anything from a decade ago for the umpteenth time. The story follows two frazzled assistants (Zoey Deutch and Glen Powell) who plan to set up their bosses (Lucy Liu and Taye Diggs, respectively) in order to obtain some much-needed time away from their hard professions. Despite their plotting, they begin to fall for each other. The romcom beats are obvious from a mile away, but they're done so beautifully that you won't notice. Furthermore, Deutch and Powell's great performances elevate the film, making them the streaming generation's Meg Ryan and Tom Hanks.
The Babysitter

If you want a little blood, guts, and gore mixed up with your humor, go no further than The Babysitter, director McG's black comedy-horror from writer Brian Duffield (Spontaneous). Cole (Judah Lewis), a misfit adolescent, is looking forward to a night with his babysitter, Bee (Samara Weaving), but things take a sinister turn when Cole discovers that Bee and the group of high schoolers she's invited over—Max (Robbie Amell), Allison (Bella Thorne), Sonya (Hana Mae Lee), and John (Andrew Bachelor)—are actually a devil-worship This film is pure mayhem in its purest form, even if you have to hack through a few layers of skin to view it. However, at its core is a genuinely gorgeous beating heart.
Tommy Boy

Tommy Boy is about a slacker who goes on the road to sell brake pads in order to keep his late father's auto parts business afloat, but it could have been about anything. The buddy road trip film from director Peter Segal is essentially just an opportunity to watch Chris Farley do what he does best: fling his large bulk around the set and give 110 percent at every single minute in order to put as much fun on the screen as possible. And it works; thanks to Tommy Boy, Farley went from being everyone's favorite Saturday Night Live cast member to everyone's favorite human being. Despite the fact that Tommy Boy is humorous, Farley's presence ensures that it is also incredibly lovely and life-affirming.
The Lovebirds

This film is very adorable, man. The Lovebirds stars Kumail Nanjiani and Issa Rae as a couple on the verge of breaking up after four years together who end up on the run after witnessing a murder. The film's two characters, Kumail Nanjiani and Alison Rae, are so endlessly intriguing that you'll follow them pretty much anywhere. Director David Showalter finally settles into a fairly standard combination of action-comedy and rom-com rhythms. The Lovebirds is one of Netflix's lesser-known originals, but it's well worth watching again.
Team America: World Police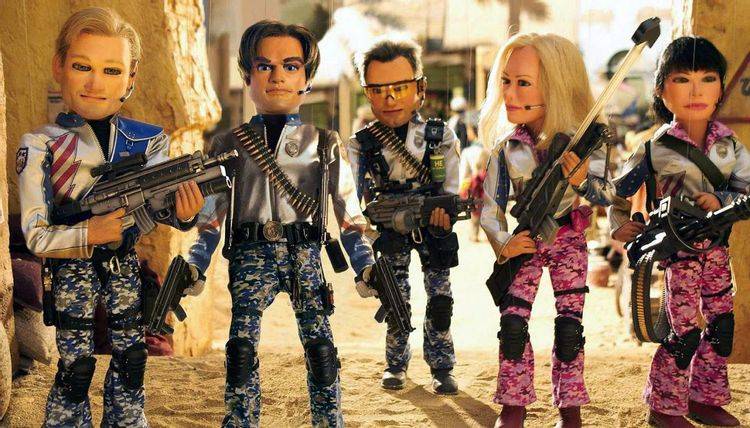 When you need to laugh so hard it hurts, Team America: World Police is the movie to watch. Trey Parker and Matt Stone haven't done much in the last 20 years outside of South Park, but Team America from 2004 is as sharp and entertaining as you'd expect. The film is a spoof on the United States' War on Terror, centering on the eponymous "World Police," who invade neighboring countries and destroy everything in the name of freedom. This film contains some very bizarre moments, culminating in a third act that is directed at practically everyone.
The Edge of Seventeen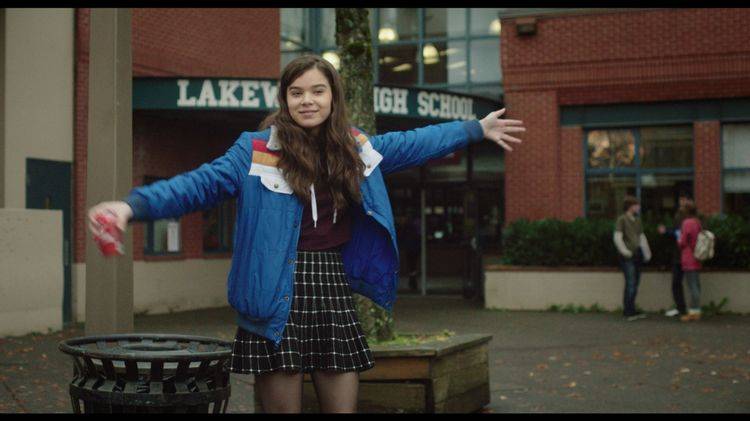 If you're searching for a charming coming-of-age comedy with a terrific lead performance, look no further than The Edge of Seventeen. In this funny and heartwarming R-rated comedy, Hailee Steinfeld plays a high school junior who goes through the ups and downs of puberty in a brutally honest way. She has a strong bond with a teacher (Woody Harrelson), who helps her work through her issues with friends, boys, and her family. Edge of Seventeen is both lovely and filthy, but what stands out about it—aside from Steinfeld's superb performance—is how real everything feels. The nerves. The awareness of one's own existence. The worth of everything.
The Disaster Artist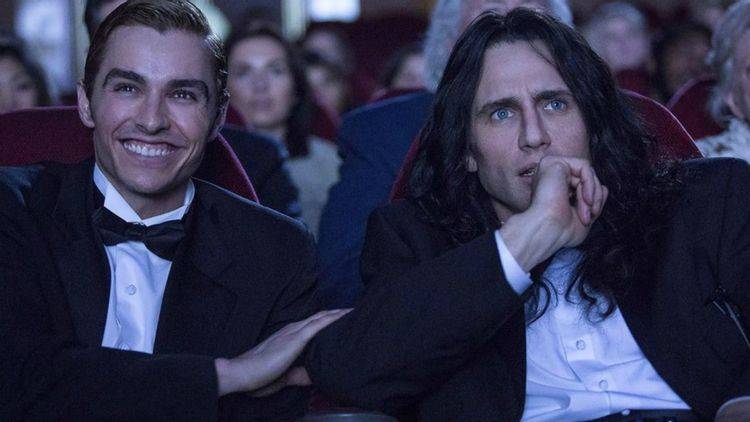 It shouldn't be this good or emotional to watch a documentary about the making of the infamously awful film The Room, yet it is. The Disaster Artist is a documentary about Tommy Wiseau's film The Room, which violated practically every cinematic norm (for the worse) and became a cult classic owing to its absolutely bizarre construction and execution. The friendship between Tommy and Greg Sestero (Dave Franco) provides an unexpectedly emotional foundation for this strange-than-fiction story that is also very, very, very hilarious, and James Franco is simply fantastic in this film, both in front of and behind the camera.
Talladega Nights: The Ballad of Ricky Bobby

If you're missing Will Ferrell and John C. Reilly's hilarious mix, you can't go wrong with a rewatch (or first-watch) of Talladega Nights: The Ballad of Ricky Bobby (and have been burnt by Holmes & Watson). Following the success of Ferrell and co-writer/director Adam McKay's Anchorman, they intended to make their next film more commercial while still incorporating some biting social commentary. Talladega Nights is a NASCAR film about Ricky Bobby (Ferrell), a foolish racer who suffers a setback and is forced to watch his best friend Cal Naughton (Reilly) take center stage. With buffoonish envy and outlandish pranks, McKay offers the same style of smart-silly humor that made Anchorman so rewatchable.

If you're looking for a lot of laughs in a short amount of time, I humbly recommend The Unauthorized Bash Brothers Experience. The special is portrayed as a rap album produced by baseball legends Jose Canseco and Mark McGwire during their time as the "Bash Brothers" in the 1980s. It's a short film that goes along with a new Lonely Island album. Andy Samberg plays Conseco, and Akiva Schaffer plays McGwire, and the whole thing is deliciously stupid and hilarious, as is pretty much everything The Lonely Island does. Turn on this 30-minute experience right now if a parking lot brawl between a bashful Samberg and Schaffer, as well as an angry Maya Rudolph and the band Haim, seems like your cup of tea.
The Ballad of Buster Scruggs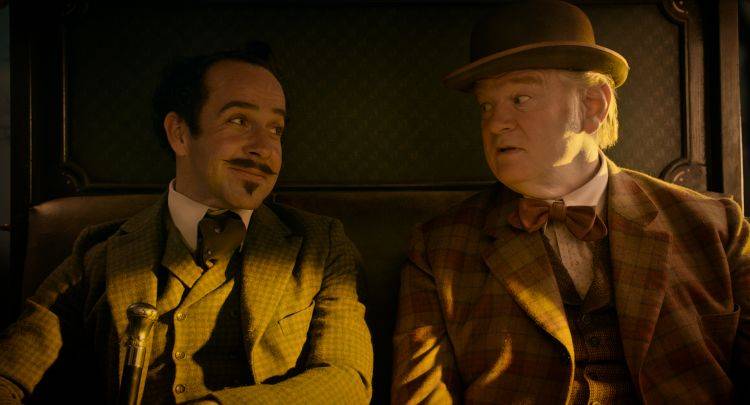 The Coen Brothers' films are almost all comedies in some fashion, and even their few pure dramas are full with dark humor. That is certainly the case with The Ballad of Buster Scruggs, a six-part Western anthology featuring six different stories all dealing with mortality. At least three of the episodes qualify as comedies, including the boisterous opening section starring Tim Blake Nelson and the second installment "Near Algones," which stars James Franco and is essentially one long joke with a fantastic conclusion. You'll get a big dose of grief and introspection along with the belly laughs if you watch it all at once, but since the Coen Brothers are two of our best living directors, it all comes together like a beautiful feast.
To All the Boys I've Loved Before

Lana Condor, Janel Parrish, Anna Cathcart, Noah Centineo, Israel Broussard, and John Corbett star. To All the Boys I've Loved Before is an excellent choice on Netflix if you're looking for a fun, enjoyable YA romantic comedy to brighten your day. Based on Jenny Han's novel, the plot follows Lara Jean (Lana Condor), a teen whose wildest fantasies are realized when five letters she wrote to her hidden crushes are sent out without her knowledge. When Lara Jean is approached by her previous crush Peter (Noah Centineo), she is afraid that it will interfere with her current crush Josh (Israel Broussard), so she and Peter decide to fake a relationship so that they may be with the person they really want to be with. Pretending to be together leads to true feelings between the two people. The film is enjoyable to watch from beginning to end, allowing you to experience a period when who "loved" you was the most important thing in the world, but without the tragedy of high school.
The Legacy of a Whitetail Deer Hunter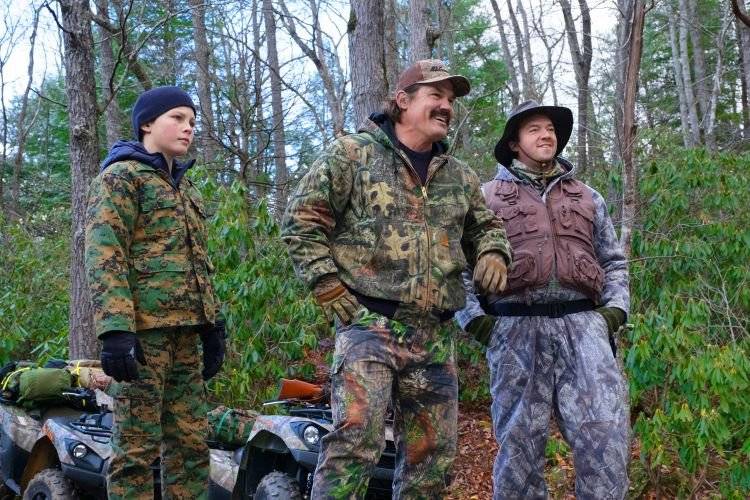 Jody Hill made his indie debut with The Foot Fist Way, which was followed by the intensely dark Observe & Report, but he and Danny McBride then spent nearly a decade in television, developing, writing, and directing Eastbound & Down and Vice Principals. Hill is back in the movies with The Legacy of a Whitetail Deer Hunter, and while it has the edge that Hill fans have come to expect, it's also a lot sweeter and more inspiring. Josh Brolin portrays a reality TV hunter who takes his child on a hunting trip with his friend/cameraman, McBride. Because of Brolin's fractured connection with the boy's mother, Hill weaves a story that is both funny and endearing.
The Incredible Jessica James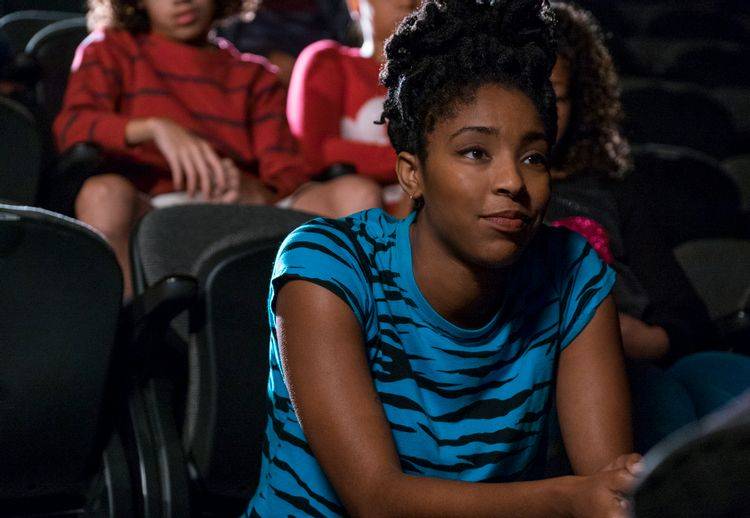 Since her time on The Daily Show, Jessica Williams hasn't gotten the respect she deserves, but the indie romcom The Incredibles is a step in the right way. Jessica James is her first main role since then, and she impresses. Jessica James isn't exactly as fantastic as the title suggests — she's selfish and naive — but she's passionate, honest, and ambitious, and Williams manages to make you love her despite her shortcomings. Chris O'Dowd's usually delightful supporting performance doesn't hurt, and the two have explosive chemistry as they try to navigate the waters of heartbreak together toward something new and healthy. The Incredible Jessica James is a new take on the romcom that doesn't pander to the lowest common denominator. It's sexy, humorous, and unmistakably present.
The Package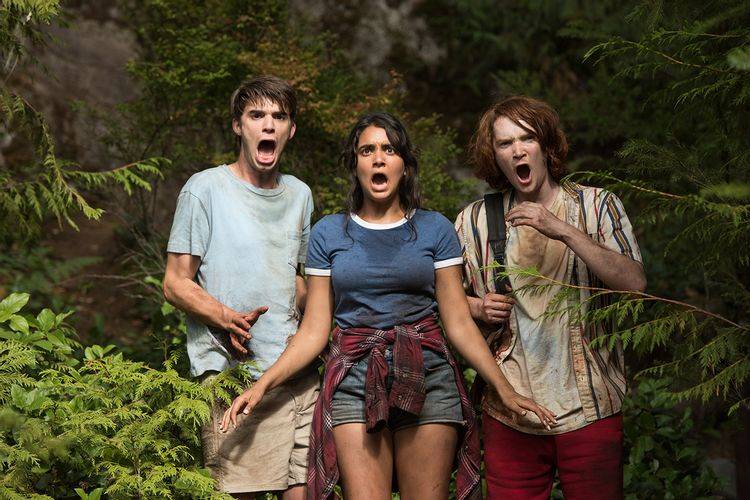 The Package is a movie about a man who mistakenly chops off his own junk in the woods, so you pretty much know if you're in or out right away. This film follows five men on a camping trip: Sean (Daniel Doheny), his more awkward best friend Donnie (Luke Spencer Roberts), long-haired stoner Jeremy (Eduardo Franco), his sister Becky (Geraldine Viswanathan), and Donnie's ex-girlfriend Sarah (Geraldine Viswanathan) (Sadie Calvano). After one particularly terrible swing of a knife, Jeremy's privates are flying into the surrounding vegetation, and it's up to the adolescent crew to lead the cut organ to safety. Sure, it's filthy as far as raunch-fests go, but the young cast is very endearing—especially Viswanathan, who is even better in the must-see Blockers—and there are some unexpectedly beautiful things about being awkwardly on the cusp of adulthood hidden beneath all the dick jokes.
Wine Country

If you want to see something light and breezy, Wine Country is a terrific choice. Despite the fact that Amy Poehler's directorial debut isn't the most thematically satisfying or tightly coiled comedy, it's a decent effort with plenty of laughs and heart. The film is based on a real-life journey that the cast and real-life friends took to celebrate Dratch's 50th birthday, during which their friendship was tested. The actors play slightly exaggerated versions of themselves, so seeing how these SNL alumni interact in real life is part of the fun. On a Friday or Saturday night in, this is a terrific movie to see with friends (and a glass of wine).