The twenty-second season of the well-known reality television programme "Big Brother," also known as "Big Brother: All-Stars," debuted on August 5, 2020, and was broadcast on CBS. This season was distinct because it had a cast of HouseGuests from previous seasons, who were well-known for their iconic personalities and games. As the houseguests manoeuvred between alliances, backstabbing, and eliminations, the game was full of drama, twists, and turns. So, if you're curious about the whereabouts of your favourite Season 22 candidates, look no further.
Where is Cody Calafiore Now?
View this post on Instagram

In 2014, Cody Christopher Calafiore finished second on "Big Brother 16," enthralling viewers with his clever skills. When he came back and won 'Big Brother 22: All-Stars' in 2020, he cemented his reputation as a fierce rival. Calafiore held a sales associate role at ADP in 2015 and served as an event host at Total Entertainment in Hackensack, New Jersey, prior to making his broadcast debut. He joined Soul Artist Management, a modelling firm with headquarters in New York, after his Big Brother 16 episode.
Calafiore has adorned the covers of prestigious periodicals as Winq Magazine, Men's Fitness, LOVE Magazine, and Risbel Magazine as a model. He has also displayed his modelling skills on the catwalks for well-known fashion designers including Ricardo Seco, Gents, and Malan Breton. In 2016, Calafiore pursued his interest for acting outside of television and modelling and co-starred in the independent film "What Happened Last Night." In October 2019, he further joined Keller Williams Realty as a salesperson for Shrewsbury, New Jersey.
With fellow 'Big Brother' champion Derrick Levasseur, Calafiore debuted the podcast 'The champion's Circle' in July 2021, which offers analysis and comments on the current season of the programme. Additionally, he took part in the reality TV competition "The Traitors," which made its debut on the Peacock streaming service, in January 2023. Calafiore is currently engaged to Cristie Laratta, and they support one another in their individual endeavours.
Where is Vincenzo "Enzo" Palumbo Now?
View this post on Instagram

A charming Italian-American from Bayonne, New Jersey named Vincenzo "Enzo" Palumbo has established a lucrative profession as an insurance adjuster. He is able to guarantee fair and accurate assessments thanks to his knowledge in navigating the complexities of the insurance sector. While Enzo gives his everything to his career, his journey has also had a profound impact on who he is.
Although Enzo and Joella Kealy split after their previous marriage, they still place a high priority on the welfare of their children through co-parenting. Nico Palumbo, a son, and Gia Palumbo, a girl, were born to Enzo and Joella. Together, they manage the rewards and difficulties of raising their kids while giving them a nurturing and encouraging environment.
Beyond his responsibilities as a father, Enzo is devoted to his family. He values the relationship he has with his kids and works hard to make a positive difference in their lives. Enzo manages his career and parental duties while embracing the obligations and joys of fatherhood. He continuously strives to forge enduring relationships and meaningful memories with his kids.
Where is Nicole Franzel Now?
A television personality from Ubly, Michigan named Nicole Ann Franzel-Arroyo has established herself on reality TV. After graduating from college in 2014, she started working as an ER nurse, but after she made an appearance on Season 16 of "Big Brother," her professional trajectory changed.
View this post on Instagram
Along with her experience on "Big Brother," Nicole also took part in "The Amazing Race 31" with her ex-boyfriend Victor Arroyo. Following a surprise appearance on an episode of "Big Brother 20," on September 8, 2018, the couple announced their engagement. Their romance grew over their time on "Big Brother 18," and on March 16, 2021, they were married, beginning a new chapter in their lives.
Nicole excitedly announced on Twitter in January 2021 that she and Victor were expecting their first child. In July of the same year, their son Victor "Arrow" Arroyo IV was born, greatly to the happiness of their expanding family. Nicole has experienced several remarkable events both within and outside of the "Big Brother" house. Alongside her loved ones, she continues to embrace new experiences and milestones.
Where is Christmas Abbott Now?
View this post on Instagram

Christmas Abbott is a well-known name in the fitness and personal development industries who motivates people and leaves a lasting impression. She has become a nationally bestselling author with her books "The Badass Body Diet" and "The Badass Life," inspiring readers to create healthy routines and improve their quality of life. Besides literature, Christmas has a varied background. She has experience working in high-stress settings as a member of the NASCAR pit crew. Her commitment to fitness has also been furthered by participation in the CrossFit Games and national recognition as a weightlifter.
Beyond her individual accomplishments, Christmas travels the world to impart her knowledge and skills through workshops, keynote addresses, and nutrition seminars. She wants to inspire and mentor others as they pursue their potential. She continues to have an impact on the fitness community as the proprietor of CrossFit Invoke in Raleigh, North Carolina. Christmas is married to Memphis Garrett, a fellow 'Big Brother' housemate who rose to fame for his participation in 'Big Brother 10.' Together, they experience life's adventures and serve as an example to others through their same interests and successes.
Where is Robert "Memphis" Garrett Now?
View this post on Instagram

Robert "Memphis" Garrett, who is best known for his participation in the tenth season of "Big Brother," has advanced both personally and professionally since his debut. He made a comeback as an all-star player for the 22nd season, cemented his place as a key player in the "Big Brother" series. He was reportedly the oldest player in the history of the all-star season, which is noteworthy. Robert just wed his castmate from season 22 Christmas Abbott in his personal life. Their marriage symbolises their close kinship and dedication to one another.
Robert has pursued his love of food and drink professionally. He oversees a number of eateries, including Ya Mas Taverna, Blue Wave Sushi, No Man's Land, and The Poké House. These businesses are a reflection of his commitment to offering top-notch cuisine. Additionally, Robert is the CEO and founder of the Garrett Hospitality Group, a carefully chosen group of restaurants that showcases his entrepreneurship abilities and outlook. He maintains his prominence in the culinary industry and his status as a multidimensional entrepreneur through his many ventures.
Where is Tyler Crispen Now?
View this post on Instagram

However, Tyler Crispen's goals go beyond acting. He has established a reputation for himself in the entertainment world by exhibiting his skills in shows like "The Queen's Jewels" and "The Bold and the Beautiful." Through his YouTube channel, Tyler shares his deep passion for exploration and adventure with his audience. Through compelling video from his international travels, he encourages others to embrace new experiences and appreciate various cultures.
In addition to his work in the entertainment industry, Tyler is a co-owner of the minimalist jewellery boutique Naut and Chain. Through this business, he may use distinctive accessories to show off his ingenuity and sense of taste. Tyler continues to enthral his audience with his engaging demeanour and varied interests even if he is currently single. He will advance farther in the entertainment and commercial sectors with his talent, passion, and entrepreneurial drive.
Where is Daniele "Dani" Briones Now?
View this post on Instagram

The daughter of Evel Dick, Daniele Donato, made a significant impression on the reality television programme "Big Brother." Daniele Donato's journey began in 2007 during the eighth season, and she later returned, exhibiting her competitive spirit and strategic skill. Beyond "Big Brother," Daniele appeared as a guest on a number of TV programmes, such as "Reality Obsessed" and "Power of 10," and she spoke up to viewers on Entertainment Tonight about her time on "Big Brother."
Daniele and Dominic became great friends when she was in the 'Big Brother' house during season 13, and their friendship later turned into a romantic connection after the season was over. Daniele and Dominic were engaged in August 2012, and they wed in Huntington Beach, California, on January 19, 2013. Considering that they had only been acquaintances on the programme at first, their relationship defied expectations.
Daniele and Dominic joyfully announced the happy news that they were expecting their first child together in February 2018. On August 20 of that year, also Daniele's birthday, their daughter Tennessee Autumn was born. They still get along well today and treasure the adventure they took together from the performance to starting a family.
Where is David Alexander Now?
View this post on Instagram

After his notable but brief experience on Season 21 of "Big Brother," David, who is originally from Atlanta, Georgia, relocated to Los Angeles, California, where he now works as a Senior Sales Representative. David makes use of his abilities in his position to succeed in the corporate world. His interests, however, go beyond his occupation. The former "Big Brother" contestant has a strong enthusiasm for photography, especially documentary work.
Through his camera lens, David can deliver gripping tales and record real-life moments. He uses photography as a creative outlet to exhibit his artistic side and to share his own viewpoint with others. In the exciting city of Los Angeles, David enjoys both his career and artistic endeavours.
Where is Kevin Campbell Now?
View this post on Instagram

Former "Big Brother All-Stars" competitor Kevin Campbell has made a name for himself as a Marketing Creative Director, displaying his talent and knowledge in the industry. Along with his professional pursuits, Kevin is an avid runner who has actively participated in a number of marathons, displaying his dedication to fitness and personal growth. Kevin also promotes equality and acceptance for the LGBTQ+ community by leveraging his platform. He has advocated for LGBTQ+ rights and fought to make society more inclusive as a person who is openly gay.
Although Kevin is well-known, he has managed to keep his private affairs mostly hidden. He has a committed relationship with someone, but he won't say who it is. Kevin has prioritised his limits and remained this private in order to concentrate on his activism and professional duties. Kevin developed a devoted following throughout his stint on "Big Brother" because of the strategic gameplay and charming demeanour he displayed there. He continues to apply his creativity and knowledge to several projects across multiple industries as a marketing creative director.
Where is Da'Vonne Rogers Now?
Da'Vonne Rogers is a multitalented person who has had a big impact on the television and entertainment industries. Da'Vonne, who is well-known for her vivacious attitude and alluring presence, has participated in a number of reality TV programmes, demonstrating her versatility and talent. Through her appearances on shows like "The Bold and the Beautiful," "The Revengers," "The Challenge," and "Ex On the Beach," Da'Vonne has had the opportunity to showcase her talents as an entertainer and engage with viewers all around the world. She has become a fan favourite on a variety of media thanks to her ability to entertain and engage audiences.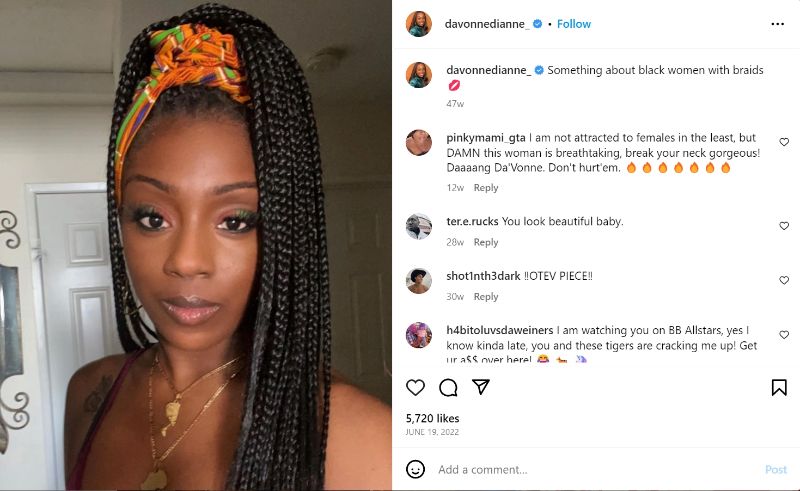 One of Da'Vonne's noteworthy contributions is her participation in the 'The Challenge' official podcast, where she offers original insights and behind-the-scenes tales and interacts with the show's devoted fan base. Through the podcast, she provides a greater grasp of the show's plot points and cast members, improving the whole viewing experience. In addition to her career, Da'Vonne is a loving mother to Kadence Dianne, her 8-year-old daughter. Her loyalty to her family is highlighted by this aspect of her life, which also adds to her complex personality.
Where is Ian Terry Now?
View this post on Instagram

As a result of her participation in 'Big Brother: All-Stars,' the 22nd season of the show, Da'Vonne Rogers, who had success on 'Big Brother,' proceeded to make ripples in the reality TV industry. This strengthened his position as a key player in the franchise. Da'Vonne joined EPMI in June 2022 as a Senior Consultant and is based in Houston, Texas. He offers his experience and skills to this role in order to help the business succeed. His accomplishments outside of the programme illustrate his adaptability and capacity to succeed in several industries.
Where is Bayleigh Dayton Now?
A multitalented person with a reputation in the entertainment sector is Bayleigh Amethyst. She adds grace and poise to the campaigns and runways she graces as a fashion model. She has achieved success as a former beauty queen, actor, and host, enthralling audiences with her many roles thanks to her versatility and charisma.
View this post on Instagram
But being a loving mother and wife is Bayleigh's most cherished role. She is happily wed to Chris Williams, and the two of them have a lovely daughter who completes their loving and supportive family. Bayleigh's YouTube channel, BayleighDaily, allows fans to interact with her more intimately and obtain a better picture of her life away from the spotlight by sharing her personal experiences and observations.
Where is Kaysar Ridha Now?
View this post on Instagram

Kaysar Ridha is a highly skilled individual with experience combining technology and design to produce outstanding products. His schooling from the University of California, Irvine in Irvine, California, provided a strong basis for his profession. As Vice President of Global Product & Design, Healthcare at Desktop Metal, Kaysar was committed to transforming patient care through the utilisation of cutting-edge production methods and materials. His work in bio-printing in particular demonstrated his dedication to enhancing medical outcomes. Kaysar sought to deliver individualised care and help enhance medical treatment by fusing design and technology.
Where is Janelle Pierzina Now?
Because of her numerous appearances in well-liked shows, Janelle Marie Pierzina is a well-known name in the American reality show business. She rose to fame by taking part in multiple seasons of "Big Brother," including the sixth, seventh, fourteenth, and twenty-second seasons, where she displayed her spirit of competition and tactical skill. Janelle also participated in season 31 of "The Amazing Race," further establishing her status as a reality TV star.
View this post on Instagram
Before embarking on her reality TV career, Janelle had a varied career that included modelling, acting, and serving drinks, illustrating her love for the entertainment business. She has, however, also had to deal with personal difficulties, such as legal troubles like a misdemeanour DWI infraction and theft accusations. Janelle has demonstrated resiliency and the will to succeed in spite of these challenges.
Janelle has recently moved her attention to the real estate sector and is presently employed at Edina Realty in Minnesota as a real estate agent. She is a devoted mother to her children, who fill her life with happiness and fulfilment, in addition to her professional endeavours. Janelle values being a mother and works hard to provide a warm and supportive home for her kids.
Where is Nicole Anthony Now?
Nicole Anthony, a committed preschool assistant from Long Island, New York, says that Brian "Lefty" Fontanez has given her love and companionship. She values her relationship with Brian and continues to do crucial work to help young children's education and development. As they traverse life together, their engagement stands for a solid commitment and a common direction.
View this post on Instagram
Nicole's dedication to fostering young minds in her line of work and the affection and tenderness she has for her spouse go hand in hand. They have bonded in harmony, enhancing one another's life and forging a caring and devoted relationship. Nicole and Brian are embracing the ideals of love, understanding, and growth as they begin their journey together, creating a future full of shared goals and objectives.
Where is Keesha Smith Now?
View this post on Instagram

Following her appearances on the show, Keesha Smith, a notable participant from "Big Brother," decided to put her family and personal life first. Keesha's return to the all-star season was only temporary, but she has found happiness in her loved ones' presence. She is a devoted mother to her two sons and lives in a close-knit household with her three adored dogs. Early in 2023, Keesha went through a traumatic loss in her family, which inspired her to take a more discreet and understated approach to social media. She will be able to spend more time with her loved ones and get through this trying time with their help and support if she does this.
Being a binge-watcher himself, finding Content to write about comes naturally to Divesh. From Anime to Trending Netflix Series and Celebrity News, he covers every detail and always find the right sources for his research.