The show's most vibrantly cruel characters have once again captured the attention of many comic book and superhero enthusiasts with The Boys' eagerly anticipated third season premiere. Black Noir, the most reserved member of the Seven, takes great satisfaction in being the most proficient fighter in the gang, even if he hasn't done anything in the series so far, which has just added to his mystique. What was his origin? Who is hiding behind the mask? Despite the fact that the series has diverged from most plotlines, Black Noir is a much better-known character to comic book readers.
The Boys #1 – The Name of the Game, Part 1 serves as Black Noir's debut appearance, while The Boys #65 – Over the Hill With the Swords of a Thousand Men, Part 6 serves as Black Noir's final appearance. On the books, Black Noir is a lot more nasty than he has been on the screen so far. Even Homelander can't keep up with the rate at which he indulges in immoral behaviour.
Black Noir Is A Homelander Clone
Black Noir is revealed to be a clone of Homelander in the comics, even though his face hasn't been seen in the series yet. When he initially removes his mask in The Boys #65, this is demonstrated.
The decision to create a Homelander clone by Vought International's upper management was made for a solid cause. Supe, the company's star, is far too strong. They feared he may one day become enraged by their rules and rebel. If that ever occurred, they would have someone who is at least as strong as him to deal with him.
Black Noir Is The Strongest Member Of The Seven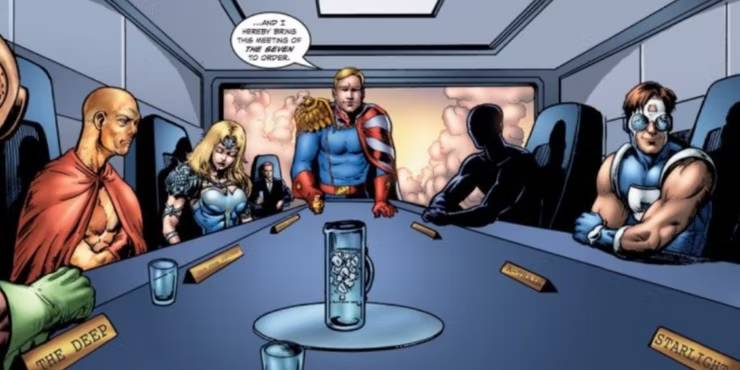 On-screen, no one matches Homelander when it comes to capabilities and helpful abilities. He generally doesn't have much job to do because everyone fears him.
In the comics, Black Noir is more powerful than him. This is despite the fact that his only powers are Superhuman Strength (defined as enough to stop a dozen Mack trucks), Superhuman Durability, and Superhuman Speed. In the series, he also has extra skills including Superhuman Hearing. According to a simulation portrayed in the comics, Black Noir is the only member of The Seven who can defeat all of The Boys at once.
Black Noir Kills Homelander
Unfortunately for Black Noir, Homelander enjoys being a puppet of Vought International, thus he never goes rogue in the comics. This makes Black Noir frustrated as he has been looking for the day when he'll fulfil his aim of killing the Supe. He then starts accusing Homelander of robbery and cannibalism.
In the end, Black Noir discloses the true motivation for his creation. Homelander gets enraged by this and attempts to kill him. Instead, Black Noir is responsible for his death. The US military and The Boys then strike Black Noir, killing both of them.
Black Noir Only Has A Nut Allergy In The Show

Black Noir's Kryptonite is revealed to be crazy in Season 2. He experiences anaphylactic shock as a result of Queen Maeve forcing him to eat a few nuts. Since it never occurs on the page, that is novel to comic book aficionados.
Nathan Mitchell, the actor who plays the part, served as the source of inspiration for the plot. Mitchell has a nut allergy in real life, so the writers thought it would be a good idea to include that in Black Noir's plot as well. Of course, it is very likely that Vought gave him the allergy so they could murder him in the event that he also turns rogue.
Black Noir Only Speaks At The End
Similar to the Amazon series, Black Noir spends the majority of his comic book appearances silent. He just produces odd noises. He appears to be nicer than he truly is due to this personality.
Black Noir only talks at the very end of the comics, just before he kills Homelander and also ends up getting killed. He confesses, saying that he was actually responsible for all the horrific crimes that people believed Homelander was responsible for. Everyone is shocked, but not as much as his passing.
Black Noir's Original Costume
In the comic books, Black Noir wears a whole black costume from head to toe. It lacks any unique features or storage spaces. It resembles Spider-appearance Man's if he were to land in a pool of black ink.
His appearance in the series is a little different since he has an object in front of his eyes that resembles a shade. On his breast area, there are also patterns that resemble pentagons. His suit also has some areas that are more grey than black.
Black Noir's True Level Of Ruthlessness

The Black Noir of comic books is capable of any horrible deed. His treatment of kids is also not admirable. Black Noir has occasionally been observed cannibalising toddlers for amusement when she is bored.
In contrast, the Black Noir from the series spares the terrorist's son who has been strengthened by Compound V. A mission is given to Black Noir to kill the terrorist at his base. He decimates everyone else there but leaves the young lad alone.
The Extent Of Black Noir's Regenerative Healing Factor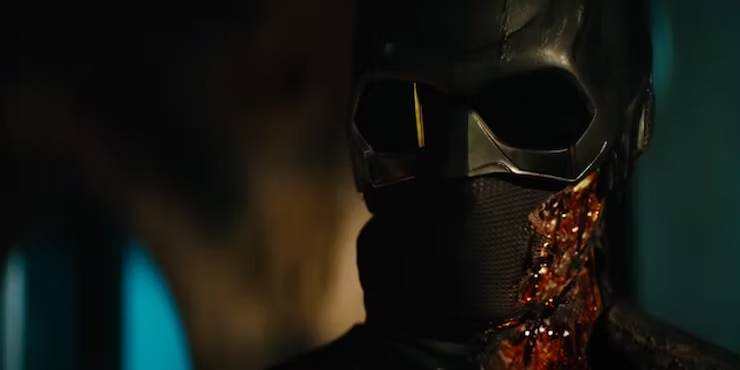 Despite his strength, Black Noir doesn't heal as swiftly as a superhero should. The series has made hints about this. His lower face suffers terrible burns that don't heal during a fight with Queen Maeve and Starlight.
Comic book readers are aware of how ineffective Black Noir is at mending. Homelander once used the laser from his eyes to burn his arm, and the wound took a very long time to heal. He is disembowelled and has multiple severely burned body parts during a fight with Homelander inside the White House.
The Feud Between The Seven And The Boys Traces Back To Black Noir
Because Becky, Billy Butcher's wife, was sexually assaulted by Homelander, fans of the Amazon series despise him. Her son is born as a result of the event, and Homelander is determined to support him.
Comic book readers are familiar with a quite different narrative. Black Noir attacks Becky while posing as Homelander in order to get Vought to approve a hit on the man. Billy becomes a vengeful guy as a result. He makes a promise to destroy Vought International and everything it stands for with the help of the other members of The Boys.
The Incident With Starlight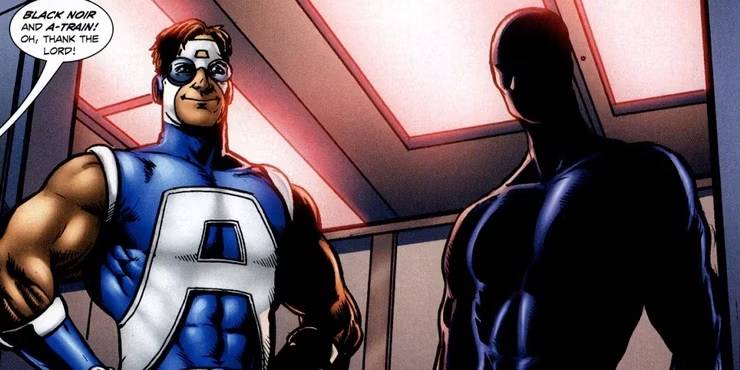 Black Noir hardly even interacts with other characters; the series is primarily about his brute might. In the cartoons, he is unique. For instance, together with Homelander and A-Train, he is a member of the trio that sexually attacks Starlight when she joins The Seven.
In the series, Starlight is only attacked by The Deep. He is ultimately made to apologise in front of everyone, and he is then expelled from the group. In the comics, The Deep is likewise considerably prettier.
Being a binge-watcher himself, finding Content to write about comes naturally to Divesh. From Anime to Trending Netflix Series and Celebrity News, he covers every detail and always find the right sources for his research.