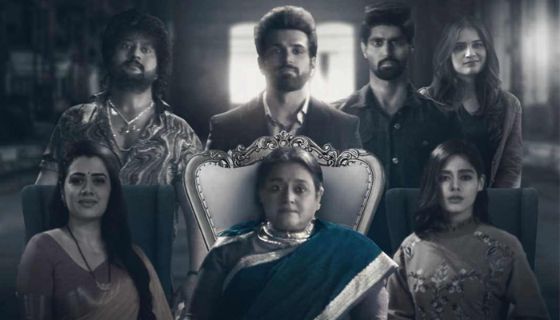 Cartel: Great Acting Complemented By Gripping Story
Cartel Web Series
Cartel is an Indian web series that will premiere on MX Player on August 20, 2021. The lead actors in the crime drama web series are Rithvik Dhanjani, Tanuj Virwani, Supriya Pathak, and Divya Agarwal. In addition, the gang-war story is available in both Hindi and English.
Cartel Story
The plot centres around Mumbai's five most powerful mafia lords. Furthermore, it demonstrates how criminal operations have entered the underworld of modern times with the unwavering support of powerful politicians. Rani Mai devised a covenant that binds all five gangs together. Things, on the other hand, take a sharp turn when there is an imbalance. Watch the webcast to see how a sudden change in connection may completely affect the CARTEL!
Cartel Web Series Cast
Supriya Pathak
Rithvik Dhanjani
Tanuj Virwani
Jitendra Joshi
Gaurav Sharma
Divya Agarwal
Monica Dogra
Surshrii Mishraa
Pranati Rai Prakesh
Aditi Vasudev
Cartel Trailer
Cartel All Episodes
The First Family of The Business
Maine Rani Maari Ko Maara
Eid To Ek Bahana Hai
Shani Darsham
Pyaar Ke Rang Pacchas
Once Upon A Time
Teen Chitayein
Happy Anniversary Rama
Kacchi Roti Patli Daal
Meeting Maine Bulaya Hai
Rani Maai
Angre Rotey Nahi, Rulate Hai
Humare Dhande Me Kahaniya Sirf Shuru Hoti Hai
Phool & Phinal Hisaab
Cartel Review
Cartel is a unique online series with a breath of new ideas and concepts. The plot of a political-crime-drama is pretty unique. Supriya Pathak, on the other hand, deserves full credit for her performance as Rani Mai. Other notable performers included Rithvik, Tanuj, Divya, Gaurav Sharma, Monica Dogra, and others. There are dozens of bold and intimate sequences in addition to some serious crime scenarios. Overall, it's a terrific program with good characters and a compelling subject.
'Cartel,' set in modern-day Mumbai, is about gangsters who rule the city through their illicit enterprise. And it's because of the understanding that Rani Maai (Supriya Pathak) reached with the other gang leaders, Anna (Kannan Arunachalam), Gajraj (Shubhrajyoti Barat), Chairman (Ashwath Bhatt), and Khan, that Mumbai hasn't seen any gang-related bloodshed in the last 15 years (Anil George). Their illicit activities have been isolated from their allocated zones, with the stipulation that "no one will meddle in the business of another."
In her own right, Rani Maai is a powerful woman. She leans greatly on her two nephews, Madhukar Mhatre aka Madhu Bhau (Jitendra Joshi) and Arjun Mhatre nicknamed Major Bhau (Tanuj Virwani), whom she treats as if they were her sons and blood (Ritvik Dhanjani). When Rani Maai is shot in her own warehouse, her three sons must rise to the challenge of seeking vengeance while keeping their business afloat in the face of rival crime lords. This appears to be the start of a big gang war.