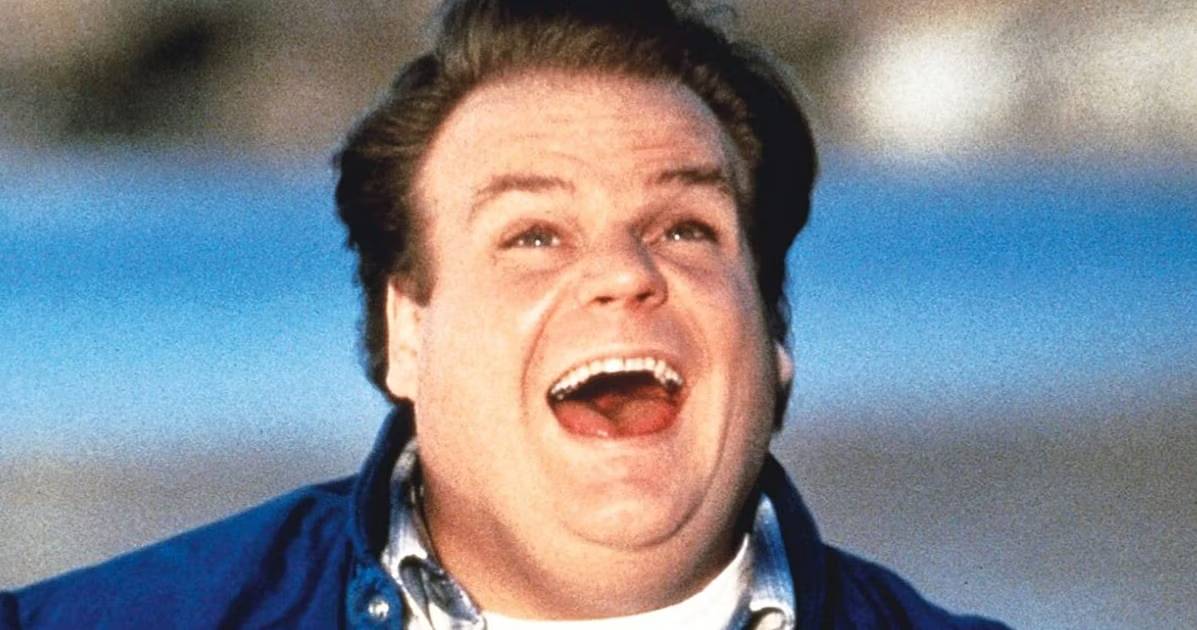 8 Best Chris Farley Movies You Can Watch If You Miss His Hilarious Antics
Many devoted viewers of Saturday Night Live believe that comedian Chris Farley is one of the funniest cast members to have ever performed on the show. With his highly physical comedy, Farley practically every week threw caution to the wind and was always prepared to go above and beyond to grab a laugh. You never knew what he was going to do next, whether it was as motivational speaker Matt Foley who lived in a "van down by the river," dancing at a Chippendale's audition and competing against Patrick Swayze for the role, or dressed in drag as one of the Gap Girls. Farley's burgeoning star reached even greater heights over the majority of the 1990s thanks to possibilities on the big screen that came his way after his breakthrough on Saturday Night Live.
His next logical step after beginning his career as a member of The Second City, a renowned Chicago improv comedy troupe, was Saturday Night Live. But Farley's rise to fame in Hollywood helped him establish his reputation for all time, and in 2005, he was honoured with a star on the Hollywood Walk of Fame. Farley, who idolised comic John Belushi, followed in the footsteps of his role model by appearing in a number of comedic masterpieces, sometimes as interesting side characters, but he consistently stole the show in nearly every scene he was in. But throughout his life, Farley struggled with a number of drug and alcohol problems, which ultimately led to his passing in December 1997 at the age of just 33. Farley achieved more within his just five years in the public eye than many actors and comedians do throughout their whole careers. Here are the top-ranked films starring Chris Farley as a result.
Airheads

Farley plays Officer Wilson in the movie Airheads, who is attempting to stop Chazz (Brendan Fraser), Pip (Adam Sandler), and Rex (Steve Buscemi) as they are holding a radio station hostage. In an effort to get their Lone Rangers demo broadcast on the radio, the band started holding the workers inside the building hostage. In the film's most iconic moment, Farley humiliates a man by ripping out his nipple ring.
Almost Heroes

Chris Farley plays Bartholomew Hunt, an explorer fighting against the renowned Lewis and Clark crew after the United States purchased Louisiana in the early 1800s. The film was released not long after he passed away. Before Lewis and Clark are able to do it themselves, Bartholomew is hired to go all the way west and cross the country. His travelling companion is Matthew Perry (playing Leslie Edwards), and the two—along with all of their personality quirks and diverse upbringings—get into a lot of trouble along the road. Farley also had a brief part in the posthumous movie Dirty Work, which also starred fellow SNL alum Norm McDonald. Farley portrayed an unscrupulous acquaintance who repeatedly had his nose bit off in the movie Dirty Work.
Beverly Hills Ninja
In Beverly Hills Ninja, Chris Farley excels as Haru, a ninja who is obviously not your usual one. He was adopted as a newborn by an older clan of ninjas, and as an adult he assists a woman from America in looking into the wrongdoings of her boyfriend. Haru must do this by flying all the way from Asia to Beverly Hills, California, in order to solve the problem. Chris Farley gets top billing as the movie's star sans a sidekick (like David Spade or Mathew Perry) in this, his first and only such movie in his acting career.
Billy Madison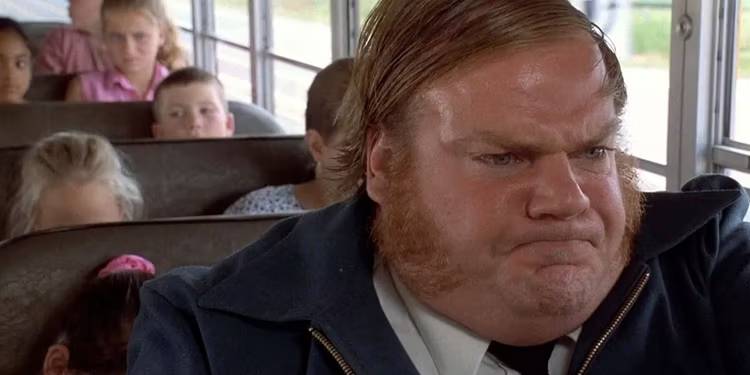 Chris Farley expresses his inner fury toward the elementary school children in a brief role as the irate school bus driver. On a school field trip, the bus driver decides to eat the children's lunch as payback for their constant yapping and sandwich-related injuries. In the movie, Farley also has an intriguing exchange with Adam Sandler, who plays Billy Madison.
Black Sheep
A second movie starring Chris Farley and David Spade was developed right after in order to capitalise on their clear connection in Tommy Boy. Farley plays Mike Donnelly, a governor candidate's brother. Tim Matheson plays the candidate, who hires a special assistant named Spade whose sole responsibility is to prevent the candidate's well-intentioned but inept brother from sabotaging the election. Even though Gary Busey plays a notable part in the film, there are some areas where it falls short of Tommy Boy. This could have a valid explanation. This movie may have been rushed in order to prevent Farley from working on a rival comedy called The Cable Guy as the script wasn't even finished when the project was first given the go-ahead. Putting that aside, movie is a must-see if you enjoy Farley's outrageous humour and Spade's snark. You wouldn't accuse Black Sheep of taking itself too seriously (not to be mistaken with a 2006 New Zealand comedy-horror film of the same name). The Mudhoney cameo will probably be appreciated by fans of 90s rock music as well.
Coneheads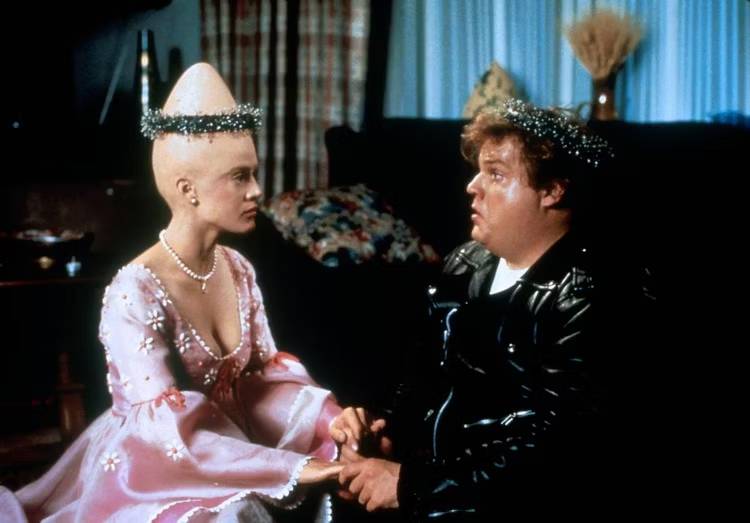 In 1993, the classic Saturday Night Live sketch was made into a motion picture. Ronnie the mechanic, played by Chris Farley, starts dating Connie, the daughter of the Coneheads. Connie's father Beldar, played by Dan Aykroyd, is very angered by this and takes the roof off Ronnie's car while he is inside to express it. Despite this, Ronnie and Connie persevere in this comedy about aliens and end up becoming a cute pair.
Tommy Boy
Tommy Boy is without a doubt Chris Farley's best film as a starring actor. It was named one of the Top 25 Comedy Films of All Time by Rolling Stone Magazine readers. This is by far Farley's funniest overall film part, and there are probably dozens of quotable gags in it. When his father unexpectedly passes away soon after marrying his new wife, Farley (as Tommy Callahan) is forced to rescue the family business (Bo Derek). In order to take control of the family riches now that "Big Tom" Callahan has passed away, Tommy's new Mom and her dubious son (played by Rob Lowe) attempt to ruin Tommy. Thankfully, Tommy has assistance from his father's assistant Richard and his romantic interest Michelle (Julie Warner) (played by David Spade). Despite the taunts directed at one another, Tommy and Richard's cross-country journey to keep Callahan Auto's customers happy ultimately turns Tommy Boy into a buddy comedy. This is necessary to keep the business of the company alive and prevent mass layoffs of its employees. Tommy Boy has the ability to make you cry while simultaneously making you burst out laughing. Farley's reputation as a bankable Hollywood movie star was cemented by one of the 90s' finest comedies.
It's natural to speculate about Chris Farley's future if he had survived. Farley might have taken on the parts that Kevin James eventually landed in a number of Adam Sandler & Happy Madison Productions movies, including Grownups and Paul Blart: Mall Cop. What is certain is that Farley was slated to play Shrek and had previously recorded almost all of the dialogue before the part was eventually rewritten for comedian Mike Myers following Farley's passing. Farley was apparently delighted to play the late comedian Fatty Arbuckle in a tragic biographical movie. Unfortunately, after Farley's death, that movie was never finished. You may get a terrific look back at Farley's career from many of the folks who were there by seeing the excellent documentary I Am Chris Farley. Thankfully, Farley's performances in the roles we had the pleasure of watching will endure time and linger on in the memories of his fans for a very long time.
Wayne's World 2
In the first Wayne's World film, Chris Farley played a security officer at an Alice Cooper event, but in the follow-up, he had a far bigger part. Farley is a would-be roadie for Wayne and Garth's concert extravaganza known as "Wayne Stock" in Wayne's World 2. Farley (playing Milton) is obviously unqualified for the position, but he claims he "had nowhere else to go" and ends up getting the job nevertheless.
Being a binge-watcher himself, finding Content to write about comes naturally to Divesh. From Anime to Trending Netflix Series and Celebrity News, he covers every detail and always find the right sources for his research.