'Sitting in Bars with Cake' on Prime Video tells the story of two friends who devise an inventive method for sparking up conversations with strangers. Jane is introverted and has difficulty forming new relationships. She is, however, an outstanding baker. Therefore, when her best friend Corinne realizes that Jane's cakes can help her surmount her social awkwardness, she suggests that they try something they've never done before.
When Corinne is diagnosed with a terminal illness, the film transitions from a fun expedition to a challenging one. Together, she and Jane must confront reality, which only serves to bring them closer. Since the film is based on a true story, you may question who Corinne represents. Here is all the information you need to know about her. SPOILERS FOLLOW
Is Corinne Based on a Real Person?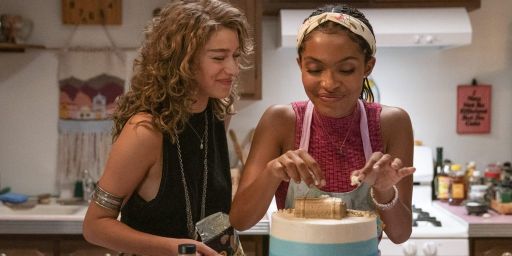 "Sitting in Bars with Cake" is based on Audrey Shulman's cookbook of the same name. It includes the recipes for every cake Shulman baked in 2013, when she and her companion Chrissy went cakebaring throughout Los Angeles. The character Corinne in the film is based on Chrissy. Some alterations have been made to their histories; for instance, Corinne is from Phoenix, Arizona, whereas Chrissy was from Munster, Indiana. Jane and Corinne were childhood closest friends in the film, whereas Shulman and Chrissy met in college. Aside from these minor details, the narrative remains faithful to actual events.
Shulman enjoys baking, so she baked a birthday cake for Chrissy, which they took to a pub to celebrate. The cake attracted a few individuals, and Shulman discovered that it was an effective icebreaker and conversation starter. Chrissy suggested that Shulman bake cakes and transport them to bars to meet new people in response to the cake's success. After contemplating the concept for roughly a year, they decided to implement it in 2013, with the goal of baking 50 cakes.
Chrissy had a seizure in the same year that she was diagnosed with brain cancer. Jane becomes Chrissy's principal caregiver in the film. Shulman looked after Chrissy in real life while her parents were in Indiana caring for their other daughter, who was also recovering from an illness. All the events depicted in the film that transpired following Corinne's diagnosis occurred similarly in real life.
How Did Chrissy Die?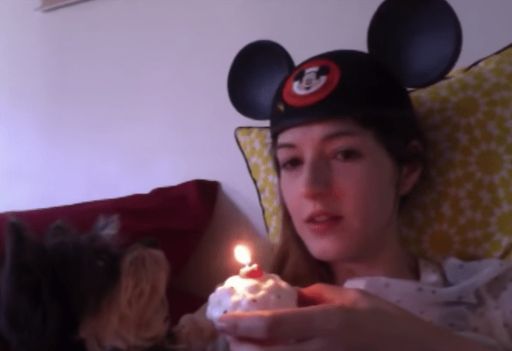 Chrissy Osmulski passed away on March 5, 2015, after fighting brain illness for two years. She was brought to rest at Elmwood Cemetery in Hammond at the age of 33. In the film, Corinne is portrayed as an only child, but in reality, Chrissy has two siblings: Bill and Katie. She also owned a dog named George, who remained by her side until her final breath.
Chrissy graduated from Pickerington High School in Ohio in 1999 and from Xavier University in Cincinnati in 2003 with a bachelor's degree in music Magna Cum Laude. She earned a master's degree in music composition from the University of Massachusetts at Amherst in 2005. She was the West Coast Director of Admissions for Vermont's Bennington College.
Shulman identifies Chrissy as "a human sparkler, a flash of colour and light." She was optimistic, industrious, supportive, and encouraging to her friends and family. She was described as quiet and shy, but she "had enough creativity, energy, and love for all of Los Angeles." Chrissy is "unfailingly supportive" of her endeavours, according to Shulman. "[Chrissy would bring] me library books she believed I would appreciate, as well as encouraging me to network and promoting the blog. "When I was in college, she would write me encouraging notes on Post-its and place them in my mailbox before I had to perform a task or after a failed relationship," Shulman recalled. She described the four years she and Chrissy lived in Los Angeles as a "happy coexistence" in which she had no need for anyone else as long as she had Chrissy.