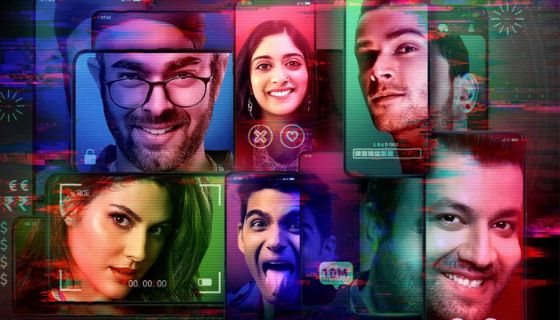 Chutzpah: An Out-and-out Entertainer Yet A No Brainer
Chutzpah Web Series
Chutzpah is an Indian web series that will premiere on SONY Liv on July 23, 2021. Furthermore, daring romance drama is produced by Maddock Outsider and Dinesh Vijan, with Mrighdeep Singh Lamba serving as the creator. The web show is also directed by Simarpreet Singh. Amit Babbar is the one who comes up with the conceptual ideas and crafts the script. Finally, it is available in both Hindi and English.
Chutzpah Story
The online serial's interesting plot is a piece of cake to follow. There are five main types of stories on show. The INTERNET is also the icing on the cake. As a result, it's a story about five people who are linked to one another over the internet. The narrative depicts how today's youth are influenced by the powerful world of the internet. It's the conclusion of the internet's and social media's growing influence in people's lives. It also demonstrates how people transform personas in order to get acceptance.
Chutzpah Cast
Kshitij Chauhan
Diksha Singh
Varun Tewari
Manjot Singh
Tanya Maniktala
R. Bhakti Klein
Gautam Mehra
Garima Agarwal
Varun Sharma
Elnaaz Norouzi
Chutzpah Trailer
Chutzpah All Episodes
Login
If There Was Another World
Be Right Back
Main Timeline Hoon
Detox
Flavour Of The Month
Shadow
Chutzpah Review
Chutzpah is directed by Simarpreet Singh that tells three separate but interwoven stories. Kevin Paul (Gautam Mehra) is a content producer whose distinguishing trait is constantly encouraging everyone to 'like, share, and comment,' and who is hellbent on attracting the attention of prominent influencer Deepali Shah (Aashima Mahajan). Prateek Chawla (Kshitij Chauhan), his flatmate, boasts about being a Casanova who can get any woman into his bed.
Rishi (Manjot Singh) is a bashful guy who finds it difficult to approach ladies and relies on porn sites to satisfy his wants. Here, he meets Wild Butterfly (Elnaaz Norouzi), a camgirl with her own secret.
Vikas Bhalla (Varun Sharma) is a spoiled Punjabi lad who is trying to conform to Boston's "atmanirbhar (self-reliant)" culture while still maintaining a long-distance relationship with his college lover Shikha (Tanya Maniktala).
Chutzpah is an out-and-out entertainer that is now streaming on a major OTT platform. Varun Sharma and Manjot Singh, also known as the Fukrey Boys, star in the series and shine throughout. Tanya Maniktala, who last appeared in Mira Nair's Netflix series A Suitable Girl, plays a very different character in this film. Elnaaz Norouzi, Gautam Mehra, Kshitij Chauhan, and others have also lent their support. It's an 18+ web serial with some strong language, phrases, and scenes. The creators of the web series Chutzpah have done a fantastic job of exploring the dark side of the digital era. The show's innovative approach has attracted millions of viewers. Watch it with your friends and have a good time.