The Witcher, a fantasy drama series on Netflix, takes place in the chaotic world of the Continent, where numerous forces are engaged in a struggle for global dominance. When Geralt of Rivia's fate is entangled with Princess Ciri of Cintra, it causes turmoil and politics to arise. People from many walks of life are drawn to Ciri by her power, and they all seek to use her for their own ends. Geralt strives to protect her while preparing her to battle a world that will never understand her.
Geralt needs knowledge that is hard to come by in order to get the upper hand over his adversaries. Codringher and Fenn, a detective team, can provide this information. Codringher and Fenn are renowned for their abilities to uncover all kinds of secrets and for being knowledgeable about everything that exists. They never let their clients down. However, this also puts them in a dangerous scenario, and ultimately, they pay with their lives for all of this knowledge. What will happen to them in Season 3 of "The Witcher"? Let's investigate. Spoilers follow.
Do Codringher and Fenn Die?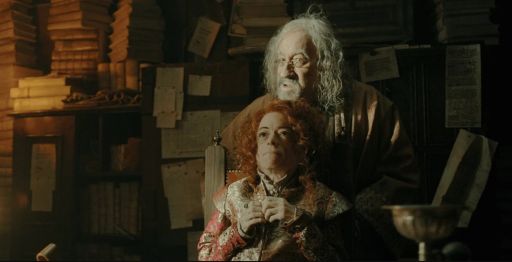 Geralt visits Codringher and Fenn in the third season with the intention of learning more about Rience. He and Yennefer already came to the conclusion that Rience is a puppet for a far more powerful person. To protect Ciri, they must track down and defeat this mage. Geralt chooses to track down and assassinate Rience while Yennefer transports Ciri to Aretuza. He solicits Codringher and Fenn's assistance for this.
The two are far more knowledgeable than they admit, as one might assume. They have a soft place for Geralt, thus they try to steer him in a safe direction by telling him as much as they see fit. They acknowledge that they are aware of Rience, but they are unsure of his employer. They inform him about Rience's workplace but forbid Geralt from pursuing him. They instruct him to find a replacement for Ciri and hand her up to his adversaries instead. People won't look for Ciri if they believe she is dead. However, Geralt declines to murder a helpless girl in order to accomplish his goal.
When Rience learns that they met with Geralt, he later shows up at their office. The pair acknowledges that the Witcher visited them, but they promise Rience that they did not discuss his employer with him. Rience presumably would have thought that was enough and left them alone, but Codringher lets it slip that they are aware of what Rience's employer has in store for Ciri. This irritates Rience, who makes a death threat against their cat if they don't provide all the information they have about the plans.
Codringher and Fenn obviously know way too much, making it risky for Rience to keep him alive. He is aware that they will sell this knowledge to another party for the proper price, but he cannot take that chance. So he lights it on fire as soon as he leaves their home. Codringher and Fenn are left in the house to perish, but he takes the cat with him.
Did Liz Carr and Simon Callow Leave The Witcher?
One might wonder if Codringher and Fenn survived because we don't witness them perish and there aren't any bodies either. Later episodes, nevertheless, make it clear that the detectives-turned-lawyers have perished horribly. Jaskier previously discovered that Codringher and Fenn knew about Rience's employer but withheld his name since Geralt didn't have enough money after visiting them with Geralt. He instructs Radovid, Redania's price, to utilise his resources and connections to obtain such information.
Radovid informs Djikstra of this information, but by the time he locates Codringher and Fenn, they have passed away. Geralt receives Djikstra's sympathies; he was totally unaware of this event. This demonstrates that Codringher and Fenn are indeed dead and that there is no chance of them making a comeback in "The Witcher." There is a slim chance that Simon Callow (from "The Cleaner," "The Amazing Mr. Blunden," and "Silent Witness") and Liz Carr (from "Good Omens," "Silent Witness") will reprise their roles because the show is known to juggle timelines and regularly uses flashbacks. But for the time being, we won't be seeing the performers anytime soon in the "The Witcher" universe.
Our Team DCS includes 5 different writers proficient in English and research based Content Writing. We allow them and encourage them to follow the Entertainment news all day long. Our posts, listicles and even the exclusives are a result of their hard work.