John Hamm was the second incarnation of Chevy Chase in Fletch's multiverse, following his amazing comedic gestures. Adapted from "Confess, Fletch," a 1976 mystery-thriller by Gregory Macdonald, the author of "Superbad," and with confusing humour. Another cinematic portrayal from Greg Mottola features a strong cast and the same title. It is nonetheless entertaining to watch Fletch fall in love, get trapped, and work hard to solve an art theft that leads to a murder even though the movie is more about him than it is a mystery thriller. However, it succeeds in demonstrating how leading suspect Fletch discovers the true offender, which propels the plot of the mystery thriller. Let's investigate to find out, then.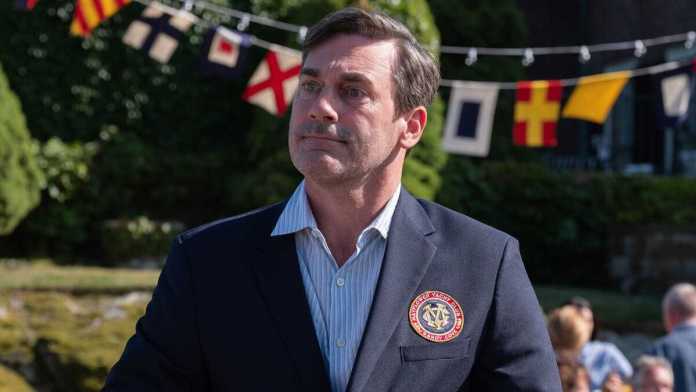 Who Is Fletch? How Is He Involved In The Murder?
In the opening scene of "Confess, Fletch," the main character, Fletch, discovers a beautiful woman's dead body on the carpet of a lavish home. He feels the pulse in her neck and concludes that she is dead. He calmly strolled around the space as if nothing had happened, bit into a pear from the fruit bowl, and then discovered a letter hidden behind a wine bottle on the coffee table in the living room. Although he should have called 911, Fletch instead reports the murder on the General Precinct line. But the police showed up right away.
Sarcasm is Irwin Morrice Fletcher's go-to social tool, and he's a witty and endearing character. Despite being a major suspect, he travels around with a yawning picture of himself in his passport and is eager to assist police with their investigation. The abrupt death of an unknown woman no longer shocks him like it did before; instead, he can pass for an investigator, although a less serious one. He has taken up temporary residence there and believes the owner, Owen Tasserly (John Behlmann), is responsible. Fletch makes it clear that he is not a wealthy or powerful criminal and is simply a former independent journalist who believes he can help with the investigation into this murder. Monroe, the investigating officer, and Griz, his training assistant, don't sense anything at all. Fletch claims that his girlfriend's funds were used to rent the home, although the girlfriend has a different account.
Nine paintings, including Picasso's Olga, are stolen from Angela Di Grassi (Lorenza Izzo), the Italian Count Clementi Arbogastes de Grassi's daughter. The Count asks Fletch to look into it. Why, then, Fletch? Considering that one of his articles once assisted the police in stopping a theft of museum art. When Fletch tells Angela that Boston art dealer Ronald Horan (Kyle MacLachlan) has already sold two of her father's paintings, Bellini and Perugino, Angela does not trust him at all with the probe (from the Renaissance era). Angela, who is impressed with the profession, agrees to be his girlfriend. When word that Angela's father, the Count, has been abducted unexpectedly arrives, Fletch and his lover are out exploring Rome's artistic community. The Countess (Marcia Gay Harden), who, in Angela's opinion, married the Count purely for his wealth, is the only person she suspects. But the kidnappers demand a Picasso painting by the name of Olga instead of money as ransom.
Who Is Ronald Horan? Why Does Fletch Want To Meet Him?
Fletch learns that the victim, Laurel Goodwin, had formerly worked as a café employee. He eventually meets Ronald Horan, an oddball of an art dealer. He appears to have severe OCD and uses EDM and electronic music to get his blood pumping. He does not shake hands and keeps clean and dirty pens in separate carriers. He currently works as a renowned art dealer without selling paintings to unidentified buyers while continuing to teach at the Harvard art department. Horan is persuaded to sell the Pablo Picasso picture of Olga to Mr. Locke by Saturday when Fletch identifies himself as Ralph Locke, who may be a manager of Lloyds Bank in the Canary Islands (complete fabrication). Officer Monroe (Roy Wood Jr.) and his aide Griz (Ayden Mayeri) are keeping a close eye on Fletch while he is travelling. He offers a young couple painting a wall $300 in cash to paint his van in order to avoid drawing the notice of the authorities. Then, he loses all memory of the radically different persona he gave them. We observe Fletch's constantly changing name throughout "Confess, Fletch," which is a major Chevy Chase moment.
Then, Fletch rents a car from a car rental firm. On the way home, he encounters Eve, a restless character, and learns of her and Owen's friendship from her. He learns that Owen is divorcée and drug addict who uses Oxy, Molly, etc. Additionally, Owen and Tatiana, his ex-wife, have a lot of issues. He is ultimately apprehended in his automobile by Officer Monroe and transported to the police station due to how quickly he was driving. It is revealed during the interview that Fletch has a criminal record that includes incidents like bad check and unpaid alimony charges. Monroe attempts to have Fletch arrested, but there is no additional proof except a fingerprint on the wine bottle, which Fletch explains was touched in order to read the note underneath. Ralph Locke, who used that pen name on the note, is recognised by the police. A burglar enters Fletch's home in the middle of the night during this commotion. He is wounded by Fletch's martial arts when he is pursuing him. The following day, Fletch visits his former workplace and speaks with Frank about Owen. Eventually, Fletch shows up at Tatiana's residence in the disguise of Frank to try and learn more about the murder while posing as an interview, but Tatiana is unable to provide any information. The Countess's arrival causes bigger issues to surface. In Owen's room, Fletch moves in with the Countess, who is the poison in Angela's life. Fletch thinks Owen is the only one involved in the murder, so when the Countess tells him that Owen is Angela's best friend and that the two of them went to Harvard's art school together, Fletch feels slightly betrayed.
'Confess, Fletch' Ending Explained: Who Killed Laurel? Where Are The Count's Paintings?
Following Ronald Horan, Fletch eventually makes up to his yacht, where he attempts to steal the stolen picture but is turned away by security. Then Monroe finds video of a man walking with Laurel while wearing Fletch's clothing and hat. However, Fletch is granted bail after Monroe is forced to take him into custody thanks to Angela. In order to save his sweetheart, Fletch makes it to Horan's yacht, where he uses a number of firecrackers to attract the guard's attention and then vanishes. He returns home after successfully rescuing all the artworks. He even receives Owen's criminal history from his pal Frank, along with a number of complaints. On the other side, Monroe learns where Fletch was headed when he questions Horan, as he did with Griz. In order to make sense of what he has seen in the video of Laurel, he pays attention to Horan's obsession with washing his hands.
Fletch asks Angela about Owen while they are driving and she arrives. She doesn't appear to be motivated to cast her best buddy into suspicion. A small dinner party is planned at Owen's home, and Owen is invited. There are numerous secrets being revealed. When Tatiana arrives, she also learns that Fletch is a journalist but not Frank, who previously interviewed her. Fletch learns that Owen broke in the previous night to retrieve his Oxy can. The Countess and Angela begin arguing about who abducted Menti in the meantime (the Count). But in a split second, Angela emerges from the building without noticing Fletch and sprints in the direction of Horan, prompting Fletch to pursue. Fletch returns to the yacht he had previously been on and hears Horan and his girlfriend discussing the paintings. When Fletch descends with them, a significant truth is exposed in his presence.
It is revealed that Horan was both Angela's teacher and ex-boyfriend. Horan killed Laurel in order to get Fletch out of the way when he got engaged in the inquiry into the art theft. Finally, Officers Monroe and Griz show up as Horan raises his gun to shoot Fletch and Angela. Griz shoots Horan as a result, saving Fletch and Angela in the process. As a result, Monroe assures Fletch that no paintings have been discovered. However, Fletch is aware of their whereabouts and will not speak up until he faces Count Menti. Monroe affirms that the man did not allow Laurel to touch his hands in the video where he was dressed as Fletch, and that is how Monroe knows who the murderer is. Menti finally shows up, and after hearing about the paintings, Fletch hands them to him to keep. Fletch is fairly content, but Angela dumps him. Monroe does, however, eventually learn that Fletch owns those paintings. However, he only gives the Olga one to the known individuals in this situation, whether it is Eve, the young couple who painted the vehicle, or the Countess. He is shown unwinding on a boat, and he turns down Frank's invitation to write the following investigative story because he is so content with his life. He appears to be bound to no one or anything and appears content and whole.
Character Analysis Of Fletch: Why Does He Give Away Those Paintings?
Fletch was a friendly person with a sharp mind who spoke sarcastically to everyone, but occasionally his jokes got on our nerves. At the conclusion of "Confess, Fletch," he rants at his girlfriend out of jealously or paranoia as he believes she may have tried to bring him down. Throughout the case, he does not reveal that he is coldly sceptical. Despite the fact that Angela initially kept so many things from Fletch. So it appears reasonable to pardon him. The Countess was initially seen by Angela as a suspect, but later it is revealed—as only Fletch could—that she is her Menti's lover. Angela was the one who admitted to having paranoia to her lover. She grabbed all the artworks from the Countess's possession rather than conversing with her. Otherwise, neither the mess nor the murder would be possible.
In "Confess, Fletch," Fletch emerges as a genuine art admirer who respects people and their vocations. He also values Eve, who he previously could not even tolerate, despite her flaws. Even while lounging in the boat in the middle of the sea, he believed that everyone should have a choice and a developing aspect of art, which he presented to everyone as a gift.
Being a binge-watcher himself, finding Content to write about comes naturally to Divesh. From Anime to Trending Netflix Series and Celebrity News, he covers every detail and always find the right sources for his research.