The story of the band ends in the last episode of "Daisy Jones and the Six," which is available on Prime Video. All of the personal feuds and creative differences that have been fueling the fire all along lead to an explosion that changes everything for the biggest band in the world on the night of their biggest show. The reason why they broke up was kept a secret all through the season. The answer is given in the last episode, which also shows what happened to the band members after they broke up. Here's what happens at the end of the show and how it affects the characters. SPOILERS AHEAD!
Daisy Jones and the Six Episode 9 and 10 Recap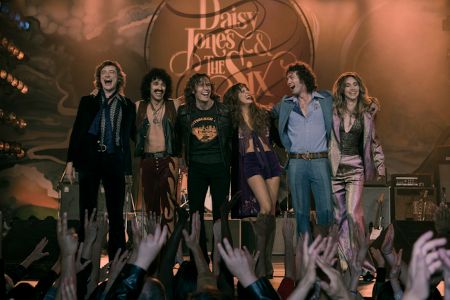 Daisy wakes up after her close call with death and sees how far she has fallen. When she finds out that Ricky would have left her for dead, the first thing she does is get rid of him. She gets her act together, cuts down on drugs, and gets back on the road. Even though she still likes Billy, she tries to make a friend who will last. But when Camila sees her with Billy, she has to force him to choose.
Karen is having a hard time coming to terms with the fact that she is pregnant. Karen goes to the clinic with Camila and has an abortion without telling Graham. This sets up another fight that could tear the band apart. Eddie also reaches his breaking point, especially when Billy sings a song that Eddie and Daisy were supposed to sing together. Camila's rejection also makes him do what he has to do. He tells Billy everything and says that the show in Chicago will be his last.
The day of the show, everyone in the band is nervous except Warren. He is the only one who has been able to avoid getting involved in the band's fights. He tries to tell Eddie why he thinks the way he does, but it's too late. When Billy worries that he might lose his family, he drinks again, which makes him make hasty decisions. In the end, Daisy gives him a good smack on the head.
Daisy Jones and the Six Finale Ending: Do Daisy and Billy End Up Together?
Camila always knew that Billy and Daisy had something in common, but she decided to give her marriage a chance. But when she sees them together, she asks Billy if he loves her. When he doesn't say anything, she knows he does. She goes away angry. Billy starts drinking again because he can't handle the stress of losing Camila and their daughter. Before the show starts, he gives Daisy a kiss, and she realizes that he is no longer sober.
Billy drinks during the performance, but he doesn't know that Camila has arrived. He called her and begged her to give their marriage another try. But when she sees him and Daisy together on stage, she decides it's best for them to break up. Daisy should already know what's going on. Daisy knows Billy isn't himself when he kisses her again and says they can be broken up. He is acting on impulse, which is not good for them.
Moreover, Daisy doesn't want to be broken anymore. She doesn't want to start using drugs again, which is what would happen if she and Billy were together at the time. So, when they get back on stage, she talks about love and heartbreak and how love should be peaceful and calm, not something that destroys you. Billy knows he is meant to be with Camila, so he leaves the show and goes to find her.
Billy and Camila talk about the future of their relationship while the members of the renaming band play. Billy says he will give himself his all, so he goes back to rehab, thinks about his choices, and starts over with Camila. Daisy tells Rod that she is leaving the band after the show. She is okay with how she feels about Billy and knows that they can't make music together again.
Daisy and Billy don't get close to each other for the next twenty years. They go their own ways, and Daisy finds her own way without the Six. She's been in a few relationships, but she admits that none of them were as good as what she felt for Billy. After all these years, it's clear that he still cares about her. In the last scene, Billy goes up to Daisy's door and knocks. She gives him a smile to let him know that things could go well between them now.
How Does Camila Die?
Billy says at the start of the show that sometimes two people who are meant to be together don't meet at the right time. He and Daisy had the same thing happen. They both showed the same thing. Everything that made them perfect for each other also made them the worst couple at the time. Both of them were going through rough times and needed someone to steady them.
Daisy knew that if she went out with Billy, it would be just like when she was with Ricky. Daisy didn't have anyone to balance out her wild side, but Billy did. After a small setback, Billy realises that Camila is the right person for him, and he goes back to living with her. For the next 20 years or so, they live a happy life together. It's not perfect, but Camila thinks it's good enough. Even though Billy chose her, Camila knew that he would still love Daisy no matter what.
When Camila is told she has a disease that will kill her, things change. This is also when her daughter Julia starts taking pictures of her and the rest of the band to find out what happened on the night of their last show. Camila dies of her illness before the end of the documentary. She tells Billy and Daisy something. She tells Julia to tell Billy to call Daisy and tell Daisy to pick up. This is her way of giving Daisy and Billy her approval. She tells Billy and Daisy that they owe her a song now that they are back together.
Our Team DCS includes 5 different writers proficient in English and research based Content Writing. We allow them and encourage them to follow the Entertainment news all day long. Our posts, listicles and even the exclusives are a result of their hard work.