One of the most adored TV series of all time, "Downton Abbey" is admired by fans for its characters and moving stories. Fans of writer Julian Fellowes' glamorous and dramatic world can't get enough of the stories of the rich Crawley family and their downstairs workers. What, therefore, are the essential elements of a fantastic drama episode? That is the riddle that this list is meant to address.
Here, we'll take a look at the six seasons of the TV show's most memorable episodes. We cover all the bases, from the tales that made us want to throw a party in their honour to the ones that had us hurl a cup of tea at the television. We're about to delve deeply into the rich lore of the "Downton Abbey" saga, so be sure to put on your most elaborate hat and gloves.
A bloody evening (Season 6, Episode 5)

The most of the time, "Downton Abbey" is a cute little programme that hardly ever depicts any blood. Yes, Season 2 showed the carnage of war, but by most accounts, entering the Crawleys' world isn't violent. Then, in Season 6, one of the strangest series of events occurred, which caused poor Lord Grantham's ulcer to rupture in the middle of his lunch. Do you think this "Downton" scene will go down in history? Absolutely. But that's what makes this episode so important to the "Downton" experience, along with its other fascinating aspects.
This episode is all about the comforts of life changing in an instant, from the conflict between Dr. Clarkson (David Robb) and Denker to Lady Mary and Branson seizing control of the town around them. Of course, the show frequently covers that broad concept. However, this episode is one of the better ones to explore the subject in depth, especially from a human perspective, as the episode ends with Mary and Edith reflecting on their father's (and their own) mortality.
All the war drama (Season 2, Episode 5)
During the fifth episode of Season 2, the plot picks up speed as the Crawley family begins to experience the effects of World War I. Not only do we get to see Lady Mary and Matthew reunite in a sad but beautiful way, but this is also the episode in which a badly hurt William Mason asks Daisy to marry him, a request that alters the direction of Daisy's uncomplicated existence. There may not be as many glitzy scenes or memorable dining scenes in this episode of "Downton Abbey," but that is irrelevant in this instance. But what counts are the genuine feelings that are on exhibit.
This episode is packed with all the genuine emotions fans love to see from the show's great actors, from Michelle Dockery finally letting Mary wear her heart on her sleeve to Dan Stevens' excellent performance as a war-torn Matthew. However, the highlight of it is Thomas Howes' sincere portrayal of William. William has always been a hero with a heart as huge as the home he worked in, and Howes does an amazing job of making viewers root for this underdog even more. Overall, despite this episode's emotional brutality, strong performances like these elevate it to a valuable episode of the show.
Bates and Anna's emotional test (Season 2, Episode 1)
The second season of "Downton Abbey" starts off pretty literally as we witness how much World War I has altered the fabric of the programme. This episode does a terrific job of establishing the tone for the upcoming season, from the picture of lady's maid Sarah O'Brien (Siobhan Finneran) smoking in the outback to Thomas Barrow (Rob James-Collier) doing whatever hard work to leave the battlefield. One that not only puts several of the show's most adored characters to the test but also features even more drama than the previous episode.
Other than Lady Violet Crawley, the Dowager, facing a flowery "monster from the lost world," the aspect that makes this episode one of the best is observing how series creator Julian Fellowes isn't afraid to bring folks together and tear them apart just as fast. With this instalment of the "Downton" story, Fellowes cranks up the drama to eleven, beginning with the romantic perfection of valet John Bates' (Brendan Coyle) and housemaid Anna Smith's (Joanne Froggatt) proposal to the sad events that separate them. It demonstrates that this charming sitcom can really go into some genuinely intense territory, but Season 2 would have much more standout moments to offer.
Edith vs. the altar (Season 3, Episode 3)
Lady Edith is one of the few "Downton Abbey" characters that merits a happy ending. She was known for being the middle Crawley sister and during the series, she encountered plenty of terrible circumstances. But the one about her tragic marriage to Sir Anthony Strallen was the one that viewers found the most upsetting to see (Robert Bathurst). The show gets off to a good start with glimpses of Edith exclaiming how happy she is that her family is now paying attention to her. However, as circumstances develop, it becomes evident that Sir Anthony's previously upbeat attitude toward their May–December relationship has suddenly vanished, leading to one of the most startling series of developments in the entire programme.
Every member of the "Downton" team is at the top of their game in this episode, from Andy Goddard's expert direction to the top-notch work by the entire ensemble. But what really stands out is how this storyline prepares Edith for her dramatic journey in the end. She is the sister who most closely resembles a Charlotte Bronte heroine, and this is only the beginning of her excruciatingly difficult (but ultimately fulfilling) story.
Is that Paul Giamatti?! (Season 4, Episode 9)
Season 4's Christmas special is without a doubt the most enjoyable of the show's Christmas specials, which some people regard as real season finales. This episode loves to study the beauty and hilarity of high society, with a particular focus on Lady Rose meeting the royal family at Buckingham Palace and Lady Cora Crawley's (Elizabeth McGovern) American relatives visiting. However, the guest actors who play significant roles in the special's plot are what earn it a spot on the list (in addition to Rose's gorgeous clothes throughout). Cora's brother Harold Levinson is portrayed by Paul Giamatti, and Cora's mother Martha Levinson is portrayed by Shirley MacLaine.
Together, this dynamic pair enhances the programme in a delightful way. MacLaine and Giamatti are terrific additions to the cast, whether it be with Martha's snappy comments or Harold's clumsy attempts to blend in with the rest of the upper-crust neighbourhood. Yes, this episode has its quirkier moments that occasionally make it seem a little absurd (putting it lower on our list), particularly when it comes to Daisy's subplot and Lady Mary's competing suitors. Even yet, it's simple to overlook this one's problems because to the guest appearances and the amazing connection Mr. Carson and Mrs. Hughes are developing.
Lady Rose's wedding drama (Season 5, Episode 8)
Fairy tale happiness is frequently bestowed in "Downton Abbey" following a great deal of turmoil. Consider this episode from Season 5 where some of the most popular characters from the series, such as Lady Rose MacClare (Lily James) and our favourite Anna Smith, are given some pretty absurd curveballs. This episode surely understands how to deliver on the theatrics that fans of the show find delectably juicy, from Lady Rose having to cope with a photo-driven scandal before her wedding to Anna getting arrested for probable murder.
This episode masterfully blends urgency with sincere narrative rewards despite all of the absurd shenanigans within the many stories. In addition to the touching scene in which Lord Grantham, alias Robert Crawley (Hugh Bonneville), presents Mrs. Beryl Patmore (Lesley Nicol) with a beautiful tribute for her late nephew, there is also the satisfying conclusion to Lady Rose's wedding storyline. By the time viewers reach them, these moments feel deserved and represent how terrific "Downton" can be when it recognises the characters who merit praise for their goodness.
Lady Sybil's pants and the fair (Season 1, Episode 4)
This Season 1 episode includes a lot of unique narrative elements, while being remembered more for its trendy moments. The focal point of the episode is first and primarily Lady Mary Crawley (Michelle Dockery). She must deal with the repercussions of Mr. Pamuk's passing while also accepting that Matthew Crawley (Dan Stevens) has decided he will be the family heir, which makes her feel eventually abandoned by her father. This plot contributes to the episode's main themes of the struggles women of the era experienced, coupled with Lady Sybil Crawley's (Jessica Brown Findlay) awareness of women's rights and Mrs. Hughes' choice to not get back together with her former flame.
It's possible that this episode lacks some of the Dowager's most sassy moments in terms of bite. However, it's a fantastic illustration of how well Julian Fellowes and the rest of the "Downton" creative team are doing when it comes to naturally developing the characters while not avoiding real-world events. Additionally, how could anyone forget Sybil flashing her signature blue pants? This episode deserves to be on the list only based on just one sequence.
Matthew's snowy proposal (Season 2, Episode 9)
This Christmas episode from Season 2 of "Downton Abbey" is a terrific place to start for a beginner who wants to understand why so many people adore the show. This festive episode of The Crawleys includes all the usual family shenanigans: Auntie Rosamund Painswick (Samantha Bond) brings her sassy maid to her brother Robert's expansive estate, Violet hides the family's absence from Sybil's wedding in Dublin, and everyone gets involved in Bates' life-altering trial. But Lady Mary and the love triangle she finds herself in are the real spicy heart of this episode.
This Christmas special puts Mary's romantic forbearance to the test in a variety of ways, from her convoluted engagement to the formidable but horrible Sir Richard Carlisle (Iain Glen) to her stressful break-up with the revolting newspaper magnate. Thankfully, she (as well as the audience) are rewarded with unquestionably one of the most outstanding examples of romantic content produced by "Downton": Matthew's wintry proposal. This moment is the ideal finale of Mary and Matthew's rocky journey to fairytale bliss, from the performances of its principal actors to the stunning photography by Nigel Willoughby. Even though their relationship doesn't progress the way many fans expected it to after this season, this season finale's romance was simply amazing.
The flu and an arrest (Season 2, Episode 8)
There are no holds barred in the eighth episode of Season 2. This instalment of "Downton" feels like a rollercoaster that grows crazier with each turn, from Lady Sybil revealing her romantic future with chauffeur-turned-journalist Tom Branson (Allen Leech) to many characters contracting the Spanish flu. Don't forget about Matthew's betrothed Lavinia Swire (Zoe Boyle) passing away near the end of the episode, as well as Lord Grantham having an affair with housekeeper Jane Moorsum (Clare Calbraith).
Even so, it was Mr. Bates' arrest for the murder of his estranged wife that propelled this episode to the top of the list. This final scene further shocks viewers because Bates and Anna's marriage had only taken place a short while before. It masterfully contrasts the loving protagonists' fairy-tale pleasure with a horrific outcome. This development probably helped viewers comprehend the dark places that this typically reassuring sitcom would travel in later seasons.
The last Christmas special/finale (Season 6, Episode 9)
It was never easy to predict how "Downton Abbey" would end its lengthy run of episodes. Would it have all the suspenseful drama that prior season finales offered? Or bow everything in the manner of the 1920s? The solution was closer to the latter. The adored assistant cook Daisy Mason (Sophie McShera) is matched up with Andrew Parker (Michael Fox) for whatever reason, Edith eventually succeeds in walking down the aisle, Anna and Bates have a child, and what else? In any case, congratulations on all of these victories for our beloved characters.
Simply said, this "Downton Abbey" story's resolution (or, at least, until the films were released) is extremely satisfactory. It occasionally succeeds in becoming a solace-inducing source of entertainment, but only in small doses. Those that remained with this show for a long time and grew to adore this weird group ever since the first time the opening theme played were rewarded.
The Mr. Pamuk drama (Season 1, Episode 3)
Episode 3 of Season 1 is both sensuous and horrifying, and is recalled by many as the first juicy "Downton" drama. In addition to being the ideal blend of mysterious and attractive, the infamous Mr. Pamuk (Theo James) also perfectly personifies the kind of man that young girls (like Lady Mary) would fall enamoured with at first sight. Fans are aware that Mr. Pamuk proves to be more trouble than he's worth. The audience realises this fact when he orders Mr. Barrow to show him where the bedroom is for the oldest Crawley sister.
Of course, this episode is enjoyable for reasons other than just the main Mr. Pamuk scandal. We get to watch Mr. Bates attempt to use a straightening boot and hear discussion about a typewriter taking place downstairs. But let's face it, the main purpose of this entry is to set the stage for Lady Mary's tumultuous love life and the reputation she will acquire in society. The wild, passionate journey that this "Downton" protagonist would finally travel began with Mr. Pamuk.
The one with the bar of soap (Season 1, Episode 7)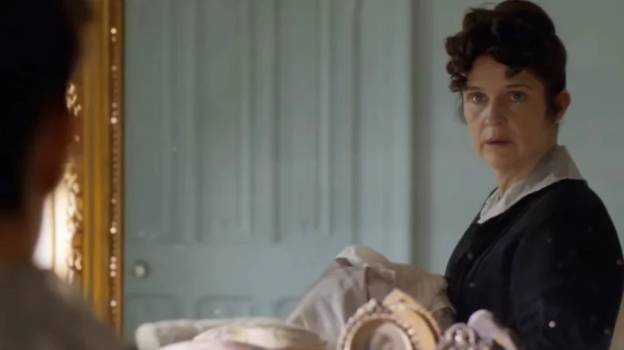 One such example is Miss O'Brien, the lady's maid who would do everything to preserve her job, including ruining the pregnancy of her own boss, Lady Cora. There have been some famous adversaries in TV history, some of them just so happen to originate from the realm of "Downton Abbey." This episode makes Miss O'Brien one of the most despised characters in the entire series and renders the sight of a bar of soap utterly terrifying thanks to David Katznelson's excellent cinematography.
This episode's payoffs are the main factor in making it the best in the whole series. Miss O'Brien has undoubtedly been a problem from the beginning, but we also see Mary uncover Edith's desire for vengeance, Mr. Carson acknowledge his support for Matthew, Anna learn the truth about the accusations against Mr. Bates, and the list continues on. In the end, this episode demonstrated why viewers found the show to be so compelling to watch and hinted at how successfully it would fulfil its dramatic promises.
To Sybil, with love (Season 3, Episode 5)
This Season 3 episode of "Downton Abbey" would certainly be the response if you asked a fan which episode disturbed them the most. It's amazing how much of an emotional gut-punch Julian Fellowes and the rest of the "Downton" team can deliver in the course of 49 minutes, taking into account such intense events as the birth of Sybil's daughter to the tragic death of the fan-favorite Crawley sister. Apart from how Sybil's passing affects the rest of the series, the best part of this one is the superb acting all around.
First, Sybil receives a terrifying send-off from Jessica Brown Findlay, demonstrating why she is still one of the show's most important characters to this day. The rest of the "Downton" family undoubtedly adds a spooky element to their performances, but Allen Leech as Tom Branson stands out as the real star. Leech portrays this complex section of Branson's narrative with finesse, from his heartbreaking glances at his deceased wife to his adjustment to his new role as a father. In the end, this episode is difficult to see, but it deserves praise for the outstanding performance it showcases.
Violet's spicy Russian past (Season 5, Episode 6)
The sixth episode of "Downton Abbey" accelerated the plot further after Season 5's anticipated trend. It had several outrageous scenes, such as Lady Mary flaunting a new, glamorous hairstyle, a birth control device being misunderstood, and Lady Edith Crawley (Laura Carmichael) learning that her absent boyfriend had been murdered. It goes without saying that this section of the "Downton" narrative is completely bonkers in some pretty juicy ways.
Despite the mayhem, this episode's heart contains endearing details that are all connected to Lady Violet. Every time Violet is on screen, she steals the show, from a sweet moment with her enigmatic ex-boyfriend Prince Igor Kuragin (Rade Serbedzija) to some amusing exchanges with the new maid Gladys Denker (Sue Johnston). True, Violet excels in a similar way in a number of other episodes. Although, astonishingly, this episode is not the strongest overall compared to the rest of the season, there is something special about watching Maggie Smith play a perfect balance of serious and snarky in this episode that is pure "Downton" magic.
Being a binge-watcher himself, finding Content to write about comes naturally to Divesh. From Anime to Trending Netflix Series and Celebrity News, he covers every detail and always find the right sources for his research.