Directed by Byeong-heon Lee, Netflix's South Korean sports comedy film 'Dream' tells the story of Korea's debut in the Homeless World Cup 2010. Yoon Hong-Dae's career as a pro soccer player takes a wrong turn after an unpleasant interaction with a journalist. As a result, Hong-Dae finds himself begrudgingly agreeing to participate in a documentary about Korea's first National Soccer Team made up of homeless people for the Homeless World Cup in Budapest.
With a bossy, young filmmaker, Lee So-Min, by his side, Hong-Dae becomes the coach for a ragtag group of misfits and gains more from the experience than he expected. With Hong-Dae at the narrative's center, the film tells the ever-appealing story of the underdog and underlines the importance of effort and hard work. Given the film's roots in reality and Hong-Dae's significance to the story, viewers might be curious to know if his character has any correlation to a real-life soccer player. If so, here is everything you need to know about the same!
Is Yoon Hong-Dae a Real Soccer Player?
No, Yoon Hong-Dae is not based on a real soccer player. Even though 'Dream' itself has a basis in reality, it is only a dramatization of the real-life story behind Korea's first-time participation in the Homeless World Cup. As such, the film employs creative liberty wherever it sees fit to craft an entertaining narrative around the real-life event. Park Seo-Joon's character, Yoon Hong-Dae, is one such artistic choice. For the real-life National Korean Team that participated in the 2010 international competition, six homeless individuals who were "Big Issue" paper vendors made up the team. They received training for three months and faced many challenges along the way.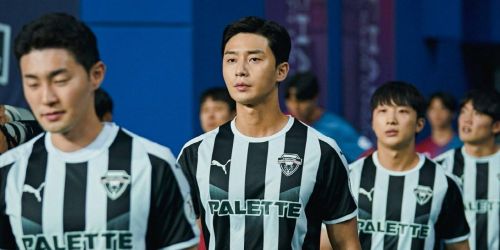 Nevertheless, reports regarding the team and their inspiring achievement include no mention of a fallen-from-grace professional soccer player-coach. Although Hong-Dae's character serves as the film's nucleus in many ways, his primary purpose throughout the film is to bring the team together and guide them to success. Director Byeong-heon Lee, who co-wrote the film alongside Mohammed Abdullah, acknowledged Hong-Dae's significance when speaking about his character. He said, "The film isn't about Hong-Dae. It's about homeless people."
The filmmaker added, "We brought Hong-dae in to make the film more entertaining because homelessness isn't exactly the most entertaining subject, right?" As such, the film utilizes Hong-Dae as a device to hold its plot points together while still focusing on the other characters. In fact, much of Hong-Dae's storyline and character arc revolves around his interactions and relationships with other characters like In-Sun, Hyo-bong, and Beom-su, among others. Viewers may find this mentor/mentee trope of a once-successful athlete finding redemption of some sort by coaching a ragtag group in a few other sports movies.
An example would be Bobby Farrelly's 'Champions,' a film about a potential NBA coach training a Special Olympics team. Other movies like 'Million Dollar Arm,' 'Chak De! India,' and 'The Longest Yard' also employ this trope to varying degrees. Taking the aforementioned factors into account, we infer that the character of Hong-Dae is a work of fiction crafted to add entertainment value to the film and provide it with a narrative center. By employing his worldview, the film is able to interpret the other characters through an outside lens. In doing so, the film helps the audience gain a more relatable perspective.
In preparation for the role, Park underwent intensive training sessions to bulk up and achieve the physique of a star-soccer player. In conversation with The Korean Herald, the actor referenced one of his close friends Son Heung-min, a renowned professional soccer player, discussing how he can understand the latter is on "another level" now. Therefore, it's possible that Park picked up some inspiration or tips from his friend while embodying Yoon Hong-Dae, a fictional character.