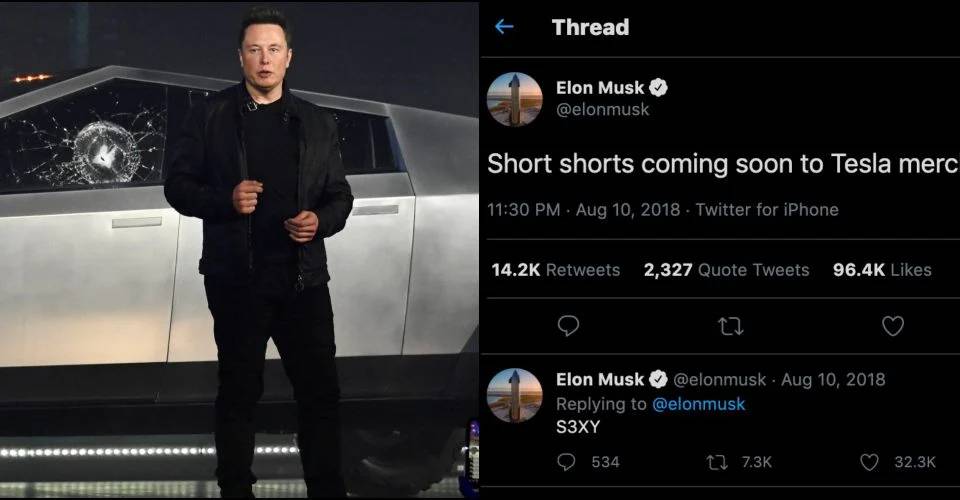 12 Times Elon Musk Tweets Created A Chaos On The Internet | Elon Musk Viral Tweets
Elon Musk made waves in April 2022 when he paid a reported $43 billion for the social media site Twitter. The Tesla CEO and tech mogul has a long and tumultuous relationship with the network. He's notorious for tweeting outspoken opinions and refusing to filter his thoughts, which has led to some hilarious posts.
His Twitter behavior has been anything but ordinary, from a famous feud with Microsoft founder Bill Gates to taunting the Flat Earth Society. Plus, now that he owns the site and is seeking to privatize it, things are just going to grow stranger.
Tanner Fox updated this page on May 9th, 2022: Elon Musk's Twitter decorum has its merits; while not as professional as one might imagine, no one could ever describe the tech mogul as boring or predictable. In one moment, he'll be praising SpaceX's achievements, then in the next, he'll be retweeting old memes.
Despite his erratic behavior, he evidently believes in the platform, as his latest wholesale purchase of Twitter set a new record. Time will tell what happens to the social media site under Musk's leadership, but one thing is certain: he'll be creating new memes at every opportunity.
Bill Gates Beef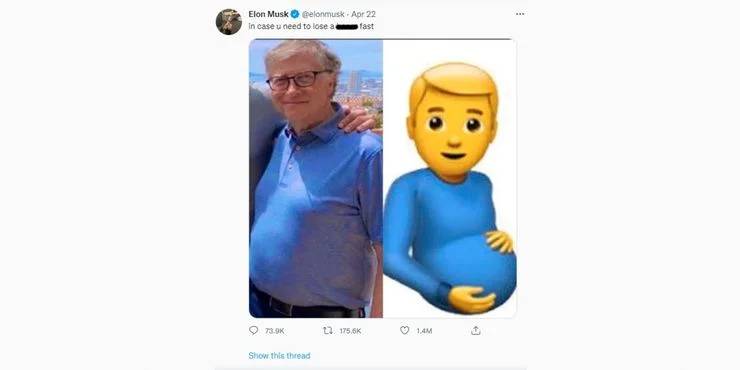 This has to be one of Elon Musk's most bizarre tweets. It's coarse, provocative, and definitely chaotic. The conflict between the Tesla CEO and the Microsoft co-founder has long been fueled by political differences, but it's never been stranger.
Musk drew the attention of a large number of Twitter users by comparing an ugly image of Gates to an emoji, which received 1.4 million favorites. It's almost hard to believe that what could pass for schoolyard bullying is actually going on between two of the world's wealthiest men, but it's not an out-of-place example of current social media jargon.
Captain Mars?
Hey babe 😉

— Elon Musk (@elonmusk) February 26, 2021

Twitter adores a witty billionaire, especially since most tech titans on social media take themselves far too seriously. Musk's eccentric comedy is chaotic, but he is also self-aware at times.
Musk is very aware of how people identify him with any Mars-related news, as evidenced by this latest tweet. Musk merely composed this witty pick-up line in response to NASA's now-viral full rotation video of the planet Mars—which has since been removed—and it had the Twitterati in giggles.
Elon Makes An Offer
I made an offer https://t.co/VvreuPMeLu

— Elon Musk (@elonmusk) April 14, 2022

This may appear to be a very routine tweet, but it turned out to be one of the most chaotic in Twitter's history. Musk made an outright attempt to buy Twitter on April 14, 2022, after purchasing almost 9% of the company's total shares.
Despite heated debate, the board eventually agreed to Musk's request, and he proceeded to take the firm private. It was a watershed event in social media history, and it's difficult to predict what Twitter will look like in the months and years after the multibillionaire's purchase.
Is It Mars Or Moon?
To be totally frank, I did an image search on my phone & posted without looking closely

— Elon Musk (@elonmusk) March 11, 2020

Remember when Elon Musk posted a photo of the moon with the message "occupy Mars" on Twitter? This would have been a massive "oops" moment for any other creative millionaire, especially since he was swiftly called out by astrophysicist Neil deGrasse Tyson. Elon, on the other hand, just stated that he didn't pay close attention while writing the piece.
This isn't just chaotic; it also shows how recklessly his earlier tweets were delivered, as well as how little time he spends validating data before tweeting.
Mars Attack
T-shirt soon

— Elon Musk (@elonmusk) August 16, 2019

Musk appeared on Stephen Colbert's Late Show in 2015 and recommended "warming up" Mars by dropping thermonuclear warheads on its poles. Colbert joked that Elon's idea makes him sound like a supervillain. He may have been joking or serious chevalier.
Musk may not have been entirely joking when, in August 2019, he tweeted about nuking Mars once more and announced a T-shirt business.
Not A Miracle Worker
Listen, I can't do miracles ok pic.twitter.com/z7dvLMUXy8

— Elon Musk (@elonmusk) April 28, 2022

The internet was swamped with a swarm of bogus tweets shortly after his purchase of Twitter, suggesting that the billionaire would look to buy everything from Netflix to NASA. Anything looked possible after the historic takeover, but Musk made it clear that he couldn't execute the impossible.
He emphasized that he would not pursue a takeover of Mcdonald's in order to restore their ice cream machines in response to one of these bogus tweets, arguing that he is not capable of miracles. He already has a lot on his plate, but no one can fix the restaurant chain's notoriously broken soft-serve stations if Musk can't.
Shorts Boy
Short shorts coming soon to Tesla merch

— Elon Musk (@elonmusk) August 11, 2018

Users on Twitter have often asked how Elon Musk gets so much done in a single day, and his tweets can provide some insight. Musk sent out high-profile tweets about some important issues, investor sentiment polls, a video of Tesla's most affordable electric car, the Model 3, moving across an icy tundra, and a super-important update about the addition of short shorts to Tesla's merch line, which he promised to model, all over the same weekend.
Of course, the now-famous unisex red satin short shorts with the word 'S3XY' scrawled on the back caught the internet by storm, and the company has battled to keep up with demand.
That Time He Got Corrected By The Flat Earth Society
Why is there no Flat Mars Society!?

— Elon Musk (@elonmusk) November 28, 2017

Elon Musk is a key figure in modern astronomy, having assisted in the development of groundbreaking rocket technology. In 2017, he asked on Twitter why there was no group dedicated to uncovering the truth about the shapes of other celestial bodies.
The Flat Earth Society quickly responded, claiming that, unlike the Earth, Mars had already been verified to be spherical. It's unclear how one planet may be round while its neighbor remains flat, and Musk appears to have been stumped by this groundbreaking new field of thought, as he never responded.
This Musk Attempt
My gf @Grimezsz is mad at me

— Elon Musk (@elonmusk) May 1, 2020

Musk piqued everyone's interest when he stated that he wants to be free of tangible goods and will not own a home. It was unclear how this would work for a multibillionaire, but his then-partner Grimes was not on board.
Musk's Twitter messages frequently appear to be strange stream of consciousness thoughts, things on which he very definitely would not act, yet he nevertheless feels compelled to share them with his millions of followers.
What Does It Mean?
Some secrets are too dangerous to be free pic.twitter.com/g547UdmiJ7

— Elon Musk (@elonmusk) September 24, 2019

It's likely that the wealthy pioneer knows more secrets about America than most people, but teasing such beautifully dramatic truths on Twitter without context is a bit messy. Musk tweeted this strange Area 51 meme about America not using the metric system, implying that he "knows" something significant about this.
The United States is currently the world's only industrialized country that does not use the metric system. Musk claims to know something about it, but that some secrets are too hazardous to reveal—but what does this mean?
When He Fully Supported Kanye's Presidential Run But Then Had To Backtrack
You have my full support!

— Elon Musk (@elonmusk) July 5, 2020

To no one's surprise, Musk jumped to conclusions about Kanye West's presidential campaign far too quickly. Musk tweeted on July 4, 2020, that Kanye has his full support to run for President, and just four days later, he admitted that he may have made the wrong decision because he and Kanye have more differences of view than he realized.
Musk did the right thing by publicly withdrawing his support, but he should have done more research into Kanye's interests before declaring his full support, especially considering he had over 47 million followers at the time.
When His Tweet Tanked Tesla's Stocks
Tesla stock price is too high imo

— Elon Musk (@elonmusk) May 1, 2020
Musk has become infamous in the cryptocurrency industry for his inconsistent backing of the technology, which has resulted in massive currency crashes. In a similar vein, in May 2020, he tweeted that Tesla's stock was too expensive in his perspective, and it promptly plummeted.
One investor then responded, alleging that a single tweet had cost him thousands of dollars. This demonstrates that, while Musk's casual views may appear to be harmless, they can have a real-world influence in particular cases.