Aubrey Plaza is unquestionably an independent superstar by all standards; over the years, she has attended the Sundance Film Festival frequently. The sci-fi romance comedy Safety Not Guaranteed launched the extraordinary ten-year run in 2012. Life After Beth, Ingrid Goes West, and Black Bear followed every two years after that. In her most recent movie, Emily The Criminal, Plaza gives one of her best performances, co-starring Theo Rossi as a young guy struggling with debt and looking for a way out of his precarious situation.
The criminal drama film Emily the Criminal, written and produced by John Patton Ford, concentrates on the life of a young art school dropout and aspiring painter who is struggling to pay off a crushing student debt she accrued while attending art school. Emily turns to a life of crime to survive in a world that increasingly seems unjust to her when she is barred from good jobs owing to a prior run-in with the law when she was accused of attacking a former partner. With Tyler Davidson, Drew Sykes, Aubrey Plaza, and John Patton Ford serving as producers, Emily The Criminal marks Ford's feature film debut as a director. Here is a list of every character in the movie, which is set for release in the United States on August 12, 2022.
Aubrey Plaza as Emily Benetto
A young woman named Emily is struggling under a $70,000 college debt for an arts degree she only completed partially. She is having trouble obtaining a work that pays a living wage because of her felony assault conviction, which is further complicating matters. She receives a tip from a coworker at her catering job about a job that will pay her $200 per hour. She accepts the job where she plays the role of a dummy shopper since she wants to increase her income.
In Judd Apatow's 2009 film Funny People, Plaza made her debut as Daisy. Her role as April Ludgate on the sitcom Parks and Recreation from 2009 to 2015 was her most well-known performance. A Glimpse Inside the Mind of Charles Swan III, Mike and Dave Need Wedding Dates, Scott Pilgrim vs. the World, The To-Do List, Happiest Season, Child's Play, and Best Sellers are just a few of her more film credits. She received a great deal of praise for her portrayal of Lenny Busker in Noah Hawley's X-Men television series Legion. The next project for Plaza is the Guy Ritchie action comedy Operation Fortune: Ruse de Guerre, in which she will team up with Jason Statham and Hugh Grant. Plaza will also be a part of the sizable ensemble for The White Lotus' second season on the popular HBO anthology series.
Bernardo Badillo as Javier
Javier is the coworker at Emily's catering job who gives her the heads-up about a job that would pay her $200 following her disastrous interview with Alice. The price of providing Emily with this crucial piece of knowledge is having to work his shift. She is exposed to the underworld by this one unusual act.
Badillo graduated from the University of California, Los Angeles with a B.A. in theater. In the drama series Chicago PD and the crime drama Queen of the South, he portrayed the roles of Cheo and Frank Delgado, respectively. Dead To Me, Insecure, and The Night Stalker are a few of his other acting roles.
Gina Gershon as Alice
At the company where Emily is looking for work, Alice is the patronising executive. Only one scene—but what a scene—in which Alice is present. When Emily learns that Alice lied about not running a background check on her, what begins as an interview turns into a heated argument. Emily launches into a rant about the idea of not being paid for labour after learning that the position was actually an unpaid internship. The tone of the entire film is established by this dialogue.
The young love comedy Pretty in Pink from 1986 was where Gershon made her breakthrough. She later made appearances in House of Versace, Five Minarets in New York, How to Make It in America, and Face/Off. Her role as Gladys Jones on The CW's teen drama Riverdale is her most well-known accomplishment. Gershon will also be a part of Eli Roth's Borderlands, the movie that is an adaptation of the well-known video game series.
Jonathan Avigdori as Khalil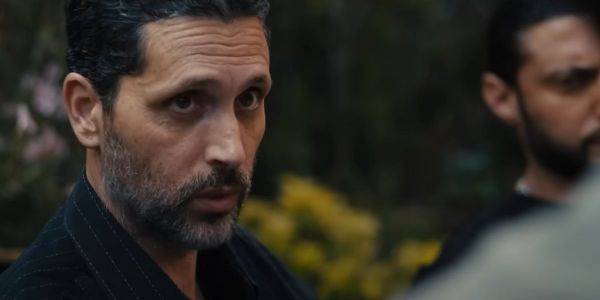 Khalil, Youcef's cousin and accomplice in crime, had been suspicious of Emily since the minute she entered the room. Even though he is uneasy, he initially offers little opposition, but when Emily starts to ask for more involvement, Khalil is quick to express his opposition and displeasure at the idea of working with her.
Avigdori, who was born in Israel, moved to the US in 1999 in order to pursue a career in entertainment. Avigdori, an Israeli actor and filmmaker who began his career in his home country, played the Minister of Commerce in the political drama Tyrant. His other film credits include roles in the TV series The Blacklist, The Lincoln Lawyer, and FBI.
Megalyn Echikunwoke as Liz
Emily's successful college classmate works at a successful advertising agency, and her success there contributes to Emily's desire to secure a corporate career. She is achieving Emily's fantasy. Her profession allows her to travel to opulent locations like Portugal, and more crucially, she is not drowning in student loan debt. She suggests Emily for a few jobs, but none of them ever seem to materialise.
One of Echikunwoke's earliest roles was Nicole Palmer, David Palmer's daughter, in the Fox television series 24 in 2001. In the 2018 comedy Night School, she also portrayed Lisa King. A Good Day to Die Hard, An Actor Prepares, and Step Sisters are a few of the other movies she has acted in.
Theo Rossi as Youcef
Emily is initially hired by Youcef, an immigrant from the Middle East who runs a credit card scam, as a fictitious shopper. The relationship changes as Emily gets better at her profession and grows more interested in the criminal underground. He gradually broadens her involvement until she becomes a full-fledged accomplice in crime.
One of the best parts of this movie is Rossi and Plaza's compelling performance. The roles of Hernan "Shades" Alvarez in Marvel's Luke Cage and Juan Carlos "Juice" Ortiz, an intelligence officer in FX's Sons of Anarchy, are where Rossi excels. Army of the Dead, When the Bough Breaks, and Ghosts of War are a few of his further filmography credits.
Brandon Sklenar, John Billingsley, Kim Yarbrough, Kara Luiz, Janice Sonia Lee, Wesley Han, and Ben Rodgers are additional cast members.
Our Team DCS includes 5 different writers proficient in English and research based Content Writing. We allow them and encourage them to follow the Entertainment news all day long. Our posts, listicles and even the exclusives are a result of their hard work.