'Good Omens' on Prime Video chronicles the odd friendship between a demon and an angel who wind up being each other's closest friends. Even though Aziraphale and Crowley are supposed to be each other's foes, they wind up becoming friends after years of encounters. In the first season, they prevent Armageddon and preserve the planet; in the second, they concentrate on more significant issues, such as inducing romantic love.
Aziraphale's bookshop is directly across the street from Nina's coffee shop, and Maggie leases a space from him. To claim it as a miracle so they can conceal another, Aziraphale and Crowley resolve to make them fall in love. The season's various turns and turns show the actual emotions of many characters. What occurs to Nina and Maggie, though? Do they socialise? Let's investigate. Spoilers follow.
Do Maggie and Nina End Up Together?
Maggie had a long-standing crush on Nina, but she refrained from pursuing her after learning that Nina was already involved in a relationship. One night, after one of Crowley's temper tantrums results in lightning, which locks the shop's doors, they are compelled to spend the entire night there and become imprisoned within the coffee shop. Maggie takes advantage of the chance to get to know Nina better and learns that she is involved in a destructive relationship. The partner of Nina is possessive and in charge. Maggie wonders why Nina is still with her as she frequently gaslights Nina.
Nina's phone dies the night they are stranded in the coffee shop, making it impossible for her to reply to her partner's texts. They have a disagreement as a result of this and separate. Crowley learns that anyone detected assisting Gabriel will be erased from existence when Gabriel arrives in Aziraphale's bookstore. He tells Aziraphale to take action to prevent Heaven and Hell from visiting his bookstore since he doesn't want this to happen to his friend. They perform a partial miracle in the hopes that it will protect Gabriel and be inconsequential enough for no one to notice since they can't let anyone know they have Gabriel.
They suffer the consequences of this trick when the other archangels visit the bookstore and question Aziraphale about the miracle when Heaven notices the miracle. They are perplexed as to what the miracle was as they are unable to identify Gabriel due to the shield. He claims that he caused Nina and Maggie to fall in love with each other in an effort to divert their attention. But this creates a new issue. He is aware that someone from Heaven will return to confirm the miracle, and since he cannot work another miracle covertly, he and Crowley will need to find another way to entice them.
Crowley thinks that, as in the movies, rain is the best way to accomplish this. According to Aziraphale, a ball, as depicted in Jane Austen's novels, is a preferable approach. Both methods are tried, but they are unsuccessful. Finally, Maggie and Nina understand what they have been up to and order them to cease interfering right away. After Gabriel's fiasco has subsided, Nina and Maggie return to the coffee shop and discuss their feelings and desires.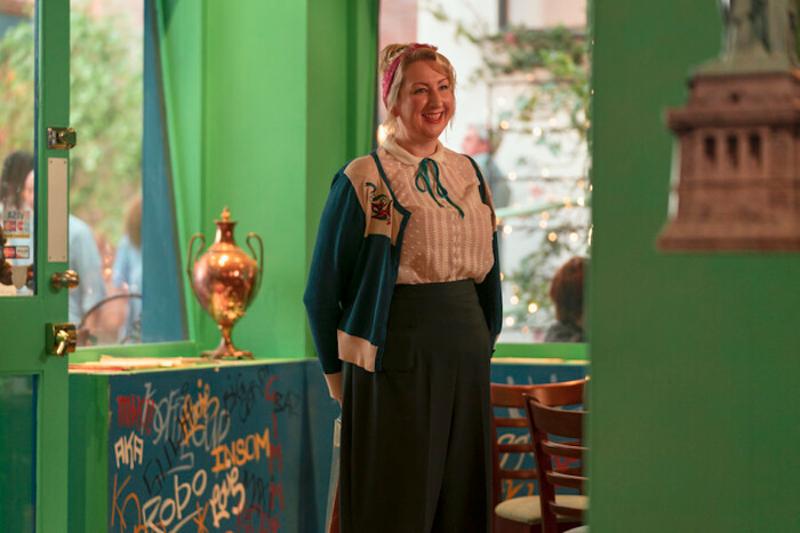 Nina recently ended a relationship, so she doesn't want to start another one right away. She needs time to get over her old relationship's baggage before moving on to the current one. She hopes Maggie will still be there when she is eventually ready, but even if that is not a given, she is fine with it. Maggie, on the other hand, admits that she will stick around for however long Nina needs. At this moment, Nina refers to her as a "angel" and explains that isn't the purpose.
This dialogue demonstrates Nina's feelings for Maggie, albeit she is hesitant to act right away. The word "angel" is used, which is important because Crowley refers to Aziraphale as a "angel" and they are obviously in love. This implies that Maggie and Nina will eventually take a bet on their relationship, regardless of how long Nina takes. They will eventually meet, whether or not it succeeds and they remain together forever is another matter.
Being a binge-watcher himself, finding Content to write about comes naturally to Divesh. From Anime to Trending Netflix Series and Celebrity News, he covers every detail and always find the right sources for his research.