The American entrepreneur Daymond John has collaborated with numerous businesses and businesspeople throughout the years, but his biggest collaboration has been with his wife Heather Taras, who is also his life partner. The couple got married in 2018 and have been at one other's sides through good times and bad ever since.
In a private ceremony held in Queens, New York, the Shark Tank star and Heather said "I do" in June 2018. To learn more about Heather Taras and her relationship with business tycoon Daymond John, keep reading.
How did Daymond John and Heather Taras meet?
Little is currently known about Daymond and Heather's relationship history or how they first connected. Taras revealed that she had been with John for 14 years at the time of the interview with Contemporary Approaches in August 2020.
Heather announced her engagement to Daymond on her Instagram page on September 23, 2016. She just wrote "Engaged!" as the post's caption. She can be seen showing off her engagement ring in the image. In the same year, they gave birth to Minka Jagger, their first child together.
View this post on Instagram
Daymond revealed the details of the proposal during a 2017 interview on Harry Connick, Jr.'s talk show of the same name, saying, "I was nervous I was proposing on set, but, really because, you know, my fiancée we've been together for many years, and she knows all the sharks."
The FUBU Ceo went on to say, "So I saw Kevin [O'Leary] in the corner whispering to her about royalties and all kinds of stuff when I proposed." She said "yes," and I'm overjoyed about that, he said.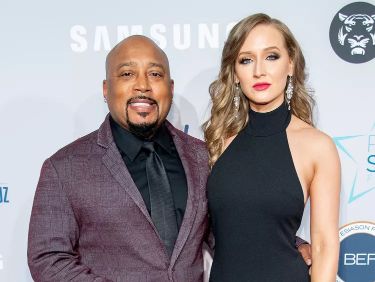 When did Daymond John and Heather Taras get married?
2018 saw the couple stroll down the aisle. In a private ceremony held in June 2018 at the Queens, New York, church John attended as a child, the two lovebirds exchanged vows. In front of their closest friends and family members, they got married. They invited Minka, their d aughter, to their wedding.
Recently, Daymond and Heather commemorated their fifth wedding anniversary. In an Instagram post he published two days ago in honour of his and Heather's fifth wedding anniversary, John provided more information about their love story.
People believe that I met @heather__john as the man they recognise from television, the author of Little Daymond Learns to Earn stated in the article. Actually, we started dating three years before I received a call from a Shark Tank call centre, which at the time no one had ever heard of.
Daymond said, "I got close to Heather because we are both private individuals. As a couple, we wanted as much solitude as we could to enjoy one other. My travel increased from 50 to 250 days annually, social media went viral, reporters began probing into our lives, and Shark Tank became a worldwide phenomenon.
Heather never consented to this life, the business tycoon said. Regardless of how glamorous it can seem. Being in the spotlight is a major adjustment.
When we got married, John continued. We wanted everything to be exactly how we had imagined our lives to be. Calm, private, and away from the camera… No large cameras or lighting. As you can see from the photos of our mothers and my boys from the hood, it was only a small gathering of our lovely friends and relatives.
In Santorini, Greece, Daymond and Taras also exchanged vows a second time. On January 1, 2019, Taras posted images from the couple's wedding day in Greece to her Instagram account.
In 2018, I got the privilege of marrying my best friend. What a memorable year it has been becoming Mrs. John! With family and friends, we celebrated a small wedding in the summer in Santorini, Greece," she wrote in the post's caption.
How many kids do Daymond John and Heather Taras have?
Daughter Minka Jagger was Heather and Daymond's first child together when she was born in 2016. Their daughter was born on March 2, 2016, making her 7 years old as of right now.
John is pleased to be the father of two girls from his former relationship, Yasmeen and Destiny, in addition to Minka. He said that he and Minka have playdates with Robert Herjavec's kids during an interview with People magazine in January 2018.
The author of The Power of Broke said to the media source at the time, "Robert was the second person in the delivery room when Minka was born, and he's just such a loving person and father."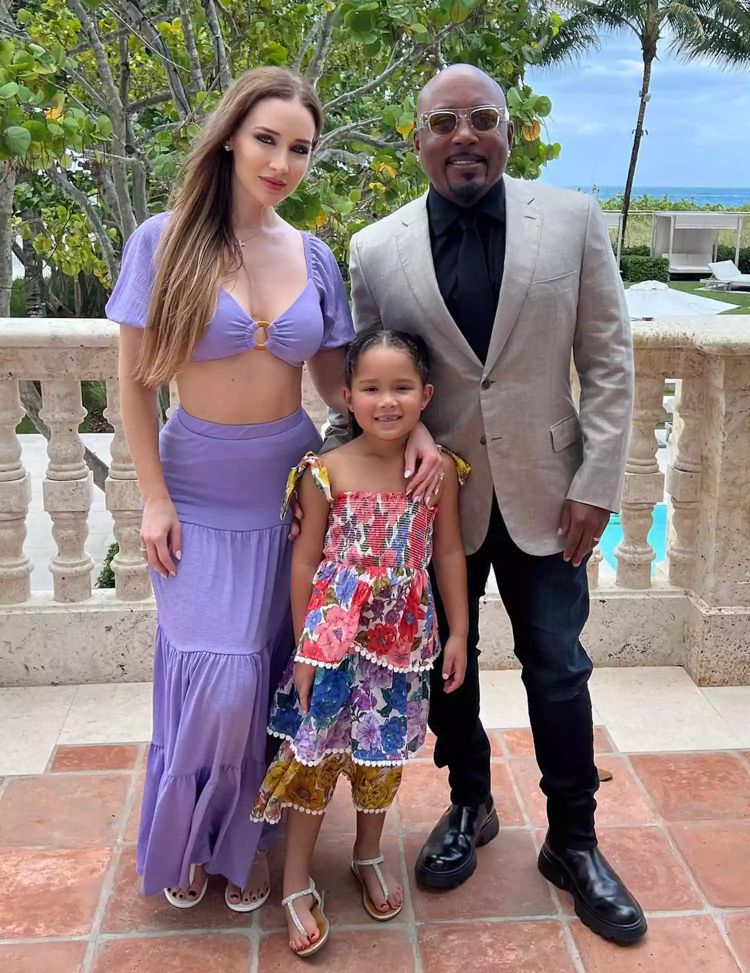 Daymond mentioned a baby boom during the Covid-19 epidemic in March 2020. People will be at home and would have some more time, he continued. possibly a little bored, or in love. We'll have a tonne of infants nine months after everything is over.
Listen, I travel 250 days a year, he continued. I'm going to name my baby Corona since I might be at home. However, John and Taras have not yet welcomed a new member into their clan.
Heather Taras is a close pal of Ice-T's wife Coco Austin
Yes, it is what you read. Heather has shared numerous photos of herself with Ice-T's wife Coco Austin on her Instagram page in recent years. The children of the two couples frequently travel together.
The two families appear to be rather close. Both of their families spent time together in the Bahamas in the year 2021. Even Heather posted pictures from the vacation to her Instagram account. The caption on the photos read, "Clear water, warm weather, good food, great company."
The playdates are even posted on Instagram by Taras and Austin. Their children Chanel Nicole and Minka are about the same age. The mother-daughter groups have even spent time together at the LEGOLAND New York Resort and the Nickelodeon Indoor Theme Park. For Halloween, they even all dressed up in costumes.
Heather Taras makes use of homeopathic remedies
Heather has previously been candid about her "autoimmune struggles" as well as the homoeopathic cures and treatments she employs to lessen her symptoms. Her Instagram bio states that she adheres to a gluten-free diet.
"Weekly, I get a general Vitamin C IV drip with several homeopathics, a glutathione drip, and frequently I do Ozone with the UVB machine," Taras said to Contemporary Approaches. Due to the autoimmune issues I have, it means the difference between having energy and being exhausted for the week for me.
Heather Taras is a big fan of Emmy-winning TV host Dr. Oz
Dr. Oz Daymond's ladylove is a huge favourite of Emmy-winning TV personality Heather Taras. Taras is a total health nut. She has frequently expressed her appreciation for Dr. Oz, a well-known TV personality. She has even had a couple encounters with him in recent years. She told a story about how, when she saw him in person in the year 2019, she attempted to restrain herself from asking him a tonne of questions about his health.
Heather stated on Instagram in 2019: "So nice running into @dr_oz! I adore him so much. Since I have a young child, I really don't have the time to watch TV shows properly anymore, but his show has always been my all-time favourite since I can remember, and he is such a kind man to chat to.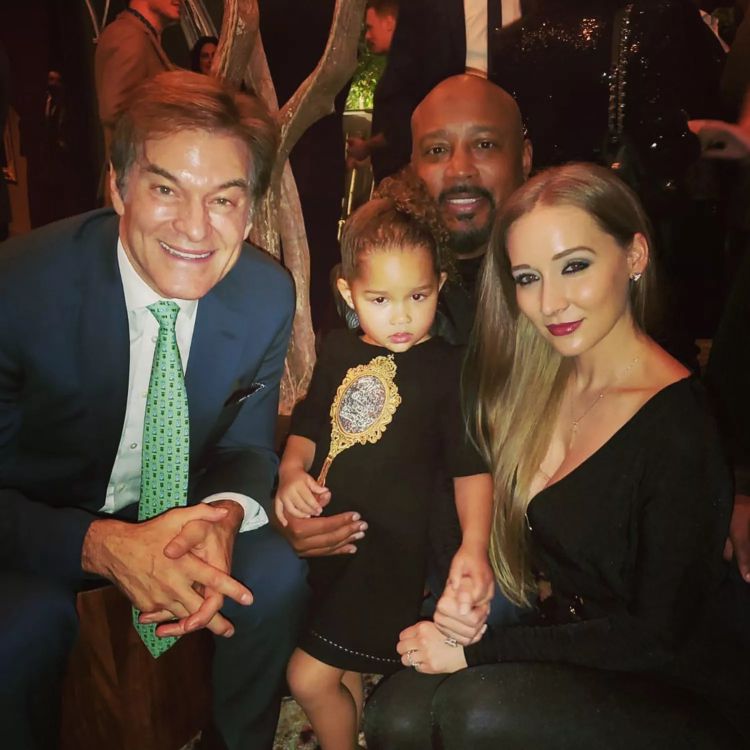 "@thesharkdaymond gets pitched nonstop," she continued. I hold myself back because he literally can't have a normal conversation any more without someone attempting to slant in a pitch! Hahahaha!! I adore his show in general since I'm a health nut that is constantly interested in the newest/greatest causes and treatments.
Heather also shared a photo of herself and Dr. Oz on the set of his talk show in 2017. She had the opportunity to see him once again in 2020.
Heather Taras and her family love to dress up for Halloween
For Halloween, Heather Taras and her family prefer to go all out. Additionally, she has a Halloween-only reel highlight on her Instagram page. It displays the evolution of Daymond's and his family's Halloween attire.
As her daughter Minka Jagger dressed as Peppa Pig for Halloween in 2018, Heather made the decision to dress as Mummy Pig. The next year, the mother-daughter team dressed as Cleopatra together. When it comes to John, on the other hand, he dressed up as a character from the hit film Avatar. His entire face was painted in blue.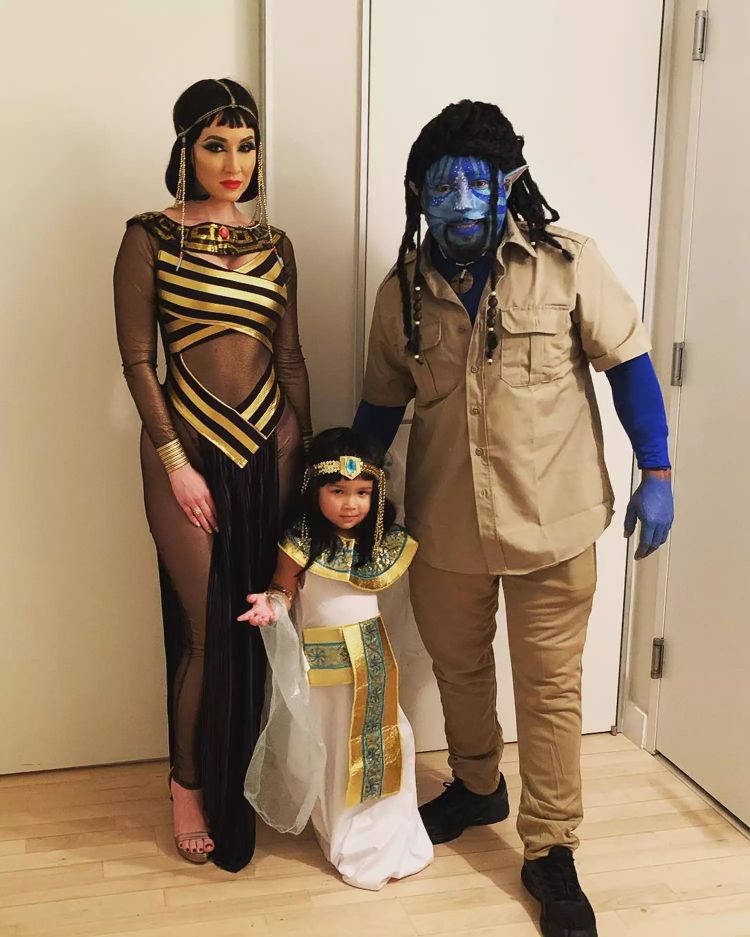 Heather published a photo of the three members of the family in superhero costumes in 2021. Daymond played Batman, Taras Supergirl, and the couple's daughter Minka played Supergirl. Taras dressed as Cruella de Vil in the same year. In a post on Instagram, she referred to it as her "absolute favourite costume to date."
Last year, Taras and Minka dressed as Darth Vader from Star Wars, while Daymond appeared as a bag of Cheetos. In general, the lovely family enjoys wearing coordinated clothing. Instagram user Heather is living proof of that.
Did you enjoy reading about Daymond John and Heather Taras' romance? Please share your opinions with us in the space below. Keep checking back with us for the most recent information from the entertainment industry.
Our Team DCS includes 5 different writers proficient in English and research based Content Writing. We allow them and encourage them to follow the Entertainment news all day long. Our posts, listicles and even the exclusives are a result of their hard work.