House of the Dragon's first season is currently halfway finished. In the past five years, agreements have been made and violated, conflicts have been engaged in, and secrets have been exposed. Some people started from nothing, while others had everything from birth, but everyone is playing the game of thrones to succeed. So, moving into the longest time jump ever, who are the key actors, what decisions have they made, and where do they stand?
Grand Maester Mellos
The King was persuaded to let Grand Maester Mellos (David Horovitch) to deliver Queen Aemma via caesarean section, which is now his most notable accomplishment. Any other king would have had his on a spike when they both died, so he should consider himself extraordinarily lucky that Viserys is not prone to removing heads. He will undoubtedly keep stealing from the King till the day he passes away.
King Viserys Targaryen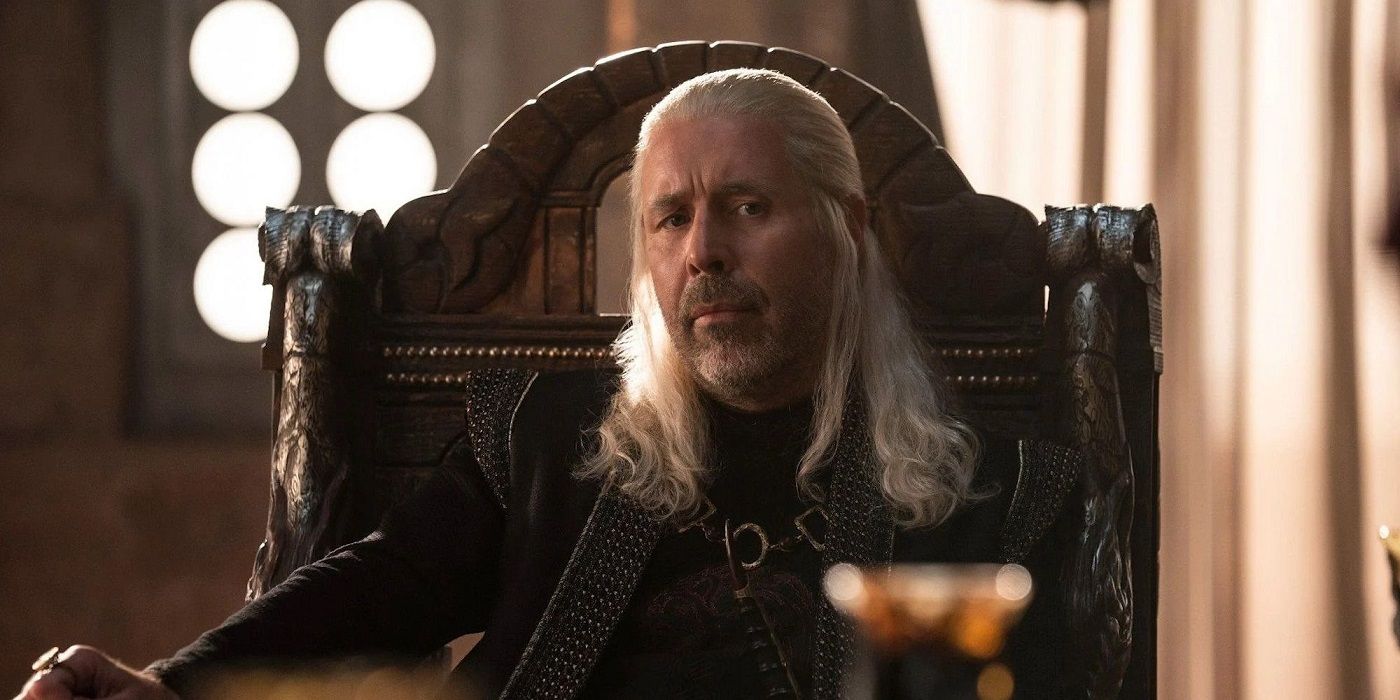 King Viserys Targaryen (Paddy Considine) succeeded King Jaehaerys I and has ruled the seven kingdoms in peace for 13 years after defeating Rhaenys Targaryen (Eve Best) for the position. He generally lets those around him influence his decisions because he is not a particularly ruthless or ambitious leader. He's not the worst king that Westeros has ever had, despite it being difficult to give him credit for not giving the love of his life a heads-up or a choice before he cut her open. In fact, his temperament is ideal for this position of unbridled authority.
The King frequently makes the most significant choices based on what would make his life more enjoyable rather than what would be best for the kingdom. His decision to wed Alicent Hightower (Emily Carey) rather than Lady Laena Velaryon (Savannah Steyn) was self-serving and ran the risk of alienating House Velaryon, one of House Targaryen's most important friends, as well as the opulent Sea Snake, Corlys Velaryon (Steve Toussaint). Sadly, he chose to support his daughter as heir even after having a boy out of love rather than reason. Her accession will undoubtedly result in civil war in a nation that was mostly raised on patriarchal norms, the potential end of the Targaryen Dynasty, and the prospect of the extinction of all humankind.
It doesn't seem promising for the ruler of the Iron Throne given his current health and the manner he passed out at the end of Episode 5.
Lady Laena Valeryon
Laena's single known attribute is that she might have been the Queen of Westeros in an alternate reality. Even though she might not become queen, she is still very likely to wed a Targaryen, bringing her into the war's fray.
Lord Corlys Velaryon
By successfully pitting Daemon against Viserys and using both Laenor's dragon Seasmoke and Daemon's dragon Caraxes, Lord Corlys was able to defend his family's trade channels and House Velaryon. He appears to be primarily interested in Rhaenyra and his son getting married so that he can finally exact revenge for Rhaenys' loss when she was rejected for the position of Queen. He tries to give the successors the house name of Velaryon, as seen in Episode 5, but Viserys dismisses that idea right once.
He will have a lot of influence because he is the King-father Consort's and the Master of Ships. Not to mention the wealth itself.
Lord Laenor Velaryon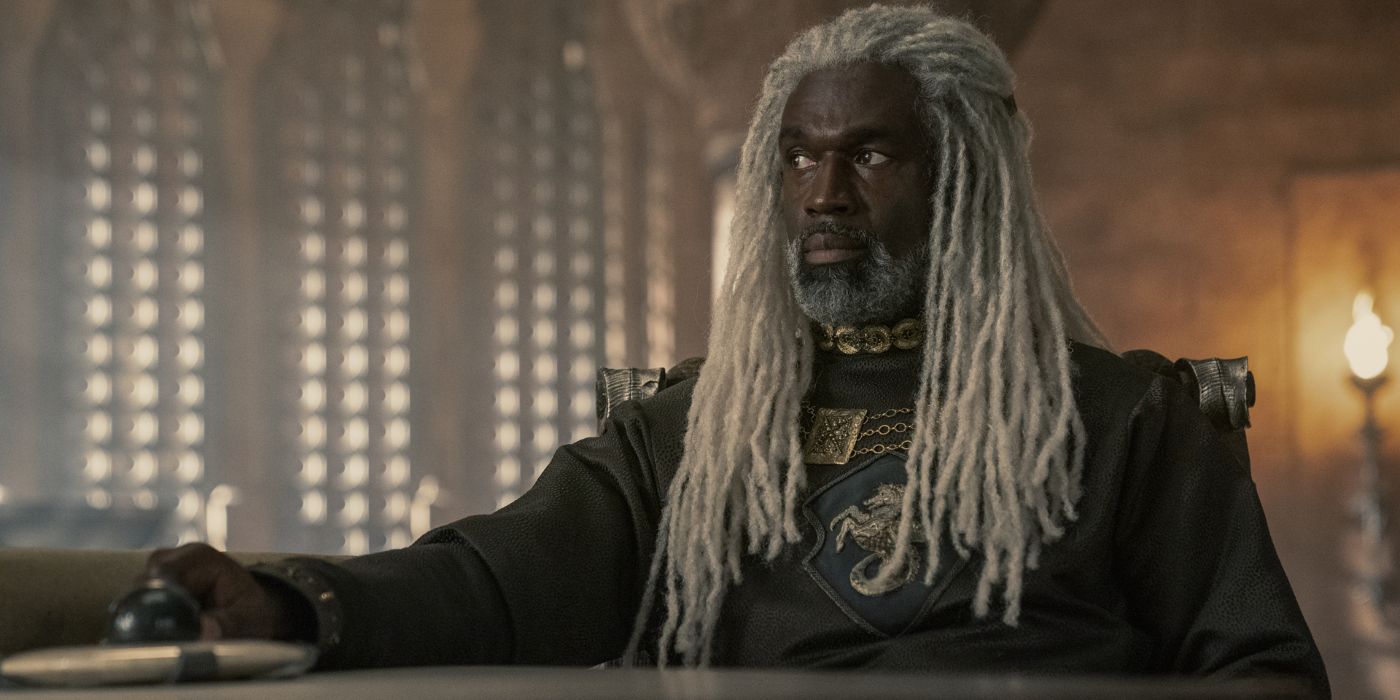 During the battle on The Stepstones, Lord Laenor can be seen sitting at the war table with his father and uncle. He is the one who suggests using Daemon as bait to draw The Crabfeeder out of the tunnels, which ultimately helps them win the war. In the most recent episode, we find out that he is gay, and in this episode, we meet his lover, Ser Joffrey Lonmouth. After learning about this connection, he and Rhaenyra realise that even though they are legally married, they are each free to pursue separate relationships.
Although he may not be Rhaenyra's ideal husband in the conventional sense, he will be essential as a leader and strategist during a conflict.
Lord Larys Strong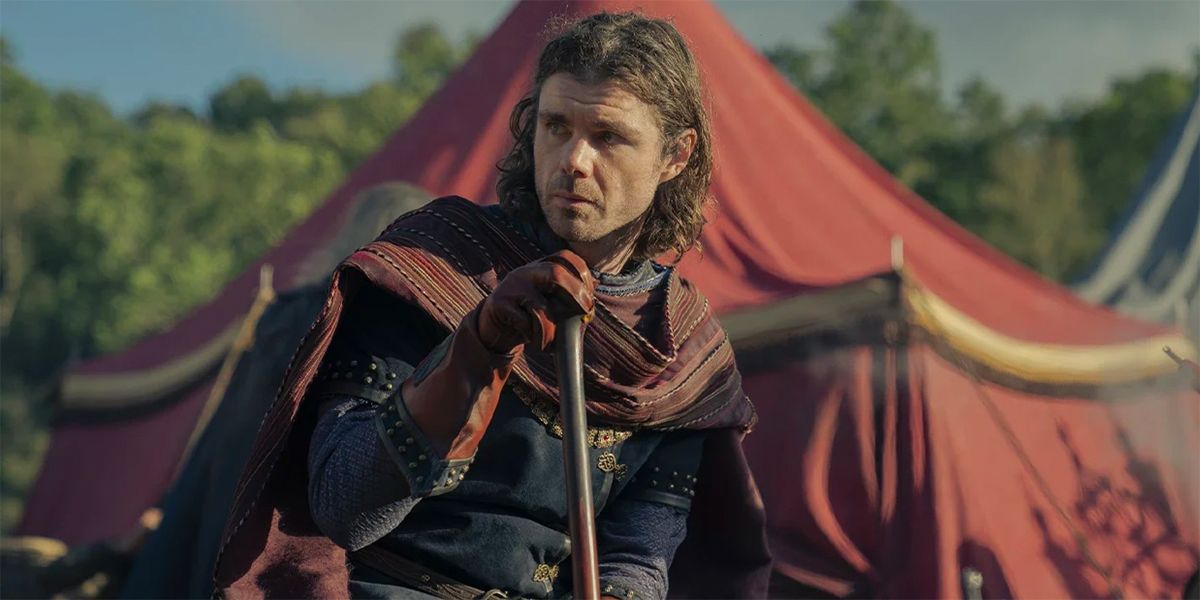 Larys is a fresh threat and player in the Game of Thrones. He is Ser Harwin's (Ryan Coor) younger brother. Although he has obviously allied with Alicent, we don't yet know what he wants or what he's ready to do to obtain it, so all parties should be aware of him.
Lord Lyonel Strong
In the King's small council, Lord Lyonel (Gavin Spokes) is a trustworthy and impartial representative. He consistently offers the King the best suggestions possible and appears to have no interest in advancing his own interests or those of his own home. When Otto Hightower is demoted from his position, he receives a reward for his faithfulness and is appointed Hand of the King.
Even though Lord Lyonel is not a fool, let's be honest: a guy this nice won't survive very long.
Otto Hightower
Otto has an excellent understanding of his King and the second-highest position in the land when he first arrives, which gives him the ability to acquire what he wants. He vehemently opposes Daemon as Viserys' successor and supports Rhaenyra in its place. Unfortunately for Otto, he made it more difficult for his future grandson to succeed him as king when he named Rhaenyra as heir in an effort to remove Daemon. Otto has been arranging the chess pieces since Queen Aemma's untimely death, when he sent his daughter to "comfort" the king. As Westeros traditionally favours male heirs over female ones, Alicent's son Aegon would have succeeded his mother as heir.
Otto's final act before departing King's Landing is persuading his daughter that something must be done. She is in the strongest position to advance House Hightower because she is both the King's wife and Aegon's mother.
Prince Daemon Targaryen
In order to ensure himself a free and obedient army, Daemon Targaryen made use of his position as Commander of the City Watch. He then utilised this army to capture and garrison Dragonstone. He engages in combat with The Crabfeeder solely to test his mettle and not out of care for the wellbeing of the land. Until he learns that the king intends to send 10 ships and 2000 troops to aid him, he isn't even close to winning this three-year war. As a result, he beats up the messenger, sets himself up as bait, and ends up winning the war.
When he returns, Daemon comes out as more deliberate and less impetuous, which is perhaps why he should have maintained the "decent and deferential subject" persona for longer. Viserys exiles him once more from the realm and sends him back to the Vale with his wife when he takes Rhaenyra to a brothel late at night and is discovered by one of the White Worm's spies. But as soon as he gets back, he quickly disposes of his wife and plans to return to King's Landing for Rhaenyra's wedding in order to take her inheritance for himself.
Even though it's unclear where he went, he still has a dragon and could be getting married to a Velaryon in the near future, which puts him in a strong position for the future.
Princess Rhaenyra Targaryen
Ser Criston Cole (Fabien Frankel) was chosen by Rhaenyra (Milly Alcock) as the new member of the Kingsguard, which was the first significant choice she made after her father, King Viserys, designated her his heir. He proves to be a dependable defender and friend for her—until she goes overboard and sleeps with him. When Queen Alicent hears her father Otto Hightower (Rhys Ifans) accuse Rhaenyra of having an affair with her uncle Daemon (Matt Smith), Rhaenyra is able to emotionally blackmail Alicent into accepting her story and speaking up for her in front of the King.
Rhaenyra then asks that Otto Hightower be fired for his ambition and favouritism toward his own house in exchange for not being allowed to divorce Ser Laenor Velaryon (Theo Nate). After a terrible altercation in which Ser Criston savagely beat Ser Joffrey Lonmouth (Solly McLeod) to death, Ser Laenor marries Rhaenyra, but only after the midseason.
Few can stop her now that she is a member of one of Westeros' wealthiest households and is still heir to the Iron Throne and a Dragonrider.
Princess Rhaenys Valeryon
Princess Rhaenys is very likely doing most of the Sea Snake's actions as well, even if the audience is only able to view roughly 2% of what she is doing. She is aware of "the order of things" and how the inhabitants of the realm think and act. As she is fully aware that the males of the realm will contest Rhaenyra's succession as Queen and understands that their union will put her son in peril, Princess Rhaenys is less than pleased with the plan to marry her son Laenor to Rhaenyra.
She could be an excellent source of information and wisdom for the queen as Rhaenyra's new mother-in-law (and second cousin), which could be crucial in the upcoming fight. This is assuming the heir doesn't harbour any animosity toward the queen who never was.
Queen Alicent Hightower
With a few sweet words, her mother's outfit, and a trip to the stonemasons, Alicent is able to transition from Rhaenyra's friend to Queen. Becoming Queen was her father's plan, and for a while she tries to rekindle her friendship with Rhaenyra before she quickly became a mother, giving birth to a son for the king, fulfilling her job as a "royal womb." That is, until Lord Larys Strong (Matthew Needham), the serpent in the garden, "accidentally" reveals to her that Rhaenyra lied, making Alicent inadvertently involved in her father's dismissal.
Otto's final farewell also compelled Alicent to acknowledge the grave peril she and her children will face after the King passes away and Rhaenyra assumes the throne. She ultimately starts acting independently in Episode 5. In a night of theatrical entrances, she surpasses them all by arriving late to dinner, giving her "step-daughter" a phoney grin and encouraging words, and outwardly expressing her allegiances with a fashion statement.
If she plays her cards well, she can accomplish anything with a male heir, the deadly knowledge of Rhaenyra, a prospective alliance with Ser Criston Cole, and other favourable circumstances.
Ser Criston Cole
Ser Criston was the only man who had actually engaged in battle, and it was his performance at the king's tourney that eventually led Rhaenya to choose him as the new member of the Kingsguard. He is a child in comparison to the other adults participating in the Game of Thrones, but he has very bad judgement when it comes to politics, making decisions like thinking Rhaenyra would flee to live as a nobody or confessing to something he hasn't been charged with.
Now that Queen Alicent is in complete control of his destiny, perhaps she will clear him of his misdeeds.
Being a binge-watcher himself, finding Content to write about comes naturally to Divesh. From Anime to Trending Netflix Series and Celebrity News, he covers every detail and always find the right sources for his research.