'The Great British Baking Show: The Professionals,' also known as 'Bake Off: The Professionals,' is a popular British baking television programme that is a part of the 'The Great British Baking Show' franchise. Different two-person teams get together each season to demonstrate their talent. I Shan Lin and Jonnalyn "Jojo" Closa from Season 7 fit the bill perfectly because they not only dazzled us with their talent but also managed to place in the competition's finals. Join us as we examine what this particular combo is doing right now if you're curious!
I Shan Lin and Jojo Closa's The Great British Baking Show: The Professionals Journey
I Shan and Jojo, who were representing Hotel Café Royal, were anxious to show the judges and the rest of the world just how skilled they were at baking. Although the judges had some criticisms of the pair's technique, they fared well in their first week as part of Heat B. Overall, they achieved the third spot, guaranteeing their participation in Week 2. Despite a few mistakes, the pair definitely pulled out all the stops for the following round of challenges, dominating the two rounds to take first place this time.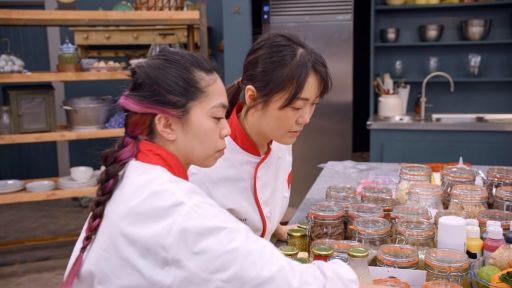 I Shan and Jojo, who were now vying for a spot in the Top 6, used their inventiveness and perfected chocolate-making abilities to produce a stunning assortment of treats. Although the judges felt that they missed the brief, they had to elevate spherical chocolate balls for the first round. But everyone who ate the same thing was delighted by their salute to spring. Although they once again fell short of some requirements, their show-stopping chocolate creation allowed them to portray the seas in a way that captivated the viewer's attention. However, they managed to secure the second spot in Week 3, guaranteeing their inclusion in the Top 6.
I Shan and Jojo once again gave it their best the week before the quarterfinals, which helped them place third in that specific round of challenges. The two women narrowly avoided elimination in the quarterfinals by finishing in the bottom 2 of their theme park-based showcase, perhaps as a result of the absence of a necessary component. The semifinals followed the same format, with the other two finalists guaranteed a spot in the final week before I Shan and Jojo. They were more than motivated to compete at their highest level in the finals, though, and they did not let it deter them. Even though Nathan Rave and Kevin Marmion were ultimately crowned the champions, their work undoubtedly garnered them accolades from Benoit Blin and Cherish Finden.
Where Are I Shan Lin and Jojo Closa Now?
View this post on Instagram
I Shan, who will turn 33 in December 2022, appears to be doing well in life and seems to be concentrating on her work with desserts. She was a Junior Pastry Sous Chef at Hotel Café Royal when she was featured in the British baking programme; she quit the job in June 2022. I Shan rehired as a Junior Pastry Sous Chef at Pan Pacific London that same month. She has, however, been a Junior Sous Chef at Claridge's since February 2023. The culinary master has also been a self-employed visual artist since August 2016.
View this post on Instagram
I Shan, who is currently based in Finsbury Park, England, frequently shares images of enticing sweets on her social media accounts. Jojo Closa, who appeared in the well-known show, appears to have likewise left Hotel Café Royal behind her. She is currently associated with the Dorchester Hotel in London, England, where her excellent culinary abilities are put to the test. We wish both women the very best in their future endeavours in the culinary world and anticipate seeing them achieve even greater levels of accomplishment.
Our Team DCS includes 5 different writers proficient in English and research based Content Writing. We allow them and encourage them to follow the Entertainment news all day long. Our posts, listicles and even the exclusives are a result of their hard work.