Jeffree Star has been teasing an NFL boyfriend on social media for the past few weeks. We now know that the name of the social media influencer's "NFL boo" is Taylor Lewan, an offensive lineman for the Tennessee Titans.
The beauty guru told everyone on Friday, February 10, 2023. Jeffree Star posted a short video to his TikTok account in which he revealed the identity of his mysterious "NFL boo."
Who is Jeffree Star's NFL boo, Taylor Lewan?
Wow. Jeffree Star's NFL man has been revealed. @BussinWTB @TaylorLewan77 pic.twitter.com/CeGQJqMj3V

— Barstool Sports (@barstoolsports) February 10, 2023
On January 30, the founder of Jeffree Star Cosmetics shared a video of the player in which he was facing backwards on the TikTok video-sharing site. He just wrote "His team didn't make it to the Super Bowl, but he's 6'6″ and plays great in the bedroom" as the caption.
Before this, the beauty mogul posted a cute picture of himself and his new boyfriend on Twitter. Jeffree's long, dark fingernails were wrapped around Taylor's rough hands in the January picture. "Goodbye, LA! It's time for me to hang out with my #NFL boo in Wyoming," he wrote in the post's caption.
It seems like the YouTube star and Taylor Lewan were just trying to get people excited about the cosmetics mogul's appearance on Taylor's podcast, Bussin With The Boys.
But it seems like the NFL player isn't available because he's been in a public relationship for a long time. Who is Taylor Lewan, though? Read on to find out more about Taylor Lewan's personal and professional life.
Taylor Lewan is a married man
You did read that correctly. The NFL star who plays for the Tennessee Titans and has done so since 2014 is married. He is married to Taylin Gallacher Lewan right now. Since 2018, they have been married.
Taylor and his wife, Taylin, are happy to be Wynne and Willow's parents. They live in Nashville and seem to be a happy family. Taylin sometimes posts on social media about how much she loves her man. When her partner had surgery in October 2022, she posted a message of support on Instagram.
At that time, Taylin put a nice message with a beautiful picture of the four of them on her Instagram feed. She started by writing, "Waiting for the love of my life to wake up from surgery so we can climb this mountain all over again."
View this post on Instagram
She went on to say, "I couldn't be more grateful to everyone who has kept reaching out to me even though I haven't replied. The help our family gets is a constant reminder of how lucky we are and keeps us from giving in to problems. We have a long list of things to be thankful for, and you guys are on it."
On July 5, 2022, Taylin shared a beautiful post in which the two of them look so happy and joyful. She just wrote, "I blame my laugh lines on this guy," under the beautiful photos of her and her husband.
Taylor Lewan co-hosts a podcast
Taylor Lewan and Titans teammate Will Compton co-host a podcast called "Bustin' With the Boys" on the Barstool Sports Network. In the summer of 2019, the two of them began their podcast.
Jeffree Star was a guest on the Bussin' With The Boys podcast on February 10, and he talked about Taylor and the Lollipop Luxury singer's possible relationship.
When two worlds collide… Makeup x #NFL 🏈 Just wrapped up filming the @BussinWTB podcast w. @TaylorLewan77 pic.twitter.com/FGv5dZrPoA

— Jeffree Star (@JeffreeStar) February 10, 2023
"If you're not for the boys, you're against them" was the podcast's slogan. On the podcast's official website, it says that the players "sit down with a guest and bring their ridiculous yet insightful personalities to talk about different things in their lives." Each episode will feature a different person from a different field. They will share insights and have conversations that will teach you something, make you laugh, and give you a sneak peek into their busy lives.
Taylor Lewan is a family man
Taylor loves his daughters Wynne Rebel Lewan and Willow Lewan very much. When he's not playing football, he likes to spend time with his wife Taylin and their two daughters.
Taylor's wife, Taylin, posted a cute video of him playing with his daughters on the social media site Instagram on Father's Day of last year. "Happy Father's Day to the man who does it all," she wrote in the video's description. You couldn't come at a better time for us."
View this post on Instagram
In an Instagram post from November 2022, Taylor and his lovely family are all dressed up for Halloween. "Happy October, lovely people. I hope you're all enjoying the last few days of this wonderful holiday. Trick-or-treating, going to a party with friends, or just getting one last scare before turning the page! Have a wonderful night. "Big hugs, little kisses," he wrote in the Instagram post's caption.
Taylor Lewan has faced some legal trouble
In the past, the California native has experienced some legal trouble. Taylor got into a little trouble in 2013, according to his official Wikipedia page. In December 2013, the police arrested him on charges that he beat up two Ohio State fans outside of a restaurant.
It has been stated that on October 30, 2014, Taylor pleaded guilty to two misdemeanors: drunk and disorderly conduct and disturbing the peace charges.
Taylor Lewan started his career at Michigan State
Taylor played for the Michigan Wolverines for five years, from 2009 to 2013. The Titans picked him up in the first round of the 2014 NFL Draft. He studied general studies as his major at Michigan State.
In 2012 and 2013, Lewan was named the Offensive Lineman of the Year for the Big Ten Conference. The Tennessee Titans picked him up the next year, and the rest is history.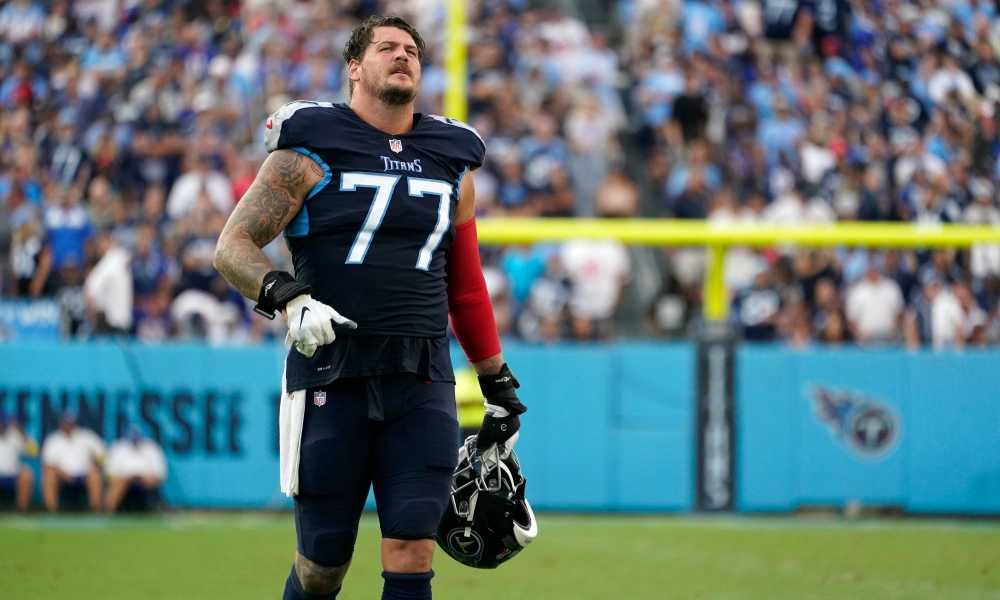 Who do you think will win this year's Super Bowl? Please let us know what you think in the section below. Don't forget to check back with us to find out what's going on in the world of show business.
Our Team DCS includes 5 different writers proficient in English and research based Content Writing. We allow them and encourage them to follow the Entertainment news all day long. Our posts, listicles and even the exclusives are a result of their hard work.