Katie Holmes went from being the girl next door on "Dawson's Creek" to a real Hollywood star and a devoted single mom over the years. Along with this change, she had different men by her side, but at different times.
In the beginning of her career, she dated Joshua Jackson and Chris Klein. Then, Holmes did something that seemed impossible: she married her longtime Hollywood crush, Tom Cruise, with whom she has a daughter named Suri Cruise. Since her divorce, the actress has dated a Hollywood star, a chef in New York City, and other creative types. Her daughter, on the other hand, has been the one constant in her life. In an interview with Shape, Holmes said, "I feel very lucky to have such a special daughter." "Being her mom is the best gift and honor in the world."
Let's take a trip down memory lane and look at who Katie Holmes has dated over the years, from co-stars to other types of creators.
Her former Dawson's Creek co-star, Joshua Jackson, was her first love
Katie Holmes first became known through the teen drama show "Dawson's Creek" in the late 1990s. On the show, her character, Joey Potter, is in a love triangle with her longtime best friend, Dawson Leery, played by James Van Der Beek, and his best friend, Pacey Witter, played by Joshua Jackson. Off-screen, Holmes and Jackson were a thing, but they decided it was better to just be friends. In an interview with Rolling Stone in 1998, she talked about Jackson, which is not a secret. She said, "All I'm going to say is that I met someone last year." "I fell in love, I had my first love, and it was so amazing and hard to explain that I will always remember it."
Over the years, Holmes and Jackson have stayed in touch. According to Us Weekly, Holmes called Jackson after her 2012 breakup with Tom Cruise, even though Jackson was dating actress Diane Kruger at the time. At the "Dawson's Creek" reunion in 2018, they got back together. Even then, it was clear that they still had great chemistry, and BuzzFeed said that longtime fans of the show loved it.
Any hopes of them getting back together for real were put to rest when Jackson got married to actress Jodie Turner-Smith in 2019. He has a daughter with her. We'll keep hoping for a real-life Joey-Pacey reunion, even though there are rumors that their marriage is having trouble.
Katie Holmes was engaged to American Pie star Chris Klein
In the late 1990s and early 2000s, everyone loved the "American Pie" movies. The first one made over $235 million worldwide, and Katie Holmes dated Chris Klein, who played the sweet lacrosse player Chris "Oz" Ostreicher. They started dating in 1998 and got engaged at the end of 2003. They were able to keep most of their relationship details secret.
But less than three months later, they called off their engagement and broke up, but they didn't say why. People thought at the time that Klein's problems with drugs might have had something to do with it.
In 2012, Klein talked about the hard times he had in the past and what went wrong in his relationship. Even though he said that his drinking "didn't help," that wasn't why they broke up. In young Hollywood, he told People, "Katie and I were on a journey together." He went on to explain how their backgrounds and experiences were similar. But, he said, their relationship changed as soon as they stopped being teenagers. "From my side, there was a lot of denial and fear about the future," he said, adding that they both wanted to break up.
Help is available if you or someone you know is having trouble with addiction. Visit the website of the Substance Abuse and Mental Health Services Administration or call 1-800-662-HELP, which is the number for SAMHSA's National Helpline.
She then engaged in a whirlwind relationship with Tom Cruise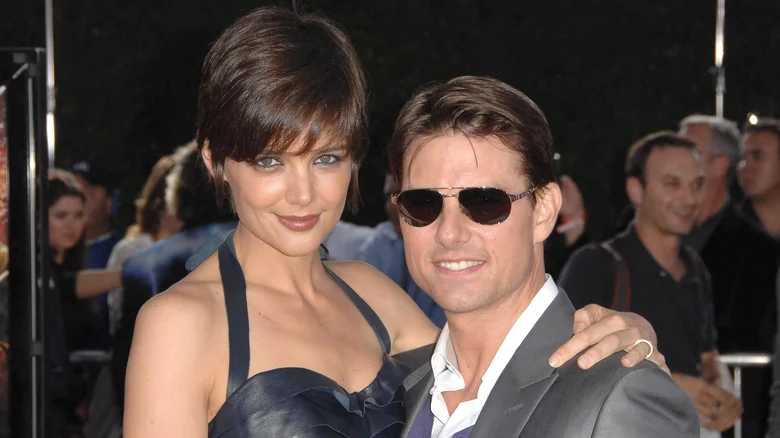 Katie Holmes beca me a huge adult star when she started dating Tom Cruise in 2005. It seemed like she did this overnight. Starting in the spring of 2005, their relationship was a real whirlwind. Cruise didn't wait long to show how excited he was about Holmes. His famous "Oprah" interview shows him jumping up and down on the couch. In a 2004 Seventeen interview, Holmes said that the actor had been her Hollywood crush since she was young.
After dating for two months, Holmes told "Access Hollywood" (via E! News) that she was going to study Scientology to get ready to convert. Cruise has been a well-known member of the Church for a long time, so she thought it would be a good idea. In June 2005, they got engaged, and by October, they found out they were going to have a baby together. In April 2006, their daughter Suri Cruise was born. In Italy, they got married in November.
Holmes used the words "exciting" and "fun" to describe his marriage to Marie Claire. "She's funny and charming, and when she walks into a room, I just feel better," the actor told Playboy (via Today). He added, "I'm happy, and I've been happy ever since I met her. What we have is quite unique."
But the fairy tale was over when Holmes filed for divorce in June 2012. The actress purposely didn't say anything, but Cruise later said that Holmes got a divorce from him to keep Suri away from Scientology.
After her divorce, Katie Holmes focused on work and family despite dating rumors
Katie Holmes and her daughter Suri Cruise moved to New York City after her divorce from Tom Cruise. Cruise is said to have lost touch with his daughter. The single mom told People about their new life for the cover story in October 2014. "I don't have any fear now, I don't have a lot of rules for myself, and I don't take myself that seriously," she said, explaining that she had moved on from the media frenzy that used to be her life. "I don't want that moment to be what makes me who I am. I have been an actor before, during, and now." After the breakup, the actress only thought about her daughter, who she said "means everything to me."
In January 2013, Holmes's rep set the record straight about her love life after Grazia said she was dating actor Jake Gyllenhall after he was supposedly introduced to her by Joshua Jackson, her former co-star and ex-boyfriend. Reps for all three of them said the story was completely false and denied the claims.
Soon after, Grazia came out with another story about Holmes that wasn't true. It said that she was seeing Peter Cincotti, a jazz musician and pianist who also lived in New York City. Again, Holmes's rep quickly shut down the story by telling E! News, "They are not dating."
Katie Holmes and Jamie Foxx enjoyed a private lengthy relationship together
Katie Holmes had a private relationship with actor Jamie Foxx after her very public relationship with Tom Cruise. At first, Foxx denied the dating rumors, telling Nancy O'Dell of "Entertainment Tonight" in October 2013: "It's quite funny because we just danced at a charity event with a lot of other people."
But by March 2015, sources said that they were spending time together, but that it wasn't a serious relationship. A source told People, "Jamie and Katie have been friends for a long time." "Since they are both adults, attractive, and single, it seems likely that people will make assumptions about them. But, despite what you might think, they aren't about to run off and make a big commitment."
By September 2017, the two confirmed their relationship by spending time together openly on the beach in Malibu, California. Photos from the Daily Mail show them doing this, which explains why they were so private about their relationship before: Holmes reportedly couldn't date publicly for five years after her divorce settlement in 2012.
But by August 2019, the couple hadn't been together for a while. Holmes is said to have started the breakup. Foxx did not ask her out after a few years. Foxx was said to have tried unsuccessfully to get back together with the actress, but it seems that she had moved on.
Things moved quickly for the star and chef Emilio Vitolo Jr.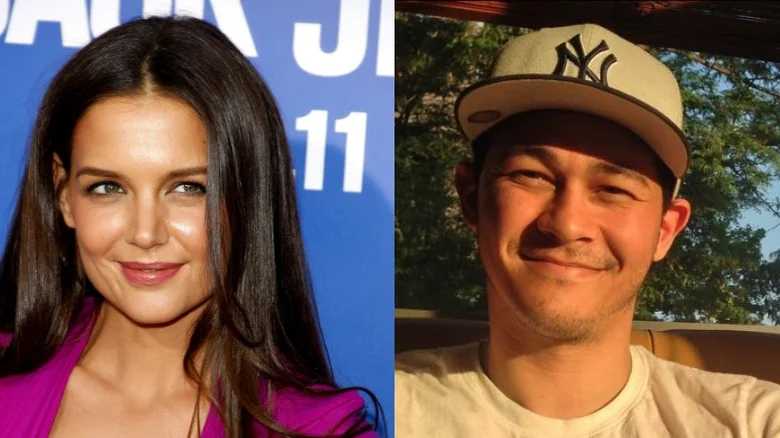 Katie Holmes and her new younger boyfriend, chef Emilio Vitolo Jr. of New York City, quickly got hot and heavy in September 2020. People said that they always texted each other and that they were often seen getting close. "Emilio is charming and likes to flirt. It's easy to see why Katie liked him so much "an inside source said. "She seems to like him a lot… He just can't get enough of how she looks at him."
By April 2022, though, things got bad between them. "Katie is working on new projects, and she doesn't have time to hang out with Emilio all the time," an insider told In Touch. "She thinks that things are moving too quickly in their relationship. He wants things to work out, so he's giving her some space."
Us Weekly said that after a month, the two were no longer together. "Their relationship ran out of steam. They decided that it's better for them to be friends. A source told the magazine, "There's no drama behind the breakup." Another source told People, "They are in very different places in their lives.""
But a report from OK! said that Holmes ended the relationship because she wasn't sure she could trust him. "Katie began to wonder if Emilio," who wants to be an actor, "was dating her for more than just fun."
Rumors briefly linked Katie Holmes to Alex Rodriguez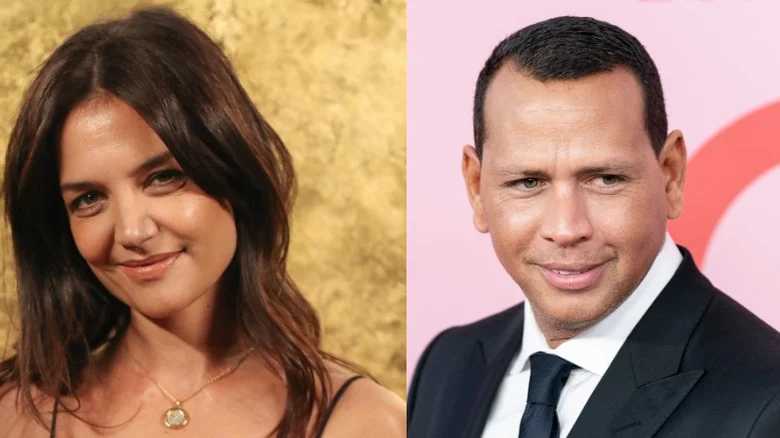 When two Hollywood stars break up, it's not uncommon for the media to try to pair them up. After Katie Holmes and Emilio Vitolo Jr. broke up in May 2021, she was once again single. Alex Rodriguez, a former Major League Baseball player who is now an entrepreneur, also went through a breakup. He and his then-fiancée, Jennifer Lopez, broke up in April 2021, after a long time together.
So, when Rodriguez was seen leaving Holmes' fancy high-rise in Manhattan on a Sunday that spring, rumors spread like wildfire. But Holmes's representative quickly shut it down by telling Radar Online that the two "have never even met." Holmes and Rodriguez both denied the claims. Page Six said that A-Rod was in Holmes' building because he was looking for a new place to live in New York City. A source close to the former New York Yankees shortstop told the outlet (via Radar Online): "Alex is looking at a lot of different apartments. He didn't even know it was Katie's building; he's never met her."
The actress next dated musician Bobby Wooten III for eight months
eKatie Holmes was seen kissing and cuddling with Bobby Wooten III in New York City a year after she broke up with Emilio Vitolo Jr. Wooten III is a Grammy-nominated musician and adjunct professor at NYU's Tisch School of the Arts. In April 2022, they were seen out with Holmes's mother, Kathy Holmes, which was an unofficial sign that they were dating. In May, the couple went out together for the first time as a couple in New York City.
In June 2022, when Wooten was his date to the wedding of a close friend, Holmes spent time with her family. "Every time they hadn't seen each other for a while, they'd kiss and be very happy to be back together," an insider told Us Weekly. "Katie and Bobby were always very affectionate with each other. They looked very in love and didn't care who saw."
Sources told Us Weekly in December 2022 that the couple had broken up because "they just didn't work out in the long run."
Our Team DCS includes 5 different writers proficient in English and research based Content Writing. We allow them and encourage them to follow the Entertainment news all day long. Our posts, listicles and even the exclusives are a result of their hard work.