It's official: Lizzo will join the cast of The Simpsons and move to Springfield. Entertainment Weekly says that Lizzo will be a guest star in the season finale of the show's 34th season, which is currently airing. She'll be the voice of an animated version of herself as well as a "Happy Little Elf" character, and images of the first look have been shown. "Homer's Adventure Through the Windshield Glass" is the name of the episode, which will air on May 14. Below, you can get your first look at Lizzo as she will appear in the episode.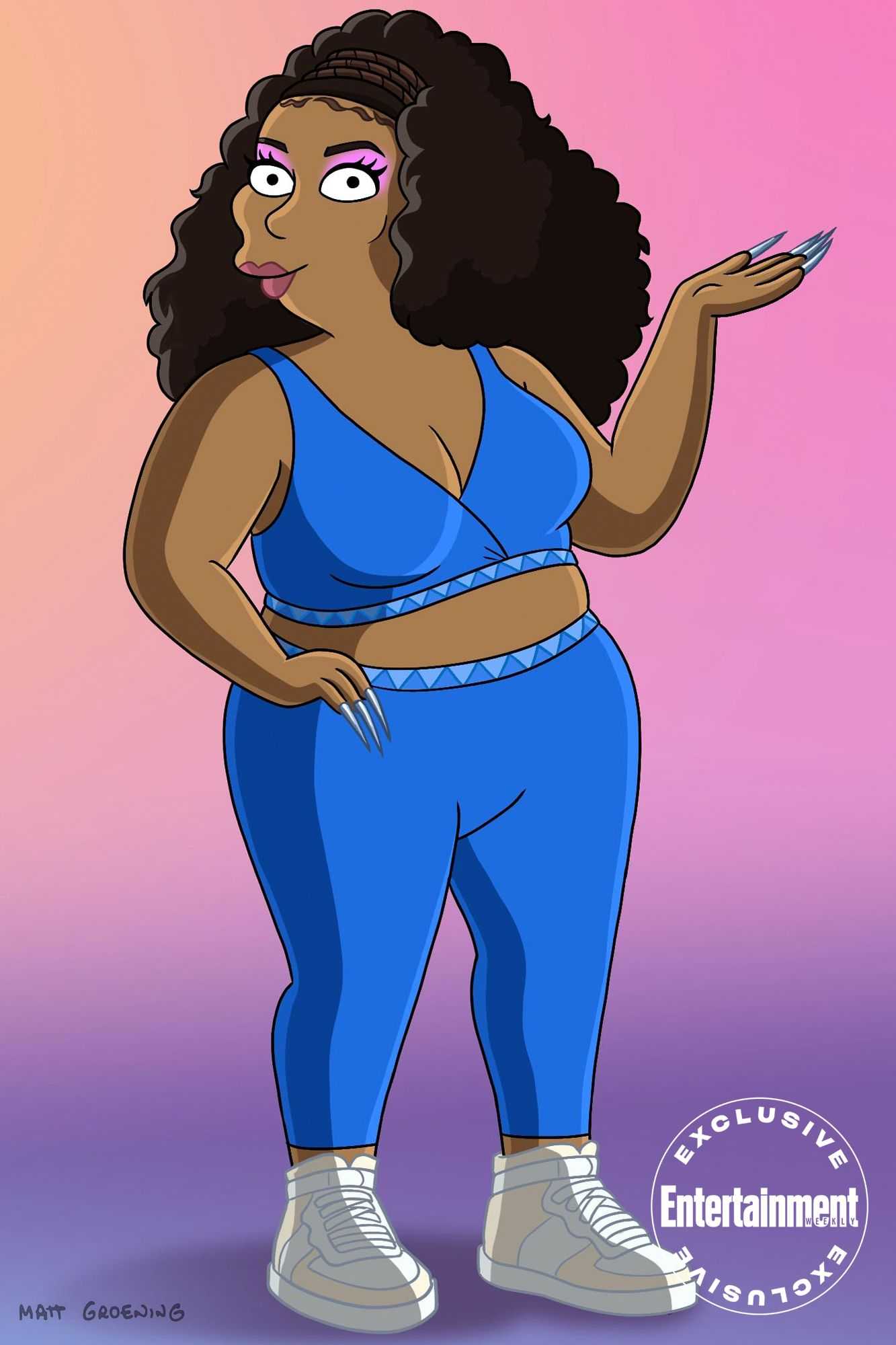 Lizzo was asked to be a guest star because she likes The Simpsons a lot. The show's producers extended an offer for her to guest star once they heard about this, and she was quick to sign on. Even though she mostly voices a character on the show, the producers have said that Lizzo also appears in a "behind-the-scenes recording session" with the Simpson family as herself. She even jams with Lisa on her Sasha flute.
"She is a great flutist, and she brought her flute to the recording session, which was amazing to see," said executive producer Tim Long. "She plays music with Lisa in the end. Lizzo is such a big Simpsons fan that she made up the line, "I'm going to get my Sasha flute, and you get your saxamaphone, and let's jam." We were all like, "Wow," because Saxamaphone is such a deep reference to The Simpsons. She knew everything about The Simpsons. She worked on a song with Dan Castellaneta, who voices Homer on The Simpsons. I think we were all starstruck by Lizzo, and she was starstruck by Dan. That was truly amazing."
Lizzo Has Two Roles in the Episode
The episode is said to be based on two well-known stories: "An Occurrence at Owl Creek Bridge" by Ambrose Bierce and "The Secret Miracle" by Jorge Luis Borges. It all happens in the few seconds that Homer Simpson is flying through the windshield of his car after a crash. At that time, Lizzo voices a happy little elf doll that Homer sees. Long says that the character is Homer's spirit guide on this journey, which includes performing a song that Lizzo wrote herself.
"The song is called "It Was Marge, Bitch," and Homer is the bitch," Long says. "I can't tell you too much about the background without giving away too much of the story, but it's right in her wheelhouse, and she sang it like it was her job."
New episodes of The Simpsons air on Sunday nights. Lizzo's episode is set to air on May 14, 2023.
Our Team DCS includes 5 different writers proficient in English and research based Content Writing. We allow them and encourage them to follow the Entertainment news all day long. Our posts, listicles and even the exclusives are a result of their hard work.