August 1946 saw the birth of actor Loni Anderson in St. Paul, Minnesota. She was named Valentine Queen at her high school's winter formal, but Anderson was smart and enrolled in the University of Minnesota in 1963, proving that she was more than simply a gorgeous face. She won several beauty pageants, including Miss Roseville, which gave her the opportunity to compete for Miss Minnesota, and used the money she earned to pay for her education. She came in second place overall in the contest.
Anderson wed her first husband, Bruce Hasselbeck, while still a student, and the couple soon had a daughter called Deidra. They were divorced after only two years of marriage since their marriage didn't work out; they split up soon after the baby was born. Anderson continued to work as a single mom while attending college after getting divorced. She started performing in regional theatre and commercials at this time, thinking about pursuing an acting career.
Anderson is most remembered for his seven-year stint as Jennifer Marlowe on "WKRP in Cincinnati." Her fairy tale wedding to Burt Reynolds (and difficult divorce from him) may have caught your attention if you are unfamiliar with her work as a well-known television actress. She was at the pinnacle of her abilities in the late '70s, '80s, and '90s, but in the new century, her career slowed down. If you're interested in learning what happened to Loni Anderson after that, continue reading.
Anderson accused Reynolds of domestic abuse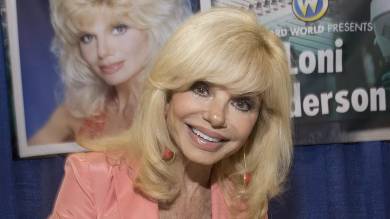 Loni Anderson finally spoke out about her divorce from Burt Reynolds after two years of keeping it a secret from the public. She wrote her memoir "My Life in High Heels" in 1995, and it was jam-packed with stories that Entertainment Weekly dubbed "tabloid-ready." While some of them were sassy, others were extremely unsettling. In one chapter, Anderson stated, "[Reynolds] threw me around, pushing me onto the floor." When he did, he said, "Here, why don't you shoot yourself and do us all a favour?" and he then pulled out a revolver.
Anderson discussed her allegations of spousal violence with Ruthe Stein of the San Francisco Chronicle shortly after the memoir hit the market. She disclosed that she had been sending her son to Florida with a temporary nanny while he was visiting his father. She said, "I'm worried about Burt's irregular conduct. Because Quinton is so little, I want to protect him. Anderson claimed that Quinton's regular nanny refused to enter the area because "Burt threw a chair at her."
She continued by saying that she initially remained silent because Reynolds persuaded her that the general public would support him. Burt constantly said that because he was Mr. Wonderful and well-liked by everyone, no one would ever believe him. Reynolds' spokesperson declined to comment when contacted but added that he "wishes Loni nothing but the greatest best moving forward" when prompted.
Call the National Domestic Violence Hotline at (800) 799-7233 if you or someone you know is a victim of domestic violence. On their website, you can also discover further resources, information, and help.
Anderson's daughter was diagnosed with MS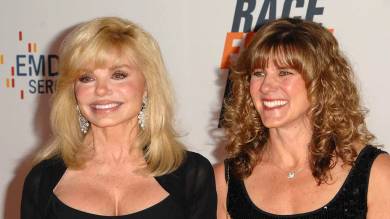 Deidra Anderson, the daughter of Loni Anderson, has been identified as having MS. According to Entertainment Tonight, Deidra was diagnosed with having a mini-stroke following an MRI. Multiple sclerosis is a chronic, degenerative autoimmune illness that affects the brain and spinal cord and frequently impairs patients' movement and motor skills. While some people only have minor symptoms, others have their life completely changed.
In an interview they gave for "The Doctors" in 2014, Anderson and her daughter talked about Deidra's personal struggle with the illness. Deidra stated, "I diagnosed myself with merely stress years ago and I had tonnes of symptoms that I ignored. "I was busy. I had a family and a full-time job. The diagnosis made me stop in my tracks since I didn't have time for everything that was occurring to me."
Following this illness, Anderson's priorities shifted, making her daughter and granddaughters her top priority instead of acting. Anderson told Closer, "I didn't want to break down in front of her because I knew she was fighting to just maintain herself. But it was incredibly hard to accept." "Moving on and making the best decision you can is required. This message is one of hope. Even if we don't yet have a treatment, we are always learning more." According to Anderson, she shows up for "every MRI, every test, just to let Deidra know that I love her," according to the magazine.
Burt Reynolds and Loni Anderson's divorce got very messy
Burt Reynolds and Loni Anderson were a longtime power couple in Hollywood, but they divorced in 1993, showing their union wasn't always as ideal as it was shown in the media. Through a representative, Reynolds made the announcement of their separation, stating that "he thinks his priorities and hers have changed" (per People). Anderson first remained silent and simply made a fleeting comment. She stated, "I do not wish to participate in a media battle" (per People). "I have to think about my little boy's welfare and best interests." Anderson maintained her composure despite Reynolds's public criticism of her, which included claims that she was unfaithful, a bad mother, and a "underemployed actress" (according to Page Six).
Of course, the divorce soon devolved into a full-fledged media war, as many do when there is a lot of money involved, a prominent person is involved, and there is a custody fight. Both of their careers were probably harmed by this battle. Reynolds' financial situation was undoubtedly harmed because he lost his endorsement contracts with Quaker State and the Florida Citrus Commission. He remarked, "I don't see why they think divorced people don't consume orange juice (per Vanity Fair). It was to turn into the never-ending divorce. Reynolds would take decades to fully pay Anderson's divorce settlement, but in 2015, after Anderson dragged him to court, he finally did. According to TMZ, the judge mandated that Reynolds pay Anderson $154,520.
Her other TV shows failed to take off
Loni Anderson continued performing on television after "WKRP in Cincinnati" was cancelled, securing a few prominent roles. She co-starred in "Partners in Crime" in 1984 alongside Lynda Carter, a programme about two women who take over a private detective service when their ex-husbands pass away. The series, which was set in San Francisco, appeared to be a surefire success because it starred two well-known actors and debuted at a time when detective shows were popular. However, "Partners in Crime" ended after just 13 episodes, demonstrating both how fickle viewers can be and how uncommon television hits actually are.
In "Easy Street," a comedy about a former Las Vegas showgirl and blackjack dealer who inherits a fortune when her husband passes away, Anderson played L.K. McGuire in 1986 and 1987. McGuire moves her good-hearted uncle (Jack Elam) and his companion to Beverly Hills, where they live in a mansion with the family of her late husband. Although there are many potential for funny situations and cultural clashes as a result of this living scenario, the show never really took off and was cancelled after 22 episodes.
Anderson spent years acting in TV movies and making cameos on several shows after "Easy Street" was cancelled until she joined the cast of "Empty Nest" spin-off "Nurses" as hospital administrator Casey MacAfee. The acquisition of Anderson was significant for the programme, but it wasn't enough to prevent the NBC series from being cancelled at the end of Season 3.
Loni Anderson's fourth husband is a folk musician
According to People, Loni Anderson wed folk musician and founding member of The Brothers Four Bob Flick as her fourth spouse in May 2008. In reality, the two had first connected 45 years previously when posing for a portrait at a movie premiere. In Bel Air, California, where they had their wedding reception, this picture was widely displayed. The couple claimed it felt like fate in an interview with Studio 10 despite the fact that the path back to one another was a long one. In 1963, I got married to the right man, Anderson remarked. But if that were the case, I wouldn't have all the lovely folks I do.
During the Studio 10 interview, Flick was by his wife's side, and the two appeared to be deeply devoted to one another. I accompany her everywhere, he declared. It's good to see Anderson married to someone she feels comfortable with and in a relationship that makes her happy after many divorces and her turbulent relationship with Burt Reynolds. The pair got back together and married well over ten years ago, and they are still going strong, relishing life together and spending time with their kids and grandchildren.
Loni Anderson was still acting in 2020
Loni Anderson took up a new role in the online series "My Sister Is So Gay" in 2016, after a decade of hardly performing. The show centres on a middle-aged gay man who fears his right-wing, bigoted sister may actually be queer. Anderson portrays Frances, a drunk yet seductive mother who prepares roadside cocktails and says inappropriate things. She is flashy and outrageous, but she also supports her gay children and is a devoted mother, which is what attracted Anderson to the part.
After Donald Trump was elected president, Anderson spoke with HuffPost in 2017 about her new position and her worries for the LGBTQ community. Unsurprisingly, she admitted, "I've had my hysterical moments over the election. I have a granddaughter who is a junior at UCLA, and we have many vigorous talks about our opinions. "I think after you get over being hysterical — but I don't know if you do — that you try and move forward the best you can and hope that we do not slip backwards."
Anderson is aware of how crucial representation is to the success of Hollywood. She has spent more than four decades in the entertainment business, yet she is still considering her own future and picking parts in accordance with her moral convictions. In the 2020 episode "Unsocial Distancing," she made her last appearance as Frances.
Loni Anderson's limited television roles post 2000
After 2000, Loni Anderson's acting career drew to a halt, but she continued to land odd jobs. In 11 episodes of the comedy "The Mullets" from the years 2003 and 2004, Anderson as Mandi Mullet-Heidecker, the mother of Dwayne (Michael Weaver) and Denny Mullet (David Hornsby). Unfortunately, the UPN programme was a failure and did not receive a second season, which was disappointing for Anderson and everyone else involved. The Rotten Tomatoes critics consensus reads, "'The Mullets' is nothing short of a bad hair day for the sitcom genre." The show had a dismal Tomatometer rating of 27%.
In VH1's hilarious parody "So Notorious," a scripted series in which Tori Spelling portrays a fictionalised version of herself, Anderson played Tori Spelling's insane mother in 2006. The show parodies Hollywood, opulent socialites, and celebrities who are used as tabloid fodder. Anderson's Kiki Spelling lives in a home filled with unsettling old dolls and makes extra money by selling her daughter's childhood toys on eBay. Despite only having 10 episodes, the series has a strong Rotten Tomatoes rating (81%) and is definitely worth watching.
She became a spokesperson for COPD organizations
Millions of Americans suffer from COPD (chronic obstructive pulmonary disease), and millions more have symptoms but are undiagnosed (per CDC). Anderson's parents both had COPD before passing away from cancer in their 50s. In his 30s, Anderson's father received a chronic bronchitis diagnosis, which is frequently the first step in developing COPD. His doctor warned him in his mid-40s that if he didn't stop smoking, which he did for a while, he would require an oxygen tank. Since he couldn't even lift his arms, "he asked the nurse for a smoke in the last three months of his life [in the hospital]," the nurse claimed to the NY Post.
Anderson's mother's health rapidly declined when her father passed away and she was also identified as having chronic bronchitis. In order to care for her during her final months of life, Anderson relocated her mother to California. Because of her experiences taking care of her sick parents, Anderson joined the National Lung Health Education Program as a spokesman. Anderson explained to Future of Personal Health that she made the decision to work as a spokesman after noticing her kid imitating a smoking television character. He put on some spectacles, a small costume, this hat, and other accessories. When he entered the room, he had something resembling a pencil in his mouth, and I immediately thought, "Oh, my God." Since then, Anderson has visited schools and care facilities around the nation to disseminate knowledge and offer support.
She fell in love with Burt Reynolds while making a terrible movie
Loni Anderson produced "Stroker Ace," a comedy about a NASCAR driver starring Burt Reynolds, when her popular television programme ended. Stroker Ace (Reynolds) clashes with his sponsor (a chain of fast food restaurants that specialises in fried chicken) because he thinks the things they need him to do to promote the eateries, including dressing up as a chicken, to be insulting. Stroker and Pembrook Feeney (Anderson) plan to deceive Clyde Torkle (Ned Beatty), the franchise owner, into terminating Stroker. Stroker would be unable to race until his contract expired if he left, which is an unimaginable situation for a racer.
The romance between Anderson and Reynolds in "Stroker Ace" is "unpleasant, hilarious, and disturbing," according to veteran reviewer Roger Ebert at the time. The movie was an attempt to capitalise on Reynolds' success with "Smokey and the Bandit" and "Cannonball Run," but it wasn't any good. Reynolds and Anderson fell in love during filming the movie, which altered Anderson's life despite the failure of the production and the demise of her young big-screen career. Five years later, in a quiet ceremony on Reynolds' estate in Jupiter, Florida, they got married. Shortly after, they adopted a boy named Quinton.
She initially rejected the role of Jennifer Marlowe
In order to pursue careers in cinema and television, Loni Anderson and her second husband, aspiring actor Ross Bickell, relocated to Los Angeles together in 1975. Anderson was cast in minor roles on a variety of programmes, including "The Incredible Hulk," "Barnaby Jones," and "The Bob Newhart Show." She also went through the audition process to play Chrissy on "Three's Company," but Suzanne Somers won the part. According to actor John Ritter, "I don't know why she didn't get it" (via Outsider). "She gave an excellent audition."
However, Anderson's fate was different. In 1978, she landed her big break when she was cast as receptionist Jennifer Marlowe on "WKRP in Cincinnati." She first declined the position out of concern that she would be stereotyped as a stupid blonde. She decided to accept the part after discussing her worries with the writers. In addition to being attractive, Jennifer Marlowe was also clever and quick-witted. Anderson told Studio 10 in Australia, "She just blossomed into a tremendous, trailblazing role for women."
Anderson obtained a significant wage increase in 1980 while on summer break and filming the TV movie "The Jayne Mansfield Story" (which also starred Arnold Schwarzenegger). She said to Page Six, "I did it in a stealthy way. "On the programme, Howard Hesseman, who played DJ Dr. Johnny Fever, was also quite well-liked. We negotiated as a team after I approached him and suggested that we do so." Anderson continued to appear on "WKRP in Cincinnati" until it was cancelled two years later, thus she achieved what she wanted.
She made numerous guest appearances on a variety of shows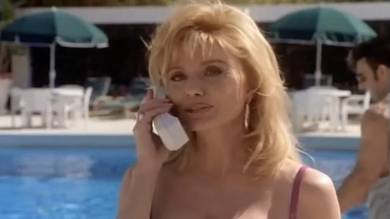 After her divorce, Loni Anderson's acting career slowed down, but she continued to land a lot of TV guest parts. Following the conclusion of her run on "Nurses" in 1994, she spent the remainder of the decade making many one-off appearances on a variety of shows, including "Sabrina, the Teenage Witch," "Clueless," "Fast Track," "Movie Stars," and "V.I.P.," where she played Val's (Pamela Anderson) mother. During this time in her life, Anderson also produced TV movies and played a supporting role in the Chris Kattan-destroying crime comedy "A Night at the Roxbury."
Anderson's most significant work during this time was a three-episode plot arc in which she played Teri Carson, the cunning mother of Brandy Carson (Denise Richards), in a recurring role on "Melrose Place." It's simple to attribute her waning career to the effects of her divorce, but it's crucial to keep in mind that she was a newly single mother of a young boy and likely needed to prioritise her son as well as her mental and emotional well.
Being a binge-watcher himself, finding Content to write about comes naturally to Divesh. From Anime to Trending Netflix Series and Celebrity News, he covers every detail and always find the right sources for his research.