Fans were asking why Madonna's biopic, which was going to be directed by the "Queen of Pop" herself, was scrapped. Madonna seems to have too much on her plate as she launches "The Celebration Tour." Let's explore additional information about the much-anticipated biopic's cancellation, which is bittersweet for her fans.
Why Is Madonna's Biopic Cancelled…
Since 2020, Madonna has been working on her biopic, but tragically, she won't be continuing with it. Despite the fact that Julia Garner was chosen for the role after many actresses had auditioned for it, the project was shelved for a number of odd reasons.
According to the most recent information, there was a disagreement about the movie's script, which may have truly been the real cause of this cancellation. During her time working with Universal Pictures, the "Frozen" star had creative issues, according to a close confidante of Madonna.
In general, they dislike it. They desire it to be lively and pop. It's come to a standstill because Madonna wants something much grittyter, the source revealed. Madonna's buddy clarified that this does not necessarily imply that the film won't be made; rather, it may not be with the same studio.
She would sooner switch studios than alter the script. She will reconsider doing the movie after the tour, but she still wants to do it, the person said. She's maintaining the same writers, but she's conscious that if the actors aren't available, she might have to replace.
Madonna, on the other hand, reportedly wants to devote all of her energy to her upcoming record. In addition, it was rumored that the film's cancellation was brought on by her impending The Celebration Tour, a global tour honoring her discography of songs from the past four decades.
Madonna, A Mix Of Talent & Controversies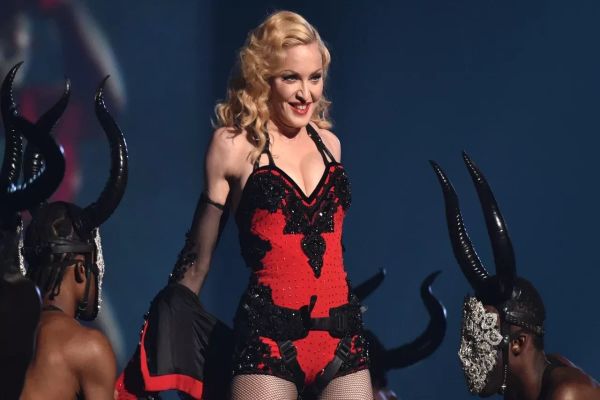 Even while we know that music biopics will likely be nominated for Oscars, Madonna's biopic has a great chance of succeeding on the big screen, especially in light of the success of Weird: The Al Yankovic Story. It should go without saying that the singer's lengthy career has a ton of substance to offer.
Madonna is undoubtedly a force in herself because she has managed to maintain her position at the top and overcome some of the most intense controversies. In addition to her many awards, the singer was named the best female musician ever by VH1, and the best music video artist ever by MTV and Billboard. She was ranked among the finest musicians and songwriters of all time by Rolling Stone.
A very significant scandal recently surrounded Madonna after the Ethiopian World Federation (EWF) requested that the Malawian authorities examine into her non-profit organization, "Rising Malawi." Through her nonprofit, "Raising Malawi," the singing singer, 64, was charged with trafficking children from Malawi.
The Malawian government is aware of Madonna's non-profit organization, "Raising Malawi," which says it supports orphans and disadvantaged children by offering health and educational initiatives. The music artist is alleged to have conducted sociological experiments on kids. Madonna, on the other hand, asserts that she has a soft place for children from Africa.
Returning to her biopic, Universal Films revealed in 2020 that it was in the early stages of production and hired Madonna to serve as co-writer and director. However, the production company was already working on two movies, Blonde Ambition, whose screenplay was written by Elyse Hollander.
Hollander's script received accolades from industry leaders, but Madonna wasn't a fan, so it was put on indefinite hold. In a recent interview, Madonna said of co-writing and directing her own biopic: "I've had an exceptional life, I must make an extraordinary film. Several individuals were attempting to make movies about me, so it was also a preventative measure.
"Most of them are sexist dudes. I forced open the door by declaring that I would be the only one to share her story. There are still many reasons for Madonna's followers to celebrate even though the movie is scrapped! Get your tickets soon for her next global tour!
Our Team DCS includes 5 different writers proficient in English and research based Content Writing. We allow them and encourage them to follow the Entertainment news all day long. Our posts, listicles and even the exclusives are a result of their hard work.