With the release of the HBO Max documentary The Staircase, Michael Peterson is once more in the news. An upbeat man who was a columnist for "Herald-Sun" and a former US Marine raised questions after the passing of his second wife Kathleen.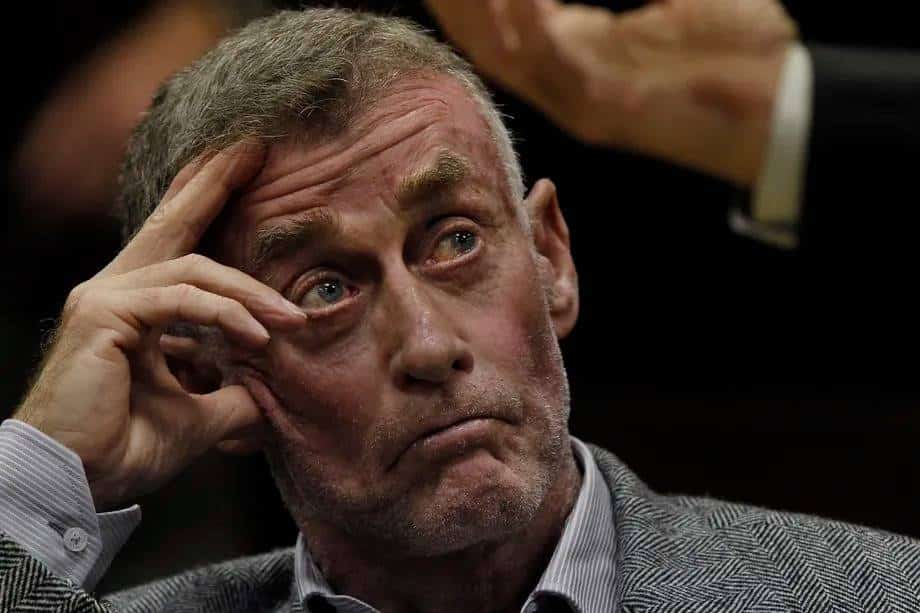 Michael was associated with two similar deaths. He originally claimed that his second died after falling from the stairway together with his companion Elizabeth. Continue reading to learn more about Michael Peterson's case and location.
Who is Michael Peterson?
Peterson, Michael Iver, was born close to Nashville, Tennessee. He earned a political science bachelor's degree from Duke University. For one year, he served as editor of "The Chronicle," the daily student newspaper.
Michael's Military Career
Michael afterwards attended classes at the University of North Carolina at Chapel Hill's law school. He worked in a civilian position in the U.S. Department of Defense following graduation, where he was tasked with looking into the justifications for more military participation in Vietnam.
He married Patricia Sue, a teacher at the Rhein-Main Air Base in Gräfenhausen, West Germany, when he was working there. Clayton and Todd were the couple's twins. To fight in the Vietnam War, Michael enlisted in the US Marine Corps in 1986.
In 1971, after surviving an automobile accident that left him permanently disabled, he was honourably discharged with the rank of captain. He claimed to have received two Purple Hearts, a Silver Star, a Bronze Star with Valor, and other awards during a mayoral campaign. The two Purple Hearts were not mentioned in the documents, nevertheless.
Michael as a Novelist
Three novels were written by Michael Peterson following his split from Patricia. These were "inspired by his experiences during the Vietnam War," and include The Immortal Dragon, A Time of War, and A Bitter Peace.
Along with writer David Perlmutt, he co-wrote the biography Charlie Two Shoes and the Marines of Love Company as well as Operation Broken Reed with Lt. Col. Arthur L. Boyd. Additionally, he wrote columns for the Durham Herald-Sun newspaper.
James Hardin Jr., the district attorney for Durham County, was singled out in Michael's letters for his slack attitude toward performing his duties. Peterson was eventually put on trial by Hardin for the murder of his second wife.
The First Staircase Death
For a while, Peterson and his wife Patricia resided in Germany. There, the pair made friends with Elizabeth and George Ratliff. Peterson developed a close relationship with Elizabeth's family after George went away. So close that he accepted custody of her two kids.
In 1987, Michael and Patricia divorced. When Michael relocated to Durham, North Carolina, the kids of Clayton, Todd, and Elizabeth began residing there. With brain injuries, Elizabeth passed away in Germany in 1985 at the bottom of her stairway. Both German and American military police looked into the death.
Kathleen's Murder: The Second Staircase Death
Michael moved in with Kathleen Atwater, a prominent Nortel executive, in 1989. Kathleen's daughter joined Michael's extended family, which already included Clayton, Todd, Martha, and Margaret, after the couple got married in 1997.
The situation changed on December 9, 2001, when Michael Peterson discovered his wife Kathleen at the bottom of a staircase at their North Carolina family home. He dialled 911, telling the operator that she was still alive and requesting an urgent response, but he soon informed the operator that she had ceased breathing.
The magnitude of Kathleen's injuries caused Durham police to consider the staircase as a crime scene by the time paramedics arrived, and Kathleen had already passed away. She fell as Michael was in the yard beside the pool, he claimed. Consequently, he was unable to hear her struggling.
According to toxicology findings, Kathleen had a blood alcohol concentration of 0.7%. She suffered serious head injuries and hits from a blunt object, according to the autopsy report. Ninety to two hours after being injured, she passed away from blood loss.
After learning of Peterson's bisexuality, Kathleen's sister and daughter Candace Zamperini, as well as Caitlin, who had seen her mother's autopsy report, both publicly supported Michael at first. After two months, the authorities eventually charged Michael.
Michael is a Bisexual
Authorities looked through Peterson's computer after Kathleen passed away and discovered about 2000 pictures of guys in their underwear as well as a communication he had with a male prostitute about meeting up.
Brad, a sex worker, on the other hand, claimed that the hook-up never happened. He added that Michael frequently praised his second wife Kathleen. The defence retaliated by saying that Kathleen was still content with him despite being fully aware of his bisexuality.
The Exhumation of Elizabeth's Body
The initial autopsy findings on Elizabeth's death claimed that Ratliff passed away from an intracerebral haemorrhage. Elizabeth's body was exhumed later, as part of Peterson's prosecution, and it was discovered that she had been murdered. Peterson, who had supper with Ratliff and her daughters at her home in Germany, was the last person to see her.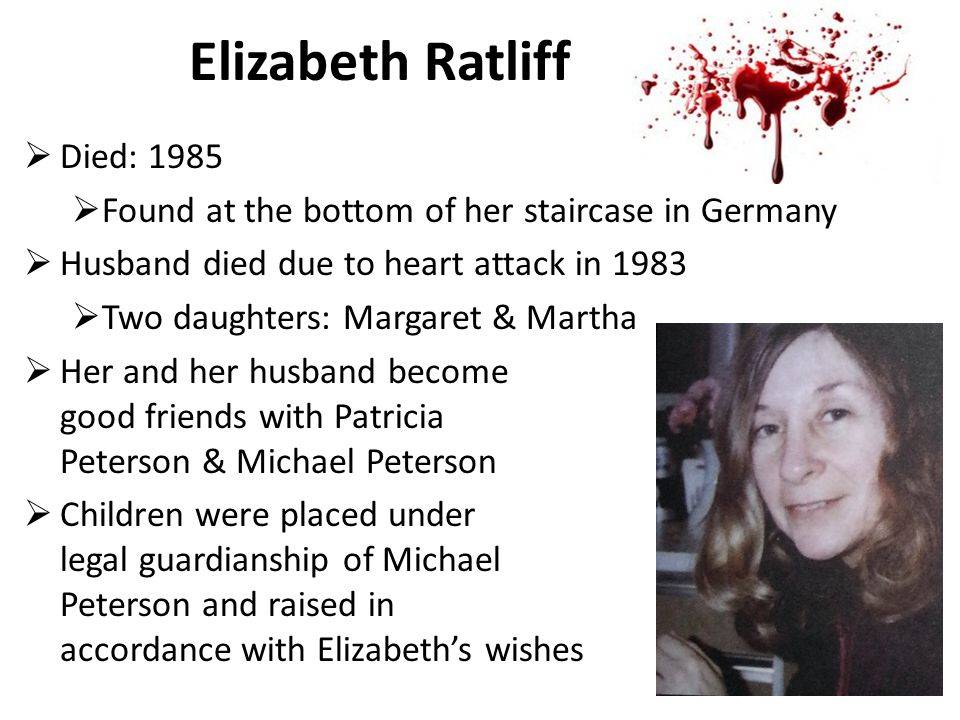 Even though everything pointed in Michael's direction, the circumstances surrounding Elizabeth's passing were murky because of their historical significance. The prosecution was ready to make assumptions about Kathleen's case despite the scant records that had been filed at the time.
Michael takes The Alford Plea
In regards to the killing of his second wife Kathleen, Michael entered a "not guilty" plea. However, after a protracted trial, he was found guilty of murder in October 2003. Eight years later, in 2017, the judge overturned the aforementioned verdict after concluding that a blood analyst had provided incorrect and misleading testimony.
Michael also entered an Alford plea in the retrial, which allowed him to maintain his innocence while admitting there was sufficient evidence to convict him of voluntary manslaughter. As a result, his sentence was shortened, enabling his release in 2017.
The Owl Theory
Additionally, an owl theory that surfaced in 2009 exists. It's challenging to determine exactly what occurred to Katleen or Elizabeth because Michael continues to maintain his innocence. But if he is a real criminal, I have to admit he outdoes all those other repeat offenders.
According to the owl theory, Katleen was attacked by a barred owl, which is frequently seen in Durham. This theory is supported by some data. For instance, sharp owl talons could be to blame for the wounds on her scalp.
According to the post-mortem report, Kathleen had pine needles attached to one hand and three tiny feathers tangled in her hair in the other. However, I believe Micahel Peterson, who today leads a carefree life, methodically planned for everything.
Where is Michael Peterson Now?
Since the premiere of the Netflix series, Michael Peterson has authored two self-published books about his time in prison and his love with Kathleen. He still resides in Durham. Well, his tale does extremely well!
Michael revealed his narrative of his life after the death of his wife in an independently published memoir titled Behind the Staircase in 2019. This murder case serves as the central premise of the film The Staircase, starring Toni Collette and Colin Firth. Please watch it and let me know what you think. Michael is he a murderer? If so, wasn't he fortunate?
Being a binge-watcher himself, finding Content to write about comes naturally to Divesh. From Anime to Trending Netflix Series and Celebrity News, he covers every detail and always find the right sources for his research.