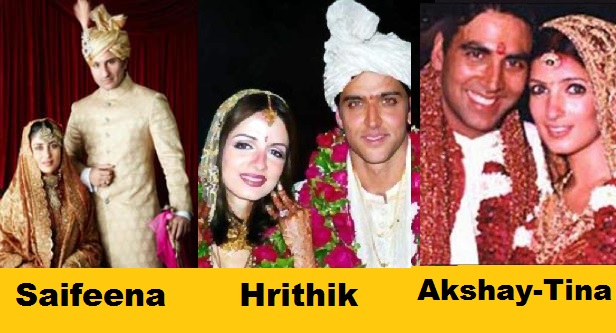 13 Most Royal Indian Celebrity Weddings – No.1 Cost Over 500 Crores.
Well, we love Indian cinema for its extensive eye for detail in regard to every wedding presented in a movie. Like it's not a wedding, but a festival wherein the entire neighborhood undergoes a huge transformation. But what if the celebs take the same amount of effort in making the cinema a reality. What would be the expenses and which one would officially hit the blockbuster record? Check out the most expensive Indian celebrity weddings to find out how grand this occasion can really be:
1. ShahRukh and Gauri

Since this happened way back in time and value of money was quite different then, we can definitely say it was one of the most expensive Indian celeb wedding till date. The couple knew each other for 6 years before they tied the knot.
Cost of wedding: Rs. 1 crore.
2. Aamir and Kiran
During the making of Lagaan, Amir proposed to his love Kiran Rao who was also the assistant director of the movie. The couple have been fond of each other's non filmi persona.
Cost of wedding: Rs. 2 crore.
3. Hrithik and Suzanne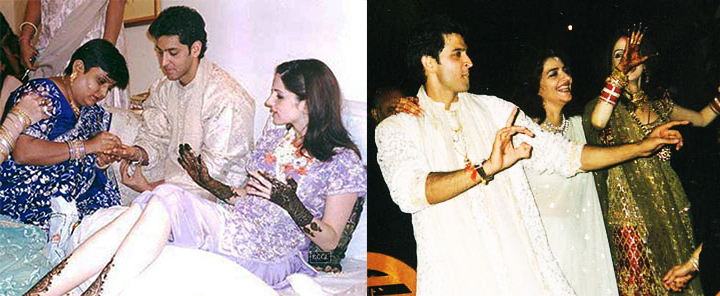 This wedding was considered to be the most heartbreaking especially since Hrithik became Bollywood's most adorable and loved celeb. Regardless of the what happened next, the couple seemed to have made the perfect wedding couple.
Cost of wedding: Rs. 3 crore.
4. Akshay and Twinkle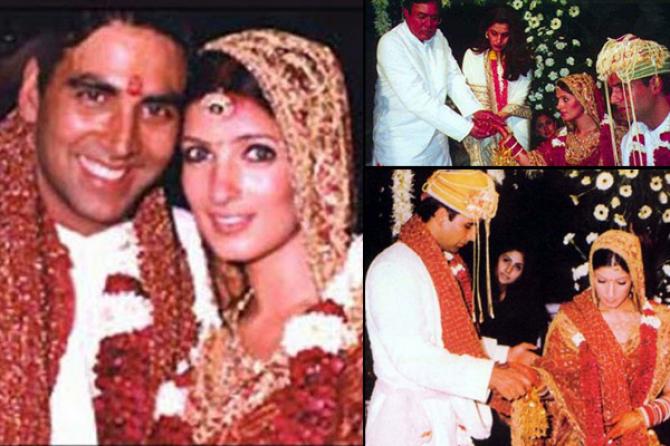 When the Bollywood bad boy decided to tie the knot, he made sure that it was grand as well. He proposed marriage to Twinkle Khanna and wedded her in 2001.
Cost of wedding: Rs. 3.5 crore.
5. Shilpa and Raj
How can we forget one of our most gorgeous desi beauties when it comes to marriage. Shilpa Shetty gave into the concept when NRI Raj Kundra entered her life. They got married and it has been happily ever after!
Cost of wedding: Rs. 4 crore.
6. Arpita and Aayush
Even though Salman never got married to anyone, he made sure that his sister got all the Bollywood charm in it. The most recent wedding of Arpita at the Taj Falaknuma was beyond grand.
Cost of wedding: Rs. 5 crore.
7. Avantika and Imran
The chocolate boy Imran and his love Avantika may seem very simple when it comes to their general approach to life but his wedding was not. The couple was blessed by the entire Bollywood legion.
Cost of wedding: Rs. 5.2 crore.
8. Genelia and Riteish
The ten-year-long relationship that these cherished lovebirds had slowly moved into the marriage phase. Both Hindu and Christian wedding ceremonies were performed and both of them looked perfect on all occasions.
Cost of wedding: Rs. 5.5 crore.
9.  Aishwarya and Abhishek
One of the most anticipated weddings in the Bollywood family was when Aishwarya and Abhishek tied the knot. It's said that the couple fell in love on the sets of Guru even though they knew each other for a long time.
Cost of wedding: Rs. 6 crore.
10. Kareena and Saif

If it's about expensive weddings, then how can we leave the Pataudi wedding. Kareena finally gave in to her long time love Saif Ali Khan and they got married in a grand Maharaja style.
The after-marriage bash was a vibrant affair. Around 150 selected guests attended the celebration. B-town celebs like Shah Rukh Khan with wife Gauri, Sonam Kapoor with dad Anil Kapoor, Amrita Arora with husband Shakeel Ladak, Priety Zinta, Karan Johar, Tusshar Kapoor, and many more upped the starry quotient of the evening. Family members including Randhir Kapoor, Babita, Karisma Kapoor, Rishi Kapoor with wife Neetu Singh, Ranbir Kapoor, Soha Ali Khan, along with Saif's daughter Sara and son Ibrahim were seen in a joyous mood.
Cost of wedding: Rs. 10 crore.
11. Jr. N.T.R. and Lakshmi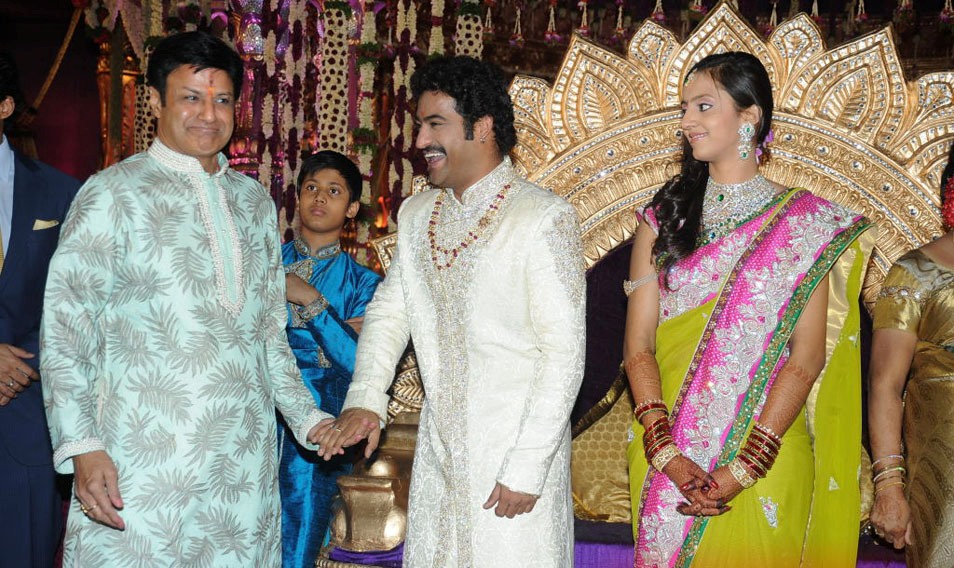 The entire Hitex exhibition ground underwent a huge change for the wedding of Jr. N.T.R and Lakshmi Pranitha. The Kalyan Mandapam was set by the Art director Anand Sai. Truly bringing cinema live!
Cost of wedding: Rs. 18 crore.
We know that celebs down south are no less, especially when we know the kind of gifts and gold that is presented at these weddings. But it was a little difficult tracking them to their exact measures. We know the engagement of Allu Arjun or of Ram Charan was at least Rs. 4 crores, which goes to say that the wedding would cost way more.
Before we close the chapter on expensive Indian weddings, we suggest you take a look at the richest ones till date. After all being a business tycoon means you present a grand front every time. We really cannot emphasize on the finer details but the cost should say it all.
12. The Mittal Dream Wedding
Cost of wedding: Rs. 350 crores.
One of the grandest Indian weddings ever also cost the Billionaire Laxmi Mittal a big fortune. When his daughter Vanisha's Mittal got married to Amit Bhatia, a banker the whole world talked about the wedding. This destination wedding took place in the Palace of Versailles, Hotel Cabaret and Hotel Bristol, Vaux Le Vicomte, Georges Cinq, Jardin-des-Tuileres and cost the Steel Magnate over 3 Billion INR.
13. The Sahara Dream Wedding
In 2004, founder and Chairman of the Sahara India, Subrata Roy spent a whopping 552 crores(INR) on his sons Seemanto and Sushanto's wedding. Both of his sons got married in the Sahara Village in Lucknow, on the same day. The star-studded guests filled their belly with food comprising 101 unique cuisines from all over the world while the famous choreographer Shiamak Davar's dance troupe entertained them.
Cost of wedding: Rs. 552 crores.
It seemed like a big showoff till the news came that around one lakh and forty thousand beggars were distributed food across the country on this grand Sahara occasion. A perfect wedding after all.
Is it safe to say you may be experiencing dizziness now!?