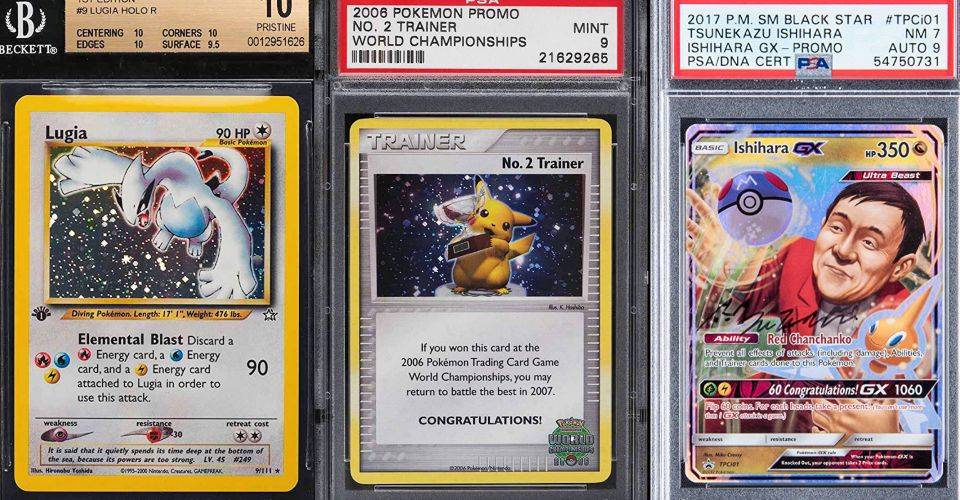 10 Most Expensive Pokémon Cards Of All-Time | Rare Pokémon Cards
With some highly rare cards, the Pokémon: Trading Card Game has long been a lucrative arm of the Pokémon business. According to Dexterto and Dicebreaker, these cards are worth a lot of money, and some of them have reached all-time high values in TCG history.
The game and its cards received a renewed spike of popularity in 2021, resulting in the cards' value rising to far over hundreds of dollars. These were formerly valued nearly nothing, but have since been sold and auctioned for astronomical sums. In fact, many of them are among the most expensive cards on the market.
1999 First Edition Shadowless Holographic Charizard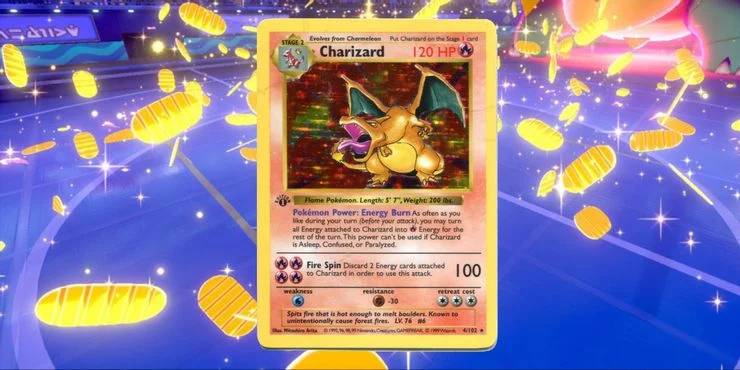 With a price tag of $420,000, this Shadowless Holographic Charizard is the second most expensive Pokémon card ever. It was sold in March 2022, and its crowning beauty, aside from being a first edition card, was the lack of a shadow beneath Charizard, which was later addressed.
The card has a PSA Grade of Gem Mint 10 and is one of the hottest commodities in the TCG market, despite being almost two decades old.
1999 Secret Super Battle No. 1 Trainer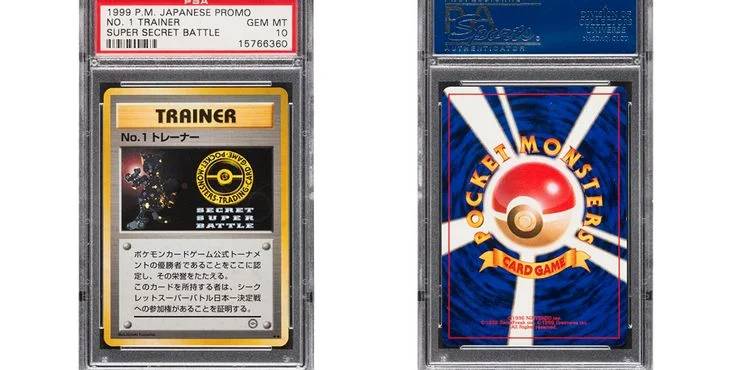 The 1999 Super Secret Battle No. 1 Trainer card was sold for a whopping $90,000 in July 2020. Only seven of these cards are believed to exist in the world; the holographic card was awarded to the winners of the 1999 Secret Super Battle tournament, which was held in a secret location in Japan.
The card shows the enigmatic Mewtwo's original artwork, notes describing the Secret Super Battle, and the Pocket Monsters Trading Card Game's Japanese logo.
2000 Pokémon Neo Genesis 1st Edition Holo Lugia

Lugia, the legendary bird Pokémon from Generation II, was a major hit when it was first released, which is why this card from 2000 sold for $144,300 in May of last year.
Although early versions of this card were notoriously difficult to grade due to misprints, this one received a BGS Pristine 10. This earned it the high price it was purchased for, and it remains one of the most elusive and sought-after cards in the TCG.
2006 Pokémon World Championships Promo No. 2 Trainer

This prized card was only given to the champions of the 2006 Pokémon World Championships, and there are only three of them in existence. This Mint 9 Grade card sold for $110,000 in February 2021, making it one of the most valuable cards.
On the holographic card, everyone's favorite Electric-Type Pokémon carries a silver trophy with an English message about the 2006 champion returning to the 2007 bouts.
.
Black Star Ishihara Signed GX Promo Card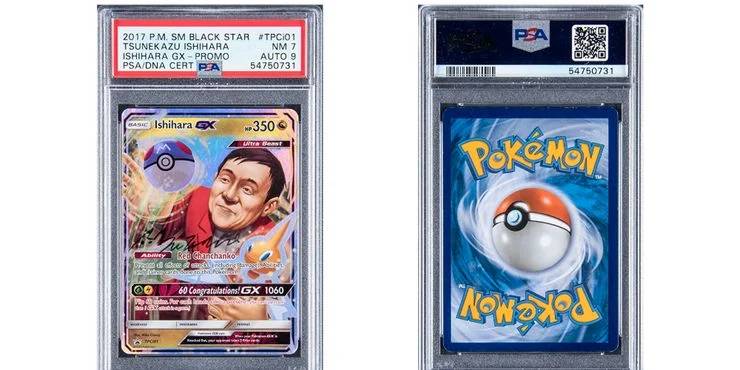 In April 2021, this exceedingly rare TCG card sold for $247,230. What makes it so valuable at $250,000? It really displays artwork created by Tsunekazu Ishihara, the CEO and President of The Pokemon Company, which was handed to staff at his 60th birthday celebration.
Not only was it in mint condition, but it also had the CEO's signature on it, which added to its worth. This is unlike any other card you've ever seen.
Illustrator CoroCoro Comics Promo Pikachu Illustrator Card

The most expensive Pokémon card, which has a current worth of $5,275,000 and was purportedly purchased by Logan Paul, is several stratospheres above the second-most costly. This card was created for the winners of the Japanese magazine CoroCoro Comic's competitions in 1997 and 1998.
In this card, the word "trainer" has been replaced by "Illustrator," and unlike any other card, it features a pen icon at the bottom. This is the most precious Pokémon card, with only 40 or so copies in existence.
Kangaskhan-Holo #115 Family Event Trophy Card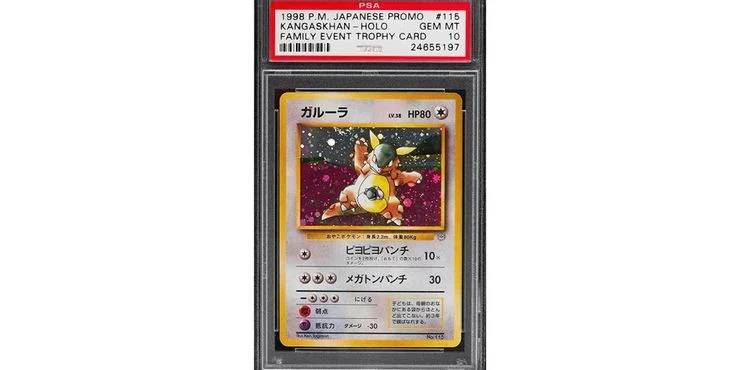 Because it portrays the lovely Kangaskhan and its baby, it was awarded at the 1998 Parent/Child Mega Battle event, where a parent and their child were intended to battle together.
It has the Japanese logo from the original Pocket Monsters Card Game as well as a rare holographic Pokémon. It was sold for a whopping $150,100 in October of 2020.
Pokémon Blastoise #009/165R Commissioned Presentation Galaxy Star Hologram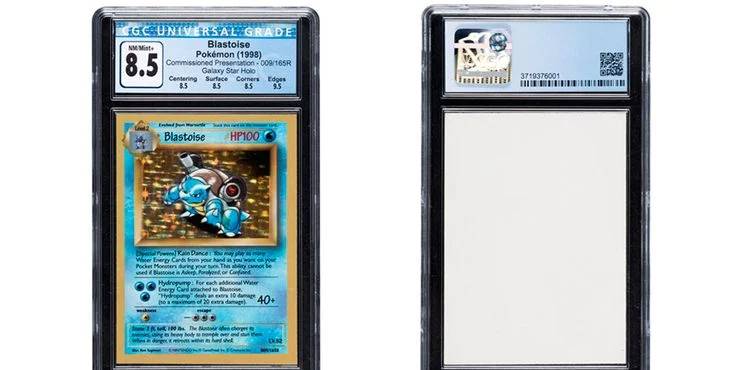 This Blastoise card was created by Wizards of the Coast in 1998 as a template to show Nintendo of Japan what they might achieve with TCG. Only two of these cards exist, with one appearing in 2021 and selling for $360,000 in January of that year.
One of the two cards made had a Magic: The Gathering back, but the one that sold had a blank back, making it even more unusual than usual.
Tamamushi University Magikarp Trophy Promo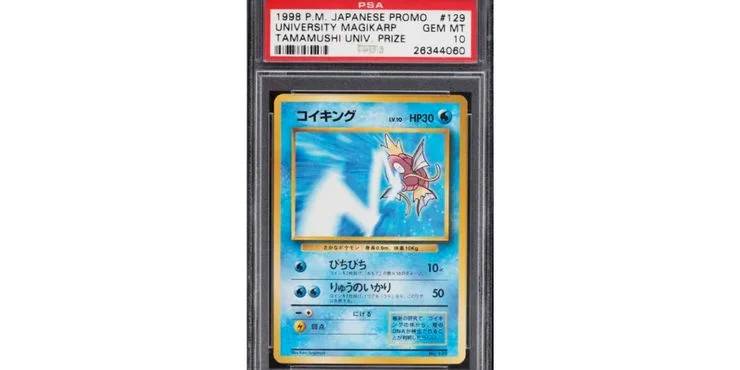 This extremely uncommon card has a fascinating backstory. In 1998, Shogakukan Magazines held a contest that, if successful, led to the students attending an Osaka conference and a special TCG tournament. This card was given to the contest's few winners.
This card, graded PSA – Gem Mint 10, was auctioned off in early 2021 and sold for a stunning $66,100. Even though Magikarp isn't the cutest fish Pokémon, it sold for a lot of money.
Umbreon Gold Star Holo
Even non-fans are familiar with Evee, and this card showcasing Evee's metamorphosis is exceedingly uncommon and expensive. The Umbreon Gold Star Holo is one of just two cards with a BGS rating of 9.5 in the world, making it even more precious.
To obtain the coveted card in the TCG, players had to earn almost 70,000 XP points. It sold for $70,000 at auction, and there are only a few of these 2005 cards left in the world.