The moniker 2001: A Space Odyssey is inscribed on the symbols of science fiction. A movie that transformed the sci-fi genre and served as an influence for countless other films and television programmes. The film's stunning images and cinematography were far ahead of their time and are still highly influential on popular culture today. Star Wars, Alien, and Interstellar have all been affected by 2001: A Space Odyssey, and its captivating score has ushered in a new era for the music business.
The Kubrick Masterpiece set the way for a number of outstanding science fiction and space travel films, elevating the space genre in theatres with works like Moon (2009) and Contact (1997). There are some excellent movies today that offer immersive experiences like to those in 2001: A Space Odyssey. We have thus put together a selection of movies for you to see if you enjoyed 2001: A Space Odyssey.
2010: The Year We Make Contact (1984)
2010: The Year We Make Contact, the less well-known sequel to the critically acclaimed 2001: A Space Odyssey, is our choice right now (1984). The Peter Hyams-directed movie, which follows the crew of the spacecraft Leonov as they go to Jupiter, is based on the later scenes of Stanley Kubrick's movie. The team travels to Jupiter in search of the missing ship Discovery One, where they solve a number of puzzles. The movie provides an explanation for the monolith's mysteries and ends the amazing duology.
2010: The Year We Make Contact (1984), despite falling short of its predecessor in terms of quality, managed to establish a solid foundation in terms of cinematography, narrative, special effects, and tension.
Alien (1979)
Ridley Scott, the director of the well-known classic sci-fi horror film Alien, presided over its 1979 debut. The Nostromo crew, who are travelling home when they respond to a distress signal on a far-off planet, is the main subject of the movie. They dock and find a weird ship with a hive colony of eggs inside. The terrifying elements begin when an alien form is implanted within one of the crew members by a facehugger that emerged from the eggs after attacking one of them. One by one, the other crew members are being stalked and killed by the alien entity that emerges from the victim of the attack.
Jump scares and exciting turns keep the tale moving forward. By adding horror elements to the sci-fi space genre, the movie transformed it. The film's blend of thriller and space helps create the distinct atmosphere, even though the plot of the movie doesn't particularly relate to that of 2001: A Space Odyssey.
Annihilation (2018)
Alex Garland is the director of the 2018 sci-fi horror movie Annihilation. The movie centres on Lena Double (Natalie Portman), a biologist and former soldier who volunteers to traverse "The Shimmer," an ecological disaster area, in pursuit of her spouse. Lena is one of four scientists that are dispatched inside the enigmatic ecological zone to learn more about it. When they explore further into the area, they come across odd phenomena and deformed species as well as severe psychological repercussions.
There are many thrills and horrors on their quest to find the cause. The movie maintains an air of mystery while shedding light on philosophical ideas and extraterrestrial species. The distinctive photography and plot of the movie make us think of 2001: A Space Odyssey.
Contact (1997)
The enduring science fiction picture Contact, directed by the legendary Robert Zemeckis, was released in 1997 by Warner Bros. The 1997 drama-thriller movie centres on Dr. Ellie Arroway (Jodie Foster), a SETI researcher who has dedicated her life to the search for extraterrestrial intelligence. Dr. Ellie and her colleagues are able to identify an extraterrestrial intelligence signal after overcoming numerous obstacles and doubters. With the aid of a billionaire, they accomplish the seemingly impossible and send Dr. Ellie to establish communication with extraterrestrial life.
The picture is filled with mystery and intrigue and features elements like alien contact, space travel, scepticism, etc. If viewers like 2001: A Space Odyssey, they would adore to watch the wonderful sci-fi movie Contact.
Interstellar (2014)
The mind-bending sci-fi thriller adventure movie Interstellar is one of Christopher Nolan's cinematic achievements. A favourite of many science fiction fans, Interstellar tells the tale of Cooper (Matthew McConaughey), a former NASA pilot who is given the responsibility of leading a mission to find a habitable planet. Cooper, a group of scientists, and the robots TARS and CASE set out on an immersive and perilous intergalactic adventure since the Earth is currently prone to calamities and droughts, and humanity is experiencing severe food shortages. Together with their hunt for a habitable planet, they encounter challenging decisions, intense time dilation, the consequences of relativity, gravitational anomalies, etc.
The film masterfully explores ideas like black holes, wormholes, interstellar travel, etc. It masterfully captures the characters' sacrifices and emotions. The film's narrative and exterior cinematography are both things fans of 2001: A Space Odyssey will undoubtedly like.
Moon (2009)
2009 saw the premiere of Duncan Jones' sci-fi mystery movie Moon. The science fiction drama centres on Sam Bell (Sam Rockwell), a helium miner who has been living and working with a robot named GERTY on the Moon for almost three years. Sam begins to have delusions and hallucinations as his three-year employment agreement with the corporation is about to expire. He has an abruptly serious accident at his mining site, and after he recovers, he starts to uncover a number of riddles, which causes him to doubt his own existence. Sams intends to travel back to Earth by himself after learning the company's sinister secrets.
The movie is a masterful depiction of loneliness, individuality, psychological toll, living in space, etc. The film is a must-see for fans of 2001: A Space Odyssey because of its outstanding visual effects and screenplay.
Silent Running (1972)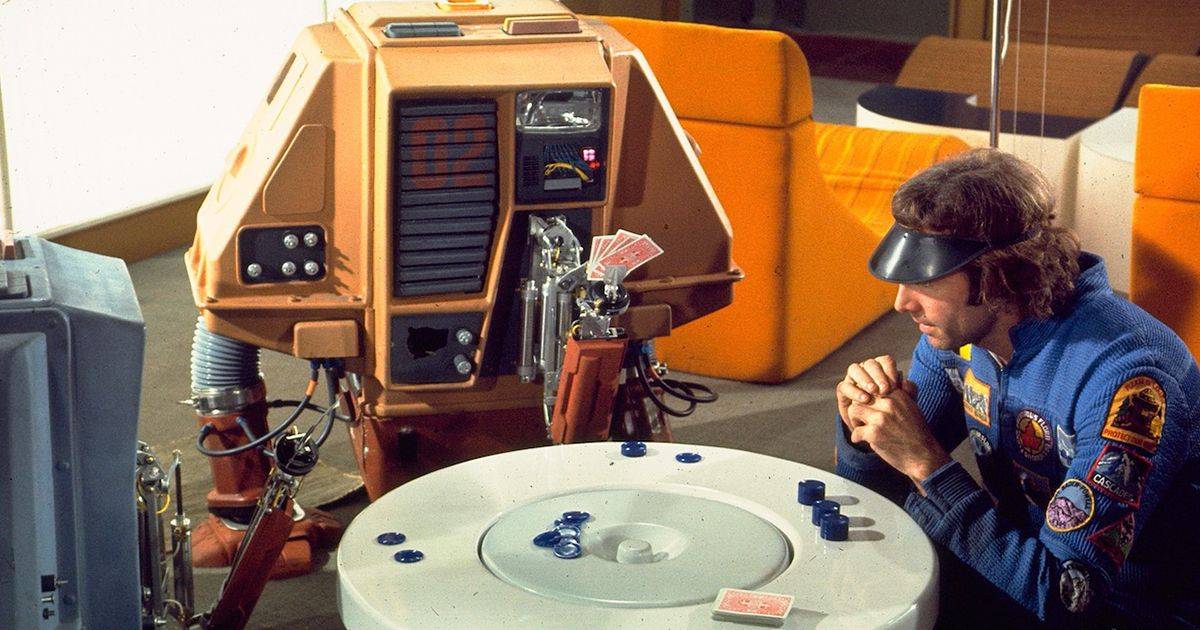 Douglas Trumbull, a master of visual effects, directed the sci-fi space drama Silent Running. The film has strong connections to 2001: A Space Odyssey and is based on themes such space travel, the future planet, environmentalism, preservation, etc. The world's flora and fauna have vanished, and the only remaining plants and animals are now on a spacecraft where they are thriving in domes. Freeman Lowell, a botanist with a strong bond to all living things, tends one such dome that contains a forest. The crew of the spacecraft is given the order to clear the trees and head back to Earth due to rising costs. With the aid of his companion robots, Lowell eventually escapes with the spacecraft after defying instructions to follow them.
His voyage into the unknown, filled with exciting incidents to protect the last remaining flora and creatures, is the main subject of the film. The film Silent Running raises important questions about solitude and ecological preservation. a superbly shot movie with breathtaking special effects that has shades of 2001: A Space Odyssey.
Solaris (1972)
One of the best sci-fi movies to ever be released on film is Solaris, which was directed by the great Andrei Tarkovsky. Released in 1972, this classic of a science fiction mystery tells the tale of Kris Kelvin (Donatas Banionis), a psychologist tasked with looking into the peculiar aberrations brought on by the planet Solaris. After reports that the crew was experiencing psychiatric issues and hallucinations, Kris is dispatched to the space station orbiting the planet Solaris. As soon as he arrives, Kris begins to deal with these events and runs into his long-dead wife, Hari. His research leads him to uncover the psychological puzzles of the planet, which has an impact on his mental state as well.
The impact of memories, deeper meanings of life, and human consciousness are all fascinatingly explored in the movie. The film's writing and atmosphere are unique, and the photography is superb. Any fan of science fiction should watch this thought-provoking masterpiece, which is a fitting successor to 2001: A Space Odyssey.
Sunshine (2007)
In 2007, Danny Boyle's sci-fi thriller Sunshine was released. The Icarus -2 mission team, tasked with saving humanity from a global extinction, is followed in the movie. The Icarus II spacecraft is on a mission to use a bomb to rekindle the sun since the sun is fading and Earth is going to meet its ultimate destiny. The cast of the ship, led by Cillian Murphy, encounters challenges one after another as they make their way to their destination.
The team must put their resiliency to the ultimate test in order to save life on Earth when faced with problems like system malfunctions, accidents, making contact with Icarus I, etc. The movie is a suspenseful space thriller, and it has a feel that is reminiscent to 2001: A Space Odyssey.
The Martian (2015)
The science fiction and adventure movie The Martian is based on the Andy Weir novel. The Ridley Scott-produced movie centres on NASA astronaut Mark Watney (Matt Damon), who is left to fend for himself on Mars. The movie opens with a group of astronauts on a journey to Mars when all of a sudden they are struck by a tremendous storm, which causes Mark to be impaled and swept away. After his crew departs, assuming his death, Mark is left to fend for himself until the next mission is dispatched.
The story shows Mark using his cunning and mental fortitude to survive on the hostile world. NASA organises a risky operation to recover Mark unscathed as he struggles with his acuity to grow food, reestablish contact, provide a secure environment, etc. returning on Earth. The movie is a representation of overcoming extraterrestrial challenges with inventiveness and surviving in space, which connects to 2001: A Space Odyssey.
Being a binge-watcher himself, finding Content to write about comes naturally to Divesh. From Anime to Trending Netflix Series and Celebrity News, he covers every detail and always find the right sources for his research.