The Woman King by Gina Prince-Bythewood, one of the most popular movies in theatres this fall, is an action-packed story about a historically formidable female African warrior tribe. The movie immerses viewers in the 1820s defence of Dahomey, a West African kingdom, by an all-female warrior army known as the Agojie against a troop of European invaders. The Woman King's Prince-Bythewood vision features breathtaking action, heart-pounding thrills, and a palpably intense atmosphere. The Agojie commander Nanisca is played by Viola Davis, who has never dominated the screen with such ferocity. The rest of the ensemble, especially Lashawna Lynch and Thuso Mbedu, turn in outstanding performances.
Although "The Woman King" is undoubtedly one of the best female-led action films available, it's not the only one that's worth seeing. There are many action movies that allow women to kick some tail and have a dominant screen presence if you enjoyed everything that "The Woman King" has to offer. There are several female-led action films that fans of "The Woman King" should check out next, ranging from films set within significant franchises and cinematic worlds to a few cherished cult classics deserving of a broader audience.
Aliens

There is no possible way that a list of films with outstanding female action actors could be considered complete without include "Aliens" and its iconic lead Ellen Ripley (Sigourney Weaver). The movie centres on Ripley, the lone survivor of the alien onslaught in the first movie, as she battles Xenomorphs once more after she and a group of colonial marines come under attack by them. Even though Ripley is surrounded by skilled colonial soldiers, she is unquestionably the person best suited to fending against and destroying the Xenomorphs.
Most of the most recognisable Ripley moments can be found in "Aliens," when Weaver gives a performance that demonstrates her at the top of her game and even garnered her an Oscar nomination. Ripley has never looked more formidable than she does in "Aliens," from the massive weaponry she used to protect Newt to the amazing final fight scene where she was riding a giant construction robot. Additionally, James Cameron's direction of "Aliens" makes it a fantastic blend of action and horror, and the Xenomorphs get some nice upgrades. One of the greatest sci-fi action films ever, "Aliens" has only grown in stature over time.
Alita: Battle Angel

Live-action anime adaptations from 20th Century Studios are rarely great, but Robert Rodriguez's 2019 version of "Alita: Battle Angel" bucks the norm and offers an amazing female-led action adventure with a surprisingly rich world and a fantastic lead performance from Rosa Salazar. In a world populated by robotic killers and corporate deceit, the movie follows Alita (Salazar), a cyborg who awakens with no memory of her past. Despite undergoing a protracted production process, "Alita: Battle Angel" turned out to be a rather amazing viewing because to its spectacular visuals and Rodriguez's superb action directing.
The world that Rodriguez has created for "Alita: Battle Angel" represents some of his most ambitious work to date and provides him with a vast setting on which to stage mind-blowing action. The action in "Alita: Battle Angel," which ranges from a tense bar fight to some frantic Motorball moments, never fails to astound spectators. The synthetic assassins add their own distinctive accents to the action through their distinctive designs, and Alita is a captivating force in combat, making its characters even more intriguing. The best part is that Alita has a very strong personal narrative, which is enhanced by Salazar's standout performance and will appeal to many viewers. Therefore, if you didn't watch "Alita: Battle Angel" while it was in theatres, this is your chance.
Atomic Blonde

Despite directing blockbuster action films like "Deadpool 2" and the most recent ensemble action epic "Bullet Train," director David Leitch's solo directorial debut, "Atomic Blonde," is still regarded as one of his best because of his direction and Charlize Theron's riveting performance, which together make for an unmissable action experience. As Lorraine (Theron), a top MI6 agent, sets out on a risky new mission in Berlin to retrieve a list containing the names of special agents before it falls into dangerous hands, "Atomic Blonde" immerses viewers in a world of spies and lies. The film is set in the paranoia-filled atmosphere of the Cold War.
One of Theron's strongest performances can be seen in "Atomic Blonde," when she gives Lorraine a fascinating screen presence that permeates the action and makes her a true force to be reckoned with. When it comes to these massive battle scenes, Leitch's direction makes her an incredible beast, including a single-take fight in an apartment complex that will leave you in awe. The plot is as exciting as it immerses viewers in a complicated espionage tale. James McAvoy also gives a standout supporting performance. "Atomic Blonde" is a fantastic place to start if you're looking for the next great female action film to see.
Birds of Prey
There is no denying that the DCEU has been a disaster thus far, but "Birds of Prey," directed by Cathy Yan, is one of DC's best films to date. It included incredible R-rated action appropriate for Harley Quinn (Margot Robbie) and the other female heroes introduced to a grimy criminal underworld. A devastating, explosive, and gory tear across Gotham should result from Harley Quinn breaking up with the Joker, and "Birds of Prey" delivers just that. Robbie has never been better in the role since Harley's devastating methods of anarchy leave you constantly speechless.
Additionally, Black Canary (Jurnee Smollett), Huntress (Mary Elizabeth Winstead), and Renee Montoya (Rosie Perez) get to join in on the action and form the titular Birds of Prey, so Harley isn't the only DC character to have some nice action scenes. In Black Canary's big-screen debut, Smollett truly stands out for the epic badassery she provides, and Yan displays a lot of self-assurance and originality in the highly entertaining and engrossing action sequences she directs. Although the DC movie universe has its ups and downs, "Birds of Prey" is a complete high that has some powerful female-led action.
Black Widow
One of the MCU's most adored female heroes, Black Widow, finally receiving her own film gave the franchise an action-packed film with a strong female lead and a compelling character backstory. While being pursued by a lethal assassin known as Taskmaster, Natasha Romanov/Black Widow (Scarlett Johansson) must confront her history and work with her sister Yelena (Florence Pugh) to find and shut down the Black Widow programme. In addition to going into the intriguing and little ominous realm of female assassins and mind control, "Black Widow" also offers Natasha and Yelena an excellent opportunity to explore their dysfunctional families.
The movie features some excellent set pieces and sequences, as well as an exciting, combat-heavy villain in the form of Taskmaster, making it one of the most action-packed MCU movies to date. Black Widow has also never been more spectacular in moments of battle. Yelena and Red Guardian (David Harbour) get to shine in some fantastic action sequences, and it's a lot of fun to see how the explosive ending plays out. The number of female characters in the MCU is expanding, but that doesn't mean we should ignore the action epic that featured the original hero.
Colombiana
While Zoe Saldana has become known for her roles as Gamora in the "Guardians of the Galaxy" movies and Neytiri in "Avatar," no one should skip out on her breakout part in Luc Besson's "Colombiana," where she absolutely crushes it in a dramatic vengeance narrative. With the intense ferocity and resolve she brings to the role of Cataleya, a woman who now seeks retribution against the drug lord who murdered her family when she was a child, Saldana commands the screen.
All of Cataleya's murders, which bring her closer to exacting revenge, keep you interested in her revenge story because it feels so intensely personal throughout. Besson's direction of "Colombiana" is another of the film's strong points; he creates some tight and exciting action sequences that are just as memorable as Cataleya's distinctive calling card, placed at every one of her kills. "Colombiana" is an immediate action genre classic, and it's a terrific opportunity to see Saldana steal the show in a riveting female action movie.
Gunpowder Milkshake
"Gunpowder Milkshake," an original female assassin film from Netflix and director Navot Papushado, featured a fantastic ensemble and some entertaining action last year. The movie centres on assassin Sam (Karen Gillian), who is obliged to defend a young child (Chloe Coleman) with the aid of her estranged mother (Lena Heady) and the Sisterhood of Assassins after being forced to flee after becoming the target of a hit.
"Gunpowder Milkshake" features some spectacular action sequences in its guns blazing final act that reveals its central group of assassins are not to be trifled with, in addition to its fairly traditional assassin on the run concept. Additionally, it has a stellar ensemble lead by Gillian with assurance, and Carla Gugino, Michelle Yeoh, and Angela Bassett serve as the Sisterhood of Assassins; a genuinely exceptional trio that shouldn't be missed. For Netflix users seeking a female-focused action movie with a great cast, "Gunpowder Milkshake" is ideal.
Kill Bill
Kill Bill by Quentin Tarantino included two volumes of epic action that followed a former assassin on his quest for vengeance. A formidable assassin known as "The Bride" (Uma Thurman) embarks on a road of vengeance after being abandoned for dead by her former lover and boss Bill (David Carradine), and she sets out to kill both Bill and the group of female assassins who betrayed her. The "Kill Bill" movies are unquestionably epic, and Thurman is unstoppable in them because she just conveys this sense of badass instincts and a deadly physical capability that continuously leaves you speechless. Tarantino's directing and vision also contribute to this epic nature of the flicks.
The Bride isn't the only female badass in these movies; the fights between her and the other female assassins are magnificent. The entire battle between the Bride and the Crazy 88 is a violent and terrible combat that is utterly unforgettable. This powerful and brilliantly described tale of retribution is interspersed among the epic action and has some of Tarantino's most distinctive characters and narrative. It keeps you engaged the entire time. Why make just one big-budget action film with a female lead when you can make two?
Lara Croft: Tomb Raider
Consider watching the 2001 adaption of "Lara Croft: Tomb Raider," which starred Angelina Jolie in the title role, while you're already watching the 2018 remake of "Tomb Raider." Lara Croft, who is already an experienced treasure hunter in this movie series, competes with members of the Illuminati to uncover ancient artefacts. With her strong on-screen presence and ability to capture all of the character's positive traits, Jolie was the ideal choice for Lara Croft at the time.
Although the movie doesn't have the most compelling plot, it is nonetheless a noteworthy video game adaptation with lots of exciting action sequences that elevate Jolie to the status of a true action heroine. "Lara Croft: Tomb Raider" is a rare video game adaptation that is way more good than bad and features a fantastic performance from Jolie as an iconic action hero, so there's no reason to pass it up if you're looking for female-led action movies.
Red Sparrow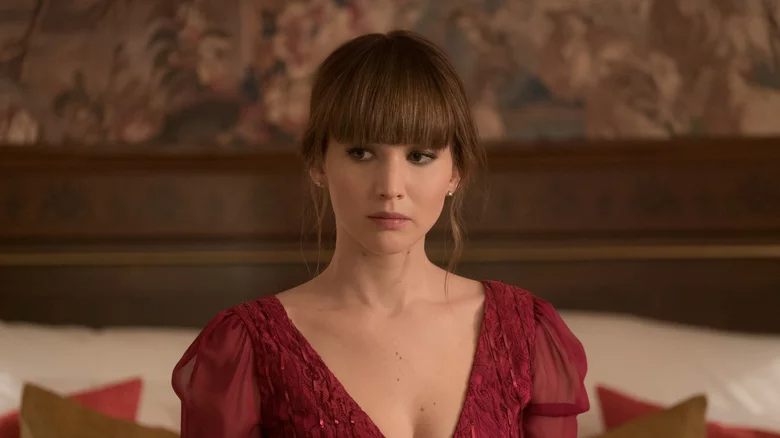 The 2018 spy thriller "Red Sparrow," which starred Jennifer Lawrence, may go unnoticed by most, but movie nevertheless offers enough shivers and action to be entertaining. Lawrence plays Dominika, a former dancer turned spy, in the movie. She is enrolled in a training programme that instructs young ladies in seductive spy techniques and refers to them as "Sparrows," after which they are out on missions to gather intelligence. You experience scary situations during Dominika's search for a mole, giving you some wonderful chills.
The Sparrow spy organization's female culture immediately distinguishes "Red Sparrow" and provides the ideal setting for Charlotte Rampling's commanding on-screen presence. Lawrence stands out due to her powerful performance and the way she propels the film's stressful and exciting moments. Additionally, there are numerous turns and twists to keep your interest. A female-driven spy thriller with a suspenseful atmosphere and some standout performances is exactly what "Red Sparrow" provides.
Sucker Punch
Zack Snyder, a director for Warner Bros., has amassed a sizable fan base for his blockbuster action movies like "300" and his DC adaption, but those fans of the Snyderverse may have overlooked his first original film, "Sucker Punch," which just lives and breathes insane and mind-blowing violence. The fantasy worlds that Babydoll (Emily Browning) escapes to in between difficult moments of her reality are unquestionably awesome, even though its central story of Babydoll trying to escape the harsh asylum world she is sent to by her abusive father can be a little difficult to get behind because of its difficult pacing and inability to reach its full potential.
The battle scenes with Babydoll and her fellow female captives in these gorgeous fantasy settings—which range from them taking on enormous robots on a train to sneaking into an orc-infested castle—show Snyder having a blast. The principal group of ladies in "Sucker Punch" consistently take the lead in some crazily inventive action sequences that seamlessly integrate into the narrative. The film is fundamentally a high concept action movie. Although it may not be Snyder's best work, "Sucker Punch" is a worthwhile watch for anyone seeking some interesting and slightly empowering female-led action.
Tomb Raider (2018)
The 2018 revival is still worth viewing since it offers some epic survival action and a terrific early Lara Croft, despite the fact that Alicia Vikander recently quit the contemporary "Tomb Raider" films and the sequel is having difficulties getting off the ground (Vikander). The movie adopts the survivalist Lara Croft from the more recent "Tomb Raider" video games by Crystal Dynamics as she makes her way to an island that may be her father's final resting place. Whatever your opinion of the film's formulaic plot, there are some truly awesome moments that allow Vikander to excel in her role as Lara Croft.
Some of the action is visually arresting and compelling, and Lara's survivalist moments unquestionably feel very connected to the character's more contemporary interpretation. Although "Tomb Raider" is far from perfect, it has enough exciting action and Vikander gives a memorable portrayal as Lara Croft to make it worth seeing, especially because Croft is one of the most famous action protagonists in video games ever.
Widows
Viola Davis leads a group of women on a robbery that their deceased husbands were unable to pull off in Steve McQueen's "Widows," and if you enjoyed her in "The Woman King," you'll love her just as much here. The ensemble cast, which includes Michelle Rodriguez, Elizabeth Debicki, Cynthia Erivo, Colin Farrell, Daniel Kaluuya, and others, is extremely talented outside of Davis and frequently steals the show in their own unique ways. It's tremendously exciting to watch the events leading up to the big robbery, which is filled with suspenseful moments you won't soon forget.
The story of "Widows" was written by "Gone Girl" author Gillian Flynn, so viewers can anticipate many unexpected turns that change everything. Davis continues to have an unrivalled commanding screen presence and flawlessly executes every aspect of the role. "Widows" offers some thrills and chills that are worth seeing despite not being as action-oriented as some of the other films on this list, in addition to another outstanding performance from Davis and many others.
Some people try to find content, Harshit feels content finds him. Always active on social media, following trends and writing about Entertainment News that is through is his passion. He's Mass Communication Post-graduate who binge-watches every single Movie and Series out there.