Not only are gamblers and sunbathers drawn to the legendary city of Las Vegas, but also screenwriters, directors, and filmmakers. The city of Las Vegas never fails to create a stunning backdrop for any tale and cast, from the lights of the hotels and casinos of the Strip and downtown neighbourhoods to the views of rising mountains and lonely desert.
The movies on this list contain something for every movie fan in your family, from dark dramas like Leaving Las Vegas to classics like Viva Las Vegas, brilliant heist movies like the several Oceans 11 iterations, or comedies that need more recognition like Fools Rush In and Honeymoon in Vegas. Do you enjoy mob movies? Play Casino or, as a close second, Godfather II. Do you feel like laughing? The Hangover is the only thing you need. Are you looking for something to make you feel things? Switch Pay It Forward on.
As a backdrop, Las Vegas has it all: the glitz and glamour of the casinos and shows, the extravagant luxury of a Las Vegas hotel, the arid landscape of the mountains and deserts, affluent neighbourhoods with mansions next to impoverished neighbourhoods with dilapidated apartments belonging to a different class, a bustling city off the strip, and the seedy underbelly of the gaming business.
February 18, 2023 update: You'll be pleased to know that we've updated this list with new information and titles if you're a fan of Sin City and the various movies that are set there.
We have a few honourable mentions to go over before we get to the list of the top films based in Las Vegas. These three films are all renowned and cherished for different reasons, but Las Vegas is only actually a small part of them. Swingers became a huge hit in 1996 and made Jon Favreau and Vince Vaughn famous. The Godfather Part II is a classic movie that is generally regarded as being superior to its predecessor. It is not just one of the best movies ever made and a major influence on the gangster/mafia genre. Finally, the card counting technique was made popular by the Tom Cruise and Dustin Hoffman film Rain Man. These are the top Las Vegas-based films.
21 (2008)
21 presents the amusing tale of a means to "cheat" Las Vegas and is loosely based on the nonfiction book Bringing Down the House: The Inside Story of Six MIT Students Who Took Vegas for Millions by Ben Mezrich. The movie centres on Jim Sturgess's character Ben Campbell, a quiet but intelligent college student who needs $300,000 to pay for Harvard Medical School. Ben is persuaded to join the MIT Blackjack Team, a covert organisation of card counters commanded by math professor Micky Rosa (Kevin Spacey). At a casino in Las Vegas, they intend to carry off a card-counting scam. till something goes wrong.
Bugsy (1991)
The story of legendary criminal Ben "Bugsy" Siegel, played by Warren Beatty, and the founding of Las Vegas are the main subjects of this biographical crime thriller. Bugsy creates an opulent hotel and casino in the middle of the Nevada desert and popularises Vegas as a romantic visionary and psychotic killer.
The movie was nominated for ten Academy Awards and won two of them (Best Costume Design, Best Art Direction). In addition, Bugsy took home the Golden Globe for Best Dramatic Motion Picture. So, this is a great option if you're seeking for a movie on Las Vegas' history.
Casino (1995)
Casino, directed by Martin Scorsese, is one of the greatest movies ever made. The great Scorsese co-wrote the screenplay with Nicholas Pileggi, whose book Casino: Love and Honor in Las Vegas served as the inspiration for the movie. It centres on Sam "Ace" Rothstein (Robert De Niro), a gambling specialist and handicapper who manages the activities of the Tangiers Casino in Las Vegas.
Other characters include Sam's wife Ginger McKenna (Sharon Stone) and "made man" Nicky Santoro (Joe Pesci). The movie beautifully portrays the look and feel of Las Vegas in the 1970s and early 1980s, as well as all the changes the city underwent at that time (from interior design to architecture). It is a monumental ode to and analysis of the storied "sin city" of Las Vegas.
Diamonds Are Forever (1971)
Diamonds Are Forever, the epic spy movie starring Sean Connery as the legendary secret agent James Bond, follows the debonair Ian Fleming character's attempts to infiltrate a diamond smuggling network and the wealthy business mogul behind it. Bond must travel to Sin City to look into the criminal activity, and when he learns that his archenemy Ernst Stavro Blofeld is involved in the scheme to build a deadly laser satellite, he and Tiffany Case go undercover as smugglers.
In a famous vehicle chase sequence in the movie, Bond flees from the police while simultaneously displaying his renowned hero status as he speeds through the streets of Vegas in a Ford Mustang and then on two wheels.
Fear and Loathing in Las Vegas (1998)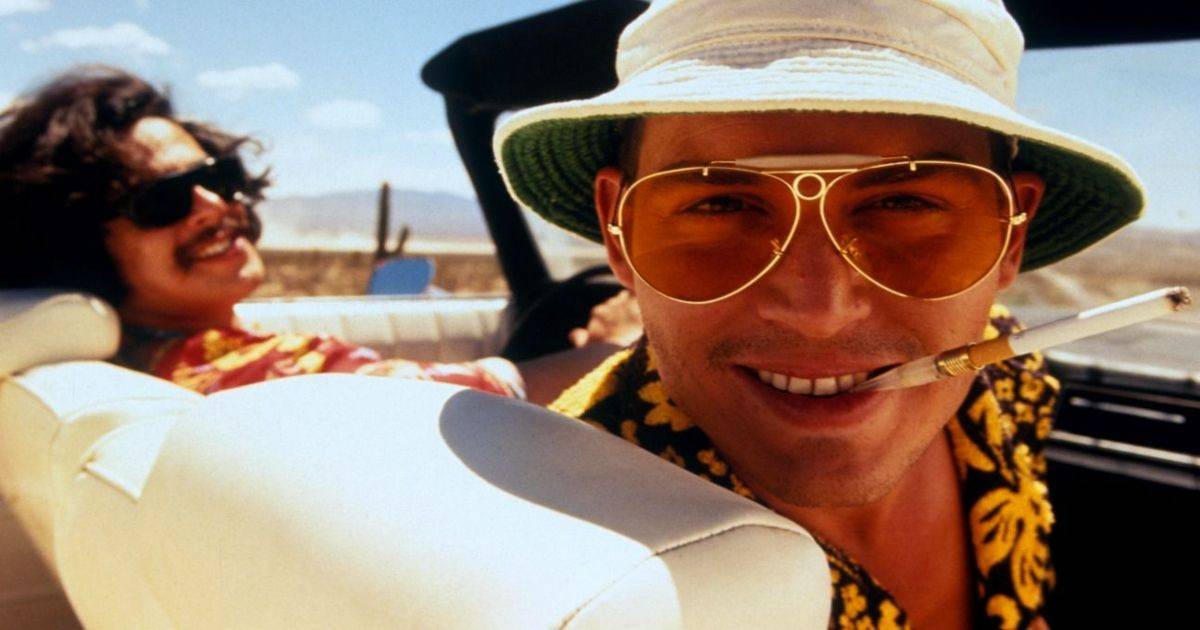 Johnny Depp and Benicio del Toro play a crazy journalist and a brash lawyer who travel around Sin City in their red Chevrolet Impala convertible while high on drugs to cover a motorcycle race in the 1998 cult classic black comedy Fear and Loathing in Las Vegas. The trippy 1990s movie, which is based on the Hunter S. Thompson novel of the same name, follows the exploits of a couple as they explore the Strip and its many eye-catching sights while expanding their already excessive drug use.
Fear and Loathing in Las Vegas received mixed reviews when it was first published, but it is now regarded as a groundbreaking and bizarre masterpiece that brilliantly caught the spirit of Thompson's writing and made a daring statement on the extremes of our nation.
Fools Rush In (1997)
In the Columbia Pictures film Fools Rush, Salma Hayek plays Isabel Fuentes-Whitman and Matthew Perry plays Alex Whitman.
One of the all-time greatest comedies with a Las Vegas setting is Fools Rush In. A straight-laced WASP named Alex Whitman, played by Matthew Perry, is brought from New York City to Las Vegas to supervise the development of a nightclub. One night he meets fiery Mexican-American photojournalist Isabel Fuentes (Salma Hayek). Following their one-night stand, they part ways.
Three months later, when they re-connect, Isabel breaks the news to Alex. He falls in love with her as he gets to know her and her colourful Latino family. The majority of the humour is based on their cultural contrasts as well as the lifestyle contrast with his New York City life. Alex's parents appear on an escalator in a sight that will look familiar to anyone who has ever had a sunburn in a desert city.
Honeymoon in Vegas (1992)
Honeymoon in Vegas takes first place for a comedy set in Las Vegas thanks to a stellar Nicolas Cage, Sarah Jessica Parker, James Caan, and a plane full of skydiving Elvis impersonators, to name just a few factors. Cage plays Jack Singer, a man who promised to never get married to his mother as she lay dying. He's been seeing Betsy (Parker) for years when the movie starts, and she wants to be married and start a family.
He suggests that they travel to Las Vegas to get married, but on the way there, Jack loses Betsy in a high-stakes poker game that was rigged.
Following a series of misadventures, Jack steals a taxi in Hawaii, gets lost in San Jose, and finally dons an Elvis costume and a parachute to literally drop in and get Betsy back. The film's insane hilarity may be summed up in one phrase: "Flying Elvises, Utah Chapter."
Indecent Proposal (1993)
In 1993, everyone was debating what they would do if they were presented with the kind of proposal that the characters played by Woody Harrelson and Demi Moore in Indecent Proposal received (and there were imitations of Moore's classic '90s black dress in every shop). Would you accept a million bucks from someone to spend the night with them? Would your spouse or partner support this? This Las Vegas-set film, in which Robert Redford also stars, centres on that query. Never mind that the wealthy man who offered $1 million in real life most likely wouldn't resemble Redford.
Leaving Las Vegas (1995)
For his performance as a suicidal alcoholic screenwriter who travels to Las Vegas to drink himself to death in the movie Leaving Las Vegas, Nicolas Cage won the Academy Award for Best Actor. The movie is based on John O'Brien's semi-autobiographical book of the same name, which he sold the film rights to before committing suicide.
Ben Sanderson, played by Cage, is a Los Angeles native who lost both his family and his work. After arriving in Las Vegas, he develops feelings for Sera, an experienced prostitute flawlessly portrayed by Elisabeth Shue. In this heartbreaking examination of alcoholic behaviour, sadness, and loneliness, Cage's character is resolved to die while Shue's character is subjected to horrific gang rape and eviction.
Ocean's 11 (1960 and 2001)
Whether you prefer the 2001 remake starring George Clooney, Brad Pitt, Matt Damon, Andy Garcia, or Julia Roberts or the 1960 version starring the Rat Pack (Frank Sinatra, Dean Martin, Sammy Davis Jr., and Peter Lawford), Ocean's 11 is a pretty perfect movie, stuffed full of stars and brimming with great music and energy in both cases. Both versions have the same basic plot—a bunch of people rob a casino in Las Vegas—and the on-screen chemistry is flawless in each.
Pay it Forward (2000)
The only movie on our list that is set in Las Vegas but not in a casino on the Strip or Downtown is Pay It Forward. Trevor McKinney, a seventh-grader in the movie, is starting school in Las Vegas. He resides with his mother, a single alcoholic (Helen Hunt). Eugene Simonet, his teacher, has emotional and physical scars (Kevin Spacey). In this moving motivational film, Trevor begins the "pay it forward" movement, which eventually transforms the lives of the suffering adults around him. This movement has actually sparked many imitations in corporations and schools.
Smokin' Aces (2006)
The thrilling action-comedy Smokin' Aces, which boasts an A-list ensemble cast including Ryan Reynolds, Ben Affleck, and Ray Liotta, follows a Las Vegas magician-turned-aspiring gangster who decides to inform on the mob, prompting a flurry of people from various backgrounds to go after him in order to collect the $1 million bounty on his head.
Reynolds plays FBI special agent Richard Messner, who is tasked with keeping the disgraced performer safe and securing his testimony. As a result, Messner must fight off hitmen, bounty hunters, and enraged mob members. The suspenseful movie was well-received at the box office and has since gained a cult following, according to Maxim "One crazy, energetic ride. It combines Pulp Fiction and Ocean's 11 with a tonne of other things."
The Cooler (2003)
William H. Macy plays Bennie in The Cooler, a professional cooler hired by a casino to break winning streaks of gamblers. A cooler is a player who, although present on the casino floor, ruins other players' luck and breaks winning streaks. Alec Baldwin portrays Shelly, the casino manager, and Maria Bello plays Natalie, a cocktail waitress who develops feelings for him.
It turns out that Bennie, who is now working for Shelly to pay off his gambling debts, is a former gambling addict. Bennie's luck changes when he falls in love with Natalie, much to Shelly's chagrin. Baldwin and Bello received Golden Globe nominations for their outstanding, melancholy work in this fantastic gambling movie.
The Hangover (2009)
Las Vegas-based comedies are typically underappreciated, at least up until 2009, when Todd Philips released the first installment of the The Hangover series. The Wolf Pack, a group of four buddies, heads to Las Vegas for one of the men's bachelor celebrations, which culminates in an epic blackout.
Bradley Cooper, Ed Helms, and Zach Galifianakis play the trio to find the groom (Justin Bartha), who disappears during their night of revelry, after they awaken in a filthy hotel room in Las Vegas. The phrase "What Happens in Vegas Stays in Vegas" is exemplified in The Hangover, albeit with Mike Tyson and a tiger instead.
Viva Las Vegas (1964)
Two of the biggest stars in Hollywood in 1964 were Elvis Presley and Ann Margaret. Elvis Presley has long been associated with Las Vegas. Audiences fell in love with Elvis Presley and Ann Margaret's chemistry in Viva Las Vegas, which is widely regarded as one of his best movies. They also loved their musical performances.
Elvis portrayed Lucky Jackson, who made the trip to Las Vegas to compete in the inaugural Grand Prix Race ever held there. His automobile requires a new engine, which is a bummer. Rusty Martin, the hotel's swimming teacher (Ann Margaret), pushes him into the pool, which causes him more difficulties. Subsequently, in order to pay his hotel bill in Las Vegas, Lucky must work as a waiter there. He then joins the hotel's talent competition in the hopes of earning the cash prize needed to restore his engine. One of Teri Garr's earliest movies is Viva Las Vegas, fun tidbit.
Being a binge-watcher himself, finding Content to write about comes naturally to Divesh. From Anime to Trending Netflix Series and Celebrity News, he covers every detail and always find the right sources for his research.