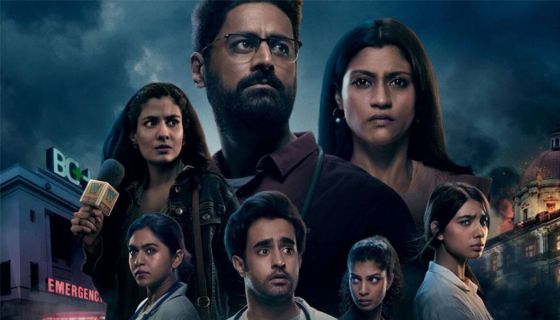 Mumbai Diaries: Thriller Surrounding Doctors During Terrorist Attack
Mumbai Diaries Web Series
From September 9, 2021, Mumbai Diaries, an Indian web series, will be available on Amazon Prime Video. The crime-drama-thriller is also produced by the same people that brought you D-Day and Batla House. As a result, its directors and creators are Nikkhil Advani, Nikhil Gonsalves, and the Emmay Entertainment Production brand. The web show's producers are Monisha Advani and Madhu Bhojwani. It is also based on the true story of the Mumbai terror attacks of 26/11. The primary actors are Sandesh Kulkarni, Mohit Raina, Konkona Sen Sharma, and Satyajeet Dubey. Last but not least, it is accessible in Hindi, Tamil, Telugu, and English.
Mumbai Diaries Story
Doctors' perspectives on terror attacks are depicted in this web series. The drama series is primarily set in a government hospital's emergency room, which is overwhelmed with injured and dying individuals. It also takes a deep look at the emotional experiences of people who were affected by the assaults. In addition, it focuses on the front-line healthcare staff who attempted to respond to an unanticipated catastrophe.
Mumbai Diaries Cast
Sandesh Kulkarni
Mohit Raina
Konkona Sen Sharma
Satyajeet Dubey
Prakash Belawadi
Nitin Dondage
Mishal Raheja
Natasha Bhardwaj
Pushkaraj Chirputkar
Rishabh Arora
Divya Kalra
Naresh Kumar
Mumbai Diaries Trailer
Mumbai Diaries All Episodes
Diagnosis
Complications
Malignant
Anatomy
Side Effects
Relapse
Remission
Recovery
Mumbai Diaries Review
The Mumbai Diaries online series stands out from the rest of the league because of its unique perspective and outlook. Unlike Hotel Mumbai (2018), 24, ER, and other shows, the Amazon Prime web series depicting a stint of doctors and healthcare professionals is exceptional. Hasmukh's creators, Nikkhil Advani and Emmay Entertainment, deserve a large portion of the credit. The narrative is incredibly adorable and unique. Following that, Sandesh Kulkarni, Mohit Raina, Konkona Sen Sharma, Satyajeet Dubey, Prakash Belawadi, Nitin Dondage, and Mishal Raheja perform memorable roles. Overall, it's a fun program with a unique visual style.
The practice of chronicling real-life terror attacks in the style of a thriller has been popular for some time. Filmmakers Nikkhil Advani and Nikhil Gonsalves have created their own rendition of the Mumbai terror attacks, but unlike others, it is set in a government hospital with limited resources but abundant talent and human spirit.
The setting allows for a more humanistic, reasonable, and compassionate portrayal of the events that resulted in the deaths of 174 people (including nine assailants), as well as a melodramatic, blood-soaked account of the mind-numbing night.
Advani and his cast and crew don't disappoint, navigating 60-plus hours of horror to piece together an eight-episode series that is mostly riveting.