It makes no difference how many drug cartel documentaries or shows you've seen before; even knowing everything there is to know about the world's history with narcotics won't help you, because if you haven't seen 'Narcos,' you're missing out on not only a "drug show," but also one of the best TV series ever made in recent times. 'Narcos' is not totally historically accurate because many names and locations have been modified for dramatic purposes. However, the show's fantastic soundtrack, setting, immaculate writing, gorgeous cinematography, and outstanding performances raise it to a new level. The influence of 'Narcos' on television viewers cannot be understated. It was one of the most popular and well-liked shows of the decade.
The show's major focus is on Pablo Escobar, who is a well-known figure in the actual world unless you've been living under a rock all these time. Two DEA agents are on the trail of the Colombian drug lord, who eventually understand that if they chop a snake's head off, another one will appear around the corner to take its place. That's exactly what happens here, as the drug-trafficking enterprise of the 1980s thrives even after Escobar is apprehended. It's merely a never-ending cycle that can only be delayed, never stopped.
It should go without saying that a drama about a Colombian drug organization will be brutal and graphic. The violent scenes are well-integrated, although the sex scenes are forced at times and offer no overall value to the plot. The show's heartbreaking deaths are so graphic that they overwhelm the sex scenes and, in the end, make them appear to be a cheap tactic to attract a larger audience. But we're not complaining because the show already has a lot of twisted up stuff going on, so a few sex scenes here and there only add to the fun. In fact, it gives the story a more realistic feel. So, here's a rundown of some of the most hot sequences from 'Narcos.'
Bathtub (SE01 EP09)

Cristina Umana sits in a bubbling bathtub with her man in this scenario, but having sex is the last thing on her mind right now. Her boyfriend gives her money and a house she's had her eye on for years in order to entice her into having sex, but she's too preoccupied with the fact that Pablo refuses to reconcile with Cali. All she can think about in a steamy bubble bath is Pablo's war tax on them, which her lover is attempting to seduce her by kissing her all over her neck. What began as a possible sex scene quickly devolves into a cocaine-snorting business meeting in a bathtub.
I Missed You So Much (SE1 EP08)

Paulina Gaitan exhibits a lot more nuance now than she did the prior time, and her and Pablo's love appears to be intact. In a dimly lit bedroom, the two make love, and she tells him how much she misses him. He nods and responds that he misses her as well. They exchange a few glances before returning to kissing. I'm starting to sound like a damaged stereo on repeat, but there's no disputing that the sex sequences with Pablo and Tata are the most enjoyable. This is because their love for each other shines through in every scene, providing a unique flavor of intimacy in comparison to the show's other random sex scenes.
I noted in the opening that a lot of the show's sex scenes are boring and unneeded, and most of them don't offer any value to the characters or the plot. The moments shared by Tata and Pablo, however, are unquestionably an anomaly. They're just a couple, madly in love, feeling one other's warmth, therefore the scenes involving them may not be overly graphic or flashy.
Kill Her (SE01 EP06)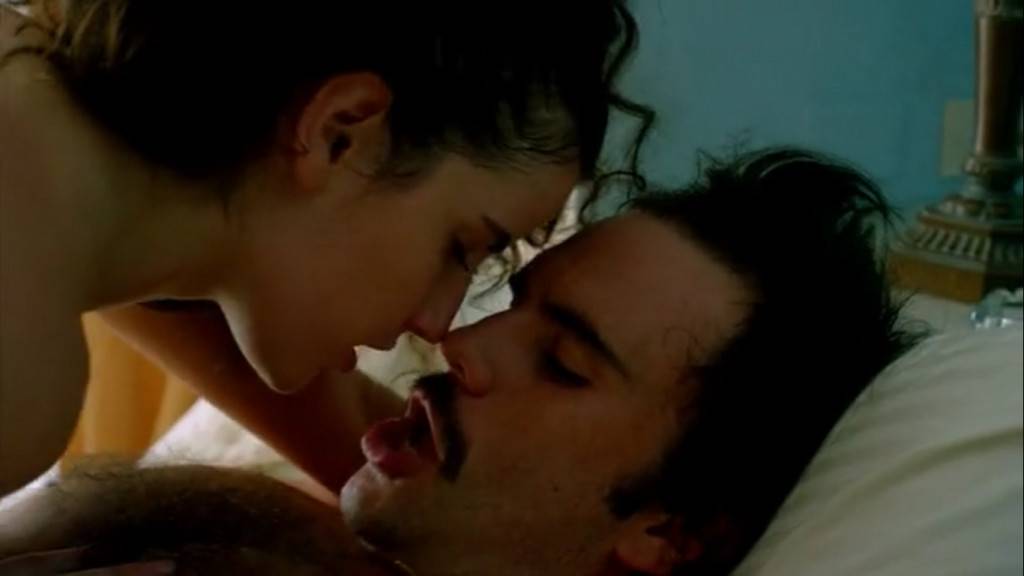 Marina Ochoa, the younger sister of the Ochoa brothers and the mistress of Pablo's cousin, Gustavo Gaviria, is played by Laura Perico (Juan Pablo Raba). For a long time, the two kept their relationship disguised, but out of desperation, Marina advises that they have Pablo kill his (Gaviria's) wife so that they don't have to keep it hidden. The strange aspect is that they're having sex while having this talk, and all Gustavo has to say to her is, "You….are a wicked little girl." What a brilliant way to transform a serious discussion into vulgar chat. She brings it up again once they've finished, but Gustavo dismisses it since he isn't ready to give up everything for their love just yet.
You're probably asking why there aren't any sex scenes from the third season of the show on the list. That's because the sexual content is suddenly toned down in the last season, with little nuance. Perhaps the producers' tastes evolved with time, or perhaps they realized that 'Narcos' had amassed enough "cheap" popularity. It's very similar to 'Game of Thrones.' In comparison to the most recent seasons, the first seasons had far too much sex and nudity. There will be no time to "mess around" with superfluous profanity once the show becomes famous.
Promise Me (SE2 EP01)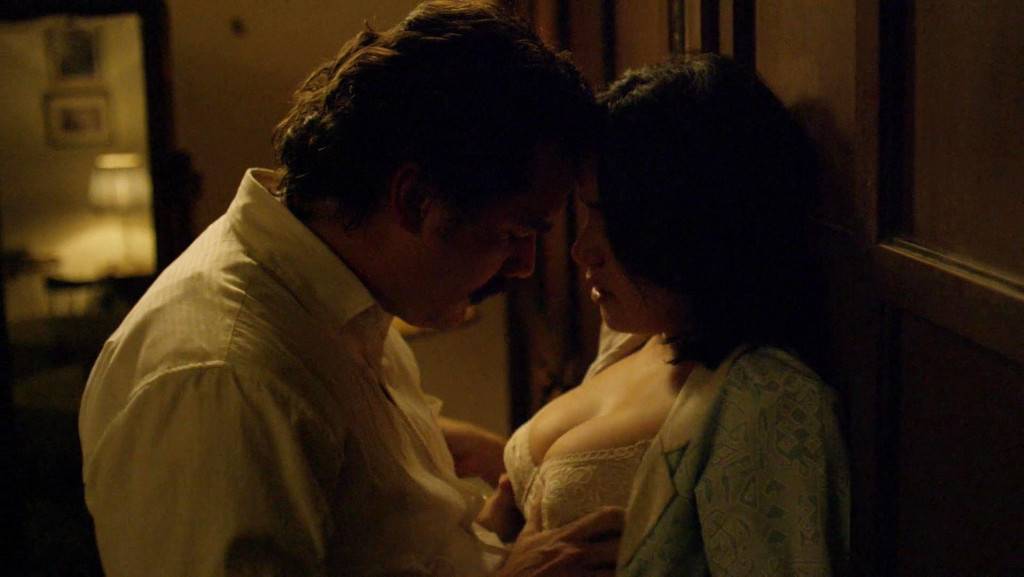 Tata Escobar, Pablo's long-suffering wife and the only woman he genuinely loved, is played by Paulina Gaitan. Don't bother looking for Tata Escobar on the internet because you won't find any information about her. For obvious reasons, her real name has not been divulged. Pablo and Tata make some beautiful love in this clip, and their chemistry as a pair is obviously visible on screen. Pablo pins Tata against the wall and begins softly groping her as they slowly kiss. The two then make out passionately as Pablo takes her up in his arms. There is no nudity in this scene, and all you see is Paulina Gaitan's gown unzipped at the top. Nonetheless, due of the closeness between the two characters, this scene is sexier than the others. They're certainly making love, but not simply for the sake of making love. The "implied" nudity in this moment just gets you in ways that most other bold nude scenes don't, and that's why it's on the list.
Sex in the Dark (SE01 EP02)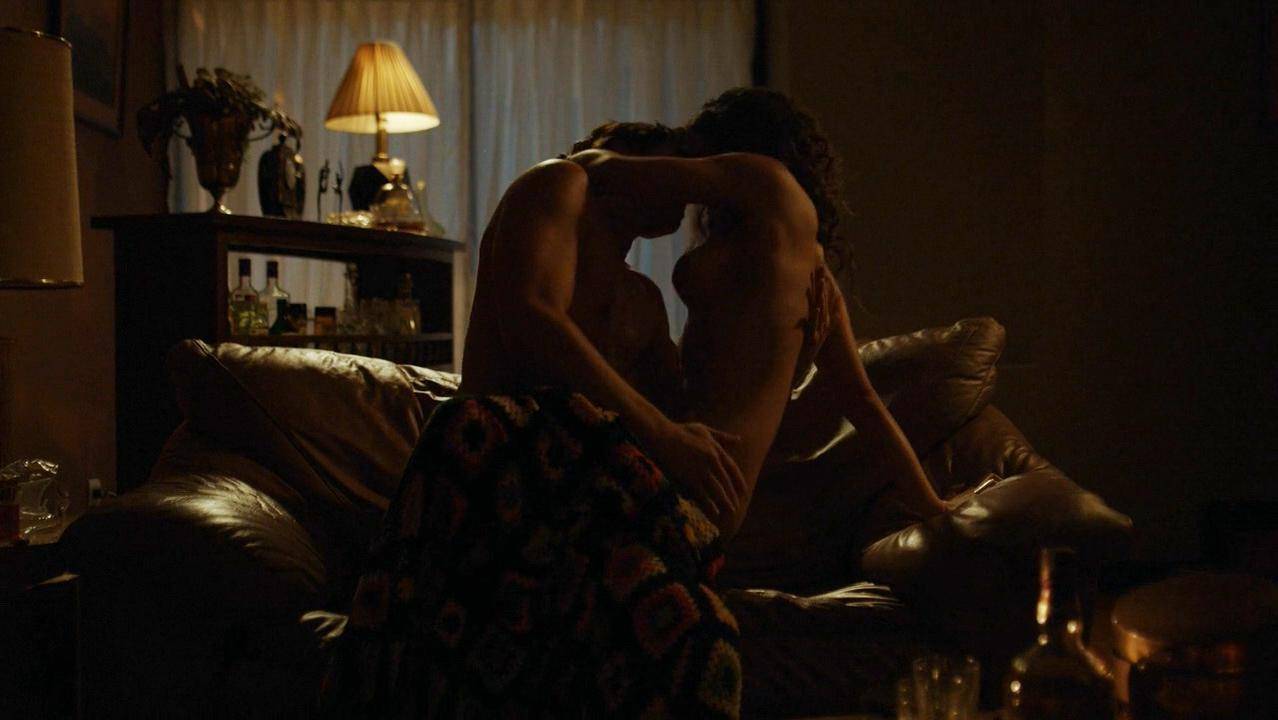 Wagner Moura and Adria Arjona make out in a dark room, as the scene's raw sexual tension builds. As of yet, all we can see are silhouettes of their half-naked frontals. But that's the extent of the nuance in this scene. Soon after, the whole thing starts to unravel, and the two begin to have sex while standing up. That's when she inquires about his "standing sex" with his wife. This irritates him, and he screams, "Don't insult Tata!" as he looks her in the eyes. To make amends, she requests that he take her from behind right now, and this is how they resolve their minor misunderstanding. As a result, he simply accepts Adria's character's request for an apology. There isn't a lot of nuance in the scenario, and all you can see when they have sex is their faces. Adria is even wearing a dress during the action, but it's evident that this is just a random hook-up to satisfy their cravings.
The Prostitute (SE02 EP01)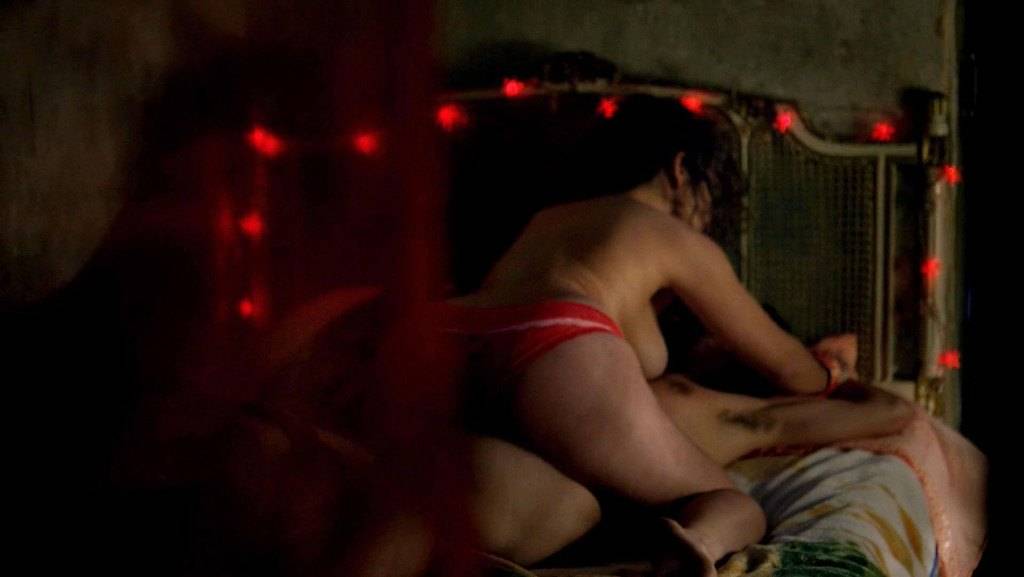 Even if you've seen season 2 of 'Narcos,' you might not remember Angela Forero's character. She makes a brief appearance as a prostitute who has sex with Pablo for a few moments. However, because of its mood and genuine emotions, this moment remains remembered. Because of its length, Angela Forero and this moment will be forgotten quickly, but it's something to look forward to the next time you watch the first episode of season 2. When it comes to total nudity, you do get to view Angela's character's virtually fully bare backside as she mounts Pablo and moans while riding him.
Trying to Forget (SE02 EP03)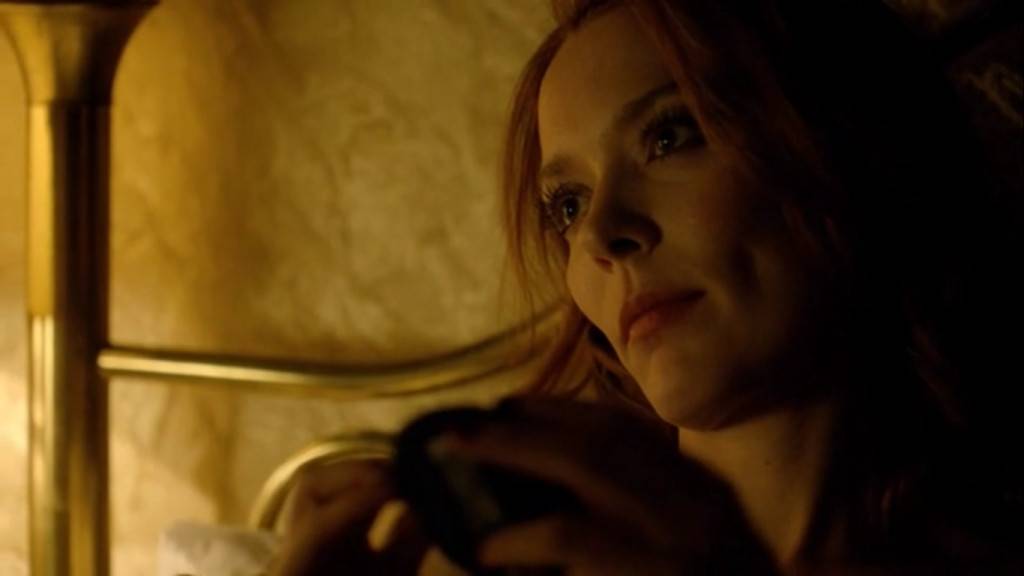 Gabriela is played by Carolina Acevedo in the show. In this scene from Season 2, she sits naked on the bed in Javi's room, lost in meditation. When Javi enters, she inquires as to what she is attempting to forget. She merely gives a false smile in response, and the next thing we know, Javi is boning her from behind while they have some furious bed-rattling sex. Gabriela's genuine smile has returned by the time they're finished, and it appears that she has forgotten whatever was worrying her earlier, at least for the time being.
The sex scenes are all situated in the same dimly lighted environment. This isn't done to restrict anything; if that was the goal, there are simply better ways to accomplish that. This drab backdrop conveys that, like their everyday lives, sex is also dismal. The sex scenes are regular and nothing out of the ordinary, but the dark color palette reflects the characters' grim perspectives and reveals that even in moments of pleasure and fleeting bliss, the darkness in their souls does not leave them.
We Get Better Each Time (SE01 EP02)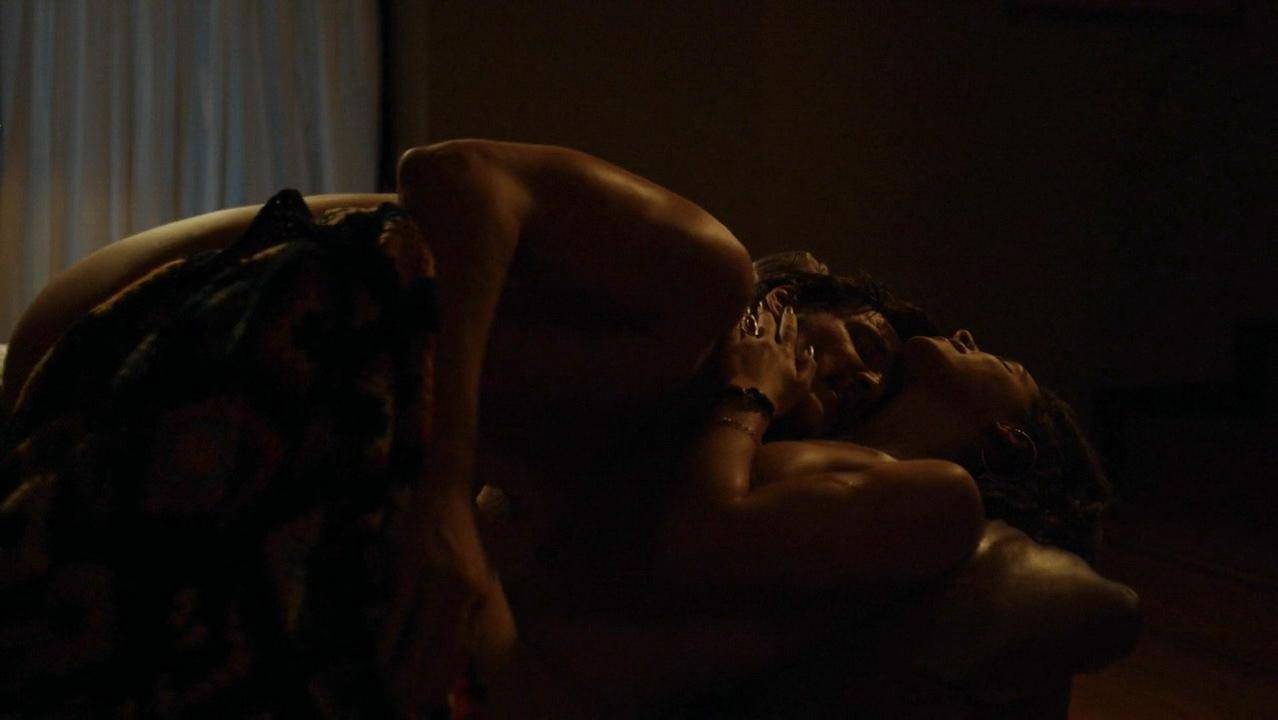 In 'Narcos,' Joanna Christie portrays Connie Murphy. She makes love to Javi in this hot and passionate session (Pedro Pascal). In this scenario, both of them are visibly naked, and the only thing that "censors" them is a flowery blanket. Connie is lying on her back against the couch's surface, with her boyfriend on top of her. Although the two kiss passionately and make love for barely a few seconds, this scene is graphic enough to be remembered as one of the show's most memorable sex scenes. Joanna Christie makes little attempt to hide her sexuality, displaying a nearly naked side view of her body.
When they're finished, they kiss one more time, and Javi sighs happily and says, "We get better each time," to which Connie responds, "You're fantastic Javi!" He, on the other hand, feels threatened and encourages her not to go overboard with everything. Christie's insecurities begin to show soon after, and she begins to talk about how Javi could benefit from a woman's touch in his home. Javi simply avoids the situation and manages to minimize their sexual contact. But, in the heat of the moment, he, too, gives in and kisses Connie on the lips. Javi says to Connie immediately before she leaves his house that he needs to find a new girl now, but Connie ignores him and goes away, knowing that he is joking.
Our Team DCS includes 5 different writers proficient in English and research based Content Writing. We allow them and encourage them to follow the Entertainment news all day long. Our posts, listicles and even the exclusives are a result of their hard work.