'I Am All Girls' is a South African criminal drama about two women who are working to bring down a global child trafficking organization. Both symbolically and as a dramatic device, the two heroes' approaches to bringing down the nefarious network are diametrically opposed. While Jodie (Erica Wessels) is a cop, Ntombizonke (Hlubi Mboya), a masked serial murderer, is her colleague and fellow champion against child trafficking.
The film is an appropriate vehicle for its serious subject matter, with layers of seeming real-life episodes, historic horrors, and thriller storytelling components all packed together. We're here to help if 'I Am All Girls' left you with more than a few questions! WARNING: SPOILERS AHEAD.
I Am All Girls Plot Synopsis
'I Am All Children' begins with Ntombi watching an interrogation tape of Gert de Jager, a child trafficker who was arrested in 1994 in connection with the disappearance of six girls in Johannesburg, South Africa. The girls were never found, and Gert claims that he abducted a large number of others – around 40 — on the orders of a high-ranking minister. Every time Ntombi executes someone linked with the worldwide child trafficking ring, we see the images of each of the six missing girls for the rest of the movie.

Jodie, a special agent in Johannesburg on the hunt for child traffickers, is then seen raiding a potential hideout, but it's too late. Her crew discovers cages used to hold trafficked children, but the criminals manage to flee. Later, when the body of a retired minister, who was suspected of being a pedophile, is discovered in the park with initials cut into his chest, Jodi begins to assume that the murder is linked to the long-ago missing girls.
We understand it is Ntombi who is killing the crooks and bringing Jodie to the heart of the worldwide smuggling operation when another dead body, this time of a pimp involved in child trafficking, appears. Following a series of high-profile arrests, including that of a pastor and a school principle, Jodie's colleague Arendse suspects that someone on the investigation team is acting on their own and murdering the drug traffickers. When Jodie realizes she talks Ntombi about her casework, she becomes suspicious.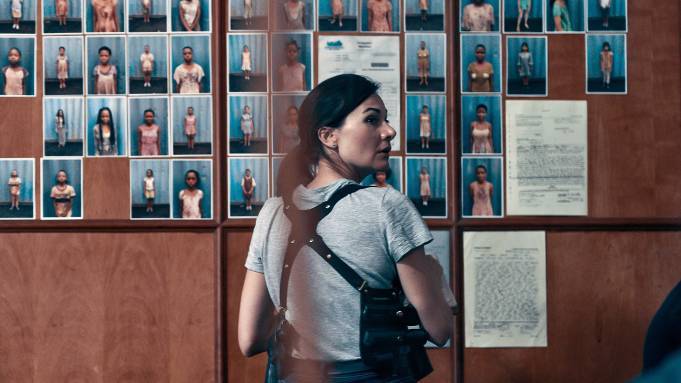 Ntombi is also a police forensic specialist who is frequently spotted working at crime sites, even those where she has committed her own killings. Jodie takes Ntombi for a drive in order to confront her, and they follow a recently released trader named Salim Khan, who is in charge of smuggling children in his shipping containers. Jodie becomes enraged when Ntombi refuses to admit to being the vigilante, and their car collides with Salim's.
I Am All Girls Ending: Does Jodie Become the New Vigilante?
Jodie is knocked out after a horrific crash in which their car turns over. Ntombi shoots Salim's men and kidnaps him as they approach the automobile. Jodie's boss, Captain George Mululeki, informs her that she is no longer on the force after she wakes up in the hospital. Jodie sneaks out of the hospital at night and returns home, unfazed. She understands that Ntombi is a victim after watching the video footage of Gert de Jager that Ntombi has left for her.
Jodie visits the Brakpan house indicated by Gert during his interrogation and discovers Salim and his brother Pharwaz dead by Ntombi. She then witnesses a jet landing on the nearby airstrip and knows that the high-ranking minister for whom Gert was working is currently negotiating an illegal agreement with the Arabs. Arendse, who has been following Jodie, confronts the minister and is assassinated by his men. Ntombi, who is also involved in the gunfight, is slain shortly after.
We witness a totally different Jodie near the end of the film from the one we've seen throughout. She ambushes the minister in his home and kills him, cutting Ntombi's initials on his chest. She is a cold-blooded hunter of human traffickers. Then, in the last images of 'I Am All Girls,' we see her boarding a plane to Iran, where she plans to seize the men the minister was seen with. So, as the new vigilante, has Ntombi passed the torch to Jodie?

That appears to be the case. From the beginning of the film, we can see that Jodie has trouble apprehending criminals by traditional means. She gets in trouble for not following police protocol on several occasions, putting their operation against child traffickers in jeopardy. Jodie is repeatedly informed this point by her commander and Ntombi, but she refuses to listen, declaring she will "do whatever needs to be done."
It's easy to envision Jodie switching over and taking the reins as the new vigilante against child traffickers after witnessing Ntombi make light work of the notorious child traffickers by murdering them, while being frustrated by the complexity of the judicial system herself. When Jodie goes to murder the minister, she wears Ntombi's hooded trenchcoat, which emphasizes this.
Jodie, more than any other figure we've seen, is also a good candidate to take over from Ntombi. She is, aside from Ntombi, the most dedicated agent in the force when it comes to bringing the traffickers to justice. Most of her coworkers, including her supervisor, take a more clinical and detached attitude to the situation and aren't as invested as Jodie is. She also adds in passing that the victims of child trafficking remind her of her own children.

As a result, Jodie has a deep and passionate interest in the battle against human trafficking. We know that Ntombi's motivation for assassinating traffickers stems from her own experiences as a child trafficking victim, and while Jodie hasn't been through the tragedy, her empathy for the victims makes her a suitable vigilante to take Ntombi's place.
It's also worth noting how, soon after becoming a vigilante, Jodie broadens the scope of the fight against child traffickers by traveling to Iran to track out the minister's Arab cronies, who are shown receiving young girls. Unlike Ntombi, who only killed people within South Africa, Jodie has taken the war global, demonstrating the true scope of the human smuggling problem. It remains to be seen how effective she will be in that fight. She does, however, appear to have the confidence of someone who has a winning strategy in the last scene.
Are Ntombi and Jodie Lovers?
We get flashbacks throughout the film that confirm Ntombi's status as a child trafficking victim. She is kidnapped by Gert de Jager and taken to the minister's infamous residence in Brakpan, where he receives trafficking children, where she is abused and eventually delivered to a brothel. We next see flashbacks to her period at the brothel, where she begins to train herself to fight and study at an early age.

We last see young Ntombi when she is in her twenties and receives a letter in the mail. Though the contents of the envelope are never displayed, it is probably certainly a letter from an educational institute where she has received a scholarship as a result of her autodidacticism at the brothel. Ntombi grew up to become a forensic specialist (in addition to being a vigilante), a career that necessitates a high level of scientific understanding.
We also know that she changed her name to Ntombizonke Bapai during this time, which she claims means "all girls." Her original name was Yvette Rossouw, which is appropriate given that she is one of the six abducted girls featured in the film. Tarrynlee, Frances Hughes, Jenna Hartley, Olivia Booysen, and Abigail Viljoen are the names of the other five victims visible everytime Ntombi dies.
Ntombi and Jodie appear to have a close relationship, as they are shown expressing affection for one another. It's unclear whether they're lovers, but considering Ntombi's history, the two are most certainly involved in a convoluted physical relationship. When Jodie reaches to touch Ntombi's feet on the couch at home, Ntombi pulls her feet away, we get a slight suggestion of this. Jodie also tells Ntombi that she loves her, but she does not return the love until the end of the film, when Ntombi says his final words.
Ntombi's history as a victim also catches Jodie off guard, thus the two don't seem to be sharing much of their past with each other. All things considered, Jodie and Ntombi are unlikely to have known one other for very long, probably because Ntombi is new to the force. Though the two have a strong bond, it is most likely due to their similar pity for child trafficking victims. We witness them reconcile their polar opposite attitudes over the course of the film, until Jodie basically "becomes" the new Ntombi.
How Many People Has Ntombi Killed?
The first assassination we see Ntombi conduct is on a retired minister. Her assured demeanor gives the impression that she is an expert at stalking and kidnapping individuals. This would indicate that she has done something similar before and has killed several individuals. The fact that she is dressed in a specific clothing to commit the crime adds to this theory. However, it's intriguing to consider why she didn't kill the pimp, who she knew was a human dealer, sooner.
Ntombi's kill history is convoluted and tough to pin down. It is apparent, however, that she did not begin carving initials on the chests of her victims until much later. The retired minister was most likely the first victim on whom she engraved the initials. As we can see, the initials were clues that led Jodie to unearth other members of the South African child trafficking conspiracy. As a result, Ntombi most likely used this strategy in order to assist Jodie with her case. This could also indicate that Ntombi had meticulously planned the procedure all along, and that what we see in the film was all part of her strategy to assist authorities in uncovering the criminal ring that had wronged her and countless others.
Our Team DCS includes 5 different writers proficient in English and research based Content Writing. We allow them and encourage them to follow the Entertainment news all day long. Our posts, listicles and even the exclusives are a result of their hard work.