For a very long time, Cristiano Ronaldo has been a household name in football. In 2003, he made his club football debut with Manchester United. He achieved great success there and played there up until 2009, when he moved on to Real Madrid. Ronaldo established himself as one of the all-time greats and attained superstar status in the sport during this time.
The footballer had a successful long career at Real Madrid before spending 2018 through 2021 at Juventus. Ronaldo announced on August 27, 2021, that he would be joining Manchester United again after an absence of more than 18 years. Fans of both Cristiano Ronaldo and Manchester United reacted to this news with a great deal of celebration and excitement.
Cristiano Ronaldo's time at Manchester United
Ronaldo's career got off to a good start at Manchester United after he scored twice in his first game back. He maintained this form fairly consistently, and he even ended the season as the third-highest goal scorer. His team, however, did not enjoy the same level of success. In the Premier League, Manchester United finished sixth and missed out on the Champions League.
The team underwent numerous management changes at that time. On July 1st, 2022, Erik ten Hag took over as manager. Since then, the team's performance has been on the rise. However, tensions between Ronaldo and ten Hag existed behind the scenes. Due to Ronaldo's absence during preseason practice—he missed it because his daughter was admitted to the hospital with bronchitis—Erik ten Hag took him out of the starting lineup. Ronaldo expressed his "hurt" at hearing that his preseason behaviour had raised suspicions.
Ronaldo appeared to be interested in leaving Manchester United during the preseason, but no team picked him up during the transfer window due to pressure from Manchester United, who claimed that Ronaldo wouldn't be leaving. This furthered the rift between Ronaldo and Manchester United.
Ronaldo has since expressed regret for his actions, which included leaving the stadium before the game against Tottenham Hotspurs because he refused to enter the field as a substitute. Ten Hag removed him from the team for the following game as a consequence. Ten Hag, however, decided to make Ronaldo the team captain for the following four games in an effort to mend their relationship.
Ronaldo's interview with Piers Morgan
However, when Ronaldo agreed to conduct an interview with journalist and television personality Piers Morgan, all efforts to mend their strained relationship were in vain. In this interview, Ronaldo made some harsh remarks about the club's state not living up to his expectations since his departure in 2009.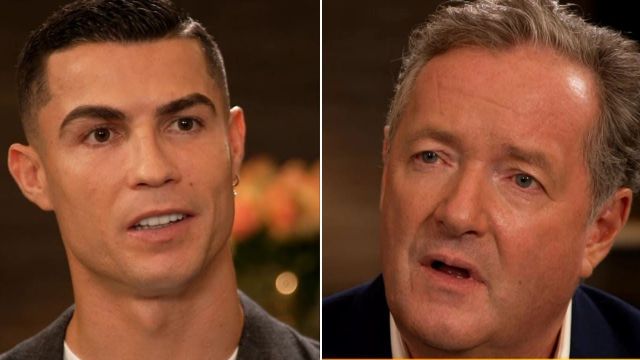 He also made fun of the club's owners, claiming that they did not give a damn about it. He also said that Erik ten Hag was not respected by him because he did not respect him either. Even more, he claimed that the club had "betrayed" him and that they didn't want him there. Ronaldo's future with the club was effectively ended as a result of this explosive interview.
The aftermath
As anticipated, Manchester United announced on November 22nd that they were terminating Cristiano Ronaldo's contract and that the striker would leave the team by mutual consent. The team thanked him for his contributions to the team during his two stints with the club and wished him luck in his future endeavors.
Later, after his contract was terminated, Cristiano Ronaldo claimed it was a mutual decision. Reiterating his love for the team and the supporters, he made the decision that now was the ideal time for him to take on a fresh challenge.
Ronaldo, who is currently a free agent and representing his country at the World Cup in Qatar, set a new record by becoming the first player to score in five straight World Cups.
Our Team DCS includes 5 different writers proficient in English and research based Content Writing. We allow them and encourage them to follow the Entertainment news all day long. Our posts, listicles and even the exclusives are a result of their hard work.