'Run Rabbit' Run' is a horror-thriller movie available on Netflix, and it was made by Daina Reid. Sarah Snook ('Succession') portrays Sarah, a skilled fertility specialist, in this film, which has a screenplay by Hannah Kent as its foundation. When Mia, her 7-year-old daughter, claims to have recollections of a previous life, Sarah's life takes an abrupt change. Furthermore, Mia's allegations are directly related to Sarah's past, which triggers unpleasant recollections. The locations of the film amplify Sarah's feelings of fear and dread about her history, setting the scene for a psychological horror story to take place. Here is all the information you need to know about "Run Rabbit' Run," including when and where it takes place. Spoilers follow!
When and Where Does Run Rabbit Run Take Place?
Run Rabbit Run follows Sarah, a single mother who shares a home with her daughter Mia, who is 7 years old. After turning seven, Mia begins displaying odd behavioural tendencies, though. Sarah learns that her daughter's health is related to her history as a result and becomes frightened for Mia's safety. Since the majority of the film is set in the present, it is safe to assume that the year 2023 is where the action will take place. The story has a lot to do with Sarah's past, notably with her relationship to her sister Alice, yet there aren't many in-depth flashbacks in the movie. By keeping the focus on the present, the movie is able to effectively convey the fears brought on by Sarah's current circumstance.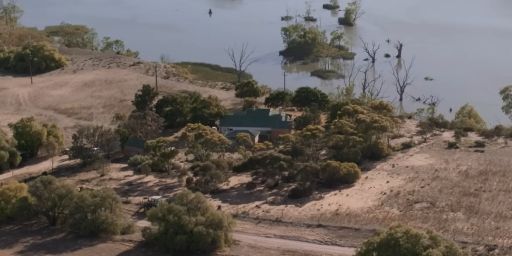 The surroundings of the movie are crucial to creating the spooky, unsettling, and tense atmosphere required for spectators to become lost in this almost gothic folk horror story about a mother-daughter relationship that is disturbed by a series of strange happenings. Because of this, the creators combine two main settings to create this distinctive sombre and dense atmosphere, which aids in building tension and interest about the backstories of the main characters. The opening act of the film is set in a suburban home where Sarah lives by herself with her daughter Mia, who has recently filed for divorce from her husband, Peter. South Australia is a state in Australia that is where these scenes are set.
Although the house where Sarah and Mia reside isn't specifically mentioned in the movie, it is reasonable to presume they reside close to Waikerie, South Australia, where certain scenes of the movie were filmed. Additionally, the film depicts South Australia's expansive environment, which is highlighted by a number of low mountain ranges. The cliffs and rugged landscape of South Australia were specifically chosen to create the ambience they intended to depict Sarah's concerns about motherhood and alienation, according to screenwriter Hannah Kent, who also authored the film's script.
The Riverland region along the Murray River in Southeast Australia appears to be the setting for some scenes in the film, particularly when Sarah and Mia relocate into the former's childhood home. These settings have a more dramatic sense since the isolated residence contributes to the mother and daughter's growing estrangement. The tension between Sarah and Mia is brought up by their suburban South Australian environment. It stands for the carefully crafted reality that Sarah has decided upon for herself.
The gritty and rugged exteriors of Sarah's childhood home, which she returns to after being removed from that safe setting, help depict the unease of Sarah's encounter with her tragic past. As a result, "Run Rabbit Run"'s locales have a big impact on the story and concepts of the film. Furthermore, by keeping the location of the major characters' homes a secret, the movie heightens its sense of fear and suspense because both the characters and the audience are never sure what to expect from the story's moody and dramatic settings.
Our Team DCS includes 5 different writers proficient in English and research based Content Writing. We allow them and encourage them to follow the Entertainment news all day long. Our posts, listicles and even the exclusives are a result of their hard work.