The reality TV star Safaree and his reported girlfriend Kimbella recently had a private video of them posted online. Some people questioned whether his ex-wife Erica Mena released the video of these two.
"Am I the only one who knows Erica leaked this?" a fan inquired. We all know that Erica is responsible for the leak, and another person said, "I'm sick of these people anyway." To learn more about the incident that happened online, keep scrolling.
Safaree and Kimbella have been in the news lately
Recently, gossip about the Love and Hip Hop Atlanta actor and his supposed girlfriend Kimbella has increased significantly. The couple has received a lot of attention as a result of a significant argument between him and his wife, Erica Mena.
In June of this year, Erica referred to Matos, Safaree's new love interest, as "a prostitute." In addition, she retaliated against him by accusing him of dating her while they were still legally married.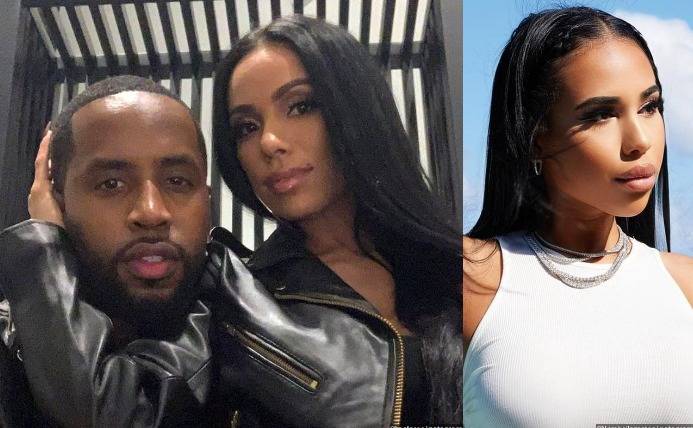 Safaree and Kimbella are currently addressing the issue of a leaked video that depicts them engaging in hanky-panky. Currently, it is unclear how Twitter users were able to access the video.
After some time, the couple's video that appeared on Twitter directed social media followers to their paid Patreon account where they could view the entire film. Kimbella and Safaree have not yet provided an official response to the released footage.
Safaree was previously married to Erica Mena
On Christmas Eve of 2018, Safaree Lloyd Samuels became engaged to model, TV personality, and actress Erica Mena. The wedding took place on October 7, 2019.
The former couple is parents to two kids. On February 3, 2020, Safaree and Erica gave birth to their daughter Safire Majesty Samuels, their first child. On May 4, 2021, the reality TV personality revealed that the pair was expecting their second child. In the same month, Mena filed for divorce from Safaree.
Legend Brian Samuels, the couple's second kid, was officially welcomed into the world in July 2021, according to Safaree.
How did the fans react to the leaked video of Kimbella and Safaree?
Everyone was raving about the Kimbella and Safaree sex tape, but no one sent the film to me, one user commented. Nowhere can I find it. The commenter "Kimbella and Safaree?! That garbage was terrible, lol.
Everybody talking about Kimbella and Safaree sex tape but ain't nobody sending me the video lol. I can't find it anywhere🥴

— Tengen Uzui Fourth Wife™ (@reviving_vibes) August 11, 2022
"Been gone for a minute just to get on to realise that tragically Safaree has Made headlines again and Mann to be dissapointed," another user said. Twice, I believed they were discussing Juelz's first wife Kimbella, and I wondered why they were catfishing us. Talking like that woman was carrying a lot of meat #2
Been gone for a minute just to get on to see that sadly safaree has Made headlines again🤦🏾‍♀️and Mann to be disappointed TWICE 🥴I thought they was talking bout Juelz wife Kimbella #1 and why they catfished us like that Talkin like dat nigga was packing hella meat #2😒

— Unbothered&HighlyFavored 🙏🏾🇹🇹👸🏾💅 (@Thickumz1982) August 10, 2022
"Safaree and Kimbella leaked the complete video below is best thing I've seen so far," wrote the individual who came after them. "Seen that Safaree and Kimbella sex video and instantly went to see how her feet look," the person continued.
Seen that Safaree and Kimbella sex vid and instantly went to see how her feet look

— Freddy V™ (@Vamp_Life12) August 11, 2022
These were a handful of the fans' responses to the private footage of American rapper Safaree and his supposed girlfriend Kimbella that had been released. Keep checking back with us for the most recent information from the entertainment industry.
Being a binge-watcher himself, finding Content to write about comes naturally to Divesh. From Anime to Trending Netflix Series and Celebrity News, he covers every detail and always find the right sources for his research.