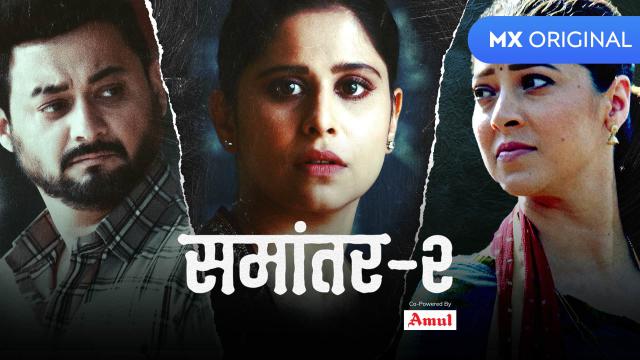 Samantar 2: A Must Watch Thriller With Memorable Twists
Samantar 2 Web Series
Samantar 2 is an Indian online series that will premiere on MX Player on July 1, 2021. Sameer Vidwans directs the online show, which is based on Suhas Shirvalkar's book Samantar. Producers Arjun Singgh Baran and Kartik D Nishandar are also involved. In addition, Swwapnil Joshi, Tejaswini Pandit, and Nitish Bharadwaj play in the key parts. The action-thriller series is available in the following languages: English, Hindi, Marathi, Tamil, and Telegu.
Samantar 2 Cast
Swwapnil Joshi
Tejaswini Pandit
Sai Tamhankar
Nitish Bhardwaj
Samantar 2 Story
After an intense Samantar Season 1, this is the second part in the series' continuance. The search for Sudarshan Chakrapani, a guy who had lived Kumar's life and could tell him about future events, was followed by Kumar Mahajan's search for Sudarshan Chakrapani. In season 2, Kumar is given a notebook that explains Chakrapani's life. In addition, he was required to monitor his fate by turning one page of his diary at a time. His life appears to take a brighter turn at first. However, nice things don't stay forever. As a result of a turn of circumstances, his life is once again thrown into disarray. Watch the series to see how Kumar handles the issue and if he is able to defy his fate!
Samantar 2 Trailer
Samantar 2 All Episodes
A Woman Enters Into My Life\
An Introduction A New Friendship
Nima in Mind Meera in Dreams
Elusional
A Balance Lost
Work, Wife, Friendship Losing Everything
I Will Write My Own Destiny
Nima Dream Or Reality
I Will Win The Battle
The Last Parallel Journey
Samantar 2 Review
Swwapnil Joshi and Nitish Bharadwaj return as protagonists fused together by a similar fate in the second season of the MX Player Marathi web series Samantar. Kumar (Joshi) discovers that his life is similar to Sudarshan Chakrapani's in the first season (Bharadwaj). Whatever is happening to Kumar now has already happened to Sudarshan, putting Kumar on a pre-determined course.
Kumar spent the first edition of the book attempting to locate Sudarshan. When they finally meet, Sudarshan hands Kumar a diary and advises him to read only one page at a time. Kumar discovers that it is difficult to outrun fate, much like the fairy tale character who eats the enchanted apple too soon or ignores the advice to glance over his shoulder.
Season 2 of Samantar is an engaging narrative with strong characters. It exemplifies a rare combination of magnificence and perfection. Furthermore, Swwapnil Joshi, the web series' star, once again displays his superiority. Tejaswini Pandit, Nitish Bharadwaj, and Sai Tamhankar are also behind him. Then there's the gripping plot, which keeps you riveted to your seats until the very last second of the performance. Special thanks to Sameer, the director, who did an outstanding job. Overall, it's a really thrilling experience. Enjoy the show!!!