One of the biggest performers now appearing in Korean dramas is the South Korean actor Song Joong-ki. He was found by a talent scout while he was a college student commuting on the train in the central Korean city of Daejeon. In 2008, he made his acting debut in the movie A Frozen Flower, which at the time of its release caused quite a deal of controversy due to its LGBTQ+ themes and characters. A few years later, Song's appearance in the Korean drama Sungkyunkwan Scandal changed the course of his career, catapulting him into the limelight and elevating him to the status of one of the best Hallyu performers in the following years.
Song appeared in numerous popular Korean dramas in just the late 2010s and early 2020s; Sungkyunkwan Scandal was just the beginning. Vincenzo, Reborn Rich, and Descendants of the Sun all had success on streaming services and became global phenomena. Additionally, Song established himself differently by being a regular on some reality television programmes that are well-liked both abroad and in Korea, such as Running Man. Song, who is currently one of the most adored drama performers and has dabbled in movies and reality television, still has so much room to grow in his or her profession. These are his top performances to date, in order.
A Werewolf Boy
One of Song's earlier, more significant roles was as A Werewolf Boy. As a feral youngster, he shared the screen with fellow drama actor, Park Bo-young. The story of the film is portrayed in flashbacks as the female lead, who is now elderly, recalls her youth spent on her family's property. Her mother finds a non-speaking feral boy on their property and adopts him under the pretence that he was an orphan from the Korean War. But when Park's character becomes friends with him, they start to fall in love despite the obstacles.
Arthdal Chronicles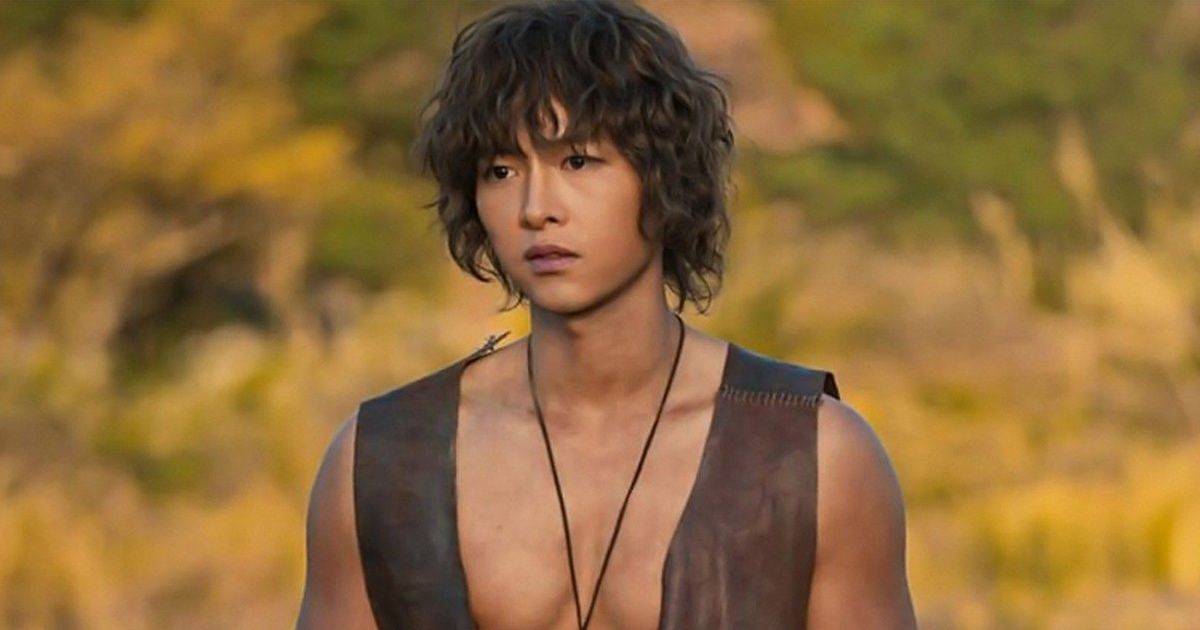 The Arthdal Chronicles, which was published in 2019, elicited a range of responses. Sadly, the majority were unfavourable. Despite the fact that historical motifs and story lines have frequently been included in Korean dramas, Arthdal was the first Korean television programme to seek to expand into the genre of ancient fantasy. The drama, which stars Song Joong-ki, Kim Ok-vin, Kim Ji-won, and Jang Dong-gun, is based on the history of Joseon's founder and is set during the Bronze Age. While the leaders of the tribe attempt to unite, there are power conflicts in the drama, which is set in the city of Arthdal.
Deep Rooted Tree
Drama Deep Rooted Tree, which debuted in 2011, is set at a significant period of transition in Korean history. He struggles with the effects of killing his family members in order to save them. The story takes place at the same time that Kim Sejong was developing the Korean alphabet, hangul. Two of the massacre's survivors make plans to assassinate him when the time is appropriate and swear retribution against him. A secret group also murders other intellectuals at the same time, further upsetting the royal court.
Descendants of the Sun
Descendants of the Sun was a huge success worldwide and in Asia when it was released in 2016. In the imaginary nation of Uruk, Song Joong-ki played the captain of a Korean military battalion dispatched there. But once he arrived in Korea, he started dating Song Hye-character, kyo's a doctor. The two split up because they are forced apart by the circumstances, but she is later transferred to Uruk to work as a doctor months later. The two are then made to face their emotions under adverse circumstances.
Little Women
The suicide of a close coworker leaves Oh In-ju, a 30-year-old who struggles to support herself, her two sisters, and herself, with the equivalent of millions of dollars in Little Women. It will introduce Oh to a game performed by the wealthy that can only result in the murder of those involved if it is obtained through dubious ways. Every sibling will be lured into this realm, whether consciously or unintentionally, like her two sisters. In the drama, Song Joong-ki has a supporting role. He makes a cameo in episode two as a salesperson in a shoe store. Oh In-ju, the protagonist played by Kim Go-eun, learns something important from him and launches an inquiry that could endanger her life.
Reborn Rich
In 2022, Song released Reborn Rich as a sequel to Vincenzo. He was an employee of the Soonyang Group, and someone from the chaebol family murdered him and covered it up. When he awakens, he discovers that he has not only been reincarnated but also inhabits the former body of the grandson of the chaebol family. He makes the decision to exact retribution after having a clear memory of what occurred in the present. The programme rose to second place in South Korean cable history in terms of ratings.
Running Man
One of the most recognisable Korean television reality programmes is SBS Running Man, which has been on air for 12 years. A fixed cast was used despite some cast members leaving over the years, and those allowed onto the show must participate in games in order to win the episode. One of them was Song Joong-ki, who had previously been a member of the main cast but quit after 40 episodes to concentrate on his burgeoning acting career. One of the most well-known programmes from the early Hallyu era of Korean entertainment is Running Man.
Space Sweepers
In 2021, Netflix discreetly released Space Sweepers, starring a number of well-known actors, including Song Joong-ki, Kim Tae-ri from The Handmaiden, and Jin Seon-kyu. One of the first significant South Korean films to explore space is thought to be Space Sweepers. Song is Kim Tae-ho, who inhabits a time in which life on Earth is no longer possible. In 2092, a wealthy firm has created a habitat where wealthy elites can dwell in space, while individuals with lower socioeconomic classes are left behind on Earth. Kim Tae-ho is a part of the Space Sweepers, a team that works for the company that collects waste in space, but she soon learns that there is a terrorist gang with a dark plot in the works.
Sungkyunkwan Scandal
The programme Raemongraein Sungkyunkwan Scandal, which also starred Park Min-young and Yoo Ah-in, turned Song Joong-ki into a household name. In her film, Park Min-young plays a young woman who pretends to be her brother in order to look for work in an effort to provide for her family. She is caught taking an illegal test for the biggest university in the country but still manages to enrol there. She faces greater difficulties keeping her identity a secret and herself herself drawn to the man who brought her there.
The Battleship Island
2017's R&K Filmmaker The events of World War II served as the inspiration for the novel The Battleship Island. Before the war, a united Korea was ruled by the Japanese empire, who subjected the people to oppressive regulations that destroyed their culture, language, and customs. Hashima Island, where a forced labour camp is located, is the setting for The Battleship Island. Song plays a Korean independence activist who makes his way to the island in an effort to free his fellow countrymen. Over 400 Koreans believe it's time to escape the camp, even if it means risking their lives, because they are tired of the horrible conditions and treatment they get on the island.
The Innocent Man
Song Joong-ki plays Mu-ra, a poor medical student who falls in love with his neighbour, in the 2012 film The Innocent Man, which also stars Moon Chae-won and Park Si-yeon. She is a television reporter who decides she wants a comfortable life and marries a wealthy CEO, leaving Mu-ra behind. After being scarred by the incident, he determines to exact revenge on the woman who broke his heart all those years ago when he meets a wealthy woman. The Innocent Man, a tale of treachery and retribution, adheres to many of the cliches used in Korean dramas.
Vincenzo
Vincenzo on Netflix was a notable drama of 2021. Song Joong-ki plays the adult version of the eight-year-old Korean child who is adopted by an Italian family and given the name Vincenzo. He enlists there and qualifies as a lawyer to assist the mafia family's daily operations. The mafia boss adopts him, but after he passes away, the boss's genuine son takes his place. He flees to Seoul in order to save himself, but after leaving his gold in the building's basement, he finds himself in a precarious scenario where he must assist in saving the building from being destroyed.
Being a binge-watcher himself, finding Content to write about comes naturally to Divesh. From Anime to Trending Netflix Series and Celebrity News, he covers every detail and always find the right sources for his research.