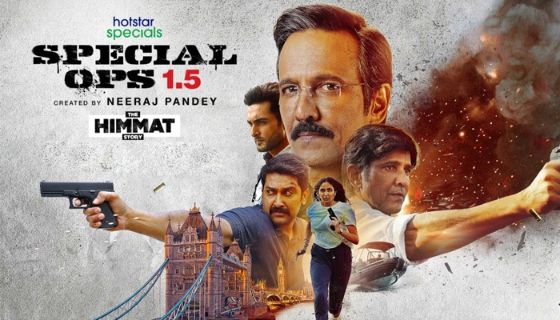 Special Ops 1.5 Returns: Hard-hitting And Intense Thriller
Special Ops 1.5 Web Series
From November 12th, 2021, Special Ops 1.5 Returns is an Indian web series that will be available on DisneyPlus Hotstar. It also serves as a prologue to the smash hit Special Ops (2020). The powerful crime-action-thriller directed by Neeraj Pandey and Shivam Nair follows. Shital Bhatia is the show's producer, and Neeraj Pandey, Deepak Kingrani, and Benazir Ali Fida are the writers. Kay Kay Menon, Aftab Shivdasani, Gautami Kapoor, KP Mukherjee, Vinay Pathak, Parmeet Sethi, Aishwarya Sushmita, Maria Ryaboshapka, Shiv Jyoti, Vijay, and Santanu Ghatak are among the ensemble cast members. Last but not least, it is available in both Hindi and English.
Special Ops 1.5 Cast
Kay Kay Menon
Gautami Kapoor
Aftab Shivdasani
Karan Tacker
Aadil Khan
Parmeet Sethi
Vinay Pathak
Special Ops 1.5 Story
Himmat Singh, the main character, is at the center of the plot (Kay Kay Menon). It depicts his development as a master spy. The story begins with his early years as a RAW agent. Furthermore, he navigates the dark and covert labyrinths of red tape and honey trapping laced with political clout. Finally, it demonstrates Himmat Singh's unwavering trust in his profession and his willingness to go to extremes to preserve his country.
Special Ops 1.5 Trailer
Special Ops 1.5 Review
The prequel is every bit as intense as Special Ops. The web series was shot in Malaysia, Mauritius, Ukraine, Delhi, and Mumbai, and features beautiful scenery. In addition, the story of India's greatest threat becoming India's greatest spy is well-written and presented. It also demonstrates how crooked politicians wreaks havoc on a country's entire system. As a result, the directors and writers deserve full credit. Then there's Kay Kay Menon as a young Himmat Singh, who is simply amazing. His outstanding acting abilities make him truly distinct and amazing. Aftab, on the other hand, makes a significant contribution. The supporting cast of the Disney Plus Hotstar Special Ops 1.5 web series did an excellent job of supporting the overall plot. Overall, it's the ideal thriller that we've all been waiting for. Enjoy the show!