Move Over SRK's Mannat, Suniel Shetty Has Equally Stunning House – He Lives Like A King
Sunil Shetty, among the most popular action heroes of his day, is also a proud family man. In fact, his gorgeous daughter Athiya Shetty recently made her first step towards stardom with her movie Hero. The man seems to be happy and content and has invited people for the first time to take a look at his stunning holiday home in Khandala, here are some of the amazing pictures of Sunil Shetty's house that will give you major goals in life!
1. Standing tall with wife Mana Shetty, against the entrance to their home that has a lovely green look.
2. Another view of the façade of the house, you can see the lush green lawns leading up to it and also interesting elements such as the sculpture of a lion in the garden.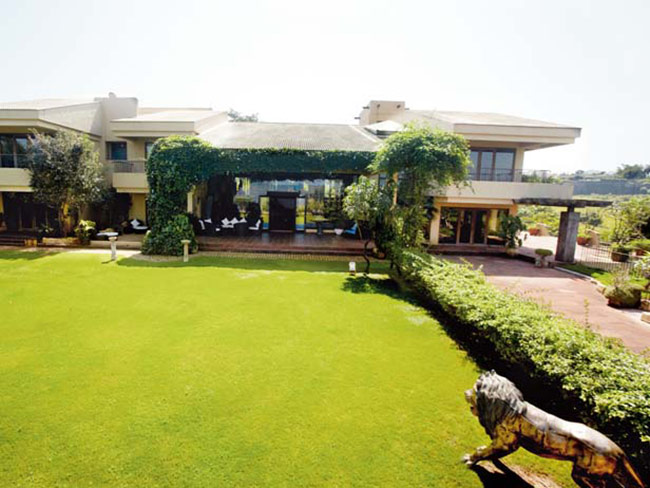 3. Seems the actor and his family like the less tame variety of pets! Here seen at the entrance leading up to the house are two interesting sculptures of more lions.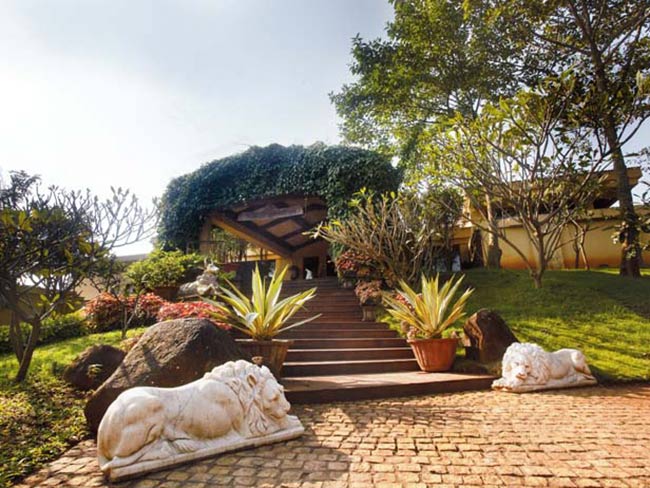 4. The lovely home has a resort like look and feel, replete with a small artificial lake and farm animals too as can be seen in the background of this photograph.
5. The home also has a vintage feel, complete with old garden accessories such as oriental artefacts and sculptures of Buddha skilfully showcased amidst moss-covered walls.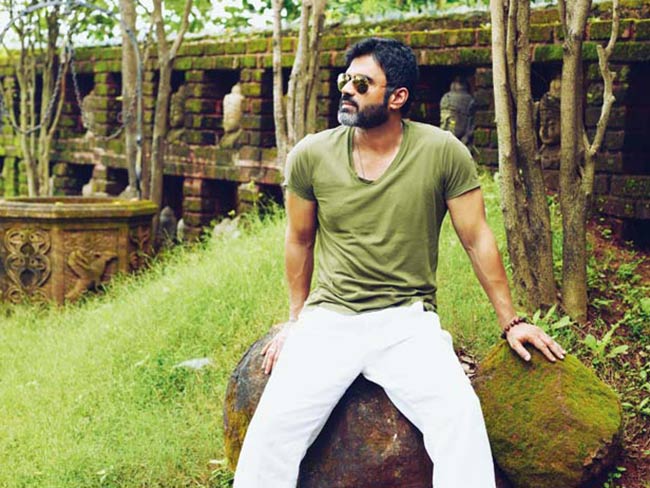 6. The house makes good use of its stunning location to also include quaint outdoor space to get together and entertain. This setting seems ideal for evening tea and even a late evening party!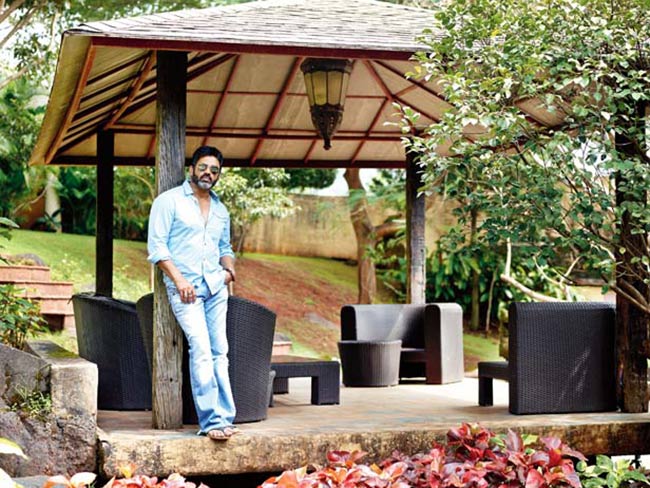 7. The sprawling home also has a little bridge built over quaint waterways and seems like the most romantic getaway home one could possibly ask for!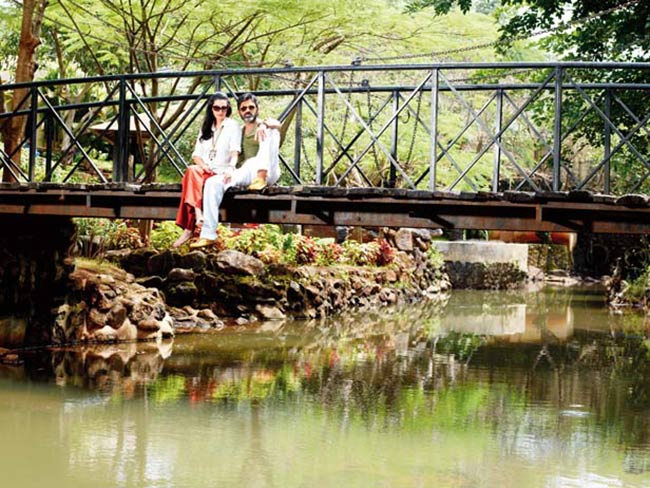 8. The entrance of the house makes good use of the plenty natural light that is available and is decorated in a vintage and quaint manner that houses everything the family loves.
9. Unique masks and artefacts from their years of travel adorn the walls…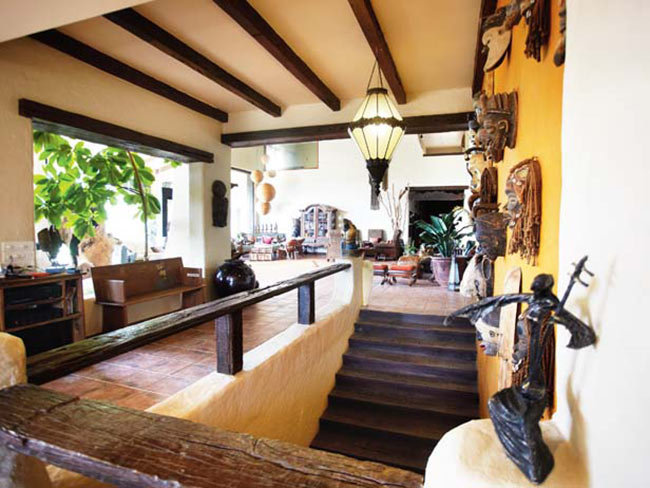 10. The charming route leading up to the backyard has wooden panels interspersed with a pebbled walkway, interesting sculptures and plenty of greenery.
11. Outside the house there are plenty of walkways and a large swimming pool that convinces the onlooker that it is has to be a resort!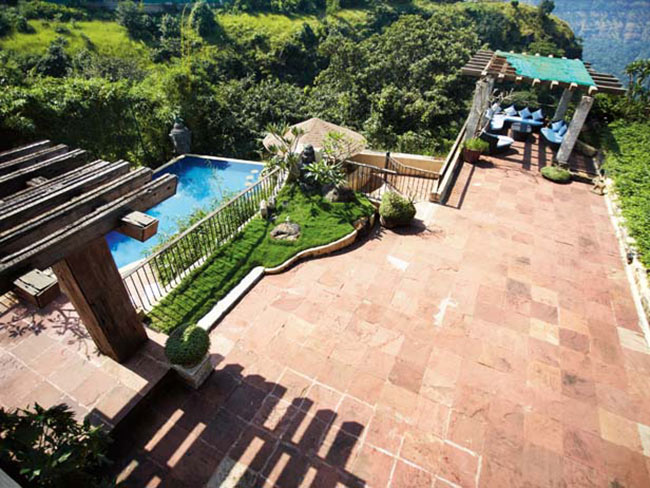 12. Seen here is Sunil Shetty along with his wife Mana Shetty with the gorgeous blue pool, more greenery and a large Buddha sculpture in the background. Also seen are the family's adoring dogs.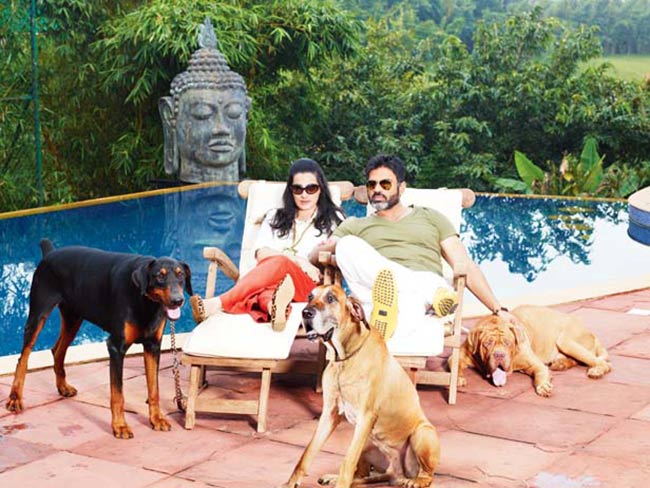 13. Seen facing the pool is the rising structure of the house that is built interestingly on multiple levels.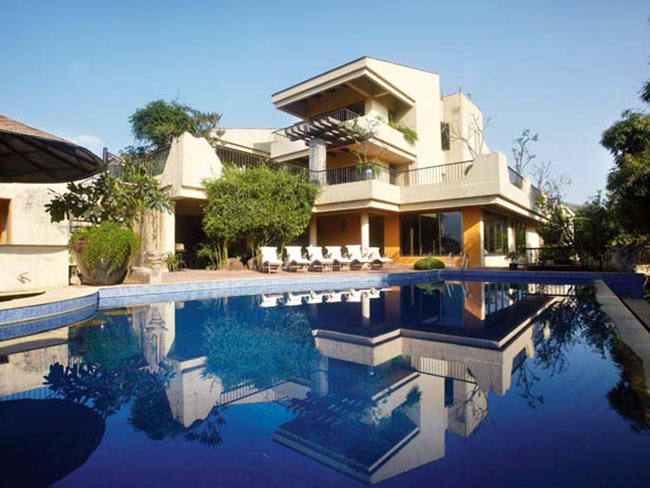 14. A parting shot of the talented actor among his many other faces!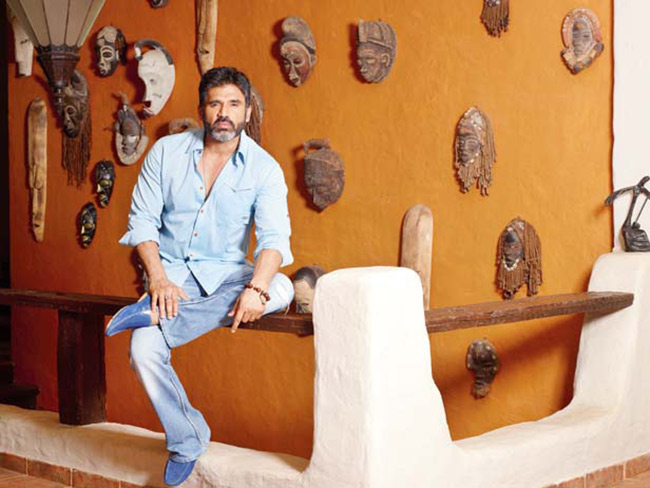 Overall, we think the family has done a fantastic job in creating a home that looks as unique as it looks stylish and luxurious. It can truly be called a dream home and we surely enjoyed this tour through his stunning home. Hope you did too!