The wait is officially over for all you Bachelor fans out there! We now know the identities of the men chosen by Gabby and Rachel according to The Bachelorette spoilers for this season.
There were two bachelorettes in the most recent season of The Bachelorette, which means there was twice as much drama, turmoil, and excitement. Continue reading to find out if the conclusion will feature any proposals or not.
Gabby and Rachel are 'The Bachelorettes' in season 19
The ICU nurse from O'Fallon, Illinois, Gabby Windey, 31, and the flying instructor from Clermont, Florida, Rachel Recchia, 26, are the contestants on this season of The Bachelorette.
On the past, Gabby and Rachel appeared with Clayton Echard in season 26 of The Bachelor. Clayton dismissed both Gabby and Rachel in the final three at the season 26 grand finale of The Bachelor and chose Virginia Beach, Virginia, wedding videographer Susie Evans, who is 26 years old.
Soon later, at The Bachelor season 26 "After the Final Rose" special in March 2022, Rachel and Gabby were revealed as the season 19 Bachelorettes. The 19th season of The Bachelorette is the first in the series' history to include two main characters.
The first two bachelorettes of Season 11 of The Bachelorette were Kaitlyn Bristowe and Britt Nilsson, but very quickly the other competitors decided to make Kaitlyn Bristowe the only bachelorette.
Are Rachel and Tino the final deal?
According to Reality Steve, a website most known for providing Bachelor spoilers, in the series' finale, Tino does propose to Rachel in Mexico, and the two of them say goodbye to the ABC drama as an engaged pair.
The most recent programme spoilers indicate that Tino and Rachel are no longer engaged. Four months have passed since The Bachelorette season 19's final day of filming, and a lot has happened since then.
Reality Steve reported in a post that Tino and Rachel had chosen to call off their engagement. According to the post, the pair decided to call it quits during one of their post-season visits.
The engaged pair gets to spend time together in a home chosen by the producers over these weekends. The key objective is for the couple to have quality time together without revealing any spoilers about the finale to the public.
There's no chance this works out, Tino says in a teaser clip from part 2 of the finale episode. Just get me out of here, please. I need to leave. Additionally, Rachel is heard saying, "You're lying straight to my face," in another scene from the show. I need an explanation of your actions.
Is Aven ready to propose to Rachel?
In an exclusive preview of The Bachelorette's episode on Tuesday, we saw Aven meeting Rachel's best friends Nate and Sam, who merely wanted to know whether he was prepared to propose or not.
AvenR 17;s response to the query presented by Rachel's friends wasn't a straightforward yes or no. He admitted to falling in love with her to her best friends Nate and Sam. His response sort of takes the engagement off the table.
Nate, Rachel's best friend, quickly remarked, "Ultimately, it is a red flag. She doesn't intend to bring a man home. Even refusing to be engaged at the end of this process, in my opinion, will be a deal-breaker. Rachel is then told the awful news by Nate and Sam, and her response to the news later became a meme.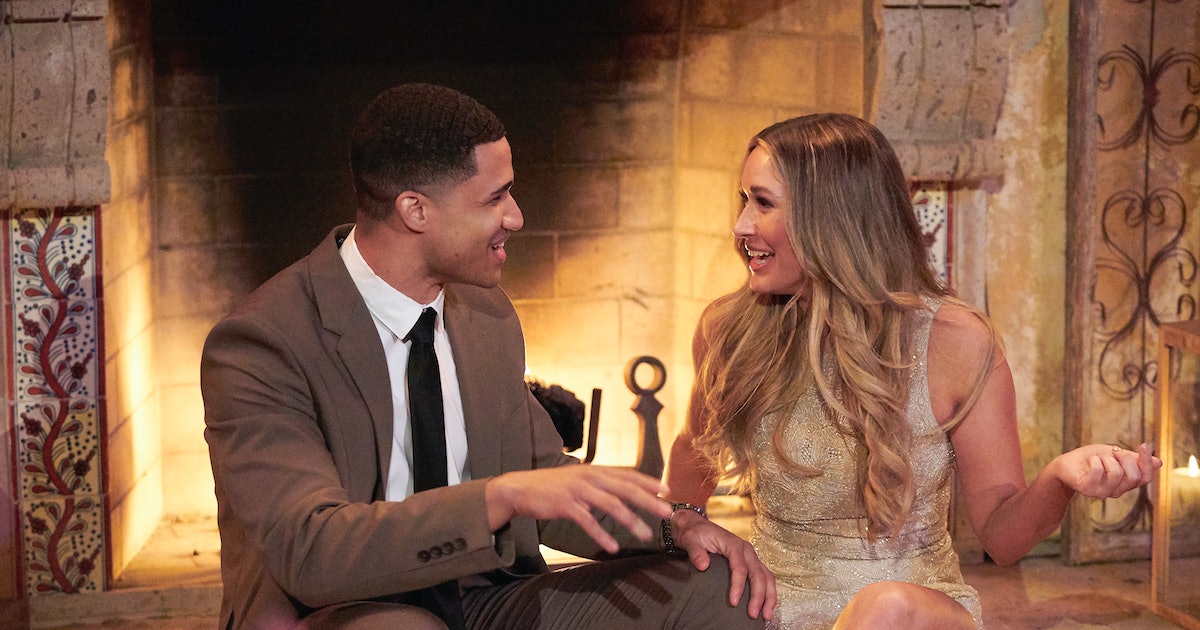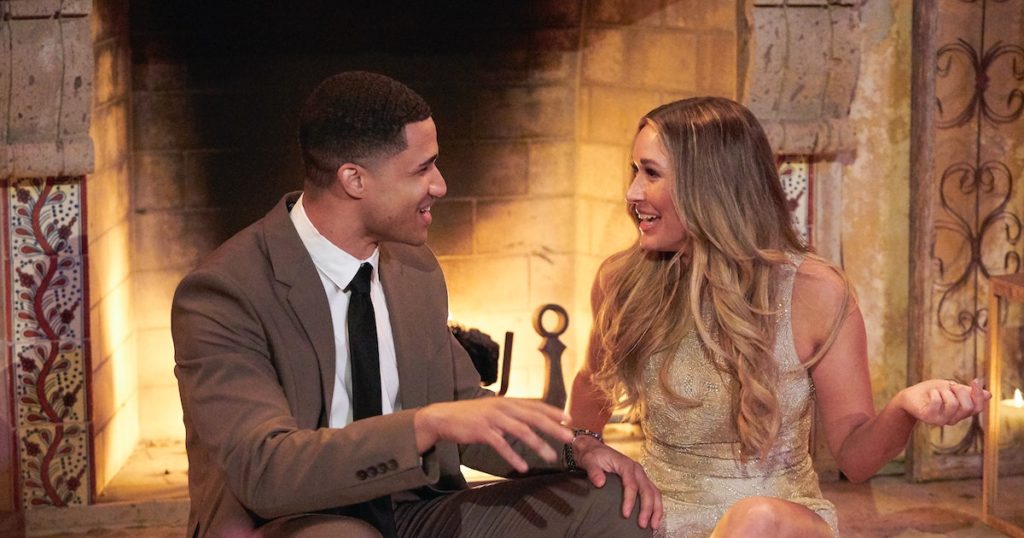 When Rachel heard what Aven had to say about being engaged, she was a little taken aback. She said, "This is, like, shocking." Rachel still has Tino to pick from despite this.
It's not about not being ready, Aven informs Rachel in the first portion of the closing episode. And I want you to know that my feelings for you haven't altered at all. I'm beginning to love you. And after this, I imagine a life with you. I merely desire to be with you.
Following their dispute, Rachel comes to the decision that she cannot move on with Aven since she was "blindsided." She then tells the cameras that she is confused and that everyone is lying.
Is Erich getting cold feet?
Then, Gabby went in search of Erich Schwer, with whom she had a wonderful date at the Fantasy Suite. She informed him that he was the only contestant still alive before the pair revealed their love for one another. Who wins Gabby's affection and the season of the show is fairly obvious. However, we must warn you that Gabby might not end up getting married.
Erich was seen saying to Gabby, "I simply like — I want to date you," in the trailer for the finale. It's not how things generally go to be engaged before that. It appears that Gabby and Erich will conclude the season together but not engaged.
The episode then cut to Gabby crying. She continues, "I don't want to force him into his decision," she tells the show's producers. This is very absurd. Erich should propose to me because I want to be with him forever. What should I do next? she then queries the producers. Is he not ready to propose, therefore walk away?"
Reality A little information regarding Gabby and Erich has been released by Steve (made by Steve Carbone, who has long revealed spoilers for all Bachelor Nation shows). "As for Gabby and Erich, they are still together," he recently wrote. There is nothing brand-new to report. It's not like anyone else comes back for her no matter what happens in Mexico. The only man left is him. They resolve it and remain friends today.
The man said, "Now, I did hear a chance that they might not have been engaged in Mexico and that they may have simply stopped dating, but I was never able to confirm that. The essential thing I checked twice was whether they were still together, and I was assured that they were.
Rachel started off the episode with three men
In contrast, when it comes to Rachel, we saw in part 1 of the season 19 grand finale of The Bachelorette that she still has three men to select from. Gabby has down the list of possible husbands to only one, and that man is Erich.
The three guys Rachel must choose from to be her future husband are Zach, Aven, and Tino. After their Fantasy Suit date, Zach left. To be honest, I thought what I was witnessing wasn't the real Rachel, he admitted as he discussed the weird vibe of Fantasy Suit. The Rachel I had grown to know and love seemed to be the 'Bachelorette' Rachel to me.
Later on, Jesse Palmer, the show's host, asked Zach to take a seat next to Rachel in the studio during a recent episode of The Bachelorette. Rachel and Zach both expressed their regrets to the other. These two had their satisfying moment.
Tino made a good impression on Rachel's family
After the whole incident with Aven, Rachel introduces her family to Tino in the most recent episode of The Bachelorette, and things seem to go relatively smoothly. Then, she runs into Aven once again, who tells her that he still has strong love for her and that he might not be prepared for a marriage proposal.
I don't know where I'm going from here since I didn't believe I'd be leaving here without Rachel, a broken-hearted Aven stated. In her, I perceived a life. And I'll always believe that, had I done something else, our relationship would have been irreparably altered.
Then the scene cuts back to the studio, where Aven and Rachel are standing face to face in the present. Since Mexico, they hadn't spoken to one another until then. The relationship between the two of them is now cordial.
Returning to Tino, he left a favourable impression on Rachel's family. "Your daughter does mean the world to me," Tino tells Rachel's father in the most sincere manner he can muster. Your daughter will always be delighted thanks to me.
Tino received approval from Rachel's infamously difficult father, who caught viewers' attention on Clayton's season of The Bachelor. I like you, he tells Tino. Tino has completely enchanted Rachel's family. However, the impending trailer for the series finale revealed that Tino and Rachel's idyllic world is in serious trouble.
What did Rachel and Gabby have to say about their experience on 'The Bachelorette'?
In a July 2022 interview with People magazine, Gabby and Rachel opened up on their time together on The Bachelorette. "It was a major learning process for everyone because it was such uncharted ground at the time," remarked Gabby at the time.
But the experience Rachel and I had as Bachelorettes was so unique and memorable, Gabby added to the media outlet. We wouldn't have had it any other way, in my opinion. At this time, I believe people are aware that each of us has a unique love story. Of course, having each other as a support system and source of strength as we went through was wonderful.
In addition, Rachel said, "It's just incredibly great. We get to travel our own paths and tell our own tales while being connected to one another. She continued by saying that since she and Gabby had their communication skills down pat, there wouldn't be any conflict between them on the show.
"Gabby and I simply went into it talking to each other and understanding that throughout everything, we just had to have communication," Rachel went on to say. And throughout the entire process, that really just worked for us.
"I feel like we both had the attitude to put each other first going in, knowing a little bit about it from Clayton's season and whatnot," Gabby continued. The most crucial aspect of our connection is that we know one other the best. Additionally, we wouldn't fight for a man who is worth it or jeopardise our relationship for him.
It's normal to occasionally find yourself drawn to the same guys, she said. Although we are only human, there would never be anything that Rachel and I couldn't work through together, especially since we always put our relationship first.
Rachel was seeking a fiancé, not a boyfriend, just like Gabby was. Love can occasionally be difficult. It takes a lot of work and time, and it's not easy. The second half of The Bachelorette's season finale will undoubtedly be dramatic. On Tuesday, September 20, the second half of the finale episode will air.
Are you anticipating The Bachelorette's big finale's second instalment? Please share your opinions with us in the space below. Keep checking back with us for the most recent information from the entertainment industry.
Who is the man picked by Gabby in the show 'The Bachelorette'?
When we talk about Gabby, it sounds like Fantasy Suites has left her with just one man. By the conclusion of season 19, there is a strong likelihood that she will get engaged. She might, nonetheless, end the season without a ring.
On The Bachelorette 2022, Gabby faced some difficult choices about the candidates at the Fantasy Suites. In the first half of the finale, we saw that Johnny realised he wasn't ready to propose, and Gabby sent him back home after that.
When discussing Gabby and Jason Alabaster's date, he also said that he wasn't prepared for an engagement and went on to explain that he wasn't sure if he could ask her to marry him in the coming weeks. After some discussion in the Fantasy Suites, they decided to break up after their overnight date.
Being a binge-watcher himself, finding Content to write about comes naturally to Divesh. From Anime to Trending Netflix Series and Celebrity News, he covers every detail and always find the right sources for his research.