The wealthy women behaved terribly this week on our favourite show, Rich Women Behaving Badly. By how much? How much time do you have, honey child? Because there was so much badness, it wasn't enough. Very lot.
This episode was a little strange because there was no "previously on…" or "next on…"; everything was just woven into the story naturally. Like Erika Jayne who was admiring a radioactive cotton candy-colored puffer jacket of which there are only 20 in existence, I didn't even realise that I wanted one until I saw it. The women are recapping how Erika freaked out at them about earrings the night before in the previous song.
She must have been so furious that she went to Kyle's house, packed up all of her "I'm a Luxury" sweaters, and made a beeline for Liplickia, the hotel room that Diana Jenkins rules over and has transformed into a sovereign nation that will accept anyone who can't handle their original sleeping arrangements. We gain some knowledge in the morning. That Kyle attempted to explain to Erika the previous evening, and that Diana would repeat to her later that day, and that Lisa Rinna tells Erika in the car that she could not have done anything wrong and yet displayed compassion for the victims. Erika obviously needs to hear what the cast has to say, but she just isn't listening.
She explains to Dorit that she is becoming upset and defensive because the things she is being accused of are so disgusting. She claims that she already expressed sympathy nine months ago (was it at the last reunion? ), so she doesn't have to do it now. You really can't express your grief often or profoundly enough in a situation like this, where there are many victims who were defrauded of their money by their lawyer in addition to being victims of plane crashes and other misdeeds.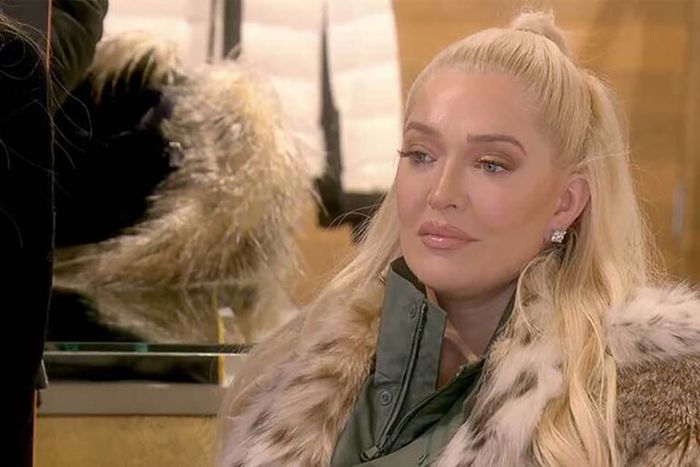 Dorit, who has managed to transform from being the person who spent $180,000 on Hermes plates to now being the voice of reason, has a nice comment about all of this. Erika should just show some pity, wouldn't that make things much simpler for the group? Yes. However, Erika has her own motives. She will be subjected to close examination, dissection, and rebuke for whatever she says. This, in my opinion, applies to both the show's viewers as well as the buddy group. It would be so much simpler if Erika could simply express her regret and make it seem as like she meant it, but she has made the decision not to. As a result, we are left with this charred husk of a show that is trudging through the desert as though it got lost on the way home from Burning Man.
Erika doesn't want to be around individuals who she believes treated her unfairly the previous night, so Dorit and Diana decide against hanging out with the other women. I believe that Garcelle and Crystal were merely inquiring about her and describing how they imagined they would respond in this circumstance. That seems fair to me. Erika was the one abusing people because of her fury and hatred. She is correct that she must protect herself because no one else will, but it doesn't mean she must snarl and insult others in the process.
Kyle wants to frighten the entire world with her felt monstrosities, which she carts in from Aspen like she's some sort of chapeau drug lord, so she's upset that Dorit and Erika aren't with her at her hat event. This fight is centred around the programme, just like the majority of late-stage Housewifery clashes. Kyle believes Erika should have arrived, declared she didn't want to discuss her issues with Kyle there, and then continued. Why is Erika the exception when Kyle has had to do that so frequently and so have all the women?
I understand Dorit's idea that sometimes people need their own space, but it could have been simpler for everyone if Kyle had been able to enjoy the company of the five women she is with as Erika consoles her smaller group. The fact that they ignored her all day bothers me. Why didn't they just say, "Hey, Erika and I are going to relax out and have some fun without us"? Another option would have been for Dorit to say, "I'll be with Erika, but I'll meet you at the Mad Hattery at four," That is not difficult.
Thanks to Mauricio, who entered and reminded his wife and his mistress that they had to get along, the altercation between Dorit and Kyle ended almost as soon as it began. That is, of course, if you believe the online rumours. That is not at all what we think. Nope. Never. We at the Housewives Institute are well known for detesting all forms of rumours. Added sarcasm Sarcasm is a big opponent around here.
Erika arrives late to the final party in Aspen, so Kyle approaches her to introduce himself. Again, Kyle urges Erika to show more compassion and asserts that no lawyer would advise her otherwise.
In her stream of consciousness, Erika compares it to listening to a podcast sped up by 1.5 times. You group me into responsibility when you say that, she claims. "All of those people are not my responsibility. I feel horrible for those folks, and those who have been rightfully harmed ought to be cared for, but it will take some time for that to happen. In addition, I currently have a lot on my plate and everything else is coming at me. Am I currently the cosiest person around? No … I stumble as I'm attempting to get through it. All of us wanted Erika to say this last season. We wanted her to express sympathy for those folks, assure them of her caring, and acknowledge that her stress is causing her to make mistakes. We finally got it, but I fear it's too late.
When the topic turns to the broader group, Crystal Kung Minkoff returns to her desk and informs Erika that she does not like the way she spoke to her the previous evening. Even if you disagree with Crystal's stance regarding the return of the earrings, you have to admit that Erika might have been more understanding with her when they were talking. I also understand why Crystal, Sutton, and Garcelle are upset with the group as a whole. They used words like "violated" and "dark" as if they were the brand-new Lucy Lucy Apple Juice, which Crystal had to put up with for weeks. When the Get Along Gang yells and screams at each other, however, it ends before Kathy Hilton can attempt to perform shoddy dental work. The core group keeps telling these three that if they want to stay in the group, they must be prepared to eat mouldy Fluffernutter sandwiches with the veterans and drink vodka with club soda in a short glass with three lemons, carcasses out.
Now that the Erika drama is over, we can whet our appetites for what Kathy Hilton, Mistress of the Night, has in store for us the following week. Last week's episode gave us a glimpse of it when Kathy tried to sell her tequila in front of the group while everyone else completely disregarded her. Following that, a lot of fans vented their rage towards the other women. We had to endure two (2) launch parties for Rinna Beauty with no guests. While Jamie Lee Curtis demonstrated the sexiest windchimes, we were forced to remain seated at the table. More Beverly Beach parties have been attended by us than most Orthodox churches would permit. These women shouldn't be able to look at Kathy and nod while she promotes her one tequila brand.
I concurred before seeing this episode. Here, a montage shows Rinna in a private conversation, the Homeless Not Toothless Still Homeless party, and Kathy mentioning her tequila at Diana's Christmas party. Rinna even claims that Kathy put it behind the bar at Kyle's favourite restaurant, Kemo Sabe, where it brings her hats straight from the womb where it starts fires. For the record, Kemo Sabe is unquestionably not racist since, in 2004, a Canadian court determined as much. Case is now finished!
Lisa Rinna approaches the bar and requests a shot of 818 tequila to sample it because it is her "friend" Kendall Jenner's brand of tequila. I understand; I would also be furious. I mean, don't even mention to me that you're reading the recaps at Reality Blurb!, Bravo's preferred source for in-show quotes, or else I'll visit your house and shut all of the open browser tabs without even saving one of them — so there!
However, the real focus of each of these arguments is the programme. The fact that Kathy Hilton (supposedly) refused to film because she wanted more money is probably what the women are furious about. Then, about midway through the season, she reappears with a huge bag in hand and begins pitching tequila like Lisa Rinna was on QVC and had a house payment due. People are upset that she is the fan favourite but doesn't have to reveal any of the dirty laundry she has stashed away because they just want to laugh at her asking, "Who's Hunky Dory?" — a question that, in my opinion, has never received a satisfying response.
Was Rinna trying to put Kathy in her place by doing this? Oh, yeah! She may have done this to get a cheap shot at Kathy if she is as cold and calculated as we all believe she is. It undoubtedly succeeded. Kathy storms out because she isn't receiving the response she expected since she is upset that Kyle didn't do more to protect her from Lisa. You have to give Rinna credit; she does a wonderful job. Even that evening, Lisa orders a Don Julio when they head to the bar. Seriously? You can't even give Kathy the tiniest of bones. Not even a pinky big enough for a mouse? Really, Rinna? (Also, a round of applause because I love pettiness more than anything else in life.)
All of this is building up to the big Aspen revelation that will take place the following week, when Kathy goes on a rant and Lisa informs us that she is not who she claims to be. A stellar role by Rinna in Oof, You're So Angry 2: The Quickening is coming; be ready. I just want a week when we can speak about Kathy screaming at the blood moon instead of Erika for a change.
Being a binge-watcher himself, finding Content to write about comes naturally to Divesh. From Anime to Trending Netflix Series and Celebrity News, he covers every detail and always find the right sources for his research.