The Righteous Gemstones, a Danny McBride production, is sarcastic but doesn't necessarily take aim at religion. Instead, it makes fun of the mutant monster that human avarice has made of it. The Righteous Gemstones' titular family epitomises the worst aspects of commerce and religion, however as they are the main characters, they do have some redeeming traits.
The Montgomery siblings leave the Gemstone complex in season 3 episode 6, "For Out of the Heart Comes Evil Thoughts." BJ (Tim Baltz) confronts Stephen (Stephen Schneider), the man with whom his wife had an extramarital affair without having sex, after being prodded by Jesse (McBride) and his pals. Jesse is getting ready to reveal his grand ideas to his father in the meanwhile. Here is all the information you would need on the conclusion of episode 6 of season 3 of "The Righteous Gemstones." Spoilers follow.
The Righteous Gemstones Season 3 Episode 6 Recap
In the opening moments of the episode, Judy (Edi Patterson) makes a charming but psychotic attempt to beg BJ's forgiveness. Judy has never ever apologised to him before, so this is obviously unknown territory for her. Understandably, BJ refuses to let his rage go and proceeds to rollerblade while almost being hit by a car.
Later, as Jesse and his pals pass by, he starts crying while he is talking to the guests. Despite how BJ is being made fun of by the others, Jesse resolves to support his brother-in-law. He takes BJ to a closet where they teach him how to strike people. Even more, Jesse provides brass knuckles for the other man to use against Stephen.
Stephen's wife is threatening to reveal the affair to the Gemstone Church congregation and is want $500,000 to remain quiet. The church chooses to compensate the woman after some consideration. For the majority of his life, Eli (John Goodman) has been employed for the church. He is currently struggling to find activities that thrill him because he is semi-retired. He started fishing, but he's starting to realise he doesn't really enjoy it. He seems to have learned to appreciate the fact that it is a few hours of great silence and peace away from his children's errors. While he is out fishing in this episode, Judy tells her father about her "quasi-affair," which causes him to become irritated as one might expect.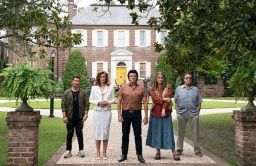 Chuck and Karl Montgomery, the brothers, let their mother know they were leaving by making the announcement. They have a far better rapport with the Gemstones now, and the latter group is actually sad to lose them. Even his prized monster truck is given to Jesse's cousins, but he soon regrets the action. Karl and Chuck arrive at the most recent camp their father has established without detour. As they arrive, Peter (Steve Zahn) questions them and wants to know how they acquired the truck. When Chuck and Karl claim to have stolen it, they are greeted as heroes.
Most of the time, Jesse and Amber (Cassidy Freeman) agree. But during a fight with his wife in this episode, Jesse's self-centered and petulant behaviour turns nasty. He claims that instead of looking out for herself, she should stick by his side and assist him in leading the church through these difficult times. Amber makes a defence, but it lacks impact due to her state of shock. Keefe grows envious of Kelvin and his new second-in-command as their relationship deepens.
The Righteous Gemstones Season 3 Episode 6 Ending: Is Stephen Dead?
One of the recurring figures that was introduced this season is Stephen. He is a musician who accompanied Judy on a tour, where they started dating. They never truly engaged in sexual activity, but they did kiss and dry-hump occasionally. When they got back home, Judy started to feel bad and broke up with Stephen, but BJ eventually learned about the liaison.
The violence that occurs towards the end of this episode shocks the audience like a goods train. The plot seems to be building to a showdown between BJ and Stephen, but it's probably safe to say that none of us had imagined it would play out in this manner.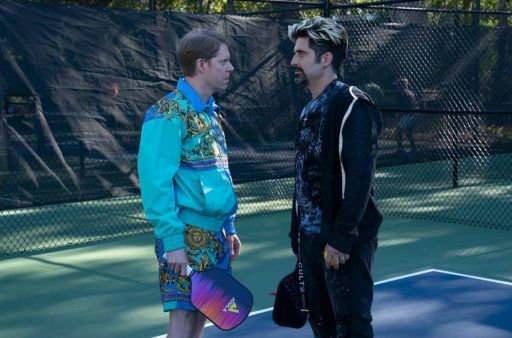 Despite his natural timidity, BJ fumes with rage and shame the entire episode. After receiving impromptu instruction from Jesse, he learns that Stephen has been sending messages to Judy, begging her to see him one last time, even after the settlement between her and his wife. BJ makes the decision to arrive armed with the brass knuckles Jesse gave him.
We initially question if Stephen is dead because BJ doesn't discover him inside the home. However, BJ ultimately finds the other man, who is enjoying himself while lying naked in a bedroom. BJ spits on Stephen and punches him. That causes Stephen to become alert, and he then pummelled BJ to death. BJ succeeds in reversing the situation, nevertheless, in the end. He tells Judy he hopes she likes the new version of him when he gets home. It's quite doubtful that Stephen is dead, despite the fact that he did endure a violent thrashing towards the conclusion.
Why is Eli against Using Aimee-Leigh's Hologram?
The idea of making money off of the image of a deceased person reeks of desperation and moral bankruptcy. Given that Jesse and Baby Billy, the two individuals responsible for this plot, are supposedly the brother and son of the deceased, it is extremely heinous.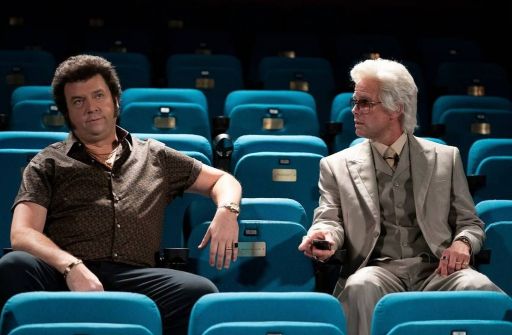 Fortunately, someone from the Gemstone family has a limit to their avarice. Eli Gemstone might be a fervent businessman. But he seems to draw the line at using his deceased wife in this manner; Judy and Kelvin, on the other hand, don't agree with the concept, probably since Jesse came up with it.