The Righteous Gemstones is an HBO black comedy series created by Danny McBride that follows the titular family of televangelists and megachurch pastors, for whom greed and the amassing of fortune come before faith. The Gemstone siblings are kidnapped in season 3 episode 7, "Burn for Burn, Wound for Wound, Stripe for Stripe," which causes fear at the Gemstone facility. Soon after discovering the perpetrators, Jesse (McBride), Kelvin (Adam DeVine), and Judy (Edi Patterson) start to fear that they might not survive this situation. Here is all the information you might need on the conclusion of "The Righteous Gemstones" season 3 episode 7. Spoilers follow.
The Righteous Gemstones Season 3 Episode 7 Recap
The three Gemstone siblings are taken hostage at the start of the episode. Judy, who is inconsolable, purchases drugs for BJ (Tim Baltz). She is accosted by some individuals in a monster truck while she is returning. They seize her and then wreck her automobile. To make amends and let Keefe (Tony Cavalero) know he is sorry for not standing up for him, Kelvin travels to the carpentry shop where the other man now works. He finds himself suddenly encircled by a gang of men, and his assertion that he is familiar with martial arts does not deter them.
Jesse runs across his cousin Chuck (Lukas Haas) in the Gemstone Salvation Center's parking lot, and he immediately develops misgivings about the other man's conduct. Chuck had brought along a number of other militia members, which is why the man pulls out the gun he keeps in the car. He is then brought to the base camp used by Peter (Steve Zahn) and the Brothers of Tomorrow's Fires organisation. He finds his siblings there and learns about Peter's intention to kidnap them.
Each sibling's significant other starts to worry in the meantime. The lengthy disappearance of Jesse and Judy worries Amber (Cassidy Freeman) and BJ, but Keefe discovers Kelvin's Jeep and realises something is wrong. Eli (John Goodman) soon receives a CD from Peter and finds out about his children's current situation. The other man remarks that Eli destroyed his life before inquiring as to whether Eli thought he wouldn't make him pay when Eli contacts Peter and demands to know why he has descended so low. Each of the Gemstone siblings must pay Peter five million dollars.
Eli naturally grows suspicious of May-May and calls the police, who then limit her movement inside the compound. Meanwhile, the Gemstone siblings' way of existence quickly deteriorates. Peter requests that they perform a service at the camp despite the fact that he knows his prisoners are unable to do so. Eli raised three entrepreneurs whose belief in the performative essence of capitalism. They may have faith in God, but they have no problem taking advantage of the faith of others. In the eyes of their captors, the siblings end up being a laughingstock. They are unable to entertain or inspire the tiny group of people assembled in front of them because they lack the sparkle and glamour of the Gemstone megachurch.
The Righteous Gemstones Season 3 Episode 7: Do the Gemstone Siblings Get Rescued?
Yes, by the end of the episode, the Gemstone siblings are saved. May-May advises her brother not to give in to Peter's demands for the ransom, arguing that he is incapable of killing anyone. The others then remind her that Peter was incarcerated for killing a person while robbing a bank in response to this. The fact that a man died doesn't change the fact that the circumstances were complicated.
In the end, Eli pays attention to his sister and declines to pay. He and May-May haven't considered the fact that Peter is the leader of a paramilitary group. They might be right about him, and he still has some good in him, but not all of the Brothers of Tomorrow's Fires members must share that trait. They have no ties to the Gemstones and have no qualms about annihilating them.
Eli refuses to pay, so Peter's supporters advise killing one of the Gemstone siblings to make a point. Peter is aware that this is also a leadership test for him. He is the one who organised the kidnapping and made the demand for Eli's money. Eli having stated that he would not pay the ransom, Peter must now carry out the unstated threat and kill one of the gemstones. If he doesn't, his followers will doubt his ability to lead. He informs Jesse, Kelvin, and Judy that one of them will pass away shortly.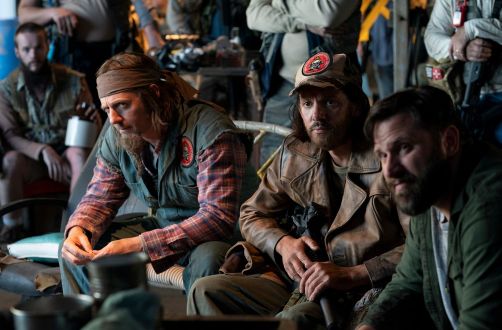 Luckily, May-May arrives in time and saves them with Karl's assistance. When they run into Peter and Chuck, neither of them wants to shoot May-May. The monstrous truck Gideon's father earlier donated to the Montgomery siblings is discovered by Gideon, who has been covertly following May-May, and he uses it to wreck havoc on the camp and demolish it entirely.
Why Doesn't Peter Shoot May-May?
Peter was a small, devout man before he was put away for robbery and murder. He was not wealthy, but he was always a great preacher. He made an investment in Eli's Y2K survival buckets in an effort to improve his financial status. Peter faced financial disaster when the end of the world they all feared never materialised. A desperate Peter tried to rob a bank, killed the security guard, and wound up in jail after May-May declined her brother's assistance. His time inside bars altered him, turning him into a paranoid, irate, and vicious person.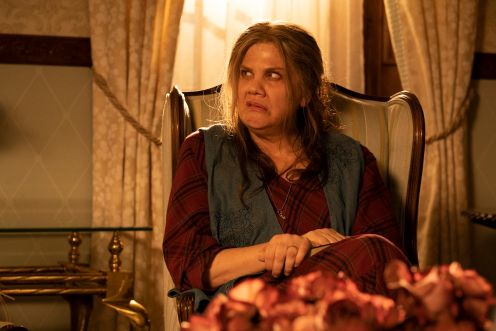 He is unable to shoot his estranged wife in this episode, though, as she flees with his prisoners. Panicking, she hands the revolver to Chuck, who is also unable to shoot May-May. Although the man's fate is probably tragic, Peter still retains some of the goodness of his old life.