Two of J.R.R. Tolkien's most recognisable elves, J. The Amazon Prime Video series The Rings of Power features a return of The Lord of the Rings by J. R. R. Tolkien. In this television series based on Tolkien's original book, Galadriel (Morfydd Clark), the Lady of the Lothlórien woods, and Lord Elrond of Rivendell (Robert Aramayo) are all returning. These two characters have a long history together despite barely interacting in the first three movies. We got a terrific first impression of how these people felt about one another in their earlier years from the first two episodes that we've seen. The appendices to Tolkien's books give a great deal of background on these two characters and the specifics of how they are related to one another. Tolkien worked incredibly hard to create the world of Middle-earth.
The viewer gets their finest glimpse yet of Valinor, the elves' home country, in the first 10 minutes of The Rings of Power. It wasn't until the terrible sorcerer Morgoth felled the trees that gave light to their lands and plunged Valinor into darkness that Galadriel was able to grow up in peace on this beautiful and magical side of the earth. Galadriel ended up in Middle-earth, the continent east of Valinor across The Sundering Seas, as a result of many elves chasing after Morgoth. One of the most significant and potent elves in Tolkien's mythology is Galadriel. Galadriel made a promise to finish what her brother started and find Sauron on his deathbed. She is the leader of the Northern Army and has earned the title of Warrior of the Wastelands by commanding her warriors for generations while they hunted Sauron in the frigid northern tundra during the time of the events in this episode.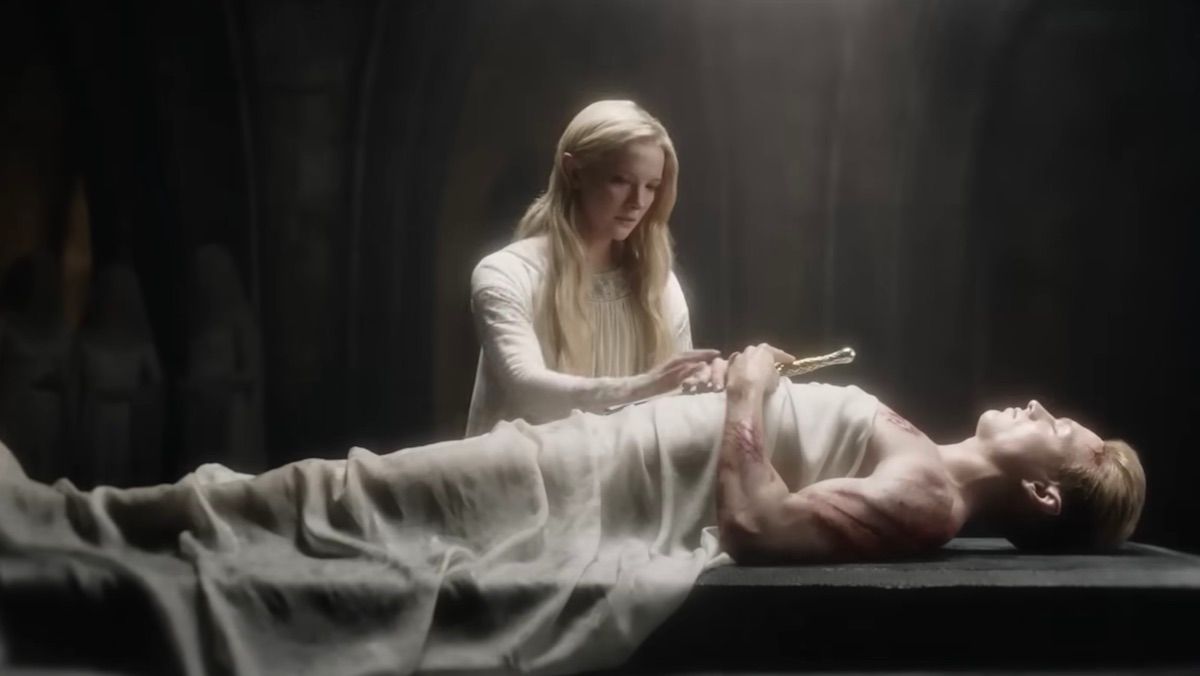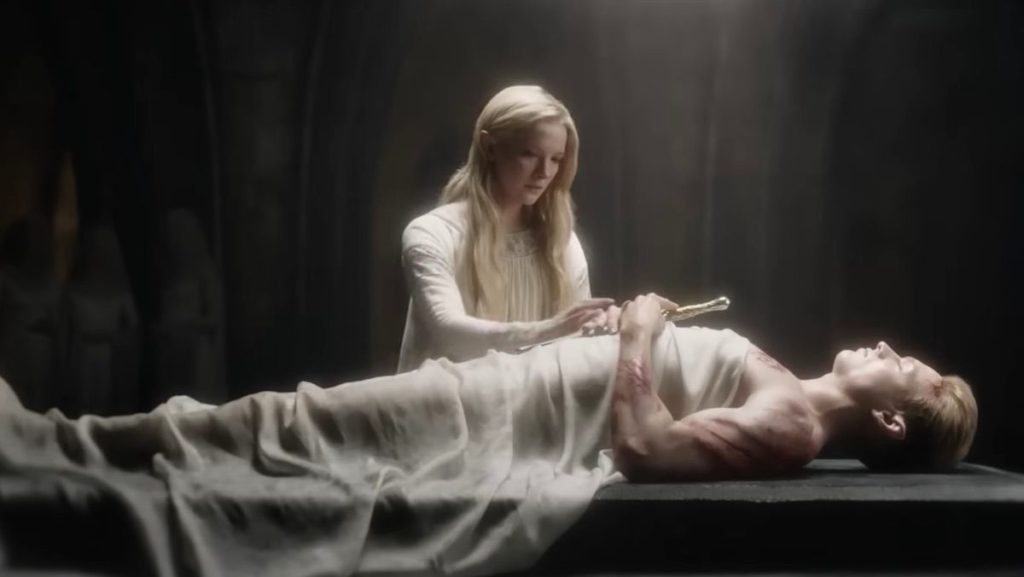 The first episode also depicts a younger Elrond, another strong and well-known elf, to the viewers. He was born and reared in Middle-earth, hence he has never been to Valinor. He is an elf who is much younger than Galadriel and has not personally experienced a major conflict since he was a young child. Elrond is far more diplomatic and upbeat than he is in the Lord of the Rings trilogy because he had led a mostly protected existence before the beginning of this saga. Elrond is eager to satisfy anyone who has a higher position in elven culture in order to improve his career, and we also discover that he is not yet an Elf-Lord. Because of his ambition, he performs his tasks above and beyond what is required by his superiors out of a great feeling of loyalty and honour.
Galadriel has become so driven by her desire to exact revenge on her brother and find Sauron that she is putting the lives of the warriors under her command in peril. She fears the High King will order her to end this campaign, so they won't continue with her until they return home and discuss him. Elrond tells Galadriel that King Gil-galad will honour her valour by giving her the chance to visit Valinor as she makes her way back to Lindon, the High Elven capital. Elrond is aware that she wants nothing more than to avoid doing this. Being transported back to Valinor would mean that Galadriel would never be able to finish her brother's quest to find and kill Sauron, in Galadriel's opinion. But Elrond thinks that forcing her to make this decision is best for her.
Even though they claim to be friends, it appears that Galadriel and Elrond's relationship has soured as a result of Galadriel losing her brother and spending ages trying to find Sauron without success. Elrond's lingering doubts about the decision are a strong indication of how much Galadriel's friendship means to him and that there's something more nefarious behind her departure, which is some foreboding of a hidden motive behind King Gil-decision. galad's Her return to Middle-earth after abandoning ship will undoubtedly come as an unwelcome surprise to the people of Middle-earth.
This series will be such a fun experiment in fleshing out stories that only existed in a chronological outline in the appendices of The Lord of the Rings, with aeons of Tolkien's mythology to work from, and we've already learned so much about these characters through their friendship and their individual adventures that we didn't know before.
Galadriel and Celeborn lived in many places throughout the centuries, sometimes together and sometimes apart, which may explain why this character isn't yet present in The Rings of Power. By the end of the First Age, Galadriel had already met her husband, Celeborn, and they lived in many places throughout the centuries, sometimes together and sometimes apart. Celebrian is the daughter of Celeborn and Galadriel who grows up to become Elro.
Other ways that Galadriel and Elrond are connected in Tolkien's lore include the fact that both of them wear Rings of Power, with Galadriel's ring Nenya, with its white stone as bright as a star, having the power of concealment from evil, and being the original bearer of the ring, and Elrond's ring Vilya, with its blue sapphire, having been originally given to King Gil-galad.
Will we get to meet Galadriel's husband and their daughter, who will also be Elrond's future wife? Will we get to see the forging of the Rings of Power soon or is the show going to wait until the last minute to reveal them? There are so many fascinating and entertaining directions this series could go, whether they strictly adhere to the source material or take some liberties with it.
Weekly new episodes of The Lord of the Rings: The Rings of Power debut on Prime Video.
Being a binge-watcher himself, finding Content to write about comes naturally to Divesh. From Anime to Trending Netflix Series and Celebrity News, he covers every detail and always find the right sources for his research.