There are many variations of the Mighty Thor persona, including one that is a frog and goes by the name Throg. The Mighty Thor is unquestionably one of the strongest and most powerful characters in the Marvel Universe. A brand-new generation of Marvel Cinematic Universe fans who might not be familiar with the character were intrigued when Throg was recently featured in the Loki television series. While Throg made his most recent debut as Loki, he has been roaming the Marvel multiverse for years and, strangely, his beginnings have nothing to do with Asgard at all but rather with witchcraft.
Throg, named after renowned Thor author and artist Walter Simonson, was formerly a human named Simon Walterson before evolving into a variation of Thor. Simon experienced the loss of his wife and unborn child, which sent him into a profound despair. Simon looked for a witch with connections to the afterlife because he was desperate to talk to his wife one more time. Simon was able to talk with his wife thanks to the witch, but he was unable to compensate her later. The witch cursed him to spend the rest of his life as a frog as a result of his inability to pay.
Simon adopted a new name that was bestowed upon him by his fellow frogs since he was now living as one: Puddlegulp. Puddlegulp assimilated into the frog lifestyle quite well and joined his new compatriots in their ongoing conflict with the rats. Thor, who had at that point also been transformed into a frog, comes into contact with Puddlegulp during the rat battle, but being a warrior at heart, the God of Thunder continues to assist when needed. As soon as Thor departs, a piece of Mjolnir is chipped off that Puddlegulp can lift. Puddlegulp receives the power of Thor as a result, completing his transformation into Throg.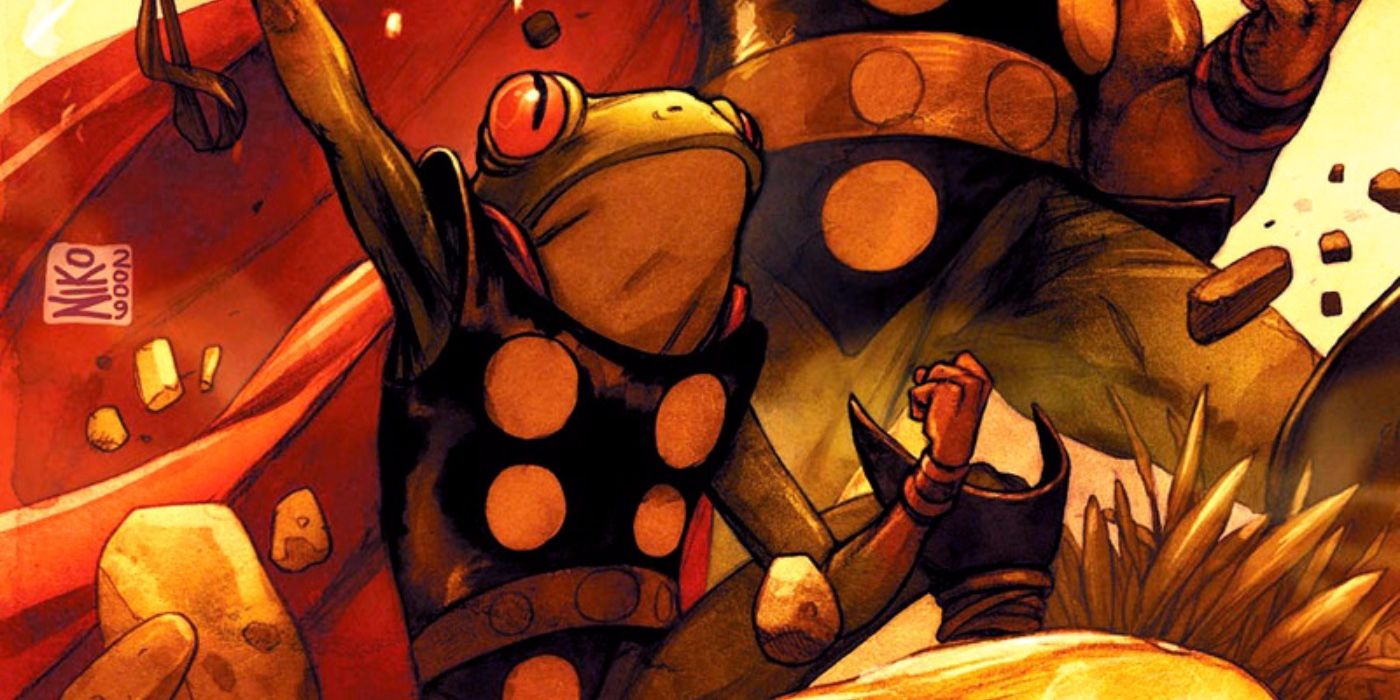 Since Simon changed into Throg, he has established himself as a respectable clone of Thor. Throg has joined the Pet Avengers, an all-animal team of the Avengers that also includes Lockjaw of the Inhumans, Lockheed of the X-Men, and Redwing of the Falcon. The team did once battle the original Avengers while attempting to defend the dragon Fin Fang Foom's egg when the Avengers were irrationally fighting the Kaiju opponent. However, most of their adventures were unimportant to the broader Marvel Universe. Even though the conflict was resolved amicably, the Pet Avengers showed they could compete with the Earth's Mightiest Heroes.
Throg has had quite the career in Marvel lore, from a tragic origin to a humorous punishment and a celestial redemption. He is not only a part of an offshoot Avengers team, but he also battled alongside Thor when he was helpless, earning the god's admiration for the person he is at his core rather than just the strength he possesses. Throg is a deserving Thor variation, as evidenced by his numerous comic adventures, and Marvel fans across all media should anticipate seeing a lot more of the animal hero after his live-action premiere!
Being a binge-watcher himself, finding Content to write about comes naturally to Divesh. From Anime to Trending Netflix Series and Celebrity News, he covers every detail and always find the right sources for his research.