Neyo White, a TikToker, caught the attention of internet users after he claimed to have suffered serious facial burns as a result of a notorious chemical peel last year.
According to recent records that TMZ has seen, the TikTok star's lawsuit resulted in an award of $1 million in damages at the end of June. Scroll down to see additional information about the situation as a whole.
TikToker who went viral over chemical peel burns has been awarded $1 million in damages
Neyo White, a video producer who gained popularity on TikTok after claiming that he suffered second-degree burns as a result of a chemical peel, has been granted $1 million in damages.
The latest documents obtained by the media source TMZ state that Neyo was given $1 million in damages at the end of June in his lawsuit against Diamond Facez Skin Care Bar in Atlanta, where the CEO also happens to be the lady he claims applied the peel.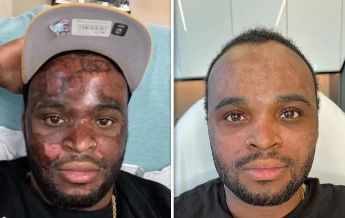 Let's now break down the damages for you. According to the media outlet TMZ, White received $750K in compensation, of which two-thirds came from the employer. But when it comes to the remaining funds, they are provided by the CEO.
Neyo will also receive an additional $250K in punitive damages. Diamond Facez Skin Care Bar has not yet issued a formal statement regarding the situation.
What happened to Neyo White?
For those of you who don't know, Neyo White gained notoriety last year by claiming that a chemical peel caused significant burns on his face. He said that the spa did nothing at that time.
He discussed his terrible experience at the Atlanta Spa in a TikTok video that went viral in February 2022. He disclosed that the chemical peel event occurred at Diamond Facez Skincare Bar on February 17, a location where he had previously undergone gentler procedures.
Neyo has released numerous videos and pictures of his face, which is covered in dark blotches, ever since the face peel event. He wrote on social media at the time, "My life is done. I'm at a loss on what to do next.
Prior to his visit on February 17, White claimed he had never had a chemical peel and had no idea what to anticipate from it. He claimed, in a since-deleted Facebook video, "I knew it was going to be bad, but I did not think it was going to be this bad."
He claimed that he experienced a severe burning sensation on his face during the procedure and immediately expressed his displeasure. The esthetician then informed him that the sensation was typical.
Neyo remarked, "My face looks white and grey once she's finished with the chemical peel. I remarked, "Hey, aren't you going to wash this [acid] off my face?" as I asked her. Oh no, you'll be OK, she said. It would likely dry up a few minutes or maybe a few hours later, she said.
When he returned home, he saw that the spots had changed from white to grey and had started to darken. When the blotches began to resemble burns, he then made the decision to seek treatment for the same. The esthetician didn't give him a refund or accept any accountability for her deeds. He soon after brought a claim against the spa.
Our Team DCS includes 5 different writers proficient in English and research based Content Writing. We allow them and encourage them to follow the Entertainment news all day long. Our posts, listicles and even the exclusives are a result of their hard work.