The characters that are portrayed on screen can make or break a movie. The plot is punctuated with rich histories, outrageous personalities, and distinctive acting styles, all of which lure viewers in. Who, after all, wants to support a lifeless character who has no feeling of significance or purpose? Character traits that develop from basic human emotions like greed, envy, wrath, depression, and any other type of suffering that may be prevalent in our environment can make even villains sympathetic. The best stories are written by authors who create characters that fans and audiences will remember for years or perhaps a lifetime.
Tim Burton, a renowned director, creates bizarre, hilarious, and unforgettable worlds that startle and thrill audiences. The director has crafted some of the most memorable characters in movie history while also giving well-known figures like Willy Wonka new dimensions and hues. Whatever the situation, Burton's style is obvious. Let's look at some of Tim Burton's most recognisable characters as there is a vast and extensive filmography to explore.
Betelgeuse from Beetlejuice

Burton's career cannot be discussed without concluding with the maniacal ghoul Betelgeuse (pronounced as Beetlejuice). Betelgeuse takes great satisfaction in his capacity to frighten the living. He is a living cartoon since he is an undead creature who constantly creates monstrosities and even changes his shape for the sake of a laugh or to illustrate his sardonic humour. The Maitlands, newly dead spirits, are desperate to remove the Deetz family from their earthly residence, so they ask Betelgeuse to take on the difficult tasks.
Because of his propensity to cause trouble whenever called upon, Betelgeuse is seen as an outcast and a continuous thorn in the side of the management in the hereafter. He breaks the rule of not always letting the living know about the afterlife and is disorderly. After becoming friends with Lydia, the Maitlands don't want to put her in danger. They try to seal the genie back in the bottle and stay with the Deetz family, not knowing what Betelgeuse might do. Betelgeuse is only reactivated for one last attack on the Deetz family when Lydia's parents decide to profit from the paranormal activity they have witnessed in the house. The film is outrageous, boisterous, and totally avant-garde for its day. Betelgeuse is possibly Tim Burton's most well-known character. He is memorable for his comical ranting and continuous jokes.
Edward from Edward Scissorhands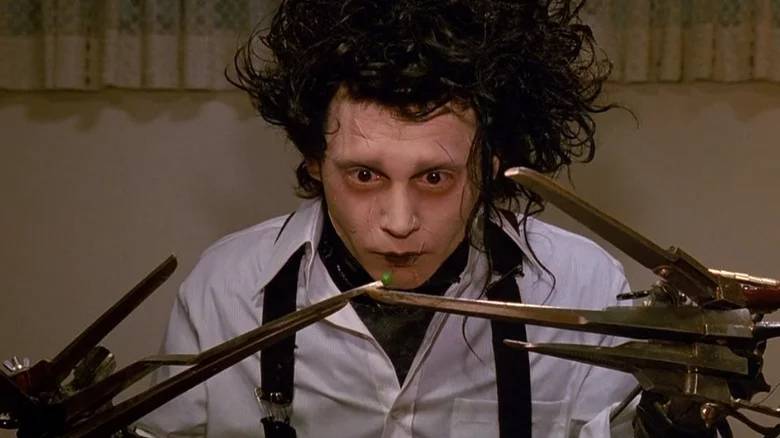 The long-lasting working connection between Johnny Depp and Tim Burton began with "Edward Scissorhands." Even though Depp would eventually break into the A-list of Hollywood actors, many of his leading roles were in movies that his pal, Burton, was the director of. The romantic tale "Edward Scissorhands" is about a forbidden romance. An inventor developed the fictional character in the title (Vincent Price). However, Edward's designer dies before he can be finished, leaving him incomplete with scissors for hands. For years, Edward lives by himself in the old mansion where he was built, until he is discovered and brought to town by a local saleswoman named Peg Boggs (Dianne Wiest).
The viewer is moved by Edward's kind nature and, more significantly, his affection for Peg's daughter Kim (Winona Ryder). Jim (Anthony Michael Hall), Kim's lover, develops jealousy at their apparent kinship. When Jim and other unfavourable local residents try to discredit Edward's character, conflict results. Along with previous movies on "forbidden love" and "fear of the other," Burton's fantasy has lasted, with Edward proving an enduring symbol for both.
Emily from Corpse Bride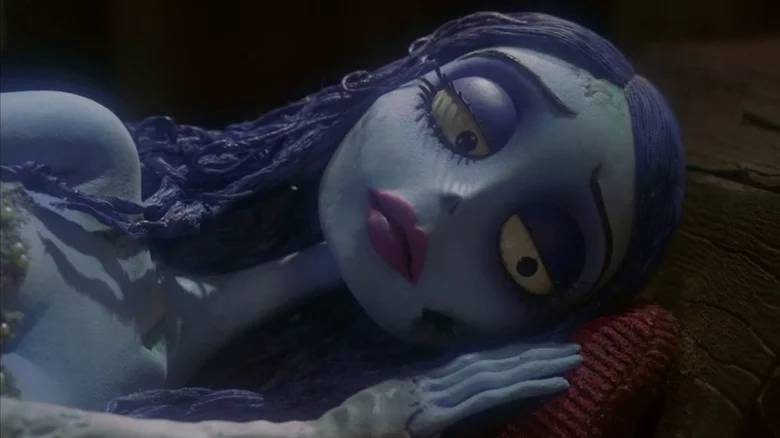 In addition to being another claymation movie, "Corpse Bride" was seen as a sort of spiritual sequel to "The Nightmare Before Christmas." Tim Burton also had a thing for Helena Bonham Carter as an actor, particularly when they were romantically linked. The voice behind Emily, the main character, was provided by Carter. She pushed Victor into becoming married to her in order to join her in the hereafter as the Corpse Bride in an effort to maintain the happiness she had previously had.
The Corpse Bride finally exemplifies a small amount of heroism as she sacrifices her happiness to give Victor and Victoria the opportunity to share a full life together—something she was deprived of. Even during a third act confrontation with her exposed former flame and killer, Lord Barkis Bittem, she intervenes and saves Victor's life. Barkis just wants to get married to Victoria in an effort to obtain her purported money. When Barkis foolishly consumes the poison meant to consign Victor to the hereafter, he gets the final laugh. The Corpse Bride is able to get justice for the crime perpetrated against her, despite the fact that she never finds an eternal partner.
Jack Skellington from The Nightmare Before Christmas
The songs and musings of Jack Skellington, who serves as the face of "The Nightmare Before Christmas," about the joyous holiday season and his place in the cosmos, will always be associated with the movie. As the Pumpkin King in Halloweentown, Jack Skellington commands the band of creatures, monsters, and ghouls participating in the Halloween celebrations as they try to frighten the living daylights out of everyone.
The narrative of Jack Skellington is essentially a story that most people now alive encounter, but in a completely different context. Jack has what a lot of us refer to as a mid-life crisis. Jack starts to experience unhappiness and a sense of being caught in a rut after spending numerous years doing the same thing. He learns about Christmas and wants to take advantage of its splendour for himself. In the end, he discovers that being himself is just good and that, despite being the Pumpkin King, he need not confine himself to the same pattern; rather, he may develop. Despite having no sequels, this timeless tale has endured in pop culture because to lively merchandise produced by Disney and its partners every year throughout the holiday season. Every year, more people become fans of the movie.
Lydia from Beetlejuice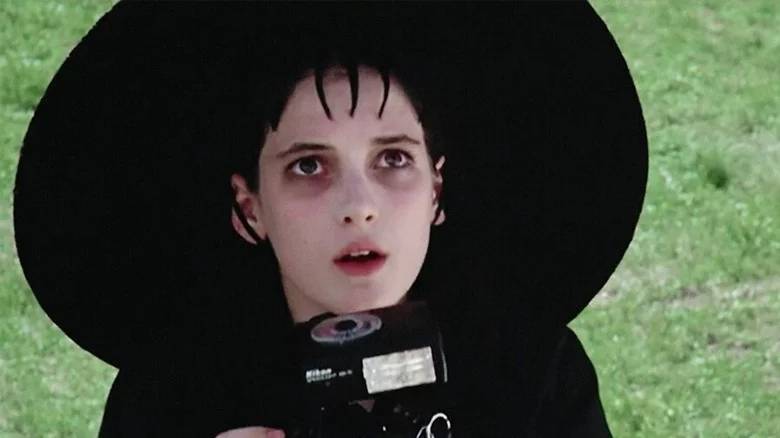 The aristocratic Deetz family buys Barbara (Geena Davis) and Adam Maitland's lovely property in rural Connecticut after their sad deaths just a few minutes into "Beetlejuice." Jeffrey Jones' character, Charles Deetz, became wealthy through his work as a real estate developer in New York City. Della (Catherine O'Hara), his present spouse, is an artist who believes her own creations to be the best of the best. Lydia (Winona Ryder), a daughter of the snobby couple, has a personality that contrasts sharply with that of her eccentric parents. She has a gothic appearance and is fascinated by the gloomy and macabre aspects of life and death.
Lydia finds Barbara and Adam's ghosts very fast. They want to be left alone but are making an effort to frighten the Deetz family into leaving the house by haunting them. Lydia understands their situation and tries everything in her power to keep them safe from her invading relatives. Betelgeuse eventually attends the party, and everything immediately goes to hell. But Barbara and Adam are the loving, non-materialistic parents Lydia has undoubtedly always desired. The character's loyalty to the Maitlands and awareness of life after death made her a popular among the audience. She would soon co-star with the title character in the animated television series "Beetlejuice."
Sally from The Nightmare Before Christmas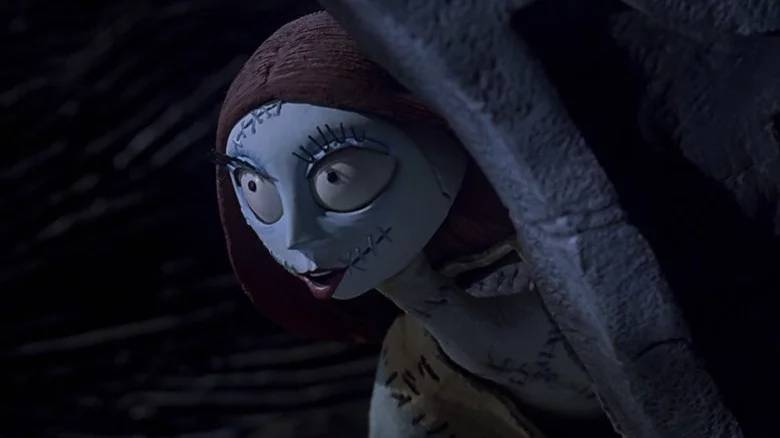 The 1993 release of Tim Burton's "The Nightmare Before Christmas" in theatres ignited a fan base that has persisted to this day. The characters, stop-motion animation, and music would all combine to create a beloved holiday movie. In the movie, Jack Skellington (Chris Sarandon), known as the "Pumpkin King of Halloween Town," is saved from going overboard by Sally (Catherine O'Hara), a creation of the insane scientist Dr. Finklestein.
Sally is soft-spoken and good-hearted, and she always manages to elude her creator's attempts to keep her under control by escaping his lab and discovering the outside world. She likes Jack right away and even agrees with his plan to create his own kind of Christmas madness—almost innocently like a child—until she receives a nasty omen that suggests the whole thing will end in disaster. She strives to be a hero by at least trying to release Santa from the evil Oogie Boogie after being sidelined by Jack's ambitious objectives. Sally serves as a gentle reminder that we don't have to pretend to be someone or something that we aren't. Someone will always realise how amazing we are just as we are, like Sally.
Sparky from Frankenweenie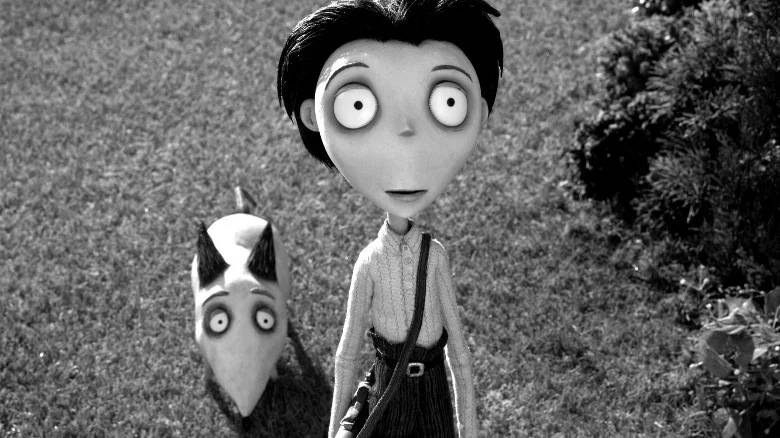 In the 1984 short film "Frankenweenie," directed by Burton, a young child tries to bring his pet dog back to life. A clear love letter to Mary Shelley's "Frankenstein," Burton turned his short into a feature-length stop-motion film in 2012 and released it in theatres. It is similar to prior works like "The Nightmare Before Christmas" and "Corpse Bride."
The narrative of the story is the same as that of the short. Victor Frankenstein, a young scientist, feels a close bond with his dog Sparky. Victor starts playing baseball when his father encourages him to engage in hobbies besides his obsession with science. Victor smashes a home run during his debut game, and Sparky chases after the ball before sadly being hit by a car. Despite his sorrow, Victor discovers at school that electrical impulses have the power to reanimate even the dead. Victor decides that's enough information to start planning Sparky's resurrection. He unearths the dog and builds a lab in his attic where, you guessed it, he uses a lightning strike to successfully reanimate the animal. As soon as others hear of Victor's heroics, chaos erupts since they all want to see their deceased pets come back to life.
While peers hurriedly experiment on their own animals, Sparky is the only one who has ever fully maintained his purity and soul. His tale touches the hearts of listeners, many of whom certainly wish they could resurrect departed pets. But as the movie "Frankenweenie" demonstrates, the idea is not wholly without repercussions. Victor is fortunate that Sparky's story had a nice conclusion.
Sweeney Todd, the Demon Barber of Fleet Street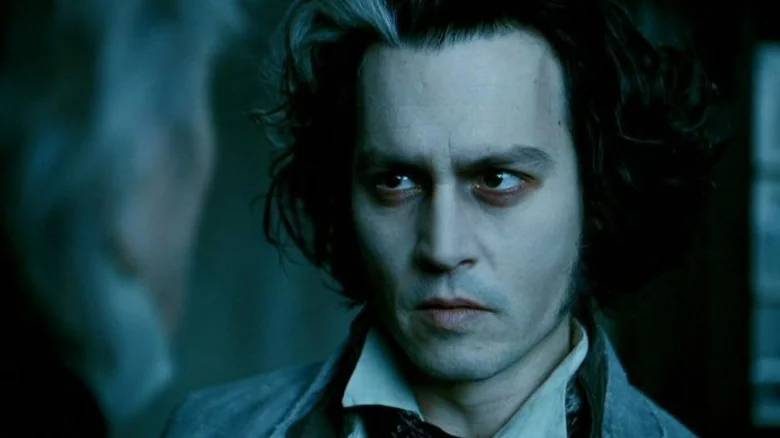 "Sweeney Todd: The Demon Barber of Fleet Street," one of Burton's more gory films, is an adaptation of the 1979 Hugh Wheeler and Stephen Sondheim stage musical about a serial killer barber in the Victorian era. In the lead role, played by Johnny Depp, a man is treated unfairly by a dishonest court and banished for a crime he didn't commit. Many years later, he makes a comeback as Sweeney Todd and opens a barbershop on Fleet Street. Nellie Lovett's meat pie store, located beneath his business, is where Mrs. Lovett (Helena Bonham Carter) informs Todd of the judge's heinous crimes. She claims that the judge killed Todd's wife Lucy (Laura Michelle Kelly) and is now keeping Todd's daughter Johanna (Jayne Wisener) as his ward.
Todd decides that's sufficient justification to start murdering clients and giving the carcasses to Lovett for her meat pies in an effort to get the judge to take the barber's chair. However, those preparations fall through when Todd learns information in the film's concluding act that paints a completely different picture. Burton's adaptation of the popular musical, which is by nature macabre and gory, propelled the demon barber to greater popularity in popular culture.
The Joker from Batman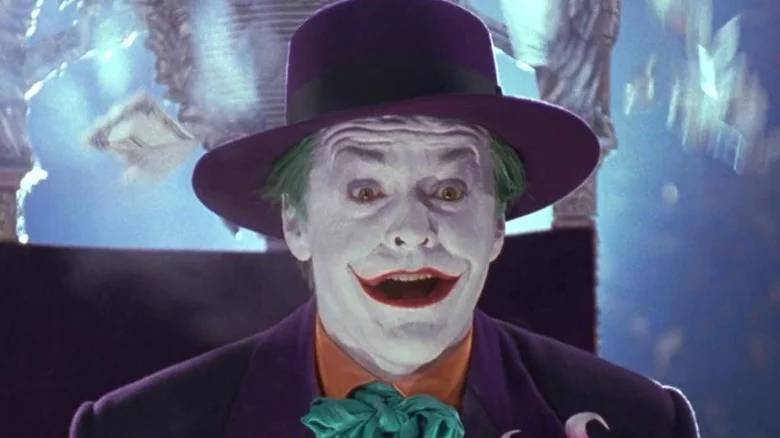 In Tim Burton's universe, the Joker (Jack Nicholson) starts off as a powerful criminal named Jack Napier who wants to rule Gotham City. Tipping the scales into psychopathic crazy when one is already a sociopathic criminal is really not a stretch. Napier infiltrates Axis Chemicals after being dispatched by his equally evil employer, Carl Grissom (Jack Palance), to gather evidence against Grissom's criminal organisation. Napier is submerged in a tank of dangerous chemicals during a fight between Batman and the GCPD.
Napier, who is now going by the moniker "the Joker," introduces himself to his coworkers with his bleached complexion and green-stained hair. The chemicals that afflict Joker's psyche strip him of his inhibitions, allowing him to quickly overthrow his own boss and seize control of the Gotham underworld. With Burton disfiguring his Joker and pushing his face into a perpetual smile, the character bears many resemblance to the villain's earlier comic book personas. Despite his insanity, the Joker still resembles his old self; rather of acting like a colourfully deranged villain, he acts more like a gangster. Nicholson gives the character the dark humour and biting wit to establish this Joker as a timeless masterpiece.
The Martians from Mars Attacks!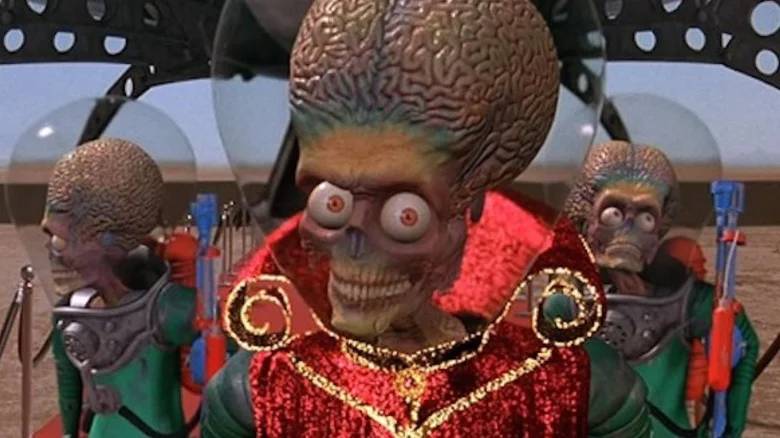 Burton's "Mars Attacks!" (1996) didn't live up to expectations and was ultimately regarded as a box office flop, despite having a sizable ensemble cast. The film made the rounds on television throughout the years and developed a cult following for its aesthetic and dark comedy, starring actors like Jack Nicholson, Glenn Close, Pierce Brosnan, Danny DeVito, Martin Short, Sarah Jessica Parker, Michael J. Fox, and many others. In the same same year as the commercially successful "Independence Day," Burton produced an invasion movie, but the tone was very different. We nearly chuckled as Burton's star-studded cast was repeatedly blasted by alien ray weapons since the majority of his characters were repulsive or unsavoury. The spotlight never actually belonged to one person for very long.
No particular Martian figure stood out as the star, either. Despite the comic tone the movie tried to achieve, the skeleton, homunculus-like aliens with huge brains were nightmare fuel for kids in the 1990s. The Martians, complete in their design with their horrifying cackling and evil pursuit of the extinction of humanity, are the only characters in this movie that stand out. In a happy turn of events, the Martian invaders' brains collapse thanks to the wailing vocals of Slim Whitman's "Indian Love Call," not to humanity's military strength or to planetary illness and pestilence. A great American hero, Whitman is.
The Penguin from Batman Returns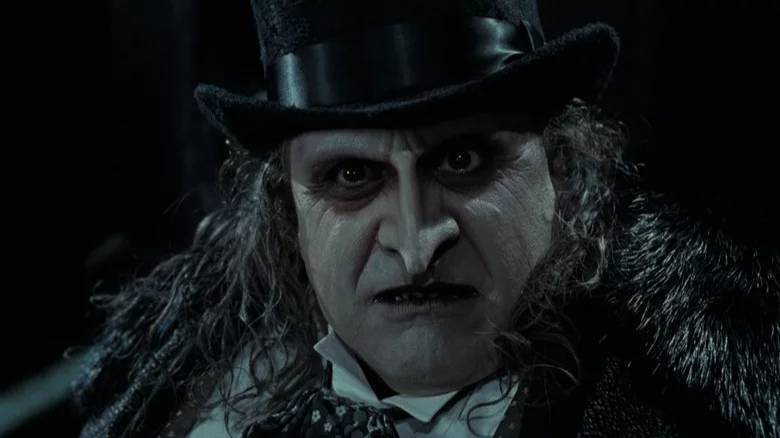 Warner Bros. The beginning of Tim Burton's "Batman Returns" features a pretty gloomy turn in Oswald Cobblepot's (Danny Devito) history. Cobblepot is born deformed with hands that resemble flippers and have a penguin-like appearance in Burton's telling of the villain's story. The youngster is also seen to be ravagingly hungry, completely devouring the household cat. As a result, his parents attempt infanticide by hurling the child off a bridge and into a creek (this is just the first five minutes of the film).
Little Oswald is reared by the very animals that can be found beneath Gotham City's sewers, notably by what appears to be a community of penguins that has grown as a result of an old abandoned zoo. Cobblepot, often known as "the Penguin," later runs a criminal enterprise as an adult. With the aid of dishonest business mogul Max Schreck, he eventually makes his way to the surface to run for mayor and accuse Batman (Michael Keaton) of being the culprit (Christopher Walken). Given the context of being abandoned by his parents, Burton's design for Penguin reveals him to be an evil, nefarious, yet oddly melancholy antagonist.
Victor Von Dort from Corpse Bride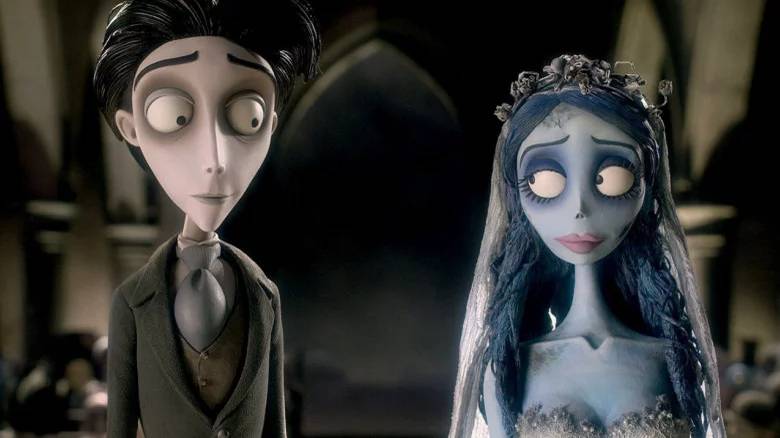 The Victorian era is a favourite of Tim Burton's. One of several of his works set in that era is "Corpse Bride." Additionally, he preferred Johnny Depp for his major roles—at least for a while. The actor's first-ever animated role was Victor Von Dort. Victor is the well-mannered son of successful, self-made fish merchants in "Corpse Bride." His parents arrange for his marriage to Victoria Everglot (Emily Watson), the daughter of well-established aristocrats, in an effort to advance their social standing. Victor flees in shame after making mistakes during his wedding rehearsal.
The story really picks up when Victor lays the wedding ring he is holding on a twig in the forest without understanding it was on the finger of a corpse—specifically, a young bride who had been killed (Helena Bonham Carter). She takes Victor and the ring as a marriage proposal and whisks him off to the Land of the Dead. Victor makes every effort to get back to Victoria after recognising his mistake. He really does love her, despite the prearranged marriage. The ensuing drama creates for an exciting love story with discoveries in the climactic act, and Victor and the Corpse Bride are even today instantly recognisable characters.
Being a binge-watcher himself, finding Content to write about comes naturally to Divesh. From Anime to Trending Netflix Series and Celebrity News, he covers every detail and always find the right sources for his research.