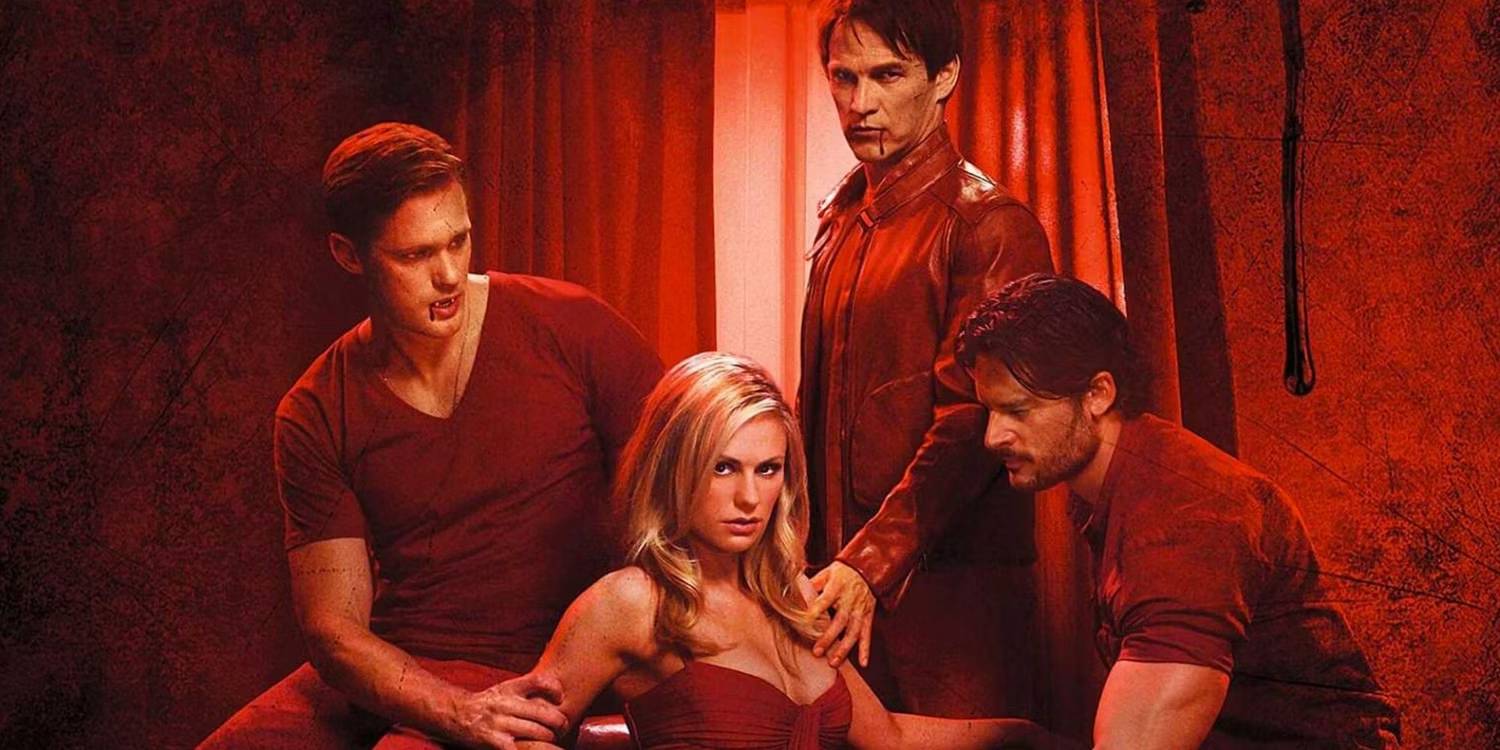 True Blood Cast: Where Are They Now? Who Amongst The True Blood Cast Is More Famous Now?
During the height of the vampire mania in 2008, a small show called True Blood debuted on our televisions. In classic HBO fashion, it was opulent, gritty, and simply addictive. Vampires were now residing among humans after "coming out of the coffin." With "Tru Blood," the first artificial blood source in a bottle, they were able to quench their need. They could now eat without, you know, killing anyone, thanks to this. But other people didn't keep their fangs to themselves.
There is no denying that Sookie Stackhouse and her supernatural companions left a lasting impression on all of our bloodsucker-loving hearts, regardless of whether you were Team Bill, Team Eric, or Team Alcide. What episodes have you found to be your favourite after the series ended in 2014?
Alexander Skarsgård – Eric Northman
The hottest vampire bar in Shreveport was "Fangtasia," which was owned by the seductive vampire sheriff of Area 5 named Eric Northman. Eric is more than a thousand years old because he was born during the Viking era in Sweden. Sadly, Eric and Sookie's love didn't go very far on television; they marry in the books the programme is based on.
The protagonist in The Legend of Tarzan, Dr. Nathan Lind in Godzilla vs. Kong, and most recently, the Viking Amleth in The Northman (coincidence much? ), have all made Alexander Skarsgrd possibly the most well-known member of the ensemble. Skarsgrd has also had notable appearances on the big screen, as Randall Flagg in the most recent rendition of the Stephen King novel The Stand and Perry Wright in Big Little Lies.
Anna Paquin – Sookie Stackhouse

Sookie was a regular waitress at Merlotte's Bar and Grill in Bon Temps. She also had a tad of psychic talent and could read people's minds. Later, it was said that she had telepathic powers since she was a faerie, but that is a different narrative. Between her first vampire love Bill, Viking-turned-vamp Eric, and werewolf Alcide, Sookie struggled mightily.
Anna Paquin actually went with Bill, who was portrayed by Stephen Moyer. They got married in 2010 and have twin daughters named Charlie and Poppy. The most recent role that Paquin played was Brenda Meoni in the Kurt Warner biopic American Underdog. She also portrays publicist Robyn, the main character of Flack on Amazon Prime. Off-screen, she is a strong supporter of women's and LGBTQ rights.
Joe Manganiello – Alcide Herveaux
The handsome werewolf who kept an eye on Sookie at Eric's request was Alcide Herveaux. He once served as the Shreveport pack's pack master, but finally found that working alone was more effective. Before Alcide's unfortunate demise at the hands of human vigilantes, Sookie and Alcide finally gave way to their affections for one another and began dating.
Outside of Bon Temps, Joe Manganiello is known for being hot. He gained popularity for his role as Big Dick Richie in Magic Mike XXL. Numerous series, such as The Smurfs, Justice League, Star Wars, and American Dad, have benefited from the vocal talents of Manganiello. He is married to Modern Family actress Sofia Vergara and is presently filming the upcoming dark comedy thriller The Kill Room with Samuel L. Jackson and Uma Thurman.
Kevin Alejandro – Jesús Velasquez
Brujo by night, psychiatric nurse by day, Jess was a skilled magician and Lafayette's devoted partner. When Jess was looking after Lafayette's mother Ruby Jean, the two first met. As their relationship progressed, Jess became aware of Lafayette's medium skills and assisted him in honing them.
Kevin Alejandro's current role as Detective Dan Espinoza in Netflix's Lucifer makes him instantly identifiable. Alejandro cultivates a love for directing and has even taken a few turns acting as Lucifer's director. In the anime series Arcane, he provides Jayce's voice.
Kristin Bauer van Straten – Pam De Beaufort
Pamela Swynford De Beaufort, a fierce descendant of Eric, was also a co-owner of "Fangtasia." She was renowned for her unwavering devotion to her creator, her love of wearing pink, and her quick wit. Later, she turned into a maker herself, producing Tara Thornton, Sookie's best friend, as a child.
Kristin Bauer van Straten played the fierce Maleficent on Once Upon a Time while she was still on True Blood. She did, however, play Bree in the suspense film Paradise Cove more recently. In addition, Deborah Ann Woll, who played Jessica Hamby on the HBO series Truest Blood, and co-star Bauer van Straten co-host the podcast.
Nelsan Ellis – Lafayette Reynolds

The chef at Merlotte's was Lafayette Reynolds, who was fantastic, humorous, and personable. Many people in Bon Temps counted him as a dependable friend, and he ferociously guarded his cousin Tara. During his connection with Jess, Lafayette finally discovered he had mediumistic powers, which later allowed him to interact with his deceased sweetheart.
Tragically, 39-year-old fan favourite Nelsan Ellis passed away in July 2017 from heart failure. Ellis played Tyrik in True To The Game and Shinwell Johnson in Elementary as a guest star before his sad demise.
Rutina Wesley – Tara Thornton

Sookie's closest friend Tara Thornton was also the cousin of the gorgeous Lafayette Reynolds. Tara had a plethora of hardships, including coping with her mother Lettie May's alcoholism and grudgingly turning into a vampire. Tara handled everything with grace and developed into one of the series' most powerful female characters.
Rutina Wesley had a brief cameo as Reba McClane on Hannibal after True Blood, but she is perhaps most recognised for playing the lead in Queen Sugar as Nova Bordelon. Additionally, Wesley played Athena in the DC miniseries DMZ.
Ryan Kwanten – Jason Stackhouse
The silly yet well-intentioned brother of Sookie has caused himself plenty of trouble throughout the years. Jason Stackhouse was drawn into the anti-vampire "Fellowship of the Rising Sun," which was cult-like, and then joined a group of "werepanthers" until finding his place as a police officer working with Andy Bellefleur.
Since True Blood, Ryan Kwanten has landed a variety of TV and film roles, most recently as Jack in the futuristic love story Loveland. Kwanten will also make an appearance in the upcoming Lovecraftian horror movie Glorious, which Shudder has purchased.
Sam Trammell – Sam Merlotte

The proprietor of the popular neighbourhood hangout Merlotte's Bar and Grill was Sam Merlotte. He could change into any animal or even human form because he was a shifter. Sam yearned for Sookie for a protracted period of time before settling down with Nicole Wright, a super-civil rights warrior with whom he had two daughters.
Since his time on True Blood, Sam Trammell has largely worked in television, making guest appearances as Ben in This Is Us and President Ben Haynes in season 8 of Homeland. He most recently appeared in The Tiger Rising with Dennis Quaid.
Stephen Moyer – Bill Compton

Bill Compton, a 170-year-old vampire who fell in love with Sookie Stackhouse, was affectionately called as "Vampire Bill" by the more liberal townsfolk. He experienced stints as vampire sheriff, king, and even the incarnation of the first vampire Lilith at one point, all with his beloved "Sook-eh" by his side (for the most part).
Stephen Moyer and Anna Paquin have been happily married for twelve years, despite the fact that he did not finish up with Sookie in the television series. Since True Blood, Moyer has worked on numerous projects, most recently playing Victor Strong in the suspenseful Confession and Troy in the post-apocalyptic Last Survivors with Alicia Silverstone.
Being a binge-watcher himself, finding Content to write about comes naturally to Divesh. From Anime to Trending Netflix Series and Celebrity News, he covers every detail and always find the right sources for his research.