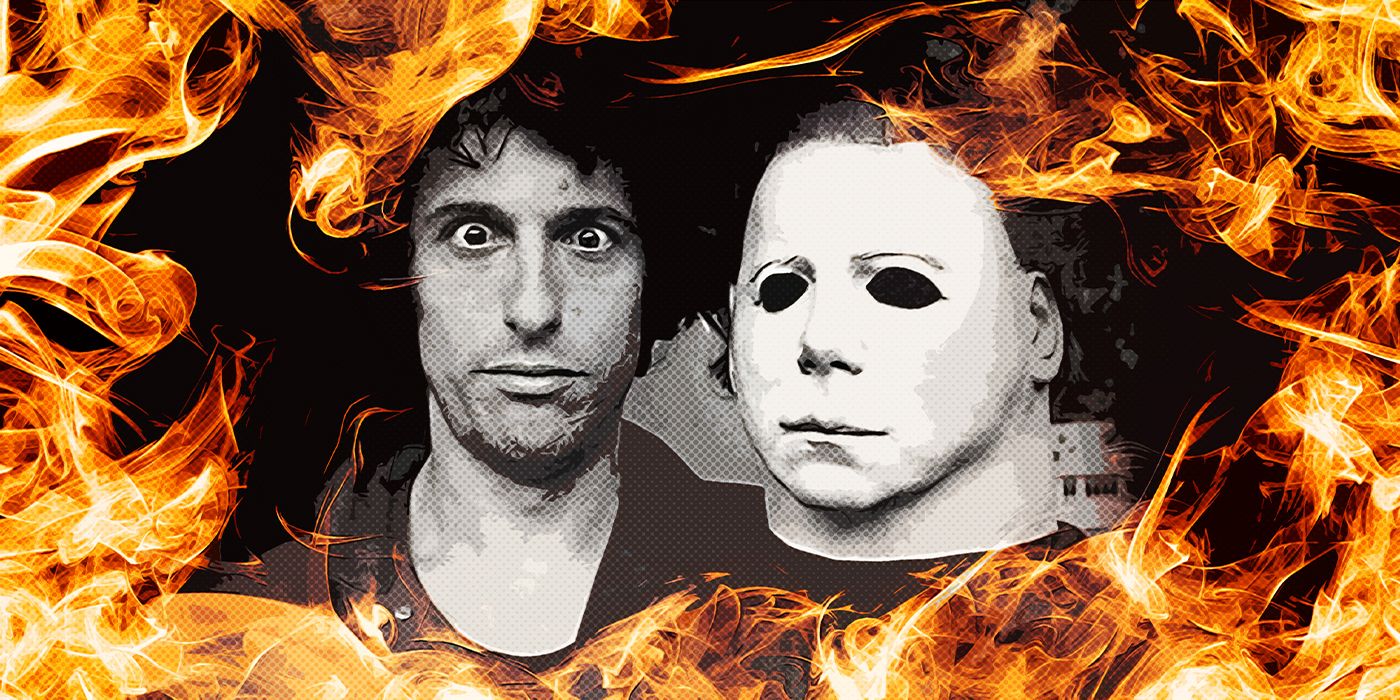 Who Played Michael Myers? Nick Castle The Original Slasher Icon
The horror genre was forever altered by John Carpenter's Halloween in 1978, setting off a series of sequels and imitators that have lasted for decades and continue to capture audiences' rapt attention. Its antagonist, the now-iconic Michael Myers, was a silent guy hiding in Haddonfield, Illinois's shadows wearing a whitened William Shatner mask. Nick Castle, a friend of Carpenter's from film school, played Michael. He was given the part for $25 per day while visiting the movie's set. It was viewed as a non-issue that could be handed to just about anyone. After all, Michael Myers was mute, his mask was never removed, and the man who played him was never made public. Castle, on the other hand, was able to work his magic with the bare minimum, giving us a spooky presence that communicated through body language and his famed head tilt.
He didn't fade away after his fifteen minutes of fame, nor did he return to the part frequently like Robert Englund and Kane Hodder did with Freddy Krueger and Jason Voorhees, respectively, as other performers of the time who played horror villains did. Even if you weren't aware of it, Nick Castle's career took a very different turn and left a mark on pop culture comparable to that of Michael Myers.
Carpenter and Castle collaborated to write Escape from New York three years after the triumph of Halloween. The futuristic movie, which stars Kurt Russell as a prisoner with 24 hours to save the President of the United States (who just so happened to be portrayed by Michael's arch-enemy, Donald Pleasence), was created as a response to America's mistrust of its government following the Watergate scandal. It was a huge hit and the quintessential B-movie action escape that would later inspire movies like The Purge franchise.
Castle would apply his skills as a director throughout the 1980s. The 1982 flop Tag: The Assassination Game offered him his break in front of the camera and the opportunity to work with Linda Hamilton in her big-screen debut. He would do much better on his next outing. In the movie The Last Starfighter, Lance Guest, who previously starred in Halloween 2 as a video game enthusiast, tells the story of a young man who is recruited to fight for an alien planet in an interplanetary conflict as a starfighter. It was created during the Star Wars craze and is praised for its original concepts while being regarded as the best of the copycats. Castle was commended for the enthusiasm and energy he put into the movie, which started out as a lighthearted movie but quickly became a cult favourite.
With his sequels, Castle would transition to more dramatic material. A profound lesson about mourning and coping with loss may be found in the fantasy movie The Boy Who Could Fly, which follows an autistic boy and a girl who both experience the death of their parents. Castle handled a character who, in the wrong hands, may have came out as a snivelling sap. He was serious about the subjects without being condescending. Sammy Davis, Jr. and Gregory Hines starred in his fourth and final movie, Tap, which was released in 1989. Castle also scripted this movie about a tap-dancing ex-convict, which features a cast that is predominately Black. His upbeat demeanour, attention to detail, and understanding of how easily a movie's appearance and feel can draw in an audience prevented Tap from turning into a parody of earlier films.
Castle could still have fun, even though his movies started to take a more serious and mature turn. Big Trouble in Little China is the best example of this. Naturally, John Carpenter directed this film, but if you listen to the theme song, it was Castle who played the keyboards and sang the most of the lyrics while playing in the band The Coupe de Villes, which Carpenter and longtime collaborator Tommy Lee Wallace also played in. That's right, the actor whose most well-known performance required him to remain silent can sing.
Castle came close to accomplishing something in 1991 that might have even surpassed what he did in Halloween. Director Steven Spielberg left the Peter Pan movie Hook's pre-production to care for his newborn baby. Castle was chosen by Paramount to write and direct the film as they pushed forward. He and screenwriter James V. Hart co-wrote the first two versions of the movie, but due to creative differences with Robin Williams and Dustin Hoffman, he was forced to leave the project and pay a $500,000 settlement. There is a bright side to what would have been Castle's biggest movie, even though it will always be a "what if." At this stage in his career, Castle had gained such recognition that a significant production firm approached him to take over when the largest name in the industry declined. That sums up all he was trying to do.
Castle's career persisted despite his disillusionment. He had the opportunity to collaborate with Walter Matthau in Dennis the Menace in 1993. This comedy version, which was written by John Hughes and received negative reviews, became Castle's biggest commercial triumph despite having a $35 million budget. It wasn't for the people who wrote the reviews in your neighbourhood newspaper, even though they might not have liked it. It was a children's movie, so all that mattered was that they enjoyed it.
In 1995, Major Payne appeared. If Dennis the Menace was aimed at children, this Damon Wayans comedy about a crazy military officer was aimed at teenagers. It was outrageously humorous and edgy while also being a valuable parody of earlier military movies. Although it debuted at number two in the box office, it fell short of his last movie's earnings. However, you probably know his film the best. The majority of moviegoers of a particular age have seen Major Payne at some point during their younger years because it was a consistent mainstay of cable television in the 1990s. That would prove to be Castle's pinnacle of achievement. The next year saw the release of Mr. Wrong, a romantic comedy so awful that Ellen DeGeneres would play the lead part in just one more movie. Castle's past two comedies were so well received that he was once again given a major studio project and trusted to direct the aspiring star DeGeneres. Even if it didn't work, it's a success just for being made.
Before Castle helmed another movie, it would be another five. Big studios were gone, but jobs and famous actors and actresses were still around. He directed the indie movie Delivering Milo in 2001. Castle worked with Anton Yelchin, Bridget Fonda, Campbell Scott, and Albert Finney, yet it didn't garner much attention. The Disney Channel's 'Twas the Night, a holiday movie that continues to air on the network every December, was directed by him that same year and starred Bryan Cranston. He was chosen to helm The Seat Filler, another film starring Jack Black, in 2004. He directed Connor's War, a direct-to-video release from 2006, for the eleventh and final time. August Rush, a musical drama starring Freddie Highmore and Keri Russell, was his last project. James V. Hart, with whom he had previously collaborated on Hook, and he co-wrote it. Working with someone who was a part of his worst disappointment once more and this time having his hard work acknowledged and appear on the big screen seemed like the perfect way to cap off an incredible career.
Nick Castle has been visiting horror conventions for the past few years as a way of saying thanks to his followers. When he was rehired to reprise Michael Myers in David Gordon Green's Halloween, his career came full circle. While he only appears in the film as Myers for a brief cameo, he has been present on the set of each film in the upcoming trilogy, mentoring new Myers actor James Jude Courtney and serving as a consultant, ready to offer guidance on how to portray an unstoppable serial killer as well as the best way to produce a film. Nick Castle is the expert in this case.
Castle has returned to the part for which he will always be known, yet he has dedicated his life to more than just making viewers cover their eyes. He also caused your jaw to drop and your eyes to widen in the 1980s. He once caused you to bob your head to the beat of the music. He could make you laugh in the 1990s whether you were with your family or your friends. Even once the Shatner mask was removed, he continued to operate in the shadows, with few people aware of his identity. He never sought fame; success has been its own reward. Still, it's time to take off his mask and show the world what Nick Castle has contributed to it.
Being a binge-watcher himself, finding Content to write about comes naturally to Divesh. From Anime to Trending Netflix Series and Celebrity News, he covers every detail and always find the right sources for his research.